Students from countries outside the European Union (EU) face a massive rise in enrolment fees for degree courses at French universities as of the coming academic year, when they will be required to pay 2,770 euros for a bachelor's degree course, and 3,770 euros for a master's course.
Students from France or other EU member states will not be affected.
The details of the new measure were published on April 21st in France's official gazette, Le Journal officiel. PhD courses are exempt from the fee rise.
According to data from Campus France, the official body that promotes the French higher education system abroad, just more than 340,000 foreign students were enrolled in higher education in France in the 2017-2018 academic year. Around 240,000 of these, representing 70%, were enrolled in universities, of which 49% were following bachelor's degree courses, and 41% were in master's degree courses (the remainder were in doctoral studies).
The decree allows for exonerations of the fees if justified by difficult "personal circumstances" or because of the "strategic orientations" of the educational establishment concerned.
The government's intentions to raise enrolment fees were known since last autumn, and have been met with strong opposition from among university administrators, teaching staff and students, dismayed at a move they regard asbeing contrary to a French tradition of offering affordble access to higher education for all. They fear a significant future drop in the numbers of students from poorer Francophone countries, like those of north and sub-Saharan Africa. Even the usually conservative Conference of University Presidents (CPU) called last December for the government to freeze the plan to allow for further concertation on the issue.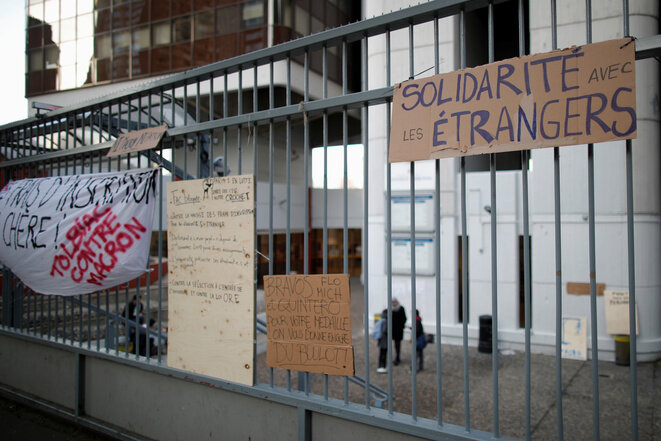 Protests over the fees hike for non-EU students led to protetsts like this sit-in last December at Paris1 university (Panthéon-Sorbonne). © DR
A number of universities across France have announced that they will not apply the new fees (as they are allowed under a 2013 law which increased the independence of the establishments). These include the universities of Paris-Nanterre, Clermont-Auvergne, Rennes-II, Aix-Marseille, Toulouse-Jean-Jaurès, Lyon-II, Angers, Caen and Le Mans.
During the 2017-2018 academic year, according to Campus France, 46% of foreign students came from Africa, and 25% from Europe. In an interview with Mediapart earlier this year, the president of Clermont-Auvergne University, Mathias Bernard, said of the 5,000 foreign students in his establishment, 4,000 will be concerned by the fee hike because they come from countries outside the EU. He said that the university's course centred on THE "development economy", unique to the establishment, drew a large majority of them. "We contribute to the training of managers from sub-Saharan Africa and the Maghreb," said Bernard. "Even a middle-class or well-off student from sub-Saharan Africa cannot pay the sum announced."
Related articles
Hugo Harari-Kermadec, a lecturer in economics at the prestigious École normale supérieure Paris-Saclay, an outspoken proponent of free education and author of a 2014 book
Arrêtons les frais ! Pour un enseignement supérieur gratuit et émancipateur
('Stop the costs ! For a free and emancipating higher education system'), told Mediapart last November, when the government officially confirmed its planto raise the fees, that the move was part of "a logic that is contrary to public service", and which would lead to a fall in interest in higher education. "Of course, the principal counter argument to this increase in university fess will be to say that it will not concern all of higher education, only some establishments and some courses," said Harari-Kermadec. "One can therefore also suppose that those universities which have most need of funding, those in the suburbs of large- and average-sized towns, won't be attractive and nobody would want to pay to go there. Which will, in the end, increase inequalities and hierarchies."
-------------------------
The French version of this article can be found here.