Ever since the Chinese authorities officially announced the first cases at the start of January, the Covid-19 coronavirus – sometimes known as the SARS-CoV-2 virus – epidemic has continued to spread. As of today there have been some 487,434 cases and 22,026 deaths in 198 countries. As a result scientists have been in a race against time to find a vaccine and, in the meantime, effective treatments for the disease.
But at the same time there have been warnings about rushed judgements and misplaced optimism when it comes to finding quick treatments for the virus. "I am worried that science may end up overpromising on what can be delivered in response to coronavirus disease 2019 (COVID-19)," Holden Thorp, editor-in-chief of Science magazine, wrote in his editorial on March 23rd. Thorp, a chemist, expressed his concern that some scientists and also some drugs might raise false hopes, leading to the risk of "depleting drugs needed to treat diseases for which they are approved".
This is because when faced with the urgency of epidemics scientists often start their search for a treatment by looking at existing medicines which have already been used successfully for other diseases and conditions. An example is the drug chloroquine, which has been touted in China, the United States and France as a possible treatment for the coronavirus after declarations made by French expert Professor Didier Raoult, director of the infectious diseases unit at the IHU teaching hospital in Marseille and a member of France's Covid-19 scientific committee, a committee he quit on Tuesday March 24th.
Chloroquine has been effective both in the prevention and treatment of malaria. But it was first used 70 years ago and in some regions of the world it is regarded as ineffective because of resistance built up by the parasitic infection. Today it is also used for the treatment of auto-immune illnesses such as rheumatoid arthritis and lupus, and also to prevent sun allergies.
Initially this drug did not appear in the World Health Organisation's (WHO) list of priority recommended treatments, nor in the clinical trials – known as 'Discovery' – that have been launched in France. This was because of the drug's side effects – it is also not recommended for pregnant or breastfeeding women – and the potential for adverse reactions with other medicines being used to treat patents in intensive care.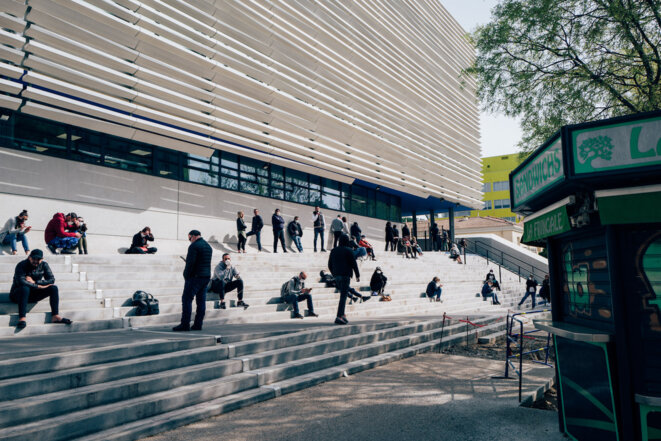 The front of the infectious diseases unit headed by Professor Didier Raoult at the IHU Marseille teaching hospital, March 22nd 2020. © Laurent Le Crabe / Hans Lucas / Hans Lucas via AFP
Chloroquine is what is known as a broad-spectrum antiviral compound that can
increase a cell's pH values
– making it more alkaline – and thus help to block infection from the pH-dependent virus. It has already been tested in a laboratory where it has shown itself to be effective in blocking infection from different viruses, such as the flu, dengue and the
chikungunya
virus. But it has not shown itself to be effective in live tests on animals and humans.
In laboratory tests it was also shown to be effective against the SARS virus of 2002-2003 and the MERS virus that has hit the Middle East since 2012. But its effectiveness has only been seen in the labs, and it is not known whether it works on people.
On February 4th, close to a month after the authorities there announced an epidemic, Chinese scientists published a letter in the journal Cell Research. They stated that chloroquine, as well as another antiviral drug remdesivir, effectively blocked the new Covid-19 virus in test-tube trials.
These scientists concluded that these two drugs should be "be assessed in human patients suffering from the novel coronavirus disease". They pointed out that one of the advantages of chloroquine was that it was "widely distributed in the whole body, including lung, after oral administration" and also that it is a "cheap and a safe drug".
After this letter around 15 clinical trials were carried out in China to test the effectiveness of both chloroquine and the related hydroxychloroquine in patients infected with Covid-19. Then on February 19th a letter was submitted to the journal BioScience Trends. In it a team led by scientist Jianjun Gao from the School of Pharmacy at Qingdao University in China stated that the results of tests on more than one hundred patients showed that chloroquine had shown "efficacy" against "COVID-19 associated pneumonia". But the letter gave no figures or details of the trial protocols.
Even the WHO is still waiting for the results of these trials. According to the minutes of a meeting of experts who met on March 13th to discuss chloroquine, the organisation said it was working with China but that no data from the study had been shared with it thus far.
Back on January 27th the WHO had been of the view that there was "insufficient evidence to support chloroquine's further investigation". As a result the drug had not appeared in the list of priority medicines to be tested for use against Covid-19. It was only added after enthusiasm for the drug was expressed by a number of countries, including France, after the declarations made by Professor Raoult.
Those declarations came just over a month ago, on February 25th, when Professor Raoult surprised public opinion and the scientific community with a video initially called "Coronavirus: end game!" and then subsequently entitled "Coronavirus: towards an end of the crisis?" in which he highlighted the results of the Chinese scientists.
A few days later, on March 4th, Professor Raoult's team published an article in the International Journal of Antimicrobial Agents in which they described chloroquine and hydroxychloroquine as "available weapons to fight COVID-19". The authors explained why these two drugs were their first choices for treating patients with the virus. They summarised the results of the laboratory tests by the Chinese scientists and the outcomes of the first clinical trials. They also justified their decision based on their knowledge of the effectiveness of hydroxychloroquine, a drug they had used for thirty years to treat patients with bacterial infections such as Q fever and Whipple's disease.
On March 5th their proposal to carry out clinical trials was approved by the regulatory body the Agence Nationale de Sécurité du Médicament (ANSM) and on March 6th by the Paris regional health authority the ARS Ile-de-France. The trial started using Plaquénil, the hydroxychloroquine brand name produced by pharmaceutical firm Sanofi, who subsequently offered to provide a million doses to treat 300,000 people following the initial results from Professor Raoult's team published on March 16th.