At the request of Emmanuel Macron, Nicolas Sarkozy represented the French president at the state funeral in Tokyo on Tuesday of former Japanese prime minister Shinzo Abe, who was assassinated in July.
Sarkozy took his place at the ceremony surrounded by numerous foreign government representatives, including US vice-president Kamala Harris, Indian Prime Minister Narendra Modi, and Australian Prime Minister Anthony Albanese.
It was not the first time that Sarkozy, who was president of France between 2007 and 2012, had been given the honour of representing Macron – and consequently France – at an international event. During Macron's first term in office, he gave Sarkozy the very same role for the swearing in of Georgia's president Salome Zourabichvili, in December 2018, for the enthronement of new Japanese emperor Naruhito in October 2019, and also at the commemoration ceremony for the late Sultan Qaboos of Oman, in January 2020.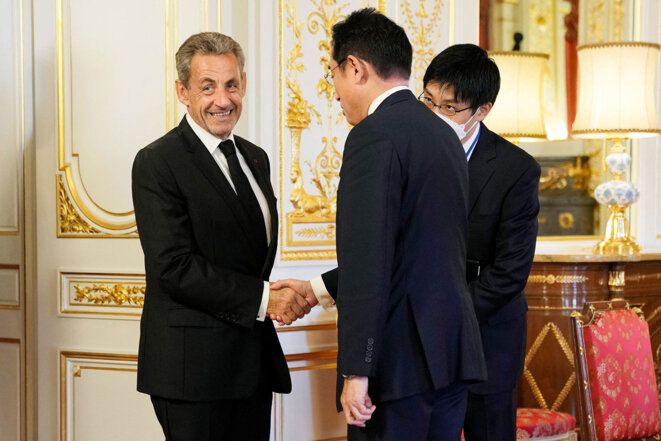 Back in the limelight: Nicolas Sarkozy seen here greeted by Japanese Prime Minister Fumio Kishida in Tokyo, September 27th 2022. © Photo Hiro Komae / pool / AFP
On all those previous occasions, Sarkozy, 67, was already placed under investigation many times over in several French judicial probes, and which eventually led to him being tried and convicted of corruption and influence peddling in January 2021, when he was handed a three-year prison sentence, and for illicit campaign financing in relation to his failed 2012 re-election bid, for which he was given a one-year prison sentence in September 2021.
Sarkozy has appealed both convictions, which under French law automatically suspends the sentence during the appeal process.
He was also, and still is, placed under investigation for "corruption", "criminal conspiracy", "illicit campaign financing" and "receiving the proceeds of the misappropriation of public funds" in the ongoing judicial probe into the suspected illegal funding of his 2007 presidential election campaign by the regime of the late Libyan dictator Muammar Gaddafi. Sarkozy firmly denies any wrongdoing.
Under French law, a person can only be placed under investigation if a magistrate establishes serious and (or) concurring evidence that they committed a crime. It is only if and when a magistrate decides to send an individual for trial that they are formally charged.
Sarkozy has also been cited in a French investigation concerning his financial relations with two Russian oligarchs, while his relations with Qatar have been placed under the spotlight in a probe into the attribution to the emirate of the 2022 football world cup.
But despite Sarkozy's two convictions, and his placement under investigation four times over in a deepening probe, Emmanuel Macron has apparently had no hesitation in choosing that France should be represented before the world by a man with such a serious criminal record.
Contacted by Mediapart for comment, the French presidential office, the Élysée Palace, did not respond before this article was first published.
There has hardly been any public reaction from among Macron's political camp at Sarkozy's mounting influence over recent years. Few were prepared to comment on the choice of the former president to represent France at Abe's funeral. Those who did, spoke under cover of anonymity. "It's the choice of the PR [editor's note, president of the republic], what can you expect me to say?" said one. "Sarkozy is all the same a former president, it's something that's quite habitual," said another, approvingly.
Those among them who are the most critical of Sarkozy had hoped that Macron, after his re-election earlier this year, would distance himself from the former president. Encouraging that hope, Macron, when forming his new government in May, did not follow Sarkozy's push for the appointment as prime minister of Catherine Vautrin, a veteran of Sarkozy's conservative Les Républicains party and who once served in his government, instead choosing Élisabeth Borne. Macron also turned his back on Sarkozy's call for a coalition in the new parliament between the conservatives and Macron's centre-right party after it lost its absolute majority in legislative elections in June. But in fact there was no rupture in their relations; in August, when Macron and his wife were holidaying at the presidential residence of Brégançon fort in southern France, Sarkozy and his wife were invited for dinner.
At a political level, like at a personal one, the former conservative president still has a privileged access to the seat of power, as do also those close to him. He can watch with satisfaction at the influence within the executive acquired by interior minister Gérald Darmanin, once Sarkozy's spokesman during the latter's bid in 2014 for the leadership of the conservative party, then called the UMP. Similarly, Sarkozy's former minister and close political ally Éric Woerth, who was also his 2007 election campaign treasurer, was this year appointed as administrative and financial officer of the French parliament.
Whether it be for reasons of political cynicism or because of a sincere friendship, Macron as president has shown himself untrue to the Macron when presidential candidate who, in his 2017 election campaign, declared: "Justice is at the heart of the project that we propose, because the indecency, the privileges, have endured for too long, and we want the same rules for all. Whatever the statuses, we want responsible, exemplary leaders and who are called to account."
To all evidence, Nicolas Sarkozy, through Emmanuel Macron, profits from the persistent old privilege of those involved in white-collar criminality, for whom the feeling of impunity, even after a ruling of justice, is fed by the absence of disapproval or punishment from the milieu to which they belong.
It would be difficult for all those police officers, public prosecutors, investigating magistrates and court judges who questioned Sarkozy, brought criminal proceedings against him, and who convicted him, not to see a provocation in Macron's initiative, that of a president who, under France's constitution, is the guarantor of the independence of the justice system.
The situation is perhaps less surprising if one recalls that the same Emmanuel Macron, who once promised that a serving minister who is placed under investigation would have to resign, kept justice minister Éric Dupond-Moretti in his post after he was placed under investigation for "unlawful conflict of interest".
Dupond-Moretti, who denies any wrongdoing, will learn on October 3rd whether he is now to be sent for trial by France's Cour de justice de la République (CJR), a special court dedicated to investigating and trying wrongdoing by a serving member of government. He is accused of having used administrative and disciplinary procedures at the Ministry of Justice for the sole purpose of settling scores with anti-corruption prosecutors and a judge with whom he had been in conflict when he was practising as a lawyer – some of who were also involved in investigations into Sarkozy.
-------------------------
The original French version of this report can be found here.
English version by Graham Tearse