Mediapart has gained access to the transcripts of four days of questioning this month of Nicolas Sarkozy by judges leading an investigation into evidence of Libyan funding of his 2007 presidential election campaign, and reveals here how the former French president has chosen to disavow his loyal, long-serving right-hand men, claiming he knew nothing of their actions.
The now seven-year-old and very complex judicial investigation was initially prompted by Mediapart's revelations of evidence that the regime of late Libyan dictator Muammar Gaddafi had agreed to finance Sarkozy's 2007 campaign.
On October 12th, at the end of around 40 hours of interrogation, the Paris-based magistrates placed Sarkozy, 65, under formal investigation for "criminal conspiracy". Under French law, to be formally "placed under investigation" requires that magistrates have found serious or concordant evidence, or both, that indicates a person has committed an offence. At the end of their investigation judges must decide to send those placed under investigation for trial, or to drop the case.
Already, in March 2018, the former head of state was placed under investigation in the same probe for "illicit funding of an electoral campaign", "receiving and embezzling public funds" and "corruption".
Sarkozy firmly denies any wrongdoing. After he emerged from the questioning earlier this month, he issued a statement saying, "The French people should know that I am innocent of that which I am accused […] Injustice will not win."
In the 139 pages of the official transcripts of his questioning by judges Aude Buresi and Marc Sommerer, Sarkozy laid responsibility for any wrongdoing onto his two longstanding right-hand men, Claude Guéant and Brice Hortefeux, describing their discussions with officials in Tripoli as, variously, "incomprehensible", an "error" and a "mistake". His argument was that he knew nothing of their dealings with the Gaddafi regime.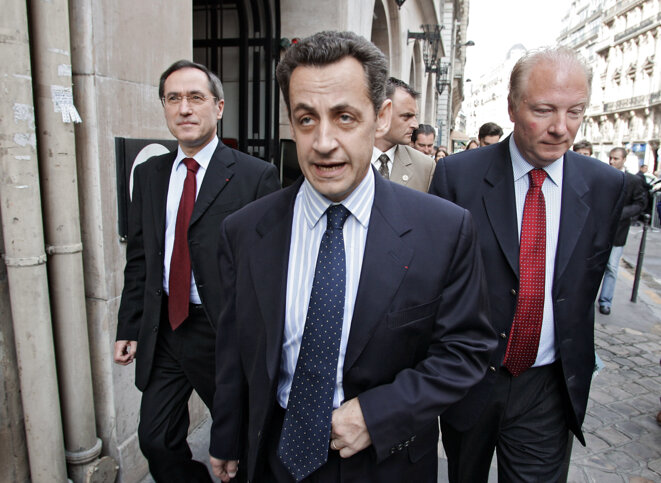 Left to right: Claude Guéant, Nicolas Sarkozy and Brice Hortefeux in June 2005. © PASCAL PAVANI / AFP
The crucial period of those dealings was 2005-2006, when Sarkozy was interior minister and openly preparing to run as presidential candidate for the conservative UMP party (now renamed Les Républicains) in the 2007 elections. Guéant was his chief of staff at the ministry, later becoming election campaign director for Sarkozy who, after his victory appointed Guéant as secretary general of the presidential office, the Elysée Palace. In 2011, Guéant received ultimate compensation for his loyal services when he was appointed interior minister.
He replaced Hortefeux, 62, who has been a close friend of Sarkozy's since his teenage years. He began serving him as a political ally in the early 1980s when he was made Sarkozy's chief of staff when the latter was mayor of the western Paris suburb of Neuilly-sur-Seine town. His first role in government was as junior minister (under interior minister Sarkozy) for local authorities between 2005 and 2007, when he was involved in the contacts and meetings with the Tripoli regime. After Sarkozy's election in 2007, Hortefeux successively served as immigration minister, labour minister and finally, from 2009-2011, as interior minister. In a 1995 book, (Au bout de la passion, l'équilibre…), Sarkozy described Hortefeux as "a brother".
Sarkozy served two terms as interior minister (in between he was briefly economy and finance minister) under the presidency of Jacques Chirac, the second of these running from 2005 to 2007 which was when he openly began preparing for the presidential election.
It was in 2005 that close contacts were made with the Gaddafi regime, when Claude Guéant, Sarkozy's ministerial chief of staff, and Brice Hortefeux travelled to Libya for meetings and discussions prepared by Paris-based French-Lebanese intermediary and businessman Ziad Takieddine, who had been involved in various dealings of Sarkozy's team with Arab countries since the early 2000s.
During the questioning of Sarkozy this month, the subject of Takieddine, suspected of playing, as he has admitted himself, a central role in the alleged funding, was recurrent. In his statements, Sarkozy dismissed Takieddine variously as a "madman", a "manipulator" and a "clever and unscrupulous man". Takieddine, implicated in earlier political funding scandals in favour of Sarkozy's political allies, received several millions of euros from the Gaddafi regime in an offshore account belonging to him, and he has said on record that he personally delivered the cash to Sarkozy's office.
Under questioning about Guéant and Hortefeux, Sarkozy said: "I had no element for knowing what was the reality of their lives, if it is that one really knows about the life of whoever it is." He added: "It's truer still regarding those who surround you, those we love and who can sometimes disappoint us."
During the 40 hours of questioning that began on October 9th, Sarkozy insisted on the honesty of his statements, telling judges Buresi and Sommerer that he was putting his "guts on the table", and appealing for their "common sense", while also criticising some of the hypotheses raised by the investigation as "intellectually stupid". His line of defence, as it emerges from the transcripts, is that if his entourage behaved wrongly it was not his fault.
In their written decision to place Sarkozy under investigation for "criminal conspiracy", the magistrates underlined the evidence that his aides acted on his behalf and not their own, and that also Sarkozy, firstly as interior minister and later as president, served the interests of the Libyan dictatorship, and with no logical state rationale, in return for a "pact of corruption" in 2005.
Meanwhile, the magistrates appear convinced by numerous witness statements from Libyan and French officials, and the mass of documents obtained by the seven-year probe, that Ziad Takieddine, 70, played a pivotal role for Sarkozy's team as secret emissary to the Gaddafi regime between 2005 and 2007.
Sarkozy told them that while he met with Takieddine twice in the early 2000s, he did not keep company with the French-Lebanese intermediary. He repeatedly said he "cannot explain" to himself the close relations between Takieddine and Guéant and Hortefeux, which he insisted he knew nothing of. He said that he was discovering only now the details of the relationship Guéant had with Takieddine. "You ask me if that's incomprehensible, the answer is 'yes'," he added.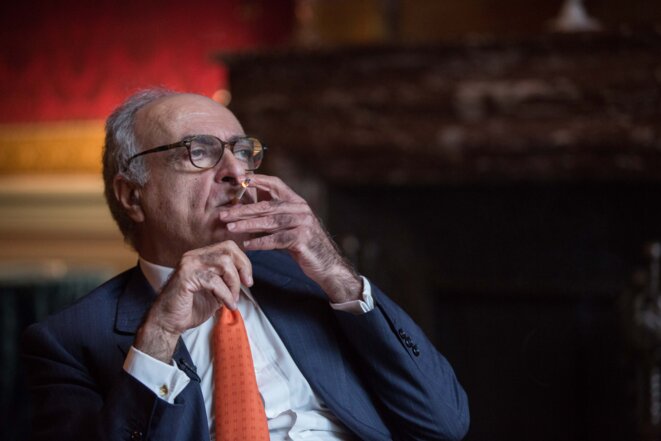 Ziad Takieddine, seen here during an interview in his Paris apartment, November 12th 2016. © Pedro Da Fonseca/Premières Lignes
Asked whether it was "credible" to imagine that Guéant would have been gullible enough to be taken in by Takieddine over a period of several years, given the suggestion that the intermediary was acting only for his own benefit, Sarkozy replied: "That has to be believed, alas. In any case, you cannot put that gullibility down to me. Why did Claude Guéant develop relations of I don't know what sort of nature with Ziad Takieddine, I cannot explain to you, and what's more it's not for me to explain it to you because these relations, from my point of view, were not professional in the sense that I had not asked for them."
"If the question asked is 'Is Mr Guéant wrong to have confidence in Ziad Takieddine?' the answer is 'yes'," he added.
"I never asked Claude Guéant to see Ziad Takieddine, never, neither orally nor in writing," Sarkozy told the magistrates. "He never reported back to me on meetings, I don't know how nor how many, with Ziad Takieddine."
Sarkozy said much the same about the relationship between Brice Hortefeux and Takieddine. He said he had no idea of the number of times Horetefeux visited Takieddine's penthouse apartment in central Paris, which the investigators understand was in fact on numerous occasions. "He didn't keep me informed," said Sarkozy. "Besides, he knew from the beginning how much I instinctively disliked Ziad Takieddine."
"Brice Hortefeux knows Ziad Takieddine in conditions that do not involve me. Claude Guéant knows Ziad Takieddine, sees Ziad Takieddine, you established that yourselves. Their acquaintances with Ziad Takieddine are independent. They don't have meetings all three together […] Is it a mistake for Claude Guéant and Brice Hortefeux to have relationships with Ziad Takieddine? I can only say yes. Does it make me the one who orders what Ziad Takieddine does in Libya? No, it's impossible to say such a thing."
Sarkozy asked the magistrates: "If what Ziad Takieddine had to do was so important, and so sensitive, why wouldn't I see him, why would I not receive him [for a meeting]? If it concerned a corruption pact, would I sub-contract? What's the logic? It's sensitive, it's funding, and I never see him?"
That statement was an apparent attempt to answer the hypothesis that it was precisely because of the sensitivity of the dealings with Tripoli that it was necessary to place third parties between him and Takieddine.
Between September and December 2005, Takieddine organised the visits to Libya of, firstly, Claude Guéant, and secondly Brice Hortefeux. They held meetings with a senior member of the regime, without involving the French diplomatic services present in the country, which was unusual. The official was Abdullah Senussi, Gaddafi's brother-in-law who at the time was the head of Libya's military intelligence, and who was the subject of an international arrest warrant issued by France after his conviction in absentia by a Paris court in 1999 for having organised the 1989 bombing of a French UTA airline DC10 passenger plane over Niger, in which 170 people lost their lives. Senussi was also implicated in the 1988 bombing of Pan Am flight 103 above Lockerbie, in southern Scotland, which left 270 people dead, and the massacre in 1996 of more than 1,000 inmates at the Abu Salim prison in Tripoli.
"I never asked for such a meeting," Sarkozy told the magistrates this month, "and if I had been asked my opinion about that I would have clearly said 'no'. I'll go even further, if I'm asked if it's a mistake, yes, for me, it's a mistake. To see Abdullah Senussi is a mistake, to be led by Ziad Takieddine to Abdullah Senussi is a mistake. Abdullah Senussi is wanted by international justice [agencies]. We don't have contact with him, he's a criminal. That's my position."
It was surprising claim that neither Guéant nor Hortefeux told him that they had met with Senussi. They were, he said, "tricked" by Takieddine. However, it is established that the pair continued to meet with Takieddine for several years afterwards.
"I very well see the idea that you have in mind of a pact of corruption that could have been knotted with this person against whom was issued an international arrest warrant," he said. "Do you take me for a madman? You place in me in a scenario whereby I send Claude Guéant to negotiate, with a criminal and a nutcase [Takieddine], a supposed corruption pact. That makes no sense."
The magistrates asked Sarkozy: "How do you explain, given the warnings of the [then French domestic intelligence services] DST of the risk that Abdullah Senussi might choose to join in official meetings to negotiate the lifting of the international arrest warrant against him, that Claude Guéant said nothing about this incident, except in the case of supposing that this was accidental?"
To which Sarkozy replied: "I don't know what to do, it's like hitting your head against the wall […] You have nothing to link me to Senussi."
Sarkozy spoke of the "lack of discernment" of both Guéant and Hortefeux. "Brice Hortefeux knew Ziad Takieddine well before me," he said. "He met with Abdullah Senussi in a surreptitious manner. Same answer for Claude Guéant, it is a mistake […] It is an error for the one like for the other. On the other hand, in what manner could that implicate me?"
In their separate statements to the investigation to date, Abdullah Senussi and Ziad Takieddine have separately stated that the secret meetings between Senussi and Guéant, like those between Senussi and Hortefeux, were centred on negotiations for secret funding of Sarkozy's 2007 election campaign.
In a period of just weeks after the last of these, with Hortefeux on December 21st 2005, a total of 6 million euros was sent by Senussi into an offshore account belonging to Takieddine.