Businessman Alexandre Djouhri, who is currently living in London, is one of the few central figures in the probe into financial links between former-president Nicolas Sarkozy's inner circle and Muammar Gaddafi's Libyan regime not to have been interviewed by judges investigating the affair. That could change soon as Djouhri is now fighting extradition from the British capital.
The Libyan affair resembles a Russian doll, with different layers and sections which ultimately come together to form the outline of one major suspicion: that of systematic, compromising behaviour by a political group in France (the Sarkozy clan) with a foreign dictatorship (Muammar Gaddafi's Libya).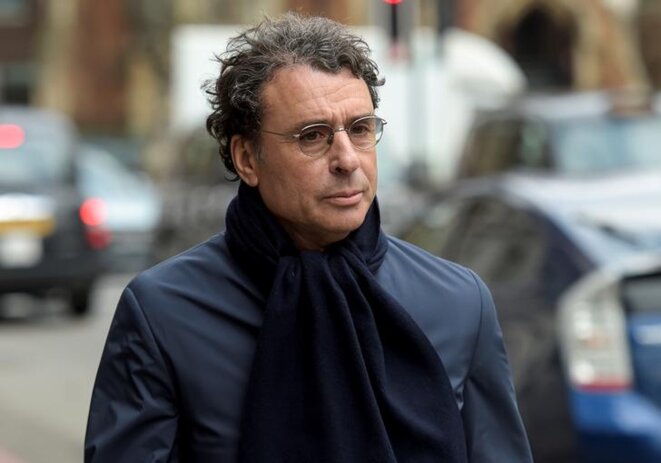 Middleman Alexandre Djouhri in London, where he is fighting against extradition to France to face questioning over the Libyan funding affair.
In this wide-ranging case, where suspicions of political financing mix with suggestions of personal gain, the judicial investigation launched in 2013 has the formidable task of following the trail of several complex networks. For the most part these networks involve two shadowy figures, described somewhat coyly as "middlemen", who happen to hate each other even though they have served the same political clan. Their names are Ziad Takieddine and Alexandre Djouhri.
The latest developments in the investigation, which Mediapart has gained knowledge of, show the extent to which police and judges have made progress in their probe into Alexandre Djouhri. The French judges want to question him over a long list of alleged offences: "active corruption", "forgery and use of false instruments", "complicity in embezzling public funds", "receiving and laundering embezzled public funds" and "laundering the proceeds of tax fraud".
Among the recent evidence that has been documented by the financial section of the Paris courthouse – which is overseeing the independent judge-led investigation - is the transcript of Judge Serge Tournaire's questioning of a former banker called Wahib Nacer. This key figure in Djouhri's network was interviewed by the French judge on February 19th 2019 in Djibouti in East Africa.
Initially the target of an arrest warrant, Wahib Nacer has now been placed under formal investigation for "complicity in active and passive corruption", "organised laundering of the proceedings corruption", "organised laundering of the proceeds of tax fraud", "complicity in the embezzling of public funds" and "receiving".
During the course of the 36-page transcript of the judge's questions and the answers given by Wahib Nacer – who comes across at times as embarrassed and sometimes incoherent in his responses – the outline of any potential criminal proceedings against Alexandre Djouhri starts to emerge. However, whether any proceedings against Djouhri do ultimately take place initially depends on the English courts, who ordered the middleman's extradition to France, a decision against which he then appealed.
Born in the East African country of Djibouti in 1944, Wahib Nacer spent much of his career at the bank Indosuez, which in the middle of the 1990s was taken over by French bank Crédit Agricole. He worked for the bank in Geneva and was resident for many years in Switzerland, while owning a large amount of property in France. Wahib Nacer now lives back in his native country which is where Judge Tournaire questioned him and placed him under formal investigation – a status in French criminal law procedure which is one step short of charges being brought.
Wahib Nacer says he has known Alexandre Djouhri since the start of the 2000s. An investigation by detectives from the anti-corruption unit OCLCIFF and investigating judges has thrown up several "suspicious operations" in the pair's business affairs, and these now lie at the heart of the Libyan funding case.
These are those operations:
♦ Half a million euros for Claude Guéant, Nicolas Sarkozy's right-hand man
Back in 2013, this was the spark which lit the judicial fire. When, during a search of Claude Guéant's home, detectives found a bank slip showing that 500,000 euros had gone into his BNP bank account in March 2008, Nicolas Sarkozy's right-hand man gave investigators an explanation which, six years later, holds no water as far as the judges are concerned. Or, as the judges have put it in several documents, it is a "false explanation".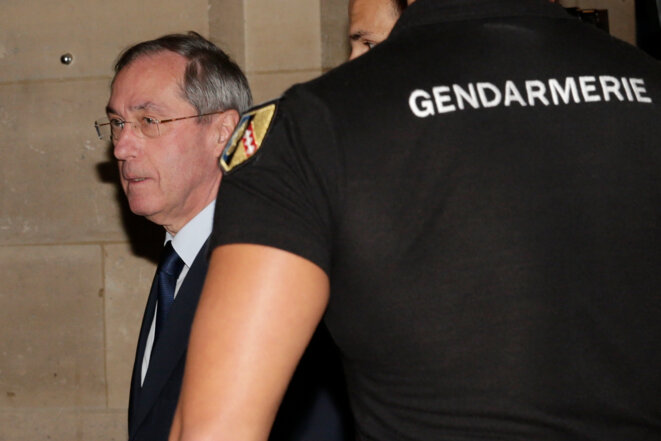 Former interior minister Claude Guéant at the courthouse in Paris on September 28th 2015. © Reuters
This large sum allowed Guéant, who was then secretary general of the Élysée Palace and Sarkozy's chief of staff, to purchase a fine apartment behind the Arc de Triomphe in Paris for 715,000 euros. Officially the money came from the sale of two small Dutch paintings to a lawyer in Malaysia.
The problem with this explanation is that these two seascapes by Flemish painter Andries van Eertvelt (1590-1652), bought for 500,000 euros, were in reality not worth more than 30,000 euros. The second problem is that the receipt produced by the purchaser lacks any authenticity as a document because of the number of errors it contains. These include serious spelling mistakes in the paintings' titles and painter's name, the fact that the currency symbol on the sale price was not in euros, that there was no solid identifying information given about the seller and so on.
So the money came from another source and, as far as the judicial investigation is concerned, that other source is Alexandre Djouhri. In hindsight, the convoluted journey undertaken by Claude Guéant's money reassembles a labyrinth on a global scale, a route which appears to have been designed to cover the traces of those who were involved.
Those efforts were in vain, however.
To begin with Tracfin, the economic tracking unit based at France's Economy and Finance Ministry, established that several days before transferring 500,000 euros to Claude Guéant, the lawyer in Malaysia – the supposed purchaser of the paintings – had received exactly the same sum from the bank account of a member of the billionaire Bugshan family from Saudi Arabia. Yet the family member supposedly involved, Khaled Bugshan - later questioned by French judges who said he "never varied in his declarations" - insisted that he did not know Guéant and had not been involved in any investments in Malaysia in 2008.
However, he said this transfer had been made at the request of Wahib Nacer, who is close to the Saudi family and who has control of several Bugshan accounts. Wahib Nacer also had business links with Gaddafi's chief of staff Bashir Saleh, a key Libyan figure who was close to Alexandre Djouhri.
When questioned in February 2019 over Bugshan's comments about the 500,000 euros paid to Guéant, Wahib Nacer gave what could be described as a supple response: "I didn't ask him, but I will not go as far as to say he is lying."
Does this mean that someone else made the request for the payment? What is known is that a bank slip with details of the bank account in which Claude Guéant received the 500,000 euros was found during a search of Alexandre Djouhri's Swiss home. Questioned by the judges, Claude Guéant was unable to explain how or why a bank slip with his account details had been found at Djouhri's home. The judges were of the view that the latter was "clearly actively involved".
In 2016 the Bugshan family started formal legal proceedings in Switzerland claiming they had been victims of an abuse of trust. That also seems to be the view of the French investigating judges who, in a formal request to the authorities in Djibouti in 2017 for assistance on a legal issue, wrote: "It would appear that Wahib Nacer abused his relationship of trust with Khaled Bugshan to use his Saudi account for a laundering operation, with the complicity of the Malaysian lawyer, seeking to discreetly send to Claude Guéant funds which are of indeterminate origin but which cannot correspond to the sale of the two paintings, and which are more like to be the quid pro quo for services rendered by Claude Guéant at a time when he occupied a central place in the machinery of the French state."
However, during questioning by Judge Tournaire, in the course of which he often repeated phrases such as "I don't know", "I know nothing about it" and "I have no observation to make", Wahib Nacer insisted that he was not "manager of the [editor's note, Bugshan] accounts in the strict sense". He told the judge: "I didn't have access to the computers nor to the passwords."
Contacted by Mediapart, Claude Guéant said that he had already spoken to the judges and did not want to say any more about it "for the moment" but added: "I simply emphasise that the intellectual constructions that may have been devised don't correspond to the truth." He is thus sticking to his initial version about the origin of the 500,000 euros. The last time he was questioned by judges, during which he was put under formal investigation for "corruption", Guéant employed his right to silence 51 times.
♦ The inflated sale price of one of Djouhri's villas to a Libyan fund
On January 23rd 2008, two months after the 500,000 euros arrived in his personal bank account, Claude Guéant welcomed Gaddafi's chief of staff Bashir Saleh to his official Élysée office, accompanied by Alexandre Djouhri. The middleman himself visited Guéant 59 times at the Élysée between 2007 and 2011, and Sarkozy 14 times over the same period.
In that very same year, 2008, Djouhri and Saleh were at the heart of a financial set-up which, according to the investigating judges, enabled the middleman to sell a property at an exorbitant price to a Libyan sovereign fund managed by the Libyan official - who kept some of the money. The property in question, which was sold for 10 million euros when it was worth at most 'just' 1.8 million euros, was a villa that Djouhri had owned at Mougins near Cannes in the south of France since 1998.