Once his mate indicated that filming had started, 'Nicolas' - dressed in French army fatigues and with a balaclava over his head - put a magazine in his pistol and let off a single shot into the night. He then turned to the camera, gave the finger sign and declared: "For fuck's sake, fuck the ragheads."
The scene, which lasts just 14 seconds, is reminiscent of other online episodes. One is of two supporters of the defeated far-right presidential candidate Éric Zemmour at a shooting range pretending to target politicians from the radical-left La France Insoumise party, the president, anti-fascists and "young crazy ragheads". Another scene, revealed by the journalism site StreetPass in November 2021, shows Zemmour supporters shooting at racist caricatures of Jews, Muslims and Blacks.
But a few key details reveal that the scene involving 'Nicolas' - not his real name - is somewhat different. The shooter's slender build and the outline of the face that can be discerned under the balaclava do not in any way correspondent to the insignia of a three-star general that he is wearing on his chest. There is a good reason for that, though: Nicolas is not even a soldier, let alone a general. He is a 16-year-old schoolboy.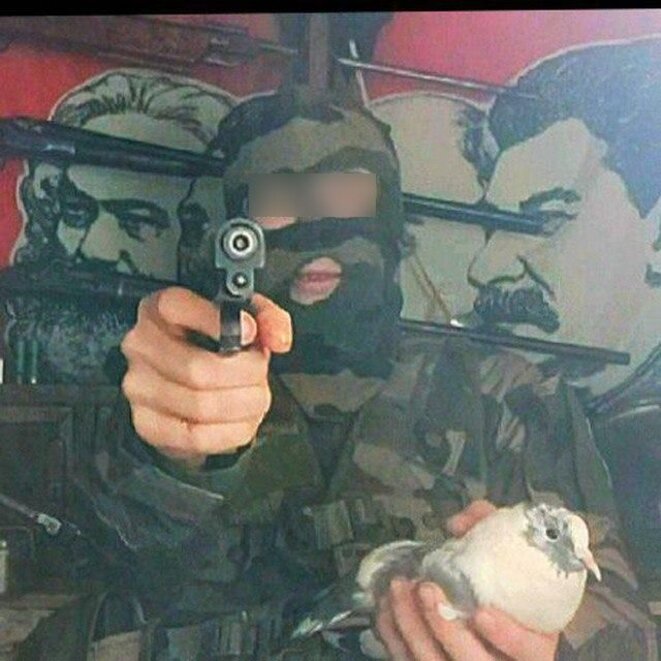 'Nicolas' in one of the many images of him with guns. © Document Mediapart
For more than a year the teenager, who lives in the south of France, has been running a channel on the Telegram messenger app dedicated to "urban survival" and "civil war".
Nor is his case unique. Out of the ten or so cases of terrorist conspiracy cases linked to the ultra-right and which are currently being monitored by France's antiterrorist prosecution unit the PNAT, at least two of them feature minors and young adults involved in hatching violent plots. "Young people play a major part in violent plots, as much because of the biographical availability that goes with this period of life as the propensity for rebellion that adolescence involves," noted a report by the Paris prosecution service that warns about the returning threat of ultra-right terrorism, as revealed last year by Mediapart. "These profiles are very worrying," admitted one senior intelligence official when asked about the case involving Nicolas.
According to prosecutors at the PNAT, in October 2021 three minors were convicted as part of a terrorist conspiracy linked to the ultra-right. A formal request has been made to indict two others in a juvenile court. Meanwhile a sixth teenager is under investigation and has been remanded in custody.
A few days after the Russian invasion of Ukraine on February 24th, Nicolas claimed online that he had plans to travel to the area and fight alongside pro-Russian separatists from the self-proclaimed republic of Donetsk. At the same time he expressed regret over this "fratricidal war between Whites" and also revealed his anti-Semitism. "All that for what? [Ukrainian president Volodymyr] Zelensky, the son of a fucking Jew. And today we're blubbing for the 'Ukrainians'?" he queried.
This war-torn country certainly holds a fascination for ultra-right activists. In a case back in 2019 that involved a "terrorist conspiracy" Ukraine had been described as a "native land", with one minor who was later placed under investigation talking of a "country untouched by immigration".
Nicolas and his "militia"
Apart from racist messages and caricatures, Nicolas also uses his Telegram account to publish documents on how to make weapons, and about survival and combat. All of this is combined with a shapeless political outlook that mixes references to National Bolshevism which he claims to follow (a variant of the far-right of communism sometimes labelled 'red-brown'), Stalinism and Nazism. But, incongruously, the app feed also contains images of the pigeons that he breeds.
On March 27th 2022 Nicolas broadcast to his more than 400 subscribers the video that shows him firing the pistol into the darkness. While in that scene he appears to be on his own, other images show him in the company of associates who are also often dressed in military fatigues. These are his "militia", as Nicolas refers to them. This small group posts on social media about its fascination for arms, a fascination which is also linked to fantasies about an imminent racial war. The teenagers film themselves in the forests – sometimes the sound of cicadas can be heard in the background - at a rudimentary camp that they have made. They also film themselves in the process of opening fire with a home-made rocket launcher, one made from a long metal tube into which they have stuffed fireworks.
The amateurish nature of it all would be funny were it not for the prosecution report noting this as part of a constant theme of the ultra-right; with the youngest members initiating themselves in "modes of action during physical training sessions and in learning military rules and methods".
The "favourite saint"
On the improvised rocket launch site made by Nicolas and his accomplices there is a flag decorated with a black sun. This symbol is popular in neo-Nazi movements, especially those with a mystical or esoteric bent; in particular it featured on the cover of the manifesto written by Brenton Tarrant, the Australian terrorist who carried out the massacre of 51 people in two mosques in New Zealand in March 2019.
On March 7th 2022 Nicolas's "militia" used their Telegram channel to share a poll calling on subscribers to choose "their favourite saint" out of Tarrant and other notorious figures such as Anders Breivik, Timothy McVeigh, Dylann Roof, Robert Bowers and so on. All are terrorists who have, in the last 30 years, carried out mass murder in the name of far-right ideology.
In their report the prosecution service refers to the "form of fascination" that the perpetrators of these killings hold for ultra-right activists "notably among the youngest". In April 2020 a young activist published photographs on social media of Timothy McVeigh, who carried out the Oklahoma City bombing in April 1995 that killed 168 people and injured more than 680. The photos of McVeigh were accompanied by the keyword "#Saint". This was exactly like Nicolas and his friends did two years later.
A video showing two members of Nicolas's 'militia' shooting a home-made rocket launcher and fireworks. © Document Mediapart
Nicolas and his mates also feature in other areas of the Telegram messenger app, in chats that are more or less anonymous, and in a channel linked to the well-known and much-decried '18-25' forum on the site jeuxvideo.com.
Like Islamic State, which knew how to make the most of social media to attract young people to its cause, ultra-right activists join gamer forums and play the part of culture geeks, as Mediapart has already described. According to the prosecution service report the video games 'World of Warcraft' and 'Fortnite', plus Blabla 18-25, jeuxvideo.com and the Avenoel forum are apparently "places of recruitment as much as of the development of a counter-culture which sits at the interface between the world of online games and the environment of the masculine and anti-feminist far-right".
In recent cases that have been referred to the PNAT its prosecutors have noticed an identical pattern: the minors involved have got to know the ultra-right activists through virtual discussion groups (for example jeuxvideo.com) before communicating via apps used by gamers, such as Discord or by encrypted apps such as Wire or Telegram.
In one 2020 case activists aged from as young as 12 who were talking on Discord had moved from groups discussing video games sites to far-right political discussion groups with explicit titles such as "Rassemblement Franco-Européen" ('Franco-European Rally') and "Europae Domus". In another case investigators found several images on the computer of a member of a neo-Nazi group that had been taken from a video game with missions that had descriptions such as "Decapitate the Gypsies" and "Gas the Jews".
Under various versions of his online handle, Nicolas is also very active in this type of forum and discussion, promoting the activities of his group as well as giving full rein to his endless racism and anti-Semitism. His comments are punctuated with words such as "ragheads", "niggers", "Yids" and other abject terms.
On these forums Nicolas exposes himself to insults and mockery over his fascination for Stalinism and some of the images of his "militia". He gets called a "communist slut" and the teenager is sneeringly accused of doing "survivalism in his back garden". Everything is fair game including his eating habits. "Do you eat your pigeons with compote?" jeer his detractors online, a reference to his pigeon breeding. He has even been the victim of "doxxing", the publication of someone else's private information online, by other members of these informal online communities. On the Telegram chats that he takes part in some share his true identity, information about his family and his home.
The humiliation felt from such abuse can in fact be dangerous and may spur a young person on to take action, which is seen as a way for them to restore their image. In a recent case handled by the PNAT one 15-year-old who had displayed signs of autism, and who suffered bullying and been attacked at school, got involved in a violent ultra-right group.
On September 20th 2021 Nicolas commented on a mass killing at a Russian university that had left six dead and around 30 wounded. It was carried out by a student there whom he claimed to know. He wrote "He's my friend. These degenerates were harassing him … I'm like him. A white man ...seeing his race destroyed by degeneracy and out of his mind about that ... Listen, man. This man was BROKEN. When you are SMASHED UP nothing but VIOLENCE will save you. You need vengeance. You hunger for it. You need it. And, one day, you do it."
On April 2nd this year Nicolas's Telegram channel suddenly went quiet. One of the last messages published that day wished a "bad ramdam" (it meant Ramadan) to "minging … ragheads". This was appended to the words "our dear shooting range targets" which had then been crossed out. According to a police source Nicolas and two of his associates were arrested after tying up and hitting someone they knew whom they accused of "not having kept their word". For the time it is not being treated as a terrorism case. Nicolas is currently staying in a detention centre for juveniles.
-------------------------
If you have information of public interest you would like to pass on to Mediapart for investigation you can contact us at this email address: enquete@mediapart.fr. If you wish to send us documents for our scrutiny via our highly secure platform please go to https://www.frenchleaks.fr/ which is presented in both English and French.
-------------------------
The original French version of this article can be found here.
English version by Michael Streeter