One of the symbols of French capitalism, Serge Dassault died following a heart attack on Monday May 28th, 2018. He was 93. Dassault had a variety of different roles and positions in life; he was chief executive officer of the Dassault Group aeronautical empire founded by his father Marcel, owner of the right-wing Le Figaro newspaper, and had been mayor of Corbeil-Essonnes south of Paris and a Senator for the conservative Les Républicains party, as well as being a friend of politicians on both the Right and Left. In this, he represented a very French way of doing business, mixing business and politics at the highest levels of state.
But Dassault's successes as an industrialist were tarnished by his involvement in corruption affairs and scandals. In 1998 he was sentenced for corruption in connection with an aviation contract in Belgium and 20 years later was convicted for "laundering the proceeds of tax fraud" and placed under investigation for "buying votes" during council elections in Corbeil-Essonnes. He will therefore never be tried for this alleged voting fraud, one of the biggest in recent French history.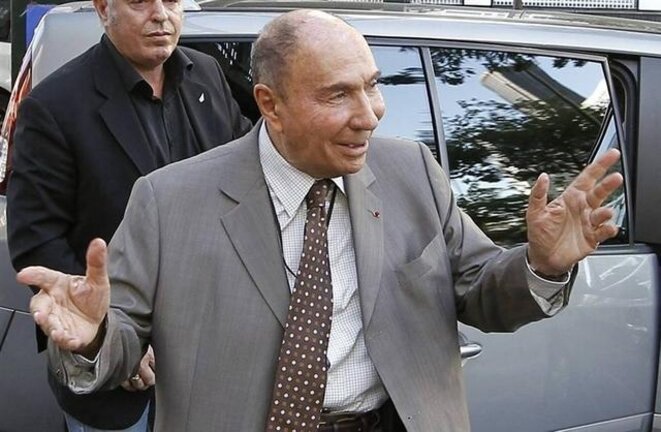 In his father's footsteps: Serge Dassault wanted to do better than his legendary father Marcel Dassault. © Reuters
Unlike his father Marcel, Serge Dassault minutely planned his succession at the family's business. His loyal right-hand man Charles Edelstenne, aged 80, will automatically take over the reins of the Groupe Industriel Marcel Dassault (GIMD), as the family holding company is called. This was a decision Serge Dassault took in 2014 to end the quarrelling over the succession between his eldest sons Laurent and Olivier.
To understand Serge Dassault's life one first has to understand the peculiar relationship he had with his talented father Marcel Dassault, the legendary figure who founded the group and invented the Mirage fighters and who was himself a right-wing Member of Parliament. Serge was looked down on by Marcel and kept away from the real levers of power in the family group until the age of 61 and his father's death. From that point on Serge Dassault did all he could to surpass his father, managing to acquire along the way some of Marcel's bad habits, such as the doling out of wads of notes to achieve his ends.
He was born Serge Bloch in Paris in 1925 and was aged 19 when he, his parents and many other Jews were interned first in Lyon in eastern France then at the Drancy internment camp north-east of Paris. This camp was used as a holding camp for Jews before they were sent to Nazi death camps. His father Marcel was himself sent to Buchenwald in August 1944 and narrowly escaped death. After the Liberation of Europe Marcel Bloch renamed his family Dassault and they converted to Catholicism.
After the war Serge Dassault attended the prestigious higher education institution Polytechnique and the aeronautical engineering institute SUPAERO and joined the family business in 1951. His one dream was to build planes alongside his father and succeed him one day. But Marcel was cool and disdainful towards his son, relegating him in the 1970s to running the group's electronics subsidiary, banning him from any direct involvement with the group's aircraft programmes and refusing to grant him any real power.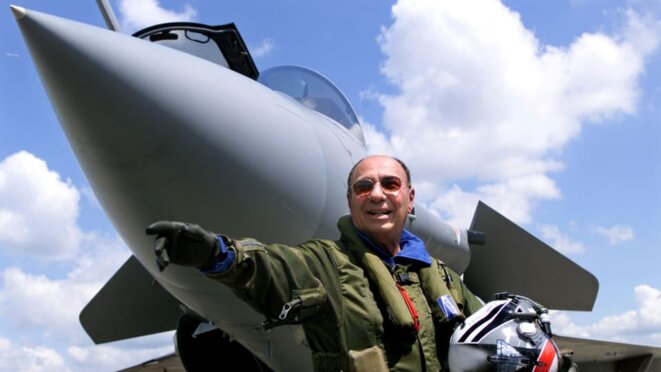 Serge Dassault in 1999 posing next to a Rafale jet at the Le Bourget air show north of Paris. © Reuters
This meant that Serge Dassault had to wait until the death of his father in 1986 before, finally, at the age of 61 he could take over as head of the group. His long wait had nurtured within him a thirst for revenge and a fierce desire to surpass his father on all fronts, using the same methods.
His achievements as an industrialist were considerable. Though for many years he struggled to sell his group's flagship Rafale fighters, Serge Dassault kept his company profitable, developed the Falcon business jets and the subsidiary
Dassault Systèmes
, a world leader in 3D design and product lifecycle management. This has led to Dassault becoming fifth on the list of the richest people in France with a fortune of 21.6 billion euros, according to the magazine
Challenges
.
However, he owed a considerable portion of his success to orders from the public sector and state, and to the fact that he was able to build on the formidable network of contacts established by his father. His discretion about his links to politicians was clear when he told Le Point magazine: "I prefer not to speak about them, they're all friends." A mayor, then a Senator for the right-wing Les Républicains, and the owner of Le Figaro since 2004, Serge Dassault was one of the most powerful men in France, who was on familiar terms with successive French presidents and and who cultivated friendships on both Left and Right.