In a series of exclusive reports that began in July, Mediapart has revealed the long-standing close links between France-based businessman and arms dealer Ziad Takieddine and the inner circle of advisers and aides surrounding Nicolas Sarkozy, before and after he became French president. Here, Fabrice Arfi and Karl Laske reveal how the businessman's financial and property assets have been frozen ahead of his imminent divorce and assess what the implications are for the investigation into the Karachi affair.
-------------------------

Can Ziad Takieddine bring down the House of Sarkozy? During the summer the Franco-Lebanese arms broker's close ties to the French president's entourage have been exposed by Mediapart. Takieddine, 61, is cited as a key witness in ongoing investigations led by examining magistrates into
suspected illegal political financing in France from the sale of three French Agosta class submarines to Pakistan in the 1990s
.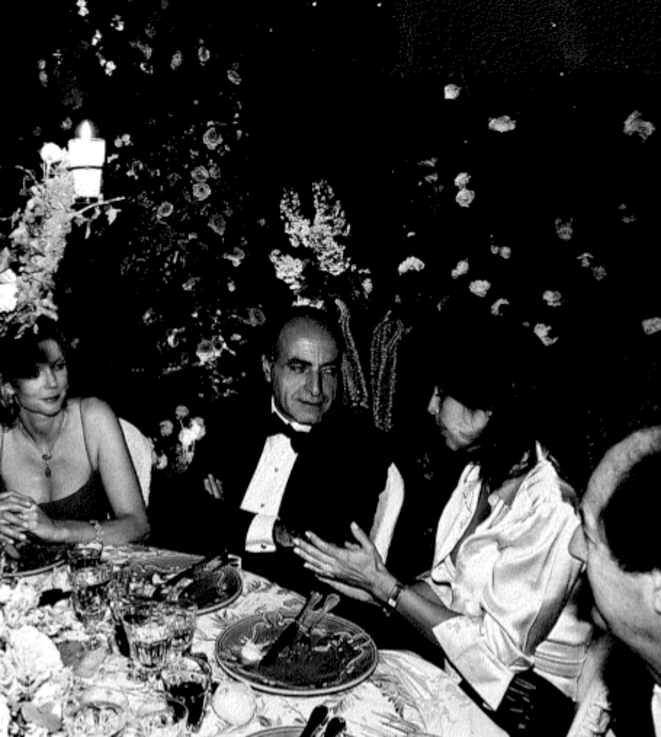 Ziad Takieddine, à table. © (dr.)
Written and photographic documents exclusively obtained by Mediapart have demonstrated the very close and longstanding links, both professional and social, between Takieddine and Nicolas Sarkozy's immediate entourage. Mediapart has revealed how Paris-based Takieddine surprisingly pays no income nor wealth tax in France, his fiscal domicile and where, according to documents signed by him, his personal fortune has an estimated value of more than 40 million euros.
Mediapart has further shown how in 2003 Takieddine was destined to receive 350 million euros in secret commissions from another arms contract, this time with Saudi Arabia, negotiated on behalf of Nicolas Sarkozy's aides via a company run by the French interior ministry when it was headed by Sarkozy. Mediapart has also disclosed how the arms dealer, while negotiating that contract, was saved by Sarkozy's entourage after an alleged assassination attempt on the exclusive Caribbean island of Mustique.
The investigations have also shown how Takieddine served as a protector for Colonel Muammar Gaddafi's nephew Mohammed al-Senussi after he was charged in London with causing 'grievous bodily harm' to two escort girls and how the businessman, backed by Sarkozy's Elysée Palace chief-of-staff, was paid almost 7 million euros by oil group Total in a gas field deal with Gaddafi's regime. French intelligence has also been shown to have been shielding the arms broker.
Now Mediapart can reveal how the businessman's private life has halted his attempts to reorder his financial affairs.
Takieddine has recently been seeking to sell off his estate and "exfiltrate" the bulk of his fortune, which is already managed by offshore trust companies domiciled in several different tax havens.
On August 4th, however, family law court justice Myriam Cadart temporarily froze his property holdings and personal assets at the request of Nicola Johnson, 50, his estranged British wife who is now divorcing him, in view of "the certain and imminent risk of dissipation of the couple's estate".
At the same time, investigating magistrate Renaud Van Ruymbeke instructed the police to question Mrs Johnson about the commissions her husband had received on the sale of French arms to Pakistan and Saudi Arabia, which constitutes the nub of the financial side of the 'Karachigate' affair. The arms broker's wife was called in for questioning on August 30th by the DNIF financial crime division in the Paris suburb of Nanterre.
While the Paris court of appeal is to rule on the divorce proceedings on September 15th, William Bourdon, Mrs Johnson's lawyer, on August 4th obtained a temporary injunction from the family law judge "prohibiting Mr Ziad Takieddine from engaging in any act whatsoever to dispose of any of their community property".
This injunction expressly applies to Takieddine's prestigious Paris apartment in the avenue Georges-Mandel, his properties in the French town of Antibes and in London - which, as Mediapart has revealed, he withheld from the tax authorities - as well as other apartments in Paris (rue Marbœuf) and Beirut.
Solicitor William Bourdon has communicated this injunction, which amounts to a freeze on Takieddine's assets, to "roughly two hundred legal entities" directly concerned, including the offshore companies whose chief raison d'être was to receive payment of - and share out - the illegal commissions on the arms deals.
"Mr Takieddine, who is known worldwide for the extremely opaque nature of his business dealings and his sundry connections, which have been widely denounced and relayed by the press," wrote Bourdon in his August 4th request to the court, "hid his income and various properties for many years."
"Mrs Johnson found out that he had already sold some of their properties," continues the brief, "and that he was making arrangements to sell others, taking out additional mortgages and loans, and thereby severely diminishing her chances of being awarded any compensatory allowance under the terms of their divorce."