British daily The Times last week revealed a hitherto undisclosed report by the United Nations High Commissioner for Refugees (UNHCR) dated from 2002 which detailed allegations of how members of NGOs operating in refugee camps in Africa traded food for sexual favours from the unfortunate populations they were assigned to help.
According to The Times, the 84-page UN report found that, "sex was demanded in return not just for food but also for access to education classes, textbooks and pencils, soap, shoes, material for shelters and temporary jobs", and the decision not to publish the report "was perhaps because its identification of so many agencies was considered too damaging to a sector that depends on public donations".
Already in February this year, The Times revealed how Oxfam had kept secret the fact that several of its staff had been involved in sex parties with prostitutes while they were engaged in relief operations in Haiti following the devastating earthquake there in 2010. Following a whistleblower's report to the organisation's senior management in July 2011, Oxfam confidentially "allowed three men to resign, and sacked four for gross misconduct after an inquiry into sexual exploitation, the downloading of pornography, bullying and intimidation".
That report had profound repercussions for Oxfam and its venerable image as one of the largest NGOs battling poverty around the world, forcing the resignation of its deputy chief executive, Penny Lawrence and causing the loss of a number of major donor sources, including the British government, leading to the axing of 100 staff. This month, its chief executive Mark Goldring announced he will step down at the end of the year.
But there was no such comparable scandal when, one month before those revelations, Gry Tina Tinde, currently gender and diversity coordinator for the International Federation of Red Cross and Red Crescent societies and a former special advisor to the UN High Commissioner for Refugees (UNHCR), detailed allegations about "sexual predators" among staff working as election monitoring officials for the Office for Democratic Institutions and Human Rights (ODIHR), an agency of the Organisation for Security and Co-operation in Europe (OSCE).
In her article published online on January 10th by Devex, a media platform dedicated to people working for international aid organisations, Tinde recounted her experiences as an observer for the OSCE- ODIHR in monitoring the October 2015 local elections in Ukraine. "As the mission got under way, numerous cases of sexual harassment by male election observers against local and international women were reported," she wrote.
"Despite needing the employment, quite a few brave women did come forward — in distress, afraid of their harassers and of losing their jobs. Several women said the same male perpetrators would show up in mission after mission." She said some countries in particular sent "known abusers" to the observer missions. "It was surprising that OSCE-ODIHR and the national recruitment agencies had not eliminated the repeat offenders in the recruitment phase."
Numerous international organisations and institutions – including the European Union, the African Union, the OSCE, the Carter Center and the International Organisation of La Francophonie (a confederation of French-speaking countries) – are regularly involved in monitoring elections worldwide. The credibility of some of these missions in properly monitoring elections are sometimes placed in doubt, as was the case in last year's presidential elections in Kenya; reported irregularities led the country's supreme court to overturn the initial result despite the conclusions of several monitoring agencies that the first results were legitimate. Such events have tarnished the reputation of international election observers, raising criticism over their approach, their costs and their arguably minor contribution to the democratic process.
But beyond questions of competence and cost are numerous allegations about the personal misconduct of some of the observers in the missions, as denounced by Gry Tina Tinde.
Contacted by Mediapart, the OSCE's ODIHR declined to comment on the allegations in Tinde's article published in January, and offered no information about the number of alleged cases of personal misconduct nor any action eventually taken. "There are no statistics on such instances, as we follow up directly on each individual report," replied an ODIHR official by email. "I'd just like to underline that we have a zero-tolerance policy on sexual harassment or any other violations of our code of conduct and, as in the cases in the article you cite, where the observers were sent home and have not been seconded to our missions since the complaint about their conduct, we follow up on such reports and take the appropriate measures."
Comments posted on a private Facebook page used by EU electoral observers suggest that allegations of incidents of sexual misconduct are more frequent than is generally recognised. Consulted by Mediapart, one contributor spoke of male colleagues boasting about the number of prostitutes they had had sex with. Another cited a case of sexual harassment against a woman staff member who reported it to her "focal point", the EU jargon used to describe the national officials responsible for recruiting and nominating members of missions, who took no further action, although she later alerted more senior management. Yet another alleged that one "focal point" had attempted to discredit a woman who had complained of sexual misconduct against her to protect the alleged perpetrator.
Outside of the exchanges strictly between insiders, some are less keen to talk. When Mediapart made private contact to seek more detailed information from the person behind the last comment cited above, they replied: "Thankfully I have not seen nor heard of abuses in missions in West Africa. These things are rare, and I guess they normally happen without the knowledge of many, so I have nothing to report. Good luck with your research!"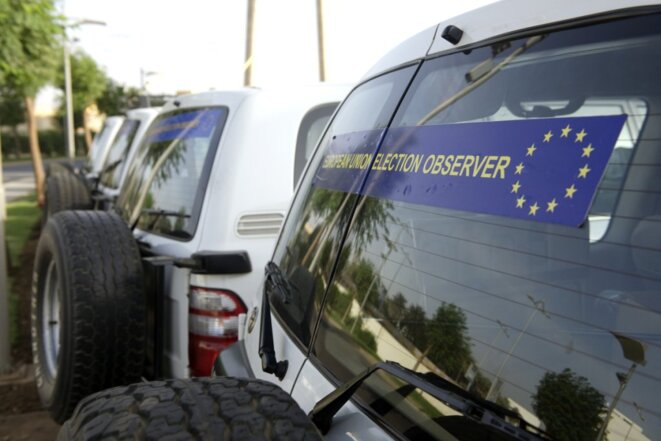 Vehicles from a European Union election monitoring team mission. © EU
However, one person contacted by Mediapart did agree to recount her experiences. Marion (last name withheld) explained she was doing so "in the hope that this behaviour is no longer minimised, and that concrete action is taken by institutions that represent an idea of democracy". Mediapart subsequently also spoke to some of her colleagues.
The events she recounted happened during legislative and presidential elections held in the Democratic Republic of the Congo (DRC) in 2006, the first such elections to take place since the former Belgian colony in central Africa became independent in 1960. More than 300 observers were sent by the EU – the biggest single monitoring contingent it had ever organised – to what is the largest country in sub-Saharan Africa. Marion was part of that team, acting as a long-term monitor of the voting, which began with presidential elections on July 30th and legislative elections on October 29th.
There was an early indication that some regarded the mission as an opportunity for sexual activity with the discovery of condoms and pregnancy testing devices in the standard-issue medical kits.