A French judicial investigation into the "financing of a terrorist enterprise" by French cement group Lafarge has identified a budget of more than 15 million dollars that is suspected of having been used by the company, at least in part, to pay terrorist organisations, including the Islamic State group, to ensure the uninterrupted activities of a plant it operated in Syria between 2010 and 2014, according to documents obtained by Mediapart.
Former executives with Lafarge, which merged with Swiss cement maker Holcim in 2015, creating LafargeHolcim, the world's largest cement manufacturer, have admitted that the group made payments to racketeering armed groups in Syria which controlled territory surrounding its plant at Jalabiya in the north of the war-torn country.
The French judicial investigation, headed by Paris-based judges Charlotte Bilger, Renaud Van Ruymbeke and David de Pas, has partly based its estimation of the budget put aside by Lafarge to ensure the continued operations of its plant and the security of its staff there on the results of an internal inquiry by the cement maker. This suggests a much higher amount than was hitherto suspected was handed, directly or indirectly, to groups recognised by international law as terrorist organizations.
The three magistrates last week placed both former Lafarge chief executive Bruno Lafont and Eric Olsen, who served as Lafont's deputy at Lafarge and who succeeded him from 2015 as LafargeHolcim CEO, under investigation for "financing terrorism". Olsen stood down from his post in April after the admission by the group that it had made protection payments. In an interview published earlier this month in French newspaper Le Figaro, LafargeHolcim's chairman Beat Hass reiterated that the company had made unacceptable errors in Syria and that it was cooperating with the French investigation.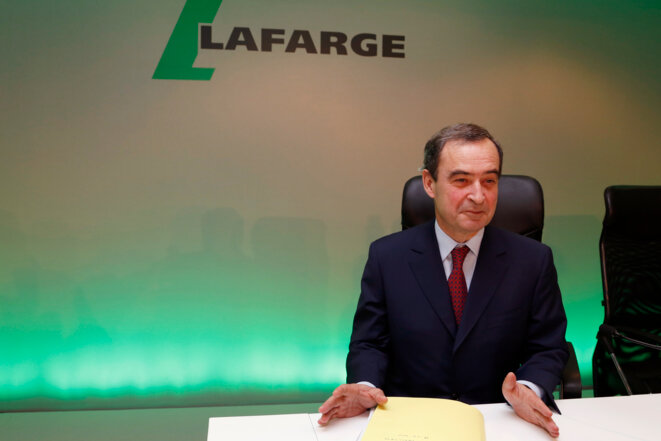 Under investigation for "financing a terrorist enterprise": Bruno Lafont, ex-CEO of Lafarge (seen here in February 2015). © John Schults/Reuters
Also placed under investigation for funding terrorism are Bruno Pescheux, director of Lafarge's Syrian subsidiary between 2008 and 2014, his successor, Frédéric Jolibois, and Jean-Claude Veillard, a former director of security at Lafarge (who stood as a candidate for the French far-right Front National party in municipal elections in Paris in 2014), and Christian Herrault, a former Lafarge deputy managing director in charge of company operations.
Under French law, a person suspected of a criminal offence can be placed under investigation when magistrates find there is "serious or consistent" evidence against them. These may result in charges and the order to stand trial at the end of the investigation, or be thrown out.

The former Lafarge executives have all been bailed by the magistrates, despite a request by the Paris public prosecutor's office that two of those placed under investigation be kept in preventive detention, as often applied in cases of suspected funding of terrorism, notably to prevent the risk of tampering with evidence or subornation of witnesses. Their release prompted a statement on Tuesday from French anti-corruption NGO Sherpa, whose lawsuit against Lafarge initiated the current investigation, in which its founder William Bourdon and the NGO's lawyer Marie Dosé observed: "Citizens suffer from the fact that the principle of equality before the law is not really effective. So much the better that Mr Bruno Lafont, former Lafarge CEO, has not been placed in detention, but that should apply to all."
Based partly on the conclusions of a report commissioned by Lafarge from accounting firm PricewaterhouseCoopers (PwC), tasked with auditing the cement maker's operations in Syria, the judicial investigation has identified a budget totalling 15, 348, 804 dollars (just more than 13 million euros) which is suspected of funding the protection payments to terrorist groups.
In 2007 the Lafarge group, a world leader in construction materials – cement, concrete and aggregate – bought a Syrian cement plant which, following major renovation work, was re-opened in 2010 as one of the most modern in the Middle East, able to churn out three million tonnes of cement a year. It was located at Jalabiya in north-east Syria, a region dominated by the Islamic State group (IS) and the jihadist Al-Nusra Front, about 90 kilometres from Raqqa, the city which became the 'capital' of the territory controlled by IS. The plant was the property of Lafarge Cement Sysia (LCS), which was 98% owned by the French parent company.
The budget 'pot' of more than 15 million dollars was used by Lafarge for various payments to secure its continued operations in the region ruled by terrorist groups. These included about 5.5 million dollars for the supply of heavy fuel, sand and various other raw materials, another 5.3 million dollars to ensure the security of the plant and safe passage of its employees, and the payment of about 1.6 million dollars to intermediaries engaged to negotiate with IS and other terrorist groups.
Lafarge ended its activities in Syria in 2014 when the plant in Jalabiya was finally seized by IS, just 14 months before members of the terrorist group carried out a well-planned operation of shooting and bombing attacks in and around Paris on November 13th 2015, which left 130 people dead and more than 400 wounded.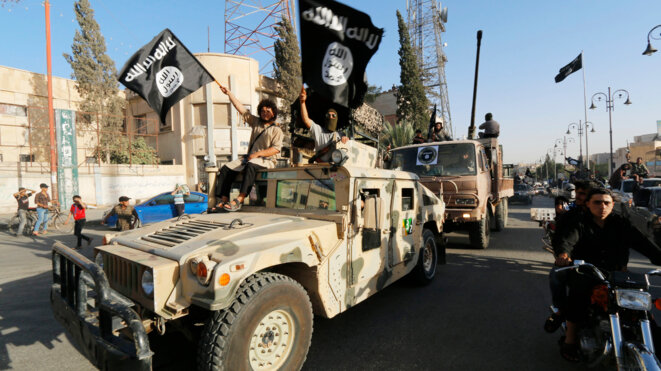 A parade by Islamic State group through the streets of Raqqa on June 30th 2014. © Reuters
Lafarge's alleged dealings with terrorist groups in Syria emerged in early 2016 in reports published by Syrian website Zaman al-Wasl, and shortly after by French specialist online newsletter Intelligence Online and also French daily Le Monde. LafargeHolcim, after its creation as a merged group in 2015, later engaged US-based international law firm Baker McKenzie to carry out a fact-finding investigation, codenamed "Alpha", into Lafarge's activities in Syria.
The conclusions of the "Alpha" investigation were presented to the Lafarge board on April 12th this year. It found that Lafarge had paid a Syrian businessman, Firas Tlass, to act as a go-between to make payments to local armed groups, and notably IS, to ensure the continued operations of the plant in Jalabiya and the security of its staff. The report said Tlass was commissioned by Lafarge to negotiate with IS in the autumn of 2013 and the summer of 2014, and that the cement maker had bought heavy fuel oil and other raw materials from suppliers who were believed to be affiliated to, or themselves supplied by, the IS group.
Firas Tlass, 57, is the son of a former Syrian defence minister who served under Syrian president Bashir al-Assad's father Hafez, and under which his business dealings flourished. In 2012 he defected to the side of the rebels fighting the Damascus regime. Tlass is believed to have received a total of more than 9 million dollars from Lafarge for his role as middle man between the French firm and the terrorist groups. In October this year it was reported that he was detained in the United Arab Emirates on an international arrest warrant issued by the French authorities in connection with the ongoing judicial investigation into Lafarge's activities in Syria.
The report by Baker McKenzie said that the records of financial transactions by the cement maker in Syria showed that between July 2012 and September 2014 the French group had handed Tlass the equivalent of 5,384,365 dollars in what were described as donations to numerous local armed factions in Syria, including IS. The sums were allegedly made in cash.
Several Lafarge internal documents recording meetings within the company that show clearly that from September 2013 several senior management figures were aware that the continued operations of the Syrian plant were dependent upon negotiations with terrorist groups. "It is becoming more and more difficult to operate without being drawn into direct or indirect negotiations with these networks classified as terrorist by international organizations and the United States," observed, at the time, Lafarge security head Jean-Claude Veillard, a former French naval officer.
Related articles
Christian Herrault, who was deputy director of operations at Lafarge, gave a frank account of the company's dealings with IS when questioned on April 3rd this year by French customs officers, who were then appointed to lead the early stage of the investigations. "There was no intermediary solution, either we left or we stayed," he said in his statement to them. "The racketeering by Daech [
another name, from an Arabic acronym, for IS
] was the equivalent of 500 tonnes [
of cement
]. Given that we had three silos of 20,000 tonnes were we going to give up everything for 500 tonnes?"
Asked whether Lafarge had directly or indirectly paid what the customs officers described as "Islamic groups" to allow its staff at the Syrian plant to enter and leave the premises, Herrault answered: "Indirectly, yes. But as for Islamic groups, I only know of Daech."
-------------------------
The French version of this article can be found here.
English version by Graham Tearse