Lionel Messi has become the first footballer in the world to be on a contract worth 100 million euros a season, Mediapart and other European media can reveal. Documents supplied by Football Leaks and revealed by the journalistic consortium European Investigative Collaborations (EIC), of which Mediapart is a member, show that on June 30th, 2017, the same day he married his fiancée Antonella Roccuzzo, the Argentine star had agreed a four-year-deal with Barcelona worth more than 400 million euros which will keep him at the Catalan club until 2021.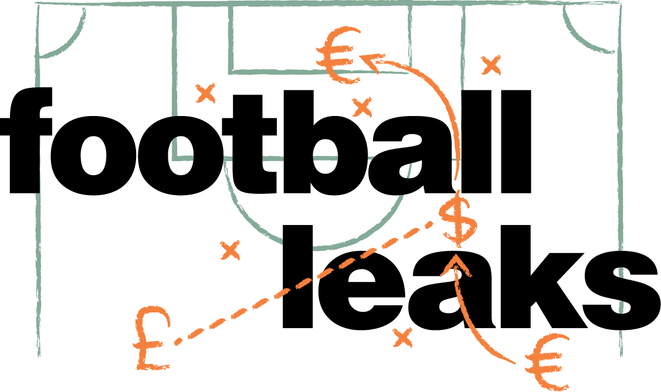 Separate Football Leaks documents also reveal how Barcelona feared that Messi's charity for disadvantaged children was in effect helping to save the footballer millions of euros in tax. The documents show that the club urged the footballer to pay back taxes they believed he owed the Spanish tax authorities – and ended up footing the bill for this in a bid to keep their star player happy. "We have to remember that [Messi] is the club's most important asset," a senior Barcelona official told an employee who queried the club's handling of the situation. Messi, his family and Barcelona deny breaking any rules and any wrongdoing.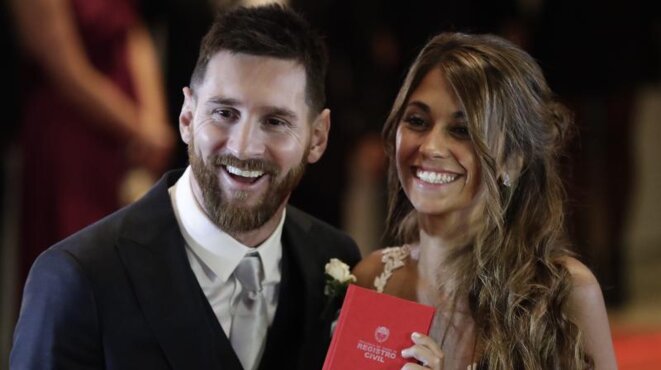 Lionel Messi and wife Antonella Roccuzzo during their wedding in Rosario, Argentina, in June 2017. © Reuters
It is, however, the jaw-dropping salary that Lionel Messi now commands at the Spanish football club that will grab the headlines. The sums are revealed in two documents from Football Leaks, an employment contract and a royalties contract, which have been obtained by German publication
Der Spiegel
and sent to and analysed by Mediapart and its partners in the EIC network.
They reveal the 400 million-euro deal which means that the diminutive player who grew up in a poor family in Argentina is on a guaranteed minimum of 104,441,346 million euros a season, which equates to 286,140 euros a day or 11,922 euros per hour.
Messi's earnings could, in fact, be even higher than stated in those documents. For the employment contract supplied by Football Leaks, showing the terms offered by Barcelona, dates from June 2017 and it was not signed by Lionel Messi at the time. It was simply signed by the player's father and agent Jorge Horacio Messi. In fact Messi senior prolonged negotiations with the club until November 25th, 2017, when the final contract was signed by the player himself. Though this final contract does not feature in the Football Leaks documents, it is certain that after five months of negotiation by Jorge Messi the sums involved in that final contract are not lower than those in the preliminary version, and could even be higher.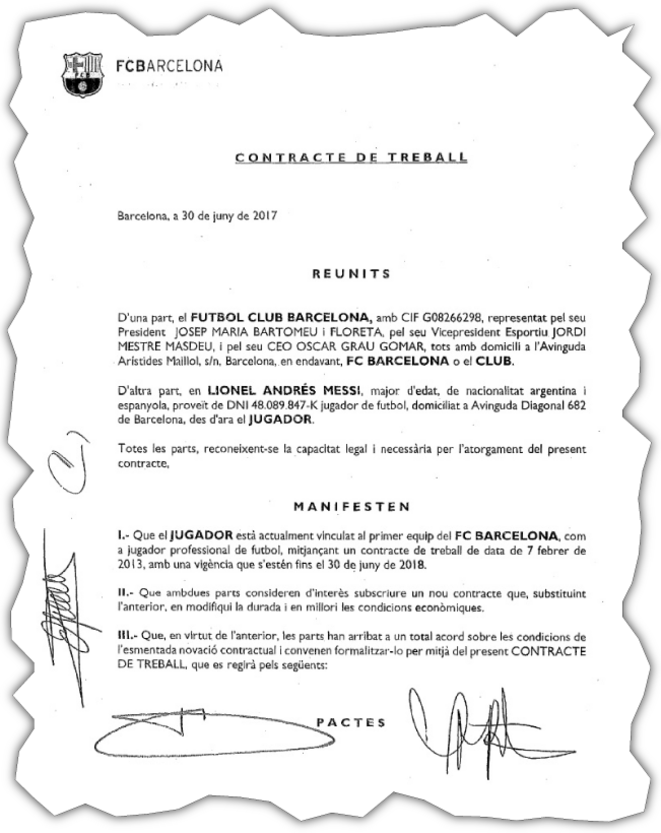 The first page of Lionel Messi's employment contract dated June 30th, 2017. © EIC
The figures in the original, preliminary contract are staggering enough, however. They show that Messi is on a basic pre-tax income of at least 71,053,846 million euros a season. Of this 85% is salary and 15% is from royalties. On top of this there is a signing fee of 63.5 million euros and another "loyalty" bonus of 70 million euros for not leaving the club before the end of the four-year-deal. Added up this comes to more than 400 million euros.
Indeed, thanks to a string of other potential bonuses, to be paid for example if Barcelona win La Liga in Spain and the Champions League, Messi could earn a total of up to 122,515,205 euros a year. To put that into context the fourth richest club in Ligue 1 in France, Olympique Marseille, has a total wage bill of 120 million euros for the current season.
But despite the colossal sums involved it is clear that Barcelona were overjoyed that the five-times winner of the prestigious Ballon d'Or award for the world's top player has chosen to stay with the Catalan side. In early July 2017, shortly after Messi's father Jorge had signed the preliminary contract indicating that the star player was intending to stay, the club's director of legal affairs Roman Gomez Ponti sent an email to the club's chief executive Oscar Grau Gomar. In the subject line of the email was just the word ALELUYA ('ALLELUIA') with no fewer than 68 'As' at the end.
Another email supplied by Football Leaks, also written in July 2017, is from the club's president Josep Maria Bartomeu to Jorge Messi, the player's father. It says: "Congratulations everyone! Leo is going to stay here and we all hope that he does."
Barcelona's eagerness to keep hold of their star was not just shown in their readiness to boost his basic pay but in other ways too. Separate Football Leaks documents show that in 2016 the club had become concerned about Messi's tax affairs in relation to his charity the Leo Messi Foundation. Barcelona's concerns followed a letter it received on April 28th, 2016, from the Spanish tax authorities over the 7.5 million euros that the club had paid to Messi's foundation in the years 2010 to 2013. The authorities wanted more documents and information about those payments.
The tax authorities were clearly wondering whether the donations the football club was paying directly to Messi's charity under terms linked to his employment contract should not be taxed like any other income. As things stood, both Barcelona and Messi were saving themselves millions in taxes. If the Spanish tax authorities were right, this meant that the Spanish state and its taxpayers were unfairly subsiding the wealthy player's charity foundation.
Barcelona were worried by this development. Messi already had his problems with the Spanish tax authorities over a separate issue. Indeed, weeks later, in July 2016 Lionel Messi and his father Jorge were convicted for tax fraud by a Catalan court on three counts of tax fraud between 2007 and 2009 to the tune of 4.1 million euros on image rights.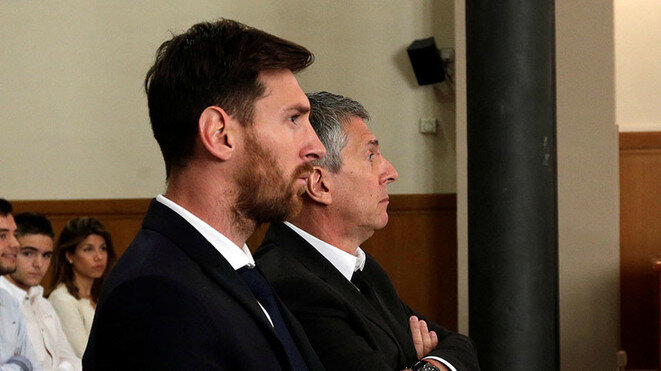 Lionel Messi and his father and agent Jorge during their trial for tax fraud in Barcelona, June 2016. © Reuters

The football club therefore immediately alerted the Messis about the April 2016 tax inspection, out of "loyalty" as the club put it in an email. Jorge Messi, Lionel's father and agent, replied with a wisecrack: "Don't worry, we know all about these issues."
But Barcelona FC wanted more clarification and consulted a tax lawyer. His report on June 10th, 2016, made for worrying reading. The tax lawyer considered there was a high risk that the tax authorities would recategorise the club's donations to Messi's foundations as salary payments. For the 2010-2013 period this would mean the club having to find 1.95 million euros in back taxes and Messi himself 3.2 million. Even more troubling was the lawyers' view that Lionel Messi probably would not be allowed simply to repay the money but would face fresh proceedings for tax fraud.
The lawyer said, however, that the player could still avoid the worst. As there had as yet been no formal request for a repayment of taxes, the Argentine player could still pay them voluntarily. Under Spanish law this would mean no criminal proceedings could then be launched. This was the solution the tax expert recommended, especially given the fact that Messi was already facing conviction on other tax matters at the time.
Barcelona FC were in a state of panic. If the player were to face a new conviction for tax fraud there was a strong chance this would lead to imprisonment; he was eventually given a suspended jail term after his conviction in the image rights fraud case in July 2016. That would be catastrophic not just player but also for the club, whose team was built around the player whom some dubbed 'The Messiah'.
The club's president, Josep Maria Bartomeu, was said to be "worried". He wanted Messi to regularise his tax affairs discreetly. "Please stay close to them [editor's note, the Messi clan], quickly, and make sure that everything is done appropriately," he wrote to a colleague at the club. But it was a delicate situation. The club had just entered into talks with the player to extend his stay after the expiry of his current contract in 2018. It was not easy to force the player's hand in such circumstances.