It was exactly five weeks to the day after his arrest on sex trafficking charges when Jeffery Epstein was found dead in his cell at New York City's Metropolitan Correctional Center last Saturday. The financier and convicted paedophile was arrested on July 6th by FBI officers just after his private jet landed at New Jersey's Teterboro airport, flying in from Le Bourget airfield north of Paris.
Epstein was a regular traveller between New York and the French capital, where he owned an apartment on the upmarket Avenue Foch, close to the Champs-Élysées. His arrest came as he returned from a three-week sojourn in Paris.
In a 13-page Manhattan federal court indictment revealed two days later, prosecutors alleged that Epstein "sexually exploited and abused dozens of minor girls" from 2002 to 2005 at his luxurious properties in New York and Florida, that he "enticed and recruited, and caused to be enticed and recruited, minor girls" to "engage in sex acts with him, after which he would give the victims hundreds of dollars in cash".
Prosecutors claimed that he also paid girls to recruit others, and that, "This way, Epstein created a vast network of underage victims for him to sexually exploit". Appearing before the court on Monday July 8th, Epstein, 66, entered a plea of "not guilty" to the charges, for which, if convicted, he faced a maximum sentence of 45 years in jail.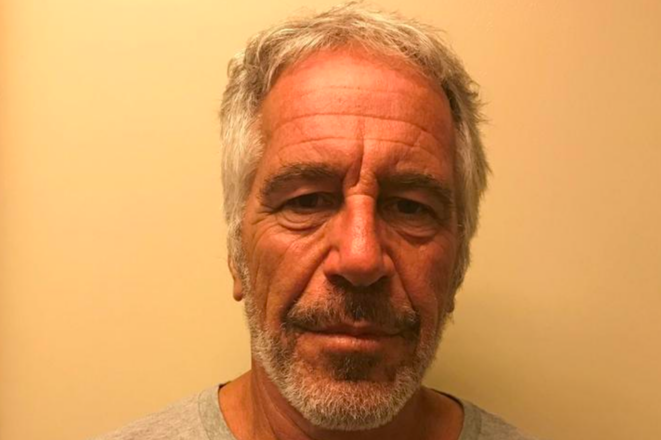 Jeffrey Epstein. © o Reuters/New York State Division of Criminal Justice Services' sex offender registry
Following Epstein's death this weekend, described as an "apparent suicide" but which is still under investigation, US attorney general William Barr said on Monday that investigations will continue into suspected co-conspirators in the alleged sex trafficking. "Let me assure you that case will continue on against anyone who was complicit with Epstein," Barr said, adding that "any co-conspirators should not rest easy. Victims deserve justice and will get it".
But while the sex trafficking probe centres on events in the US, evidence emerging from the case suggests that Epstein's alleged criminal activities spread as far afield as France, and on Monday two French government ministers urged the opening of an investigation "to shed light" on the suspicions. One of Epstein's accusers in the US case said she had been sent to France on several occasions to serve as his "sex slave" when she was still a minor, and that the financier's victims included two 12-year-old girls sent to him from France by "one of his friends" as "a surprise birthday present".
Two of those who are alleged to have taken part with Epstein in his sex trafficking and abuse of minors are British socialite Ghislaine Maxwell, the daughter of the late, disgraced media tycoon Robert Maxwell, and French model scout Jean-Luc Brunel, co-founder of the model agency MC2.
Both have firmly denied the allegations.
The accusations were levelled by Virginia Roberts Giuffre, who said she was first recruited by Maxwell, who has joint French nationality, to work as a "masseuse" to Epstein when she was aged 15, and has accused Maxwell of being both a "madame" for Epstein and an active participant in orgies. Giuffre also alleged she was made to have sex with Brunel and to watch him during "sexual acts with dozens of underage girls" who he brought to Epstein.
Epstein, who moved in elite social circles, notably with high-placed connections in the worlds of business and politics, was first investigated for sex crimes in 2005, when he was suspected by the FBI of organising sex parties with dozens of minors at his luxurious mansion at Palm Beach, and also at his other properties in New York, New Mexico and at his private Caribbean island of Little Saint James in the US Virgin Islands. In that case, as revealed in detail by the Miami Herald in an investigation published last November and which prompted the latest indictment against Epstein, he escaped federal charges with a plea bargain deal in 2007. That gave him and his co-conspirators immunity in exchange for his prosecution on charges of soliciting an underage girl for prostitution.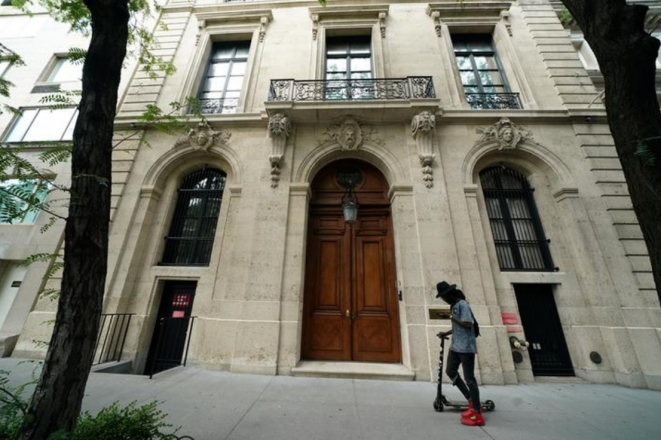 Jeffrey Epstein's Manhattan town house. With a surface area of about 2,000 square metres, it is believed to be the largest private residence in Manhattan. © Reuters
After his conviction by a Florida court in 2008, Epstein was placed on the sex offenders register and served just 13 months of a prison sentence, when he was allowed to work at his office during the day. The deal was negotiated Between Epstein's lawyers and Alex Acosta, then US attorney for Southern Florida. Acosta was appointed as President Donald Trump's labour secretary in 2017, but on Friday – the day before Epstein's death – he was forced to step down from the post amid renewed media scrutiny of the extraordinarily lenient deal handed to the financier.
The Epstein affair, with its backdrop of relative impunity for the well-connected, contains an explosive cocktail of power, wealth and sexual abuse. The unravelling story involves relationships of various kinds he enjoyed with the great and famous, including Donald Trump, former US president Bill Clinton, and the former Israeli prime minister Ehud Barak, but also Prince Andrew, leading US lawyer Alan Dershowitz, former New Mexico governor Bill Richardson and former Senate majority leader George Mitchell, fuelling conspiracy theories that are now abundant on social media.