Professional landline and mobile phones of German foreign minister Frank-Walter Steinmeier, along with the phones of his ministry's key staff, were systematically tapped by the US National Security Agency (NSA) Mediapart can reveal, in a report in cooperation with whistleblower website WikiLeaks, French daily Libération and German daily Süddeutsche Zeitung.
The new revelation follows Mediapart's report earlier this month disclosing how the NSA over several years intercepted German Chancellor Angela Merkel's mobile phone and 56 phone numbers within the German chancellery, including voice and fax landlines into Merkel's office and those of her senior staff.
Extracts of the NSA database obtained by WikiLeaks show 20 targeted phone numbers – called target selectors – which include Steinmeier's professional Vodaphone mobile and another mobile, operated by T-Mobile, allocated to him by his social democrat SPD party of which he was leader until September 2013. Along with the landline phone and fax line into his office, that of Steinmeier's chief of staff and spokesman were also intercepted.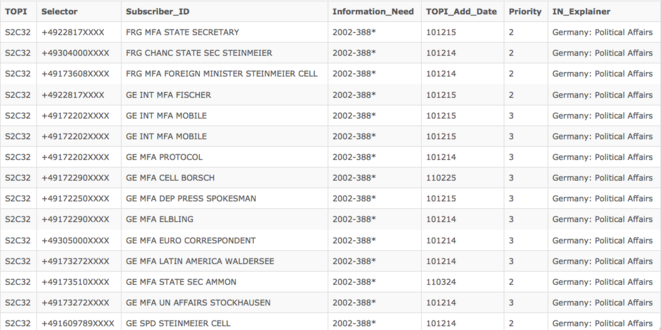 Un extrait de la liste des "sélecteurs" © WikiLeaks
The NSA also placed under phone surveillance several German diplomats, including the former German ambassador to Washington now in post in London, Peter Ammon, who was a junior minister in the German foreign ministry from 2008 to 2011.
As in the case of the phone targets inside the German chancellery, the regularly updated NSA database features previously listed numbers on its records. In the case of the foreign ministry, the phone list includes that of Joschka Fischer, who served as German foreign minister from 1998 to 2005, suggesting that the surveillance has lasted at least 16 years (see the NSA phone interception list in full here).
Frank-Walter Steinmeier served a first term as foreign minister when he succeeded Fischer in 2005. He remaining in the post, in Angela Merkel's first government, until 2009.
Among the NSA documents retrieved by WikiLeaks is a summary report, classified as Top Secret, of intercepted phone calls made by Steinmeier shortly after his first visit to Washington as foreign minister, when he met with his US counterpart, Secretary of State Condoleezza Rice on November 29th 2005.
"Frank-Walter Steinmeier seemed pleased on 29 November with the results of his first visit to Washington as the new German Foreign Minister," begins the NSA report. "Steinmeier described the mood during his talks with U.S. officials as very good, but feared that the most difficult part was still ahead."
The visit occurred amid the earliest revelations of the US Central Intelligence Agency (CIA) operations of 'extraordinary rendition'. These involved the secret abduction by the CIA of terrorist suspects around the world, and notably in Europe, who were then transported to clandestine detention and interrogation centres known as "black sites", in the US and elsewhere, and where they faced torture. There has since emerged convincing evidence that the CIA operations were carried out in collaboration with a number of European states, including Germany.
In 2007, a European Parliament report approved by the majority of its members said the CIA had operated 1,245 "rendition flights" to take abducted suspects to black sites. The report defined "extraordinary renditions" as being when "an individual suspected of involvement in terrorism is illegally abducted, arrested and/or transferred into the custody of US officials and/or transported to another country for interrogation which, in the majority of cases involves incommunicado detention and torture".
One of the early reports on the CIA operations was an article published in the Washington Post published on November 2nd 2005, four weeks before Steinmeier's visit to Washington, which revealed evidence of the illegal programme and German involvement in it, allowing use of its airspace for the transportation of CIA captives to black sites in eastern Europe.
The issue could be expected to have been at the heart of the talks between Steinmeier and Rice, but the NSA document indicates otherwise.
Steinmeier was Chief of the Chancellery between 1999 and 2005, under then-chancellor Gerhard Schröder, and as such was most probably aware of the rendition flights and secret prisons. Indeed, following the September 11th 2001 terrorist attacks in the US, Steinmeier, as Chancellery chief, was in charge of discussions with the NSA over the terms of cooperation between the American agency and the German intelligence services.
At a press conference following the November 29th 2005 meeting between Steinmeier and Condoleezza Rice, State Department spokesman Sean McCormack told reporters: "Secretary Rice assured the [German] foreign minister that United States activities comply with all US laws and the constitution and that we comply with our international obligations. We understand that the presidency of the European Union is going to be sending an inquiry to the United States concerning these issues, and the secretary assured the foreign minister that the United States would respond to that inquiry."
McCormack was asked about what were then recent reports on the US rendition flights and secret detention centres, and more specifically whether such behaviour complied with EU laws and those of countries where interrogation centres were based.
"I'm not a lawyer. I can't tell you - I can't tell you exactly what European laws are and how they mesh up with US laws," McCormack answered. "I can only tell you that US actions comply with US laws. We don't ask - we don't ask our US government officials to do things that are illegal. They comply with the Constitution and they are consistent with our international obligations."
The NSA document summarizing Steinmeier's phone conversations after his meeting with Rice (see below), now revealed by WikiLeaks, indicates that not only the issue was far from the centre of the talks, but was a potential source of embarrassment for the German minister. "He seemed relieved that he had not received any definitive response from the U.S. Secretary of State regarding press reports of CIA flights through Germany to secret prisons in eastern Europe allegedly used for interrogating terrorism suspects," read the NSA report.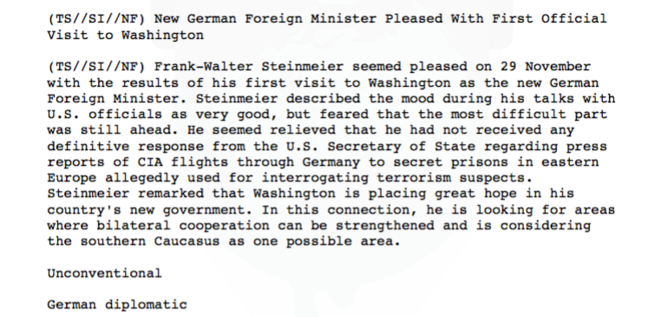 Le relevé d'interception © WikiLeaks
The 2007 European Parliament (EP) report on the CIA extraordinary rendition operations found 14 European states had collaborated in them, including Germany, the UK, Italy, Spain and Ireland. Approved by a vote of EP members, it regretted that "European countries have been relinquishing control over their airspace and airports by turning a blind eye or admitting flights operated by the CIA which, on some occasions, were being used for illegal transportation of detainees" and denounced "the lack of co-operation of many member states and of the Council of the European Union" with the EP investigation.
-------------------------
The French version of this article can be found here.
English version by Graham Tearse.