Mediapart has obtained documents revealing how French President Nicolas Sarkozy's close entourage, including serving and former ministers, attempted a reconciliation with the outlawed regime of Libyan dictator Muammar Gaddafi which included efforts to sideline an international warrant for the arrest of the colonel's security chief, Abdullah Senussi, sentenced 'in absentia' in France for the bombing of a French airliner in 1989 that left 170 people dead. While the International Criminal Court has now issued arrest warrants for Senussi, Gaddafi and his son, Saif al-Islam, for "murder and crimes against humanity" during the recent upheavals in Libya, Fabrice Arfi and Karl Laske report on the muddied background to NATO's military campaign for democracy in Libya.
-------------------------
In the first four articles in this series of reports about businessman and arms dealer Ziad Takieddine Mediapart exclusively revealed his very close personal links with ranking members of French President Nicolas Sarkozy's immediate entourage, and how Takieddine pays no income nor wealth tax in France, his fiscal domicile and where, according to documents signed by him, his wealth has an estimated value of more than 40 million euros.
Mediapart has further disclosed how in 2003 Takieddine was destined to receive 350 million euros in secret commissions from another arms contract, via a company run by the interior ministry then headed by Nicolas Sarkozy.
Latterly, Mediapart revealed how the arms dealer, while negotiating that contract, was saved by Sarkozy's entourage after an alleged assasination attempt on the exlusive Caribbean island of Mustique. The intermediary was at the time involved in negotiating a lucrative security contract between the French interior ministry - then headed by Sarkozy - and Saudi Arabia .
Now Mediapart has obtained documents revealing how, between 2005 and 2009, Takieddine served as a discreet go-between in Libya for French President Nicolas Sarkozy (1), before and after his election as head of state, and his ministerial and presidential chief-of-staff, Claude Guéant (2). During this honeymoon period between Paris and Tripoli, Takieddine negotiated several arms and oil contracts, transmitted conditions demanded by Colonel Muammar Gaddafi while also, in 2007, establishing the groundwork for the freeing of five Bulgarian nurses held in Libya and the subsequent highly controversial visit of Gaddafi to France in December 2007. That visit provoked an international storm of controversy.
According to documents obtained by Mediapart, French President Nicolas Sarkozy's staff went to strenuous efforts, using Tiakeddine as an intermediary, to satisfy one of the main demands of the Libyan regime. This was to put an end to the judicial consequences of a life imprisonment sentence pronounced by a French court in 1999 against Gaddafi's brother-in-law and security chief Abdullah Senussi, for his part in the 1989 bombing of a French UTA airline DC10 passenger plane over Niger, in which 170 people lost their lives. Following the in absentia sentence, an international arrest warrant was issued against Senussi.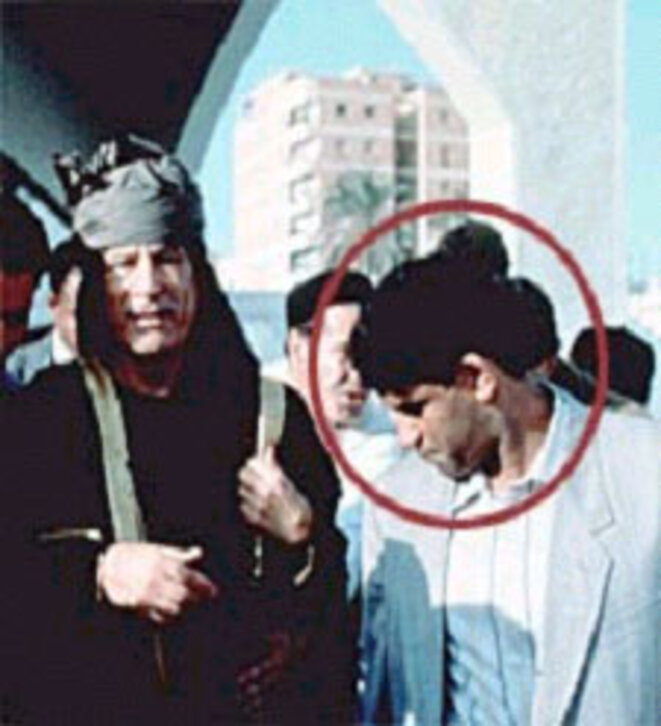 A.Senoussi © (dr.)
A note by Tiakeddine, marked 'confidential', refers to a meeting on May 16th 2009 with Claude Guéant, then secretary-general (chief-of-staff) of the French presidency and now French interior minister. The note reports that during the meeting, there was mention of the idea "to ask the public prosecutor to 'sideline' the arrest warrant" against Senussi.
But well before this, the efforts to drop the procedure against Senussi were kept highly secret from the very beginning. The idea was submitted to Claude Guéant, and became the object of consultations with Thierry Herzog, a lawyer and friend of Nicolas Sarkozy. Initially at stake was the key role Senussi was to play in the French presidency's negotiations to free five Bulgarian nurses and a Palestinian doctor imprisoned in Libya for allegedly conspiring to infect children with the HIV virus. The ultimately successful bid marked the Sarkozy administration's first major diplomatic coup.
In December 2007, Guéant told a panel leading a French parliamentary commission enquiry into the circumstances of the freeing of the medics: "To tell you the whole truth, we had not asked of Mr. Gaddafi for his brother-in-law to come and constitute himself as a prisoner." Speaking under sermon, Sarkozy's chief-of-staff in fact hid the role of Senussi in the process underway of closening ties between France and Libya.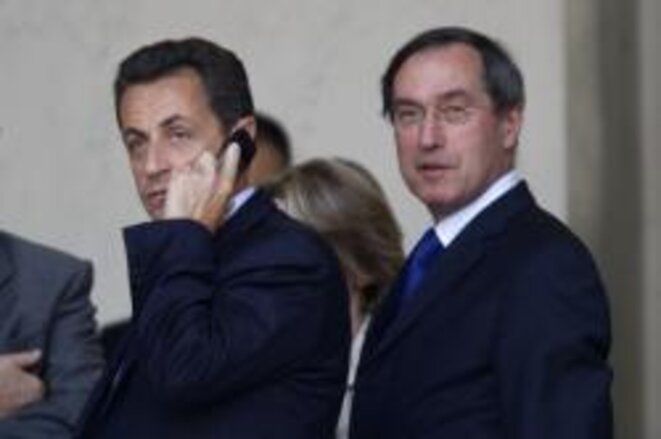 Nicolas Sarkozy with Claude Guéant. © Reuters
Senussi, married to the sister of Gaddafi's second wife, is infamous in Libya for being the executor of criminal programmes ordered by the dictator - against who France is now at war. Very few photos are available of Senussi and even the year of his birth is uncertain, with reports variously giving this as 1949, 1951 and 1952.
Apart from the 1989 UTA DC10 bombing, Senussi is also believed to be responsible for the 1996 massacre of about 1,200 inmates at the prison of Abu Salim prison, of the killings of 13 anti-Gaddafi demonstrators in Benghazi on February 17th 2006 and the bloody repression of insurgents in the town last winter.
The International Criminal Court earlier this year issued arrest warrants for Senussi, Gaddafi and the dictator's son, Saif al-Islam Gaddafi, for "murder and crimes against humanity" for their roles in the repression of the upheavals in Libya this year. Senussi has become an incarnation of the terror of the Gaddafi regime, against which France has engaged its air force in the ongoing NATO-led airstrikes. However, as detailed in the unfolding story here, Senussi had just earlier been far from a pariah in the eyes of the French presidency.
-------------------------
1:Nicolas Sarkozy was French interior minister, under then-President Jacques Chirac, from May 7th 2002 until March 30th 2004. He became finance minister from March 31st 2004 until November 29th 2004, again under President Chirac. He was re-appointed interior minister, still under the presidency of Jacques Chirac, from June 2nd 2005, until March 26th 2007. Nicolas Sarkozy was elected president of France in 2007 and took up his functions on May 16th 2007.
2: Claude Guéant was principal private secretary to interior minister Nicolas Sarkozy from 2002 to 2004, and occupied the same post when Sarkozy became finance minister between March and November 2004, and again when Sarkozy returned to government as interior minister between June 2005 and March 2007. Guéant became secretary- general of the Elysée Palace, equivalent to chief-of-staff of the French presidency, after Nicolas Sarkozy's election as French President in May, 2007. On February 27th 2011, Guéant was appointed as Minister of the Interior.