InIn the early hours of Thursday, February 3rd, Edouard Glissant passed away in Paris, aged 82. Born September 21st 1928, in the French Caribbean island Martinique, this great poet has left an incomparable opus behind him, the poetics of which are resolutely political.
Driven by the goal of decolonisation, in which struggle he was amilitant activist, he imagined a real emancipation, of a kind that would not perpetuate the old patterns of domination. Homage to the champion, the eulogist of the notions of 'All-World' and of 'Relation'. A kindred spirit.
"An neg sé en sièc", ("anegro is a century"). Edouard Glissant included this creole proverb from Martinique as an epigraph to his Caribbean Discourse (Discours Antillais, 1981). It refers to the infinitely long history borne on the shoulders of those who hail from the Caribbean melting pot, the laboratory of the world's 'creolization'– the mixing of cultures and their adaptation to one another, notably through language.
Just above this quote, he inscribed another, attributed to Charles de Gaulle while on a trip to Martinique: "Between Europe and America, I seeonly dust". One can imagine the twinkle in the poet's eye before this ironic juxtaposition. The powerful only appear strong, while they are weak because blind; they are unable to imagine fragility becoming strength, these islands imagining themselves universes, this dustre inventing the whole world.
It is in this island arc that our European West inaugurated the vast project of slavery and colonisation that it was to impose all over the world. But it is there too that the oppressed rose from the dust and led the way to freedom, shaking off the shackles of thought systems that forge oppression and impose submission. There, on the scenes of such suffering and resistance, where the violence of the slave trade was matched by the courage of revolt and the invention of freedom, is where Edouard Glissant took on the role of indefatigable guide, blazing a trailwith the acuity of a visionary and the generosity of a storyteller.
His century began as our empires were crumbling, midway through the 20th century. Born at Bezaudin in the commune of St Marie on the ocean-facing flank of the volcanic Montagne Pelée (Bare Mountain), Edouard Glissant left his homeland to become a student in post-war Paris.
This is when he published his first writings: worksfrom the outset mature, including The Indies (Les Indes, 1956), which has since become a classic; and The Ripening (La Lézarde, 1958), a novel about emancipation, awarded the Prix Renaudot. Preceding these there had been A Field of Islands (Un champ d'îles, 1952), The Anxious Land (La Terre inquiète, 1954), Sun of Consciousness (Soleil de la conscience, 1956). The essential insights of the poet are already present in these first brilliant works.
"I conjecture that perhaps there will no longer be culture without all cultures, no civilization that is the metropolis of others, no poet who can ignore the movement of History", he writes in Sun of Consciousness, the first of his essays in which he invented a style echoing poetry and fiction, and which he favoured particularly towards the end of his life.
As a Martinican in Paris, he said at the time that he was "committed to a French solution." This formula sums up his stubborn rejection of closed identities that are shut off from others, blind to the unexpected, rejecting unforeseeable encounters, sticking to the beaten path. One has to know how to cultivate, he said, "a son's viewpoint, the vision of a foreigner."
Instead he advocated being at once within and without, here and there, sitting on the frontier and accompanying people across it. This, from the very start, was the originality and the power of Glissant's vision. It was his appeal and his strength, the strength of his appeal.
The poetics and politics of liberation
Far from drawing to a close with his death, Glissant's century has only just begun. For this old prescience of the poet, this visionary intuition of the young Glissant is the very imagination required by our globalised world. If, that is, we wish to spare it the predicted catastrophe of the prevaricating, belligerent headlong rush in pursuit of identity, so destructive of humankind and nature. To the threat of a uniform world dominated by merchandise, possessed by power, Glissant opposed his Tout-Monde (Whole World), where humanity is multiple, diversity the number one common asset, where feeling fragile is the first mark of lucidity, where the very principle of uncertainty is a precious compass.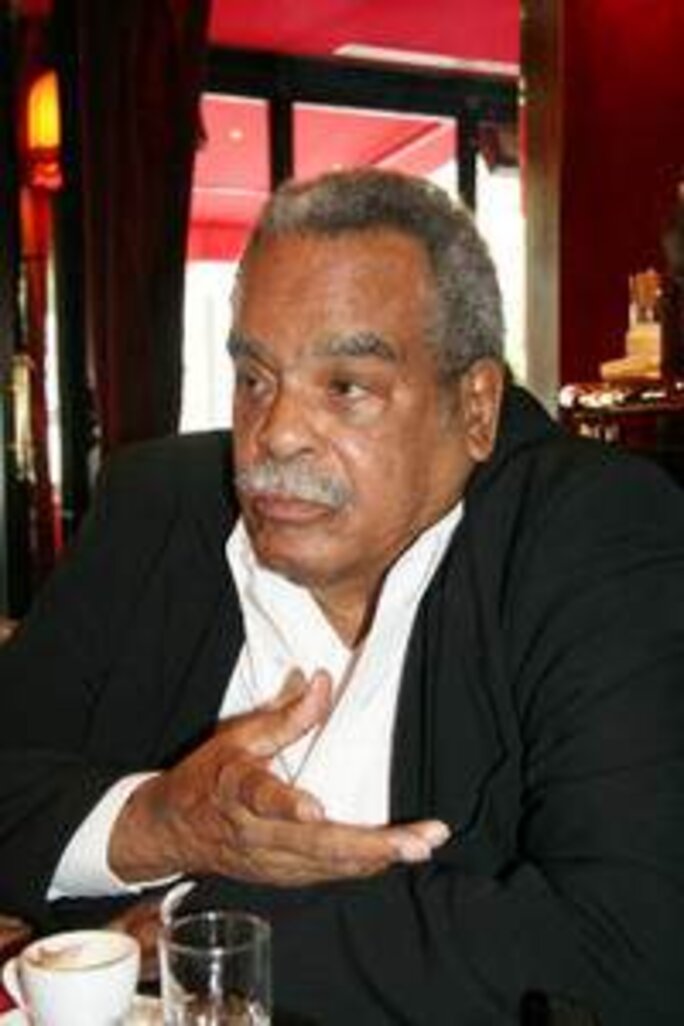 "An island supposes other islands," he said in Poetic Intention (L'Intention poétique, 1969). Patiently dismantling hackneyed, lethal fantasies of monolithic identities with a single origin found, across the board, in our times of transition, he delivered the only message able to beat them: not the rejection of identity, nor of nations, countries, or even borders, but the affirmation of the obvious fact that our identities are entirely made up of relations. Woven into other contributions, nourished by various worlds, born of unforeseen encounters; diversity is what we have in common. Elsewhere is our wealth. Our humanity is first and foremost a plurality: we are made by the world that we make, that we mix with; modelled by what comes from afar, crosses our paths, and carries us forward.
Which is why Glissant preferred to refer to 'humanities', rather than the singular 'humanity', which runs the risk of slipping into the univocal, the dominant norm, the uniform rule. In the same way, he defended the use of the term 'creolization', rather than 'métissage' (mixed race), as the latter is limited by the implication that a new identity is merely the sum of two others, while the former suggests a criss-cross of encounters and exchanges that not only can nobody avoid, but that actually makes us all what we are.
Unremittingly, from one volume to the next, his work of the last few years ceaselessly offered hope to our worried consciences. Poetics of Relation (Poétique de la Relation, 1990, third volume of his Poétique), Treatise on the 'Whole World'1(Traité du Tout-Monde 1997, which extended Tout-Monde, 1993), A New Region of the World (Une nouvelle région du monde, 2006, beginning of the unfinished Esthétique), Philosophy of Relation, (Philosophie de la Relation, Poésie en étendue, 2009) are, among others, milestones marking the development of a philosophy, vision, and imagination where humanism, fraternity and solidarity can be tapped into. A random example from his Traité du Tout-Monde: "The thinking of One, which has magnified so much, denatured so much too - how to consent to this distorting thinking without offending and detracting from the Diverse? For it is diversity that protects us and maybe even perpetuates us."
With this insistence, this reiteration and proliferation, Glissant was only synthesising anew his precocious insights. He was not withdrawing into a literary ivory tower, sheltered from the urgent issues of the present. Quite the contrary. "Politics was the new domain for dignity" - words written in his first novel The Ripening. They concern his hero Mathieu, a name he would give his last son2. Totally committed to the decolonisation underway in the 1950s, he anticipated its development through time, its progression against the grain of former dominations that confiscated independence, denied democracy, exacerbated identities.
-------------------------
1: This title, apparently unpublished in English, is translated from the French by Mediapart.
2: With whom he returns to the places and themes of his work in a documentary first broadcast on French television in November 2010.
From independences to new liberations
A signatory of the 1960 Manifesto of the 121 (Déclaration sur le droit à l'insoumission dans la guerre d'Algérie - Declaration on the right to insubordination in the Algerian War), Edouard Glissant was co-founder of the separatist Front Antillo-Guyanais pour l'Autonomie in 1959, banned by the Gaullist authorities on July 20th 1961.
When he intervened in the Parisian congress that, in April, preceded this dissolution, it was to imagine how the freedom of small countries could bear witness "to the contact of cultures in a world conquered by complex cultures". Never relinquished, these engagements carried the unfulfilled promise of independence - the same that today is triggering the protests in Tunisia and Cairo, in quest of a new social and democratic liberation.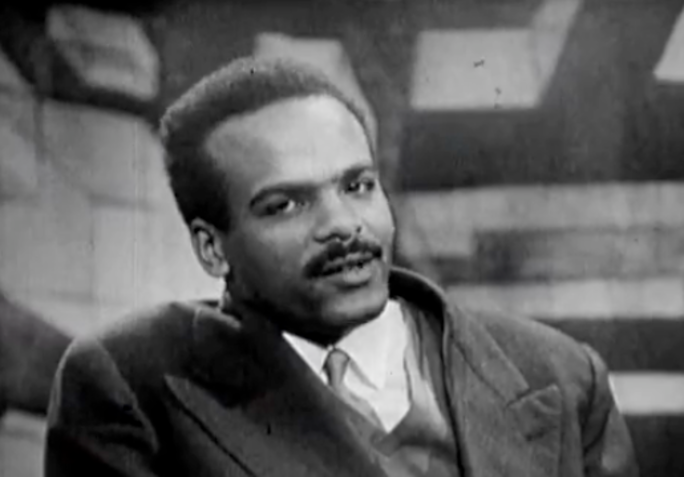 Poets generate luck, rather than believing in it. For it was in Carthage, Tunisia that, in 2005, the last big international seminar was held on Glissant, his poetry of Relation and his role of 'passeur de mondes' ('inter-world guide') in his presence. And it was also in Tunisia, almost fifty years ago, at the end of 1961, that his friend Frantz Fanon was laid to rest.
Fanon, his senior, also from Martinique, was an ardent defender of the free Algeria cause. In the 1950s, a time of colonial wars and hard-won emancipation, he addressed a Europe forgetful of itself in his book Black Skins, White Masks (Peaux noires, masques blancs 1952): "You mustn't try to tie man down, since it is his destiny to be free".
This book was published four years before the first International Congress of Black Writers and Artists was organised at the Sorbonne by the magazine Présence Africaine, in September 1956. Fanon and Glissant attended. The youngest there, they were in the company of Léopold Senghor and Aimé Césaire (Glissant was also at the second, held in Rome in 1959).
In various ways these four bards traced a path to the recognition of everybody's humanity, reconquering pride from Africa to America. Of them Edouard Glissant is the one who made the connection to our era, its perils and its challenges.
He was already looking ahead whilst being fully involved as a witness and actor in the 1950's heyday of 'négritude', the francophone black intellectual movement that spoke up for all humanity. Whilst fully embracing this necessary moment in history, he extracted its essentials to transform them and bring them into the future, our present. Entrusting Mediapart with his posthumous homage to Aimé Césaire, he anticipated and countered those keen to artificially oppose him to the author of Notebook of a Return to My Native Land (Cahier d'un retour au pays natal, 1939). From within his homage to the great elder breaks through his own definition of the poet, or rather of a poetry that progresses at the risk of the world.
Césaire's negritude, he wrote in Aimé Césaire, the Poet's Passion (Aimé Césaire, la passion du poète, 2008) "is at once an awakening of memory and the premonitory call for a renaissance. To a certain extent, it precedes the flowering of modern négritudes of the African diaspora, in this sense it differs from Senghor's, which proceeds from a millenarian community, whose wisdom it encapsulates. Aimé Cesaire's poetics is one of volcanoes and eruptions; it is torn from the tangles of consciousness, sailing the waves coursing out of black suffering, with at moments a surprising tenderness of spring water and a clamour of joy and jubilation. At times the French reader might reproach him for a lack of moderation, although his is a poetry of true measure, but a measure measuring something unmeasured: the world. Césaire is one who brings the beauties of his heritage into accord with the beauties of his becoming in the world."1
However, in contrast to Césaire, Glissant - and this is another of his strong idiosyncrasies - would not institutionalise himself in politics, not even in Martinique. "Writing isn't intended to precipitate politics", he points out in Baton Rouge Interviews2 (Entretiens de Baton Rouge, 2008), a clear introduction to his thinking, where he defended "the poetic necessity of escaping the simplified reproduction of the political". But of this rejection was born a paradoxical invention, where politics aspires to a different form, and is carried out differently, finding its way via poetry, always curious about the world and concerned about the present, attentive to misfortune, generous with joy.
-------------------------
1: This citation is from a 2008 translation into English by Glissant himself and Christopher Winks.
2: This title, apparently unpublished in English, is translated from the French by Mediapart.
An immensely generous work
Today we are left with a vast opus, which will take a long time to collate, as Edouard Glissant never stinted on his creation, adding to his own writings hundreds of prefaces out of friendship, thousands of passionate conversations. And ceaseless poetry, but also seven novels and two plays, including the unforgettable Monsieur Toussaint. The official literary works (mostly published by Gallimard) are an endless archipelago, in which texts respond to one another and are prolonged, illustrating that unity of diversity he professed. But never did the construction of this literary monument become an obstacle to his availability, or, even more rare, to his admiration and praise of the work of others.
Only poets, he liked to say, are unafraid of admiring. In La Cohée du Lamentin (2005), he writes about his Italian friend, the writer Antonio Tabucchi: "The pure need to admire is not only a step towards changing oneself, but a real commitment to doing so. The poet whose work is his life is always besotted with the poetry of others. I change therefore I exchange." Glissant was not content to simply write this. He often initiated events where various artists and creative spirits gathered to express their admiration by reading poems. The last work he published was a homage to others, a vast anthology of the poetry of the 'All-World': Earth, Fire, Water and Wind (La Terre, le Feu, l'Eau et les Vents, Editions Galaade, 2010). In it you will indeed find poets mostly, with no pecking order of fame, but there are also sundry unlikely characters, philosophers, politicians, filmmakers, painters, novelists...
One writer is particularly well-placed to testify to this overwhelming generosity: Martinican Patrick Chamoiseau, with whom Edouard Glissant had a particularly fruitful relationship. We will be forever indebted to these two, who joined forces to sound the alarm bell from 2007. From their indictment of the French Minister of National Identity, in When Walls Fall1 (Quand les murs tombent, 2007), to their manifesto written during the Antilles social uprising A Plea for "Products of High Necessity" (Pour les produits de haute nécessité, 2009), via their open letter to Barack Obama, The Intractable Beauty of the World (L'Intraitable Beauté du monde, 2008), they were among the first to take a dignified stance against the current French presidency's devaluation of our nation.
No work is a given thing, especially when it is innovative and goes against the grain of status quo. The truth is not obtained without cost. Always rising above complaint, Edouard Glissant didn't let anything show, but we know how much he had to make his own way in the world. Banned from a career in public education following the repression of the national Antilles movement, he created his own private establishment in the 1960s, the Institut Martiniquais d'Etudes (Martinican Study Institute - IME), where innovative teaching methods blossomed.
During this period he also edited a magazine, Acoma, which lasted until 1973. At the end of the 1970's he was to be found at The Unesco Courier, where - another coincidence - he was succeeded by the duo Mahmoud Hussein, at the forefront of the recent Cairo uprising.
On paper he had reached retirement age, but for lack of a 'sensible' career behind him, he still had to earn his living. This is how he became a teacher in the United States: first at the University of Louisiana, then at the University of New York. It is to these years teaching in the United States that we owe Faulkner, Mississippi (Faulkner, Mississippi, Stock, 1996), a superb study of this southern ink-brother, of whom he loved to quote the droll admission: "I am a failed poet". It is also to this American period that we owe anthologies of interviews, which are illuminating introductions to his work, including the very last The Imagination of Languages1 (L'Imaginaire des langues, Gallimard, 2010), dialogues with Lise Gauvin, the Canadian academic from Quebec, spanning the period 1991 to 2009.
-------------------------
1: This title, apparently unpublished in English, is translated from the French by Mediapart.
2: Common pseudonym used by the two Egyptian authors Baghgat Elnadi and Adel Rifaat.
Alive like the earth, the water, the wind
Maybe this long American detour took him away from us too early. Falling ill early last summer, on his way back to New York, Edouard Glissant was not able to overcome an accumulation of medical complications, despite the caring efforts of his wife Sylvie, and other loved ones. But at least America recognised his genius, while France's establishment was somewhat forgetful, with the notable exception of Dominique de Villepin, who, as Prime Minister, had entrusted him with an assignment to write Memories of Slavery (Les Mémoires des esclavages la Documentation française, 2007).
The proposition that rounded off this report, buried by the leadership that emerged from the 2007 ballot box, is more topical than ever now: "The grandeur of a country is not primarily a question of its economic capacity, nor of the weight of its armed forces [...], but of its possessing the aptitude and the audacity to propose the opening of a new planetary road, the Road of World Solidarity. This road is more difficult to blaze than the old silk, salt, spice, or even slavery roads. But let us set out on it nonetheless, with neither naivety nor scepticism."
Edouard Glissant couldn't care less about the silence and indifference he was faced with at times, especially as he was always accompanied by a robust network of friends. Supported by the Ile-de-France region and by the Fondation agnès b., the Tout Monde Institute is a meeting place as nomadic as its founder. It is beneath its banner that his farewells were pronounced in France, with a wake hosted at Paris's Maison de l'Amérique Latine (Latin America House), directed by his friend François Vitrani. Then he set sail to his island-world, Martinique.
"S'en aller! S'en aller! Parole de vivant!" ("To depart! To depart! ..."), this cry inevitably springs to mind. It belongs to Saint-John Perse, a fellow poet, a double, born in Guadeloupe, but on the side of the plantations and its order. The young Alexis Leger, who was to adopt the pseudonym Perse, was nicknamed Ban-moin-lè in Créole (Give me air, space and wind). Edouard Glissant, now laid to rest in the Diamant marine cemetery, facing the great solitary rock that punctuates the southern extremity of Martinique, will have air and space. And, above all, he will be alive.
Before departing, in the early hours of the morning of February 3 2011, Edouard Glissant did actually find the time to say that he had dreamt that he was elected, or nominated - he couldn't quite remember which - as a "living soul of the world". Poets are not afraid of the childhood that remains an intrinsic part of them - as it does for all of us - of the spontaneity and whims of childhood, its vision and lucidity. For all poets are soothsayers, and Glissant was a visionary right to the very end. The work with which he has left us is very much alive, and it is up to us to let it grow.
In our last conversation, when he had already been bed-ridden for several months, we discussed rain trees, those trees that thrive while hosting a proliferation of other plants, vines and ferns on their trunks and branches. Yes, Glissant's work is alive like a rain tree, and like the earth, water and wind that give it life.
-------------------------
English version: Chloé Baker