You have to go with the evidence. Emmanuel Macron is president of the Republic, he controls all the levers of power and, contrary to what had been predicted after his election in May 2017, his political position has not come under threat.
Indeed, his position is stronger than that of his predecessors at the same stage of their presidency. In December 1995 Jacques Chirac had already had to back down in the face of enormous protests against proposed reforms, and in December 2007 Nicolas Sarkozy had discredited himself with his public displays of affection for the new woman in his life, Carla Bruni, first on a trip to the Mickey Mouse parade at Disneyland Paris and then on a tour of ancient ruins in Egypt. Meanwhile by early 2013 François Hollande had already begun moving to the right, having briefly espoused more left-wing policies.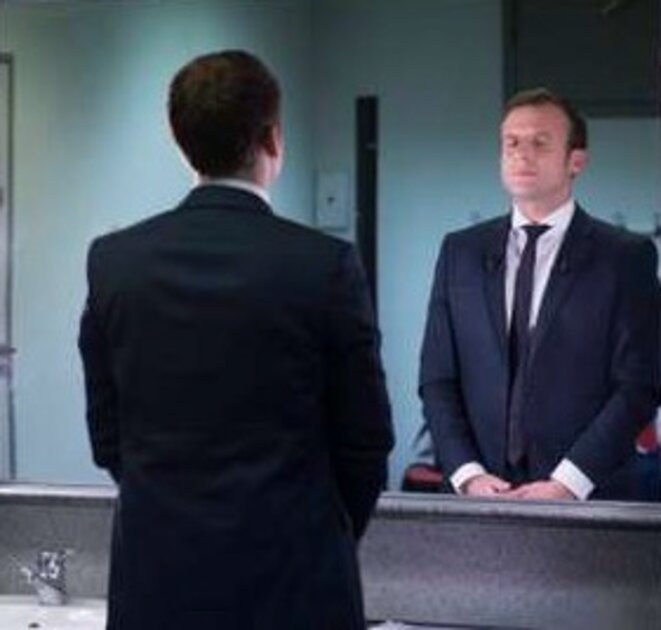 Macron v Macron: the president's biggest challenge...
Macron is where he is thanks to a mixture of good fortune, his own political intuition and the political suicide of his opponents who did not know how best to oppose him. The luck consisted of a modest economic turnaround that no one was predicting, one which now gives him some room for manoeuvre. His good fortune, too, was to inhabit an unusual political landscape in which the terrain had been cleared all around him, as if by carpet bombing. This unprecedented political massacre had swept away those political forces who had governed France for almost sixty years.
A spoonful of social awareness, a barrel-full of liberalism
Let us hold that thought for a moment. The old political world was indeed swept away. The era of the Socialist Party (PS) and the Right transferring power to each other periodically like the handing over of a baton, now seems light years away. Yet just 12 months ago it seemed this familiar pattern was with us forever.
It is of course true that in his comeback bid to be the right-wing Les Républicains presidential candidate Nicolas Sarkozy was annihilated in the primary election of November 20th, 2016, and that just a short time later, on December 1st, President François Hollande announced that he would not be standing as a candidate in the presidential election. Even so, the passing of the baton looked assured. François Fillon, Sarkozy's former prime minister, was not just favourite to win, in some people's eyes he was virtually already elected, while Hollande's former prime minister Manuel Valls had been called on to seize the PS flame and stand himself.
So the personnel may have changed but the customary exchange of power looked certain. We all know what happened next. A political hurricane reduced the PS to a tiny group and the Right fared poorly compared with its expectations. Macron's intuitive skill was in having foreseen - at the same time - both the Right's victory and the collapse among socialist voters.
It had been clear since a string of election results during the Hollande presidency – the European elections, municipal elections, regional elections and departmental or county elections – that the Right was bound to regain the Élysée, but it had been equally clear that it was led by forces who worried a large number of voters. On economic and employment matters Macron was a pure liberal, but he smoothed out some of the harsher edges. On social issues he set himself apart from the reactionary tendency represented by Fillon and ultra-conservative groups such as Sens Commun and Printemps Français.
Combining a spoonful of social awareness, a barrel-full of liberalism and a modern image in an American-style campaign, Macron became the refuge for voters on the moderate Right, the right wing of the PS and some greens. This cocktail alone would not have been enough, however, without the major political mistakes committed by the two parties which had monopolised power until that point.
The political grouping represented by François Hollande thought it was a good idea to put themselves in Manuel Valls's hands, and he experienced the tragic fate of all European social democratic parties who have been tempted by Blairism; obliteration. In the first round of the 2012 presidential election the PS candidate (Hollande) had attracted close to 30% of the vote; in 2017 the figure was 6%, a huge drop.
As for the French Right, it has been shaped by two different tendencies over the last 60 years but has skilfully managed to march under one banner. There was the authoritarian, reactionary and dictatorial tendency on social issues and the Parliamentary strand, which was more liberal and European economically, but also less obsessed with social issues such as abortion, same-sex marriage, homosexuality and even immigration. These were represented by the old RPR (predecessor to the UMP and now Les Républicains) and the centre-right UDF.
Yet at the behest of Nicolas Sarkozy and his advisor Patrick Buisson the bonapartists became convinced that they were the sole bearers of the Right's banner. The result was that the "moderate" faction, which had then been represented by the Bordeaux mayor and former prime minister Alain Juppé, succumbed to the youthful appeal of Macron. So it was that the PS and the UMP/Les Républicains disappeared from the political landscape, swept away by their own actions.
"To each one their tipple - and chin up!"
The process of self-removal by social democrats and the Right did not stop at last May's presidential election. It continued afterwards and to a large extent helps explain the current strength of a president who was elected back in the spring.
Reduced to a small Parliamentary rump, the PS is not sure if it still exists. It is getting ready for its congress this year by claiming it is in the opposition while remaining tempted by Macron's ruling La République en Marche party. At the same time the two principal candidates in its presidential primary – Valls and Benoît Hamon – have ventured off in their own directions. Valls has carried on drifting towards the right, and beyond, by using the issue of terrorism to divide French society. And the official presidential candidate for the PS in 2017, Hamon, is hoping to create a political grouping between the socialists and the radical left La France Insoumise ('France Unbowed').
On the Right, meanwhile, the car crash continues. There are the official Macron supporters, the unofficial Macron supporters, those who are in-between, those tempted by the far-right Front National and those nostalgic for nationalism-based politics. As the French singer Georges Brassens would have said: "To each one their tipple - and chin up!"
In this context the recent victory of right-winger Laurent Wauqiez, elected as Les Républicains' president, shows that the "Republican" Right's party apparatus has not understood its historic error. The Right still does not grasp that the Patrick Buisson line has led it to disaster. Having stirred up fear to the point where it helped propel Macron to power, the unshackled Right is now contemplating letting itself go even more in the hope of picking up disgruntled voters from a Front National that is in crisis.
Finally, one must say a word about the main opposition at the moment, La France Insoumise. It has raised its voice loudly in protest, perhaps too loudly compared with its power to influence anything.
First of all it contested the legitimacy of the presidential election by highlighting the high abstention rate at the poll. It was a fair observation but one which concerned all parties, and La France Insoumise most of all.
For this policy to weaken the president, the radical left party needed street protests to back it up. It needed to show a bigger turnout on the streets that was evident at the polls. That turned out not to be the case and the failure of this immediate protest response to the government's summer's reforms simply ended up confirming the vote at the ballot box in the spring. By announcing a popular surge in the streets in July that did not materialise, La France Insoumise's leader Jean-Luc Mélenchon gave breathing space and time to the winner of May's election.
A certain brutality
The disastrous performance of the former parties of government and the failure of an opposition that gambled on the fragility of the new government are not in themselves enough to explain Emmanuel Macron's rise to and consolidation of power.
One must render unto Caesar that which is Caesar's and recognise that the president nicknamed 'Jupiter' has a real talent for sensing the mood in French society and expressing it in all its contradictions. He has shown the ability to dodge between the raindrops and forge his own path. Such skill is not, though, proof against all risks. It has shielded him for the moment but cannot put off the day when he has a showdown with himself.
Since his election Macron's verbal 'blunders' have become something of an asset. Indeed, though his gaffes are many and well-known, he has not suffered as a result of them. From his put-down of the chief-of-staff of France's armed forces to his suggestion that some French workers were lazy, from his attack on France's public broadcasters to his unprecedented TV interview on France 2 with journalist Laurent Delahousse, his high-profile reception of US president Donald Trump and his varied stances on environmental issues, Macron's faux pas have often exhibited a certain brutality. On occasions, and surprisingly for such a self-acclaimed modern man, they have even borne the hallmark of certain practices from another era.
These errors have been criticised but have not sparked the kind of protests seen when, for example, in July 1995 the then-prime minister Alain Juppé said in relation to allegations against him that he was "sure of himself". (The words he used were "droit dans mes bottes" meaning literally he was sure in his "boots".)
In the refrain that he repeats endlessly and which is picked up by his followers, Macron is just a man like any other with his limits and weaknesses, but unlike his predecessors he would "do what he promised". His word, even when risky and badly put, thus carries the authority of his election commitments which had been signed off by the people. It makes him both authoritarian and subject - to his own word. It makes him intransigent in his direction and his position but loyal to his own commitments.
For the time being this is a devastating argument even if it is, in part, a manufactured one. It gives Macron an aura of bravery, of authority, of someone who can bring about change, and too bad if some of his shock proposals for 2018 are the fruit of his supreme power rather than his announcements as a candidate. For where did his planned reform of public broadcasting come from, if not from some on-the-hoof improvisation?
But that's how it is at the moment. The "brave new world" will be brought into being by the new president once he has applied each and every aspect of the route map that he presented to the French voters at the election.
For the time way, this approach unlocks all political doors. With it the current tenant in the Élysée is feeling the exhilaration of a permanent resident. He can announce greater checks on the unemployed, organise or tolerate a tracking down of immigrants, offer the employers' federation MEDEF help with laying off staff, and yet the issue is not whether it's a good or bad thing. Instead the issue is reduced to one magic phrase: it is what he said he would do during his campaign.
More often than not this is true. He said it over the use of government decrees to reform employment law, and over changes in professional training. He said all that, and no one can be unaware of it any more. The slogan is everywhere, it has become "the truth", spreading through television and radio programmes and has come to define France's situation: "As he is doing what he said, it's proof that France is changing ..." It has become a veritable diplomatic passport, a universal pass that allows him to escape all checks, most especially those from the opposition.
An old fruit in its jar?
Emmanuel Macron's asset is that is that he has a little time on his side and he is indeed, as he has suggested, the "master of his own timetable". Contrary to what his opponents had predicted, his government has faced no urgent crisis. He can roll out his political programme and in doing so reinforce his image as a reformer.
His handicap is that the argument "I'm doing what I said" will end up weakening him. What will matter next year or in two years will not be a comparison of what he does during his presidency with what he said during his campaign, but what the results of those reforms have in fact been. At that point there is a chance that the mirage will fade.
Yes, we can see that he has relaxed employment law and that the French people gave him a mandate as the person elected to the Élysée. But what happens if the result is the same as in every country which has already carried this out? If unemployment goes down statistically but little, badly-paid jobs increase in number, and pensioners are forced to take them to survive, and if the wealth of some people continues to rise while the poverty of many others gets worse?
What happens if, because of tensions and inequalities, public anger once more feeds the nationalistic, identity themes which are affecting all of Europe? What will happen if, having installed the new deregulated France that the employers federation MEDEF has called for, and that even the Right didn't dare hope for, this young and modern president forgets that he had also promised a reform of the political institutions? And in particular that he had promised to bring in a dose of proportional representation to Parliamentary elections?
What will happen if the link between the executive and the justice system is not finally cut or at least redefined, just as the current affair involving former justice minister Jean-Jacques Urvoas – accused of passing confidential information to an MP about an investigation into the latter – shows that the current system offers no guarantees at all? What will happen if, faced with discontent, the president of the Republic withdraws into his presidential role, becoming like one of those preserved old fruits in his Élysée jar?
At such a time he will experience what happened to his predecessors: the decomposition of the government and defeat, one by one, in the periodic elections that punctuate any presidency. The first of those elections is not far away. The European elections with their capacity to shock take place in the spring of 2019. The next municipal elections, which have a local dimension that plays into the hands of well-established parties on the ground, will be held in 2020.
Happy New Year, Mr President, for the economic situation at the start of 2018 is a favourable one for you. But be in no doubt that the time for words and public relations is now past. You are no longer facing an opposition which devours itself – like the 'Man Who Tortures Himself' in Charles Baudelaire's poem - but yourself. Moreover, PR is nothing but wind, and what is true in everyday life is even more so in politics: "He who sows the wind....."
-----------------------------------------------------------------------------
The French version of this article can be found here.
English version by Michael Streeter