Over several decades, Thierry Gaubert remained a close friend and political ally of Nicolas Sarkozy throughout the latter's political ascension, beginning when Sarkozy was elected in 1983 as mayor of the wealthy Paris suburb of Neuilly-sur-Seine.
Gaubert's name has appeared at several stages of the ongoing French judicial investigation into the suspected illegal financing of Nicolas Sarkozy's 2007 presidential election campaign by the regime of the late Libyan dictator Muammar Gaddafi, in which he has been placed under investigation for "criminal conspiracy".
But suspicions of his close involvement in the organisation of the alleged funding have now significantly deepened with the discovery of a computer hard disk and a flash drive belonging to him, which contain his digital archives. They also provide further damning evidence of the dealings between Sarkozy's close political team and the Gaddafi regime.
The storage devices, discovered and examined by the French police's anti-corruption branch earlier this year, had remained in police evidence stores since 2011, and were originally seized as part of investigations in a separate corruption case, although one which mirrors the Libyan funding allegations, in which Gaubert was implicated and for which he was finally convicted.
This was what became known in France as the "Karachi Affair", centred on vast illegal kickbacks paid on the sidelines of French defence contracts with Saudi Arabia and Pakistan in the 1990s. A large part of the secret sums were returned to France via paid middlemen to be used for the 1995 presidential election bid of then prime minister Édouard Balladur (who stood – and finally lost – against conservative rival Jacques Chirac).
The hard disk and flash drive were seized and kept as evidence when Gaubert was first placed under investigation in that separate probe. He and five others, including Balladur's chief of staff and campaign director, Nicolas Bazire, were all finally sent for trial and all received prison sentences in June 2020.
Gaubert's involvement in the so-called Karachi Affair was while he was serving as deputy chief of staff to Sarkozy between 1994 and 1995, when the latter was Balladur's budget minister. During his sentencing in 2020, when he was handed a four-year jail sentence, two of them suspended, magistrates said Gaubert's role in the illicit funding had been that of the "indispensable link" between Bazire and Ziad Takieddine, a Paris-based French-Lebanese business intermediary who acted as a middleman to receive kickbacks from the arms deals with Saudi Arabia and Pakistan.
Takieddine and Gaubert – the latter also has other convictions for financial impropriety and tax evasion – are both key suspects in the ongoing judicial investigation into the suspected illegal funding by Gaddafi of Sarkozy's own presidential election campaign.
The documents contained on Gaubert's storage devices not only contradict Sarkozy's claim that he no longer had relations with Gaubert since the 1990s, but also demonstrate Gaubert's involvement as a discreet go-between for Sarkozy's political team in its relations with Ziad Takieddine, who is suspected of playing an essential role in the alleged secret funding by Tripoli.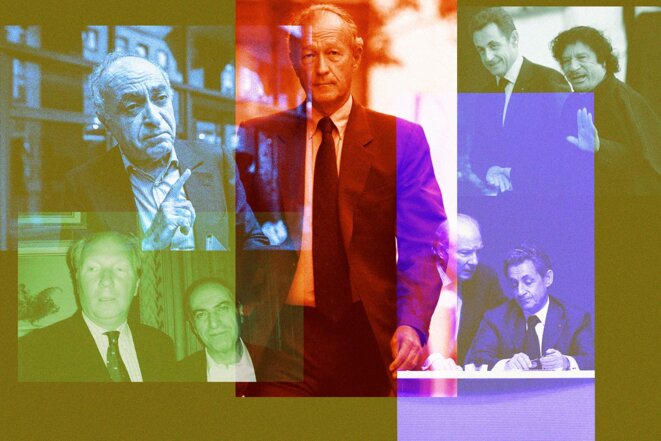 Clockwise from top left: Ziad Takieddine, Thierry Gaubert, Nicolas Sarkozy and Muammar Gaddafi, Brice Hortefeux and Nicolas Sarkozy, and Brice Hortefeux with Ziad Takieddine. © Photo illustration Sébastien Calvet / Mediapart avec AFP
In December 2019, Mediapart revealed how Gaubert, in February 2006, had received 440,000 euros from the Gaddafi regime paid via a shell company into a secret account he held in the Bahamas. The payment, made 15 months before Sarkozy's election, was ordered by Abdullah Senussi, Gaddafi's brother-in-law and security chief (who in 1999 was given a life sentence by a Paris court, in his absence, for his part in the 1989 bombing of a French UTA airline DC10 passenger plane over Niger, in which 170 people lost their lives).
The money had passed via an offshore company belonging to Ziad Takieddine, called Rossfield Limited. Evidence suggests it was used only, between 2006 and 2008, to receive secret payments from the Gaddafi regime before sums were allocated to different destinations.
In early 2020, Gaubert was taken into custody for questioning by the judicial probe into the suspected Gaddafi funding of Sarkozy's campaign, when he was in turn placed under investigation for "criminal conspiracy". Gaubert was subsequently bailed with the order that he was not to meet with Nicolas Sarkozy, Claude Guéant, Éric Woerth, Brice Hortefeux or Ziad Takieddine.
Guéant was at the time of the alleged funding Sarkozy's chief of staff and right-hand man, while Woerth was treasurer of the 2007 election campaign. Brice Hortefeux, who was given three successive ministerial posts by Sarkozy, is a longstanding friend of the latter, their friendship beginning when they were teenagers. He was also involved, like Guéant, in the pre-2007 contacts between Sarkozy's political team and the Gaddafi regime.
Ever since Gaubert was placed under investigation, Sarkozy has insisted, both in statements he gave to the judicial investigation and in comments made to the media, that he has nothing to do with the secret payment to Gaubert in 2006, and in separate interviews with BFMTV and the Journal du dimanche, a French weekly, he has stated, respectively, that he had "not seen" nor had the "least contact" with Gaubert since 1996.
But the recent examination of Gaubert's computer hard disk and flash drive indicate that is not true. In a report of the information found, dated May 9th this year and seen by Mediapart, a police officer noted the discovery of "numerous elements confirming the continuation of relations between Thierry Gaubert and Nicolas Sarkozy posterior to 1995".
Those "elements" show that Gaubert maintained a constant relationship with Sarkozy before and after the 2007 presidential elections, both directly and through the intervention of Brice Hortefeux, who is referred to in Gaubert's digital archives as "BH" and "B".
The documents found by the police reveal that, between 2002 and, at least, 2009, Gaubert acted as a discreet point of contact between Sarkozy's close political entourage and Ziad Takieddine, who the judicial probe regards as playing a central role in the organisation and transfer of the payments from Tripoli.
Before his election as president, Sarkozy served as a minister under the second, 2002-2007 presidency of Jacques Chirac. He entered Chirac's government in 2002 as interior minister before briefly serving as economy and finance minister in 2004, after which he was re-appointed, in 2005, as interior minister. Throughout that five-year period, during which Claude Guéant served as his chief of staff, Takieddine developed a key role with Sarkozy's aides as an intermediary in business and political contacts with Arab countries.
Gaubert's hard disk also provided evidence that, contrary to what he had told the judicial investigation, he was personally involved in the dealings between Sarkozy's team and the Gaddafi regime. Previously questioned by the judicial probe, Takieddine's former British wife, Nicola Johnson, declared: "Gaubert interested himself in Libya, for political questions, for questions of financing the campaign [editor's note, of Nicolas Sarkozy]." Johnson also told investigators that she had witnessed conversations on the subject.
The Neuilly years
In Nicolas Sarkozy's long political career, Thierry Gaubert became a key figure from the very earliest days. In 1983, Sarkozy, who had been active for several years as a militant with the Gaullist conservative RPR party, was elected as mayor of the wealthy Paris suburb of Neuilly-sur-Seine. He was aged just 28, and his ambitions were grand.
At the time, two men among his entourage were omnipresent in the corridors of the Neuilly-sur-Seine town hall; Brice Hortefeux and Thierry Gaubert. The friendship that cemented the three would become an indissociable feature of Sarkozy's future political path. Gaubert ran the Neuilly town hall's media activities before his appointment as its secretary general.
Questioned in January 2021 by police officers from the judicial investigation into the suspected Libyan funding of Sarkozy, Gaubert's former wife, Hélène Karageorgevitch, who was married to him from 1988 to 2014, described in her statement how her former husband and Sarkozy were "very attached". She and Gaubert were married at the Neuilly town hall by Sarkozy, the mayor.
In June this year, Sarkozy's former wife Cécilia Attias, was also questioned by the judicial probe. She described the two men as "very close, pals". She and Sarkozy began their relationship when they were both still in their first marriages (she to French TV and radio celebrity Jacques Martin, and Sarkozy to Marie-Dominique Culioli). "Gaubert always managed to invite us for weekends, in Normandy, here and there […] He was always around Nicolas. At the time we weren't divorced, he always made sure he could help us," Attias said in her statement. "I was never very much of a fan," she said of Gaubert. "I don't know why. My instinct. Neither of him nor, for that matter, of Brice Hortefeux."
At the time, Sarkozy and Attias often spent weekends together with Gaubert and his wife Hélène, at Gaubert's cottage in Normandy, while the couples also went travelling together, to Florida, Italy, Morocco and China. It was a period when Sarkozy had developed a taste for cigars. "We would begin the meal and he [Sarkozy] would light up a cigar; it was annoying," recalled Hélène Karageorgevitch (the daughter of Prince Alexander of Yugoslavia, and granddaughter of the last king of Italy, Umberto II).
A crucial new stage in Sarkozy's career came in March 1993, when he was appointed as both budget minister in, and spokesman for, the newly elected conservative government of prime minister Édouard Balladur. In July 1994, Sarkozy made Gaubert his deputy chief of staff.
It was a time when, in the wings of the workings of power, the starting gun had sounded on lucrative business deals to be had. Gaubert had then recently come into contact with Ziad Takieddine, a relatively unknown French-Lebanese businessman. Takieddine was a former director, during the 1980s, of the French ski resort Isola 2000, and who after that became active in brokering arms sales. It was during his management of Isola 2000 that Takieddine had got to know François Léotard, a high-profile conservative politician who was appointed as defence minister in Balladur's 1993-1995 government.
It was to prove a volatile mix, and one which produced an immense scandal that would only be revealed many years after the events. This was the financial plot of what would become known i as the "Karachi Affair". It centred on how the Balladur government parachuted Takieddine and his network of business contacts into the French state's weapons sales to Pakistan and Saudi Arabia. The aim was to establish a system of secret commission payments to Takieddine and his cohorts, of which a part would be illegally funnelled back to France to be used, illegally, as political funding. From his position as budget minister, Sarkozy, who would never be prosecuted over the affair, authorised the anticipated payment of some of these commissions.
In parallel, Gaubert opened secret bank accounts in Switzerland into which millions of francs (then France's currency) were transferred. The dealings were apparently unknown to the French police, and the press, and the precise roles played by Takieddine and Gaubert were only first revealed more than a decade later, in 2008, by Mediapart.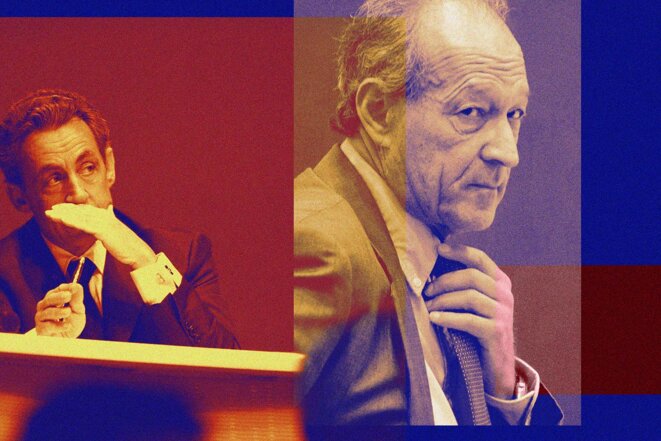 Nicolas Sarkozy and Thierry Gaubert. © Photo illustration Sébastien Calvet / Mediapart avec AFP
In 1995, Sarkozy was to suffer a major blow to his political ambitions. In January that year, one week before Sarkozy's 40th birthday, Balladur, then prime minister, announced he would run in the presidential elections in April. It was a betrayal of Jacques Chirac, the nominated candidate for the Gaullist conservative party, the RPR, to which they both belonged.
The move divided the RPR. Sarkozy was among those in the party who gave their fervent public support to the bid by Balladur, who was running high in opinion polls. But the gamble did not pay off; Balladur was eliminated in the first round of voting, and Chirac won the second-round playoff against socialist candidate Lionel Jospin. A traitor for Chirac and his camp, Sarkozy was banished from the front seat of politics and sent for several years into the political wilderness.
In 2001, Gaubert was appointed as an advisor to Charles Milhaud, head of the Caisses d'épargne banking group.
Sarkozy given the interior ministry
Sarkozy remained mayor of Neuilly-sur-Seine, and a Member of Parliament for the local constituency, rebuilding a support base within in the Gaullist conservative camp in the hope of a return to the centre stage. But after briefly serving in 1999 as interim president of the RPR party, and subsequently turning his attention to the legal practice he had established (Sarkozy qualified as a lawyer in 1980), it was not until 2002 that his political fortunes were to finally change, with the re-election that year of Jacques Chirac, whose campaign he had publicly supported. Chirac offered him the post of interior minister in his new government, a powerful position but one which was also politically exposed and potentially risky.
This grand comeback to the summit of power by a key figure of the Balladur camp was promptly celebrated at a lavish party thrown by Ziad Takieddine at his central Paris town house close the Trocadero square. Takieddine, who had become a multimillionaire thanks to his share of the vast commissions from the arms deals of the Balladur government seven years earlier, was also hoping for his own business comeback thanks to Sarkozy's return.
Among the VIP table guests, serenaded by an orchestra, and who included RPR bigwigs, senior civil servants, industrialists and media stars, was also Thierry Gaubert, captured on a photo in his dinner suit.
The examination this year of Gaubert's computer hard disk and flash drive have now thrown light on what his real role was, behind the curtain, for the Sarkozy camp.
In 2002, Sarkozy was already planning his ascension to the Élysée Palace, and nothing was to be allowed to disturb the path of "the boss", as Takieddine used to call him, above all not the legal woes of someone close to him.
At the time, Thierry Gaubert was embroiled in a suspected scam involving the allocation of funds levied from companies in a public scheme to help with the construction of residential buildings. The scheme was managed on a region-by-region basis by local bodies, and Gaubert was head of that which managed the Hauts-de-Seine département (county) west of Paris.
Accused of using his position for the benefit of a property developer associate, as well as funding his own lavish lifestyle, Gaubert would finally, in 2012, be handed a ten-month suspended prison sentence and a 10,000-euro fine after he was found guilty of "breach of trust" and "misuse of company funds".
The examination of his hard disk shows that Gaubert continued to have contact with Sarkozy, albeit in a discreet manner, despite Sarkozy's claim he had no further contact with Gaubert after 1996. In the digital archives, the initials "NS" frequently appear, at times for an appointment for lunch or dinner, on another occasion to pick up signed copies of books. On one occasion, he refers to legal cases involving the Caisses d'épargne which he gave to Sarkozy's legal practice, sending an email to his boss at the banking group to say that "NS is very satisfied".
But Gaubert's computer files also contain references to names and dates that are of direct interest for the Libyan funding probe. One of these is from 2004, when Gaubert drew up a "calendar note" in which figures "rdv NS", "voyage Tak" (for "appointment NS" and "journey Tak" – apparently an abbreviation for Takieddine).
There is also a "note NS", which the investigators believe refers to a report prepared by Ziad Takieddine concerning a vast weapons deal, codenamed "Miksa", with Saudi Arabia, which Sarkozy's ministry was to be involved in negotiating a share of. In the end, Jacques Chirac, fearing that the contract would be used to provide secret funding for Sarkozy's declared ambition to run in the 2007 presidential election, put an end to the negotiations.
It was from the ashes of the Miksa contract that the Libyan affair would grow. The key intermediary was, once again, Ziad Takeiddine, who had developed contacts with one of the most sinister officials of the Gaddafi regime, Abdulla Senussi, Gaddafi's brother-in-law and security chief, and who in 1999 had been sentenced to life imprisonment by a Paris court, in his absence, for his part in the 1989 bombing of a French DC10 passenger plane over Niger. The overturning of the international arrest warrant issued by France against Senussi would become an insistant demand by Tripoli.
In 2005, Takieddine enthusiastically went about opening the doors of the regime to Sarkozy's inner political team, and held regular meetings with Brice Hortefeux, who was then Chirac's junior minister for local authorities, Claude Guéant, Sarkozy's chief of staff, and Thierry Gaubert, the man in the shadows. He acted as an intermediary for the sale to Libya of French espionage technology, while also organising, in fine detail, the visits to Tripoli of Claude Guéant, Brice Hortefeux and Nicolas Sarkozy.
-------------------------
Coming next in part two of this report: the Élysée years, secret meetings, "cash operations", and Thierry Gaubert's continuing role behind the scenes.
The original article in French on which this two-part report is based, can be found, in full, here.
English version by Graham Tearse
-------------------------
If you have information of public interest you would like to pass on to Mediapart for investigation you can contact us at this email address: enquete@mediapart.fr. If you wish to send us documents for our scrutiny via our highly secure platform SecureDrop please go to this page.
-------------------------