In July this year, Mediapart published the accounts of four women who accuse the celebrated French film director and producer Luc Besson of sexual misconduct. In this report, five other women, some speaking on the condition that their names are withheld, accuse the filmmaker of acts that, according to their different accounts, vary in gravity, but which all allege behaviour towards them which was inappropriate, similar and repetitive.
One of the five is 'Ananda' (whose real name is withheld here at her request – see 'Boîte Noire', bottom of page), a former assistant to Besson and who was employed by his production company EuropaCorp. She first spoke to Mediapart in May, when she recounted her experiences by phone, refusing to meet in person and declining to feature then in a published report. She says that she had at first "buried that very deep" in order to protect herself, and "to not blow a fuse", but also because the incident she described had made her feel guilt "for not having left the hotel room".
Since then, however, she has changed her mind. "When I read the accounts of other women, I saw that my story resembled theirs," she says now. "And I recently understood, through reading an article, that in cases of aggression, the instinctive reaction was to 'freeze', a state of being petrified. It is a defensive reaction. It doesn't efface everything, but it freed me." (The article she referred to is here).
Ananda does not say she was raped, but neither does she say what happened to her was an act of mutual consent. She accuses Besson of having "manipulated the young girl that I was" and of having used a form of "blackmail" to entice her "into his bed".
Her account bears important similarities with others given to Mediapart, and which were revealed in our first investigation into the allegations levelled against Besson, published in July. Among the four women who described their alleged experiences of inappropriate sexual behaviour by Besson was Belgian-Dutch actress Sand Van Roy, who filed two formal complaints in May and July in France against the filmmaker for rape. Another of the four was a former casting director for Besson, Amandine (whose real name is withheld at her request), who worked with him between 2002 and 2005. She wrote to the Paris public prosecution services in July, when she denounced Besson for committing "sexual assaults" upon her.
Following her complaints and the opening of a preliminary investigation, police have questioned Van Roy on two occasions, and she and Besson are now due to be cross-questioned together. Amandine, meanwhile, was questioned by police on September 13th. The investigation is ongoing, during which Besson is of course afforded the presumption of innocence.
Contacted by Mediapart on several occasions, beginning in July, both Luc Besson and his lawyer Thierry Marembert declined our requests for an interview, and neither replied to questions submitted to them. However, speaking on RTL radio on May 20th following Van Roy's complaint for rape, Marembert said Besson "categorically denies any inappropriate and reprehensible behaviour of any kind".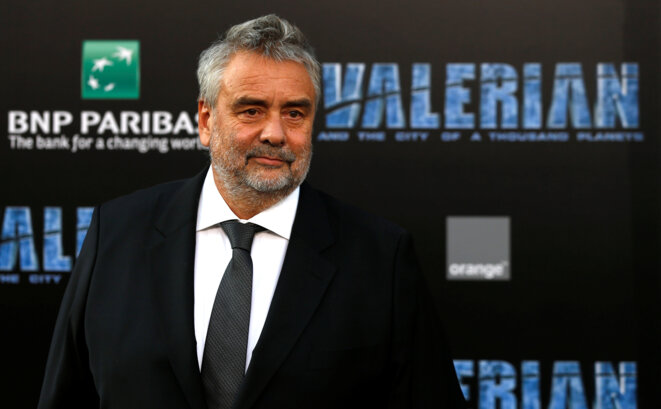 Luc Besson at the July 17th 2017 Los Angeles premiere of Valerian and the City of a Thousand Planets, which he produced and directed. © Reuters
The new allegations against Besson reported here are in part lent support by a number of documents. One of the accounts concerns events said to have occurred in 2016, when the woman in question was a student at the cinema scriptwriting and directing school founded by Besson at the Cité du Cinéma filmmaking complex he created in a north Paris suburb in 2012. She also gave a statement to police in July this year.
While the gravity of the events described in their accusations vary, their accounts contain matching detail concerning a number of points. Most recount at the very least inappropriate, similar and recurrent behaviour by Besson towards notably young women who either worked, or were susceptible to work, with him.
In the backdrop to the alleged events is the significant power wielded by the French director and producer within a highly competitive professional environment, one in which the lopsided relations between directors and actors can both make and undo careers.
It was after a long period of hesitation that Besson's former assistant Ananda agreed to meet face-to-face with Mediapart journalists and to recount in detail her alleged experiences. She did so on condition that her name was withheld, and also other details that might publicly identify her, such as certain dates, citing in particular her concern to protect her children from being exposed to the said events. She provided Mediapart with a number of documents, and also a diary relating to the period of the alleged events in which Besson is described with pseudonyms such as "Mister B." or "Mister Big". She said she did so because she could not "assume" the situation and also as a precaution against someone discovering the record of her relationship with the filmmaker.
Ananda told Mediapart she had sexual relations with Besson on three occasions, which she described as unwanted on her part, and also that she was subjected to inappropriate body gestures and behaviour. She said the events took place in the decade of the 2000s, which means that under France's statute of limitations laws they could not now be considered for investigation or prosecution.
"Everything began when I sent a [mobile phone] text message to all my contacts to say 'I'm flat broke, if someone has work or an apartment for me and my children, I'll take it'," she told Mediapart. She recalled that the first person to reply was Luc Besson, who she had already met. She said that the two agreed to meet when he would next return to Paris "to talk about work and my situation".
"He suggested to me that we have tea," she said. "During the day, the tea was cancelled to become lunch, then the lunch was cancelled to change into dinner." In her brown leather diary the appointment was noted down as "Mister B. Meurice.", a reference to the five-star Hôtel Meurice in central Paris where the director is a regular client. She showed Mediapart a note apparently written by Besson, on headed notepaper from the hotel, which was waiting for her when she arrived at the reception desk (see immediately below). It read: "Hi there!! Right, have yourself a peaceful Big Bath, TV Room service…A princess's evening, in sum!! Kisses, Luc." His signature was followed by a "heart" sign.
The note Ananda says Luc Besson left for her at the reception desk of the Hotel Meurice. © Document Mediapart
In French, "Kisses", (written here in the abbreviated "Biz"), is an often-used sign-off of no particular sexual significance.
Mediapart asked graphologist Christine Jouishomme, president of the professional association of French handwriting and document experts and herself a handwriting expert for the Paris appeals court, to compare the note provided by Ananda with other documents bearing Besson's handwriting. "It is indeed produced by the hand of Luc Besson," she concluded. Two people very close to Besson also formally recognised the note as being that of the filmmaker's handwriting.
Ananda said the invitation to take a bath caused her a little concern, but not the location for their meeting, which she interpreted as a move by Besson, an easily recognisable celebrity, to avoid being seen, and she concluded he wanted to have a "room-service dinner". All the more so, she said, because his hotel quarters were in fact not a room but "a true suite with a salon area and a large table".
"Naively, I told myself that he had perhaps taken a room for me, since he knew that I was struggling," she added. "I never thought that I was going to be placed in the cooking pot." She said that "obviously" she did not take a bath, and that instead she "waited, sitting on the sofa, without making a move". When Besson arrived, "late", he indeed ordered a "room-service dinner, served in the salon area", she recalled, adding that during the meal together he insisted that he would find her a job so that she could "return to see my children" who were being cared for in southern France. "He said to me that I could count on him, that he would be my protector," she said. "It had been 15 days that I was without anything anymore, no house, no job. I was haunted by the idea of retrieving as fast as possible my young children [who were] entrusted to someone, the time to reconstruct everything for them. I was in the pits. He knew it and he played upon it."
"That is where the manipulation began," she said. "I would only understand that later, because I was very young at the time. That is where the constraint lies." Besson, she claimed, told her he was "not a jealous person", and then asked her: "Will you give me a little kiss? Come and sit on my knees." Ananda said she did so. "And I don't know at all why I let myself be had. I was petrified, what's more I had such a positive image of him at the time. For me, he was a kind of living god."
She said that she can no longer remember the detail of what followed, nor the words spoken, describing the lack of recall as a "black-out". She says she does, however, remember the next morning, when Besson arose at about 7 am, and she awoke with the impression that "something unclear had happened".
"You feel dirty, but you are desperate and the guy makes you understand that he has a solution to all your problems," she said, adding that Besson asked her not to leave the hotel at the same time as him and told her to present herself "at the offices of EuropaCorp".
In Ananda's diary, the name "EuropaCorp" is noted down on the following Monday, five days after the alleged events at the Hotel Meurice. According to her account, that was when she met the human resources director of the company and was subsequently given a contract as Besson's "management assistant", a document which she showed to Mediapart. "I thought that I was going to have a little job as an intern, but in fact he made me an assistant. It was afterwards that I understood why," she said, explaining that the post allowed Besson to "always have an eye" on her.