The French lower house, the National Assembly, on Tuesday approved legislation to allow sugar beet farmers a special exemption to use the class of pesticides called neonicotinoids which were banned in France in 2018.
The beet growers had lobbied hard for the lifting of the ban, which France had been the first European country to introduce, arguing that the devastation of their crops caused by a virus spread by aphids threatened the future of France's sugar-producing sector, which in all represents around 46,000 jobs.
But environmentalists argue that the claims are exaggerated, wilfully ignoring alternative curative techniques, and that the dangers of neonicotinoids far outweigh the estimated 15 % loss of beet production. Those dangers include the potential harm to human health from the pesticides, identified in various scientific reports, and the devastating effects of their pollution of the environment on insect life, and notably bees. Neonicotinoids transfuse into every part of treated plants, including pollen, nectar, and guttation fluids, and also the foods produced by the plants.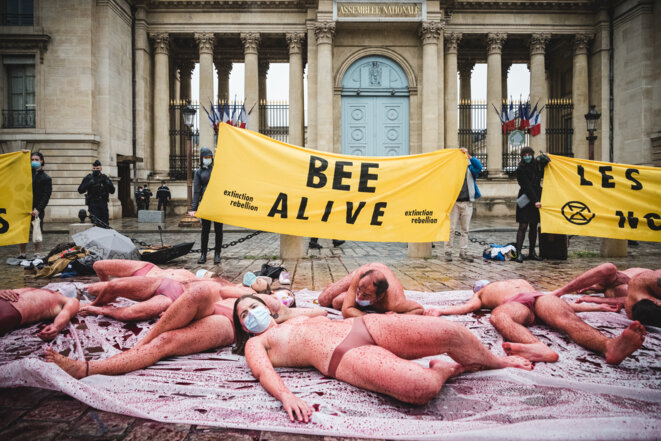 A protest by members of the Extinction Rebellion movement in front of the French parliament during the debates over the partial lifting of the ban on the use of neonicotinoids, October 5th 2020. © NurPhoto/AFP
During the lengthy debates in the National Assembly, all the amendments to the bill proposed by its most vocal opponents, the Ecology, Democracy, Solidarity (EDS) group of Members of Parliament (MPs), composed mostly of former members of President Emmanuel Macron's ruling LREM party, were rejected. Some in the EDS warn of the likely future demand from other agricultural sectors to be allowed in turn to use neonicotinoids. The bill was finally approved by a vote of 313 in favour, with 158 against. The neonicotinoid products that sugar beet growers will be allowed to use are to be detailed in a forthcoming decree.
The debates heard numerous bold statements which dismissed the argued dangers of neonicotinoids and the existence of alternative curative techniques to reduce the aphid invasion of crops. To help in this analysis of the most emphatic claims in favour of a return of the pesticides, Mediapart turned to biologist Jean-Marc Bonmatin, a member of France's national centre for scientific research, the CNRS, and who has spent many years studying the effects of the use of neonicotinoids.
"A sugar beet plant does not produce flowers, so sugar beet will never attract bees." (Julien Dive, an MP from the conservative Les Republicains party)
Sugar beet, which is harvested before it produces flowers, does not attract bees by itself. But, as Jean-Marc Bonmatin points out, neonicotinoids contaminate the area around the plants, and their effects are not limited to bees alone. "They contaminate the ground, the air, surface water, and as a result they have an impact on all pollinators, invertebrates in the soil, aquatic invertebrates and even the vertebrates that we are," he said.
Scientific studies have shown that neonicotinoids can occasionally be found in greater quantities in neighbouring fields to those that have been treated, and can contaminate ground well beyond the targeted site. One such study, carried out by Bonmatin and seven other researcher colleagues, published in the review Environmental Pollution in June 2019, found traces of neonicotinoids up to ten kilometres away from a field where they were used.
In an interview with Mediapart (in French, here), biologist specialised in ecology Vincent Bretagnolle, affiliated to France's National Centre for Scientific Research (CNRS) and who has spent many years studying the effects of neonicotinoids on bees, explained how he too has found traces of the insecticide present well beyond the fields that were treated.
"Neonicotinoids fix onto clay. It is very difficult to wash them off. For them to become soluble, the ground's capacity for water retention must be surpassed, which only happens in cases of strong flooding." (Jean-Baptiste Moreau, an MP from President Emmanuel Macron's LREM party)
Jean-Marc Bonmatin argues that the opposite is true. "Neonicotinoids are soluble in water, because they are soluble in the sap. They are carried by leaching, and also by washing down, and end up in streams," he said. "All of that moves around. Contaminated water is the principal vector for neonicotinoid contamination of the whole environment. That's how terrestrial and aquatic invertebrates are affected."
Studies carried out in the United States and China (see here and here) have reported the presence of neonicotinoids in the water table, and traces can be found in drinking water. A 2016 Canadian government update report on the use and effects of neonicotinoids identified three types of the chemical which figure among pesticides identified as being dangerous for aquatic organisms present in surface water.
Already in 2007, Canada's Pest Management Regulatory Agency pronounced that neonicotinoids were potential endocrine disruptors.
"There exists no study on human health. There is an insufficient amount of neonicotinoids for harm to be brought to human health." (Jean-Baptiste Moreau, LREM)
That is untrue. Several scientific researchers are engaged in studying the effects of neonicotinoids on human health. While these neuro-active pesticides are purported to have no effect on mammals, and only upon insects, a US study published in the review Nature in March last year contradicts that claim. It found a link between physiological abnormalities in mammals, in this case adult deer and fawns in the state of Montana, and their consumption of water contaminated by neonicotinoids.
A US scientific review of various studies of the adverse effects of neonicotinoids on human health, published in 2016 in Environmental Health Perspectives, notably cited four reports which associated chronic exposure to the insecticides with "adverse developmental or neurological outcomes". These included tetralogy of Fallot (congenital malformation of the heart), anencephaly, autism spectrum disorder, and "a symptom cluster including memory loss and finger tremor".
More recently, a study led by Japanese researchers, in which Jean-Marc Bonmatin participated, published in Plos One in July 2019, found the presence of neonicotinoids in urine samples from babies born with exceptionally low weight, and which were taken within 48 hours of their birth, contradicting the claim that neonicotinoids do not cross the placenta.
"Other studies have identified a link with liver, thyroid and testicular cancers in animals," said Bonmatin. "The harmfulness of neonicotinoids is in reality the subject of a global consensus."
"Spray-borne insecticides are even more disastrous for the environment than neonicotinoids." (Bruno Millienne, an MP from the centre-right MoDem party)
That is debatable, says Jean-Marc Bonmatin: "The difference is that spraying is seen, and it's not pleasing. But while 80% of insecticides which are sprayed are scattered into the atmosphere, 80% of neonicotinoids coated on seeds spread into the soil."
Bonmatin recommends that the chemical should be used in a very targeted manner, limited to just a few square metres affected by aphid attacks. "That's absolutely not what the beet farmers want to do," he said. "What they want is a form of preventive treatment, to spread the product all through the season, whether it's a mild winter or not, without even knowing if there will be pests or not. It's as if you take an antibiotic all through the winter in order to avoid catching a sore throat. With the aim of killing a virus-carrying aphid, all useful insects and invertebrates will be killed."
"All the solutions which you propose – bio-control, the reduction of parcels, hedges, grass-planted strips, organic [methods] … they have never been tested." (Grégory Besson-Moreau, LREM MP and rapporteur of the bill to allow a derogation for beet growers to use neonicotinoids)
There are organic farmers whose beet production is only slightly affected by the yellowing of crops caused by the virus carried by aphids. Most of them have taken part in experimental phases organised with the two giant French sugar processing firms, Tereos and Cristal Union, and which have proved encouraging. Avoiding chemical products, they use agronomic techniques that employ biological methods, and favour a regeneration of soil (these include diversifying crops, lengthy rotation of parcels of land, planting hedges, and the use of compost).
"To say that there aren't alternatives is completely wrong, said Bonmatin. "Apart from the techniques of organic farming, one can also plant more resistant crop types to avoid the damage from aphids. These are in fact combinations of targeted preventive and curative agronomic techniques which are good alternatives. The coating of seeds with neonicotinoids is quite the contrary."
"The vertiginous fall in production threatens the disappearance of the beet sector." (Lise Magnier, an MP from the centre-right Agir ensemble parliamentary group)
France's ruling LREM party and agriculture minister Julien Denormandie have repeatedly argued in favour of the derogation by warning of the possible collapse otherwise of the sugar beet sector, and with it the losses among the 46,000 jobs the French sugar industry represents. But in fact, the sugar beet sector is not doing so badly; France is the biggest sugar producer in Europe, and second-biggest worldwide, and exports around half of its yearly production.
"It's a production that has increased by 200%-300% over the past 30 years," commented Bonmatin. "In this context, a loss of 10%-15% of the production, caused by a disease that has propagated because of particular climatic conditions, is not dramatic. In reality, the aphids this year are perhaps simply a pretext. I have often heard similar arguments – for example with sunflower, rape and maize – and no agricultural sector has collapsed because of the ban on neonicotinoids. The beet growers have used the same arguments for the past five years."
-------------------------
The original French version of this article can be found here.
English version by Graham Tearse