French environment minister François de Rugy, a former Green party MP and an outspoken campaigner for greater transparency in public office, has become engulfed this week by Mediapart's revelations of how he and his wife regularly organised grand dinner parties with fine wines and food provided for by the public purse, while also ordering the redecoration of their ministerial grace and favour apartment at a cost of more than 60,000 euros also paid for by public funds.
Meanwhile, Rugy's ministerial chief of staff, Nicole Klein, was forced to resign late Wednesday after Mediapart revealed how she had for 12 years held on to a publicly-owned apartment of subsidised rent managed by a Paris social housing department while serving as a prefect in other parts of France between 2006 and 2018.
Rugy, 45, whose political career has seen him hopping between various Green parties and allied to the socialists, was first elected as an MP in 2007. After failing in his bid to become socialist candidate in the 2017 presidential elections, he joined Emmanuel Macron's movement just months before the latter's election in June that year when Rugy was made president (speaker) of the National Assembly, the lower house.
He was subsequently appointed as environment minister last September in replacement of Nicolas Hulot, a prominent figure in the French ecologist movement who resigned over deep policy disagreements. In the pecking order of France's government, the post of environment minister is second to the prime minister.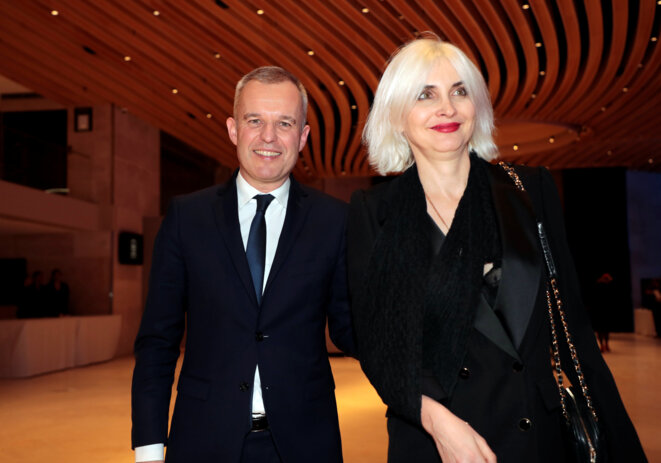 François de Rugy and his wife et Séverine. © Reuters
Mediapart revealed this week how Rugy, when he was president of the National Assembly, held regular, sumptuous dinner parties in the Hôtel de Lassay, the 18th-century Paris mansion that serves as the speaker's official residence, where up to 30 guests, mostly friends of Rugy and his wife Séverine, were attended to by official catering staff and wined and dined out of public funds.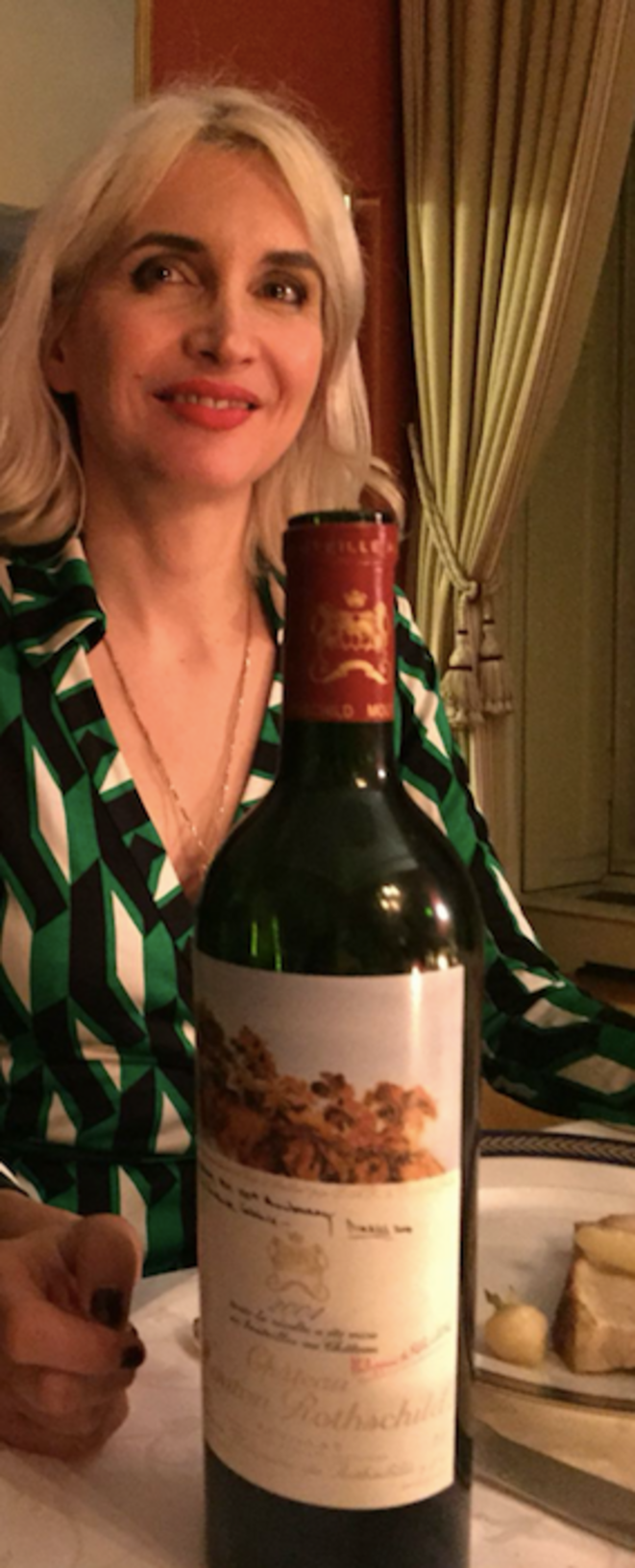 Séverine de Rugy smiling behind a bottle of Mouton-Rothschild 2004, valued at around 500 euros. © DR/Mediapart
The rare wines that accompanied the no less grand menus of the parties, came from the cellars of the National Assembly, reputed to be among the finest among official reserves, and included bottles of 2004 Mouton-Rothschild, with an estimated value of at least 500 euros each, Château Cheval Blanc 2001 (550 euros), Château d'Yquem 1999 (265 euros), Château Margaux Pavillon-Rouge 2003 (200 euros) among others.
In September 2017, just months after taking up the post of president of the National Assembly, Rugy appeared in a TV studio interview broadcast by the TF1 channel, when he declared: "I want there to be analytical, transparent bookkeeping, and that we know clearly, at the National Assembly, what costs what. As strange as it might seem, that is not the case today."
The dinner parties hosted by Rugy included lavish dishes, such as plates of giant lobster as featured on a photo obtained by Mediapart of one of the dinners in December 2017, when guests included members of Rugy's family. Mediapart understands that around ten such dinner parties paid for by the public purse were held between October 2017 and June 2018. A list of the guests (who numbered between ten and 30 according to the occasion) seen by Mediapart show that most were made up of friends and acquaintances of Séverine de Rugy, a journalist with gossip magazine Gala. They include professionals from the media, PR, actresses, writers and others from the world of finance.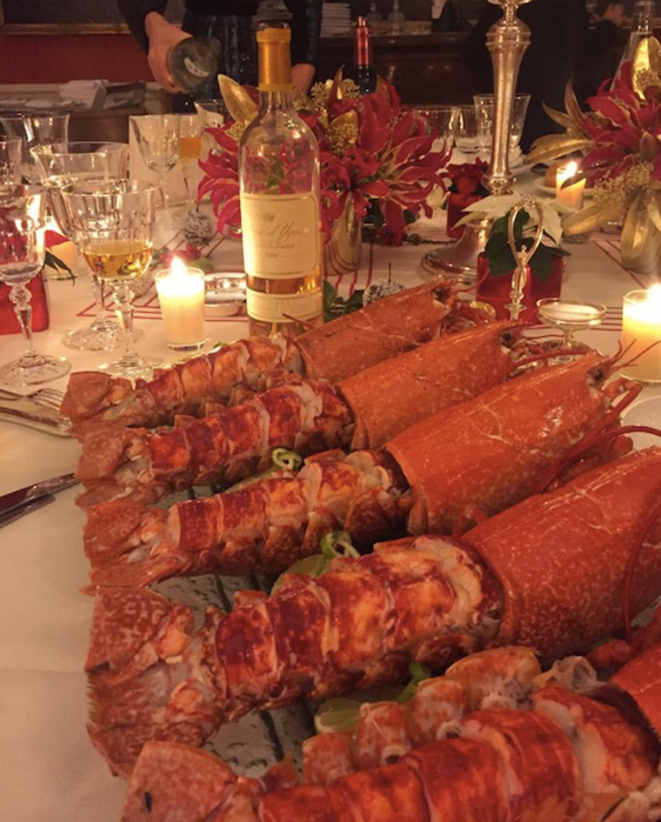 The giant lobsters served at one of the dinner parties paid for out of public funds. © DR/Mediapart
In a recent interview with French women's magazine Femme actuelle, Séverine de Rugy declared that, "To be a minister's wife is to be at the service of France", adding: "That gives a duty of exemplarity."
Contacted by Mediapart, Séverine de Rugy confirmed that the dinner guests were mostly made up of people from her circle of friends. But she claimed the essential purpose of such evenings was to help her husband remain connected to real life. "When you are a political figure, you cannot cut yourself off from society," she said.
"With François, we drink very little," she added. "There is a cellar at the [National] Assembly which is very sizable. Bottles are made available to us. I imagine that for Mr Ferrand [Editor's note : the current National Assembly president], it's the same thing. I never asked for the least thing and I never checked what wine was to be served. It's not my thing."
Mediapart addressed a list of questions to François de Rugy, which was answered by his ministry staff. The reply notably contained the following statement: "The dinners you mention were all informal encounters with actors of civil society – the world of business, academia, culture and media – linked to the exercise of the function of representation inherent to the National Assembly president. It is normal that a political figure meets with representatives of civil society in order to enrich his reflection and action. The wife of François de Rugy contributed to the organisation of these dinners, just as she has participated, and continues to participate, in numerous official or informal meetings, in the framework of his responsibilities as president of the National Assembly before, and those of minister now. He is, indeed, grateful for her contribution and support."
Meanwhile, Mediapart has learnt that the environment minister and his wife ordered more than 63,000 euros of decorations and refurbishment to be carried out – paid from the public purse – at their grace and favour Paris apartment home situated in a19th-century townhouse, the Hôtel de Roquelaure, in the chic 7th arrondissement of the capital.
The apartment is of course occupied by them only as long as Rugy remains in his post as environment ministert, but between the end of last year and the beginning of 2019, the work carried out included: paintwork costing 35,390 euros, the laying of carpets and refreshment of parquet flooring at a cost of 4,639 euros, refurbishment of the bathrooms (6,057 euros) and the installation of a huge dressing room-wardrobe area (16,996 euros).
Contacted by Mediapart, Rugy's ministerial office said that the cost of the refurbishments was justified by the "particular character of the building" and the need to hire "qualified craftsmen".
Mediapart also questioned Séverine de Rugy about the construction of the huge dressing room area. "I don't know what to reply to you, when you arrive in a place, nothing is private," she began. "It is not really a dressing room, there are closets, and when we arrived there were none." She also dismissed Mediapart's questions as being biased.
Mediapart has been told by several sources that the refurbishments were none-essential and more of a nature to add comfort to the apartment. Meanwhile, the different craftsmen chosen for the work were all those which presented the most expensive estimates in the initial tender.
In its written reply to Mediapart, the minister's secretariat said the companies that were rejected were those which "did not present the necessary references and guarantees to carry out renovation work in old buildings". It insisted on "the necessity" of the renovations which it said had last been carried out 16 years ago. "The work done at the end of 2018 in no way concerned the elements having already been renovated 16 years ago, but rather on older elements," it insisted, adding that the paintwork had not been renewed since 2003 and presented cracks and "numerous stains and traces of humidity", while the flooring was also stained and damaged.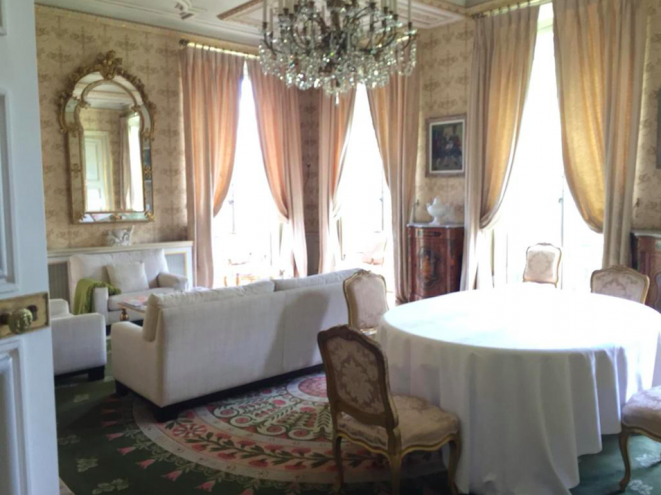 A photo of a salon in the environment minister's apartment before the renovation work. © DR
However, a person close to Rugy's predecessor as minister, Nicolas Hulot, who had use of the same apartment between May 2017 and September 2018, told Mediapart: "The apartment was fine and oversized, but sad."
The head of one of the firms which were turned down for the refurbishments, Jean-Louis Bertrand, told Mediapart that the apartment was in a "very correct" overall state. "It's not as if the walls were leper-like, or that there were cracks everywhere. It was still possible to live there, in comfort. The paintwork was not new but nothing to be embarrassed about."
"They told me that the minister wanted to change the decorations a little, repaint the apartment to as new, to change the colours," he added. "After Mr Hulot, he wanted to change the paintwork to his taste, which I can understand."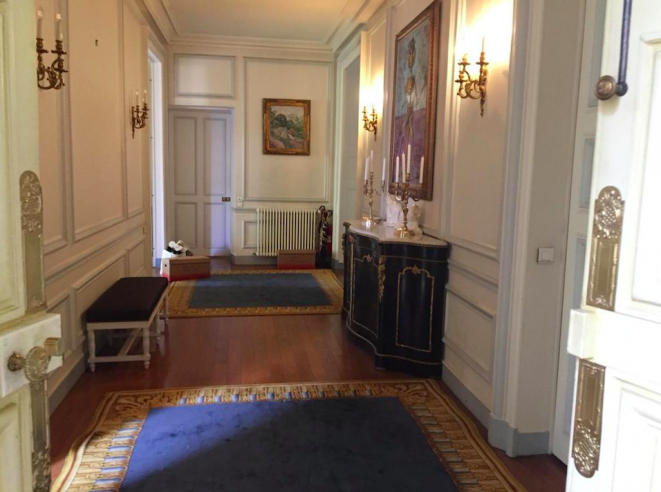 A view of the entrance hall in the apartment, before the recent refurbishments. © DR
In a separate development, Rugy's ministerial chief of staff, Nicole Klein, was forced to resign late Wednesday after Mediapart revealed how she had held on to a publicly-owned apartment of subsidised rent managed by a Paris social housing department while serving as a prefect in other parts of France between 2006 and 2018.
Klein, 67, joined Rugy's staff in October 2018 after serving 12 years in different posts in the north, south-east and central France. She had been allocated her subsidised social housing apartment, situated in the southern 14th arrondissement of the capital, in 2001, when she was given a post with the infrastructure and equipment ministry.
It is common practice for some civil servants to be allocated social housing but Klein's position became untenable given she did not return the lodging during her long absence; the waiting list among the public applying for social housing in the Paris area stands at around 200,000.
Questioned by Mediapart, Klein claimed that the apartment was her "principal residence".
"I in no way consider that my lodging could be a 'vacant social lodging' but rather an always occupied haven amid the 12 postings [between 2006 and 2018], often very rapid and always at the service of the general interest," she said before her resignation.
In 2006, when she was posted as prefect for equal opportunities in the Nord département (equivalent to a county) in northern France, she told daily newspaper 20 Minutes of her concern that people in difficult financial circumstances who applied for subsidised social housing were forced to wait for so long. "It's very difficult," she told the daily. "People are asked to give it time whereas they have immediate problems."
-------------------------
English version by Graham Tearse
-------------------------
If you have information of public interest you would like to pass on to Mediapart for investigation you can contact us at this email address: enquete@mediapart.fr. If you wish to send us documents for our scrutiny via our highly secure platform please go to https://www.frenchleaks.fr/ which is presented in both English and French.
--------------------------