François Fillon, the presidential election candidate for French conservative Les Républicains (LR) party, has been formally placed under investigation for alleged fraud offences by judges leading an enquiry into a suspected fake jobs scam that centres principally on the employment of his wife and two of his children as parliamentary assistants who were paid out of public funds.
According to press reports, Fillon's British-born wife Penelope and two of his five children were paid by him, between 1988 and 2007, a total of more than 900,000 euros from parliamentary funds destined for assistants of MPs and senators, allegedly for work that was at best only partially carried out. Members of the French parliament's lower and upper houses are entitled to employ family members as assistants, but in Fillon's case it is alleged that they were paid on false pretences. MPs and senators are given a monthly sum for remunerating assistants, who they pay directly.
The judicial investigation in which he is now implicated is also looking into the questionable payment between 2012 and 2013 of about 100,000 euros to Penelope Fillon for work as a book reviewer and advisor for an obscure magazine, La Revue des Deux Mondes, owned by a billionaire friend of her husband's, Marc Ladreit de Lacharrière. The editor of the magazine has publicly cast doubt on the completion of the work was paid for. The three magistrates in charge of the investigation are also examining a loan of 50,000 euros made to Fillon by Ladreit de Lacharrière and which was not declared, as required, to a watchdog for probity in public office.
Fillon has strenuously denied any wrongdoing.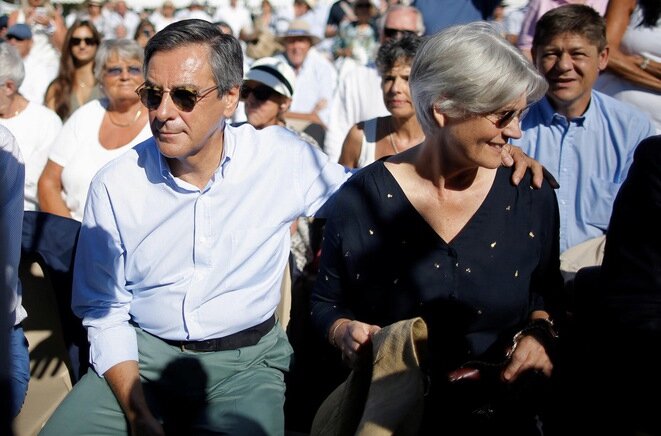 François Fillon with his wife Penelope. © Reuters
Under French law, a person can only be formally placed under investigation if the magistrates leading a judicial enquiry believe there is "serious or corroborative evidence" that he or she committed an offence. It is at the end of the investigation that the suspect is either cleared and the case dropped, or otherwise charged and sent for trial.
A judicial source confirmed on Tuesday that Fillon, 63, was placed under investigation for suspected "misappropriation of public funds, conspiracy and receiving the proceeds of misappropriation of public funds, complicity and receiving the proceeds of the misappropriation of company assets, and failing to respect the declaration requirements of the High Authority for Transparency in Public Office".
Although the move is a significant legal step, it does not prevent Fillon from continuing to run for the presidency, but it is the first time a French presidential candidate has been placed under investigation while campaigning. If ever he was elected, the procedure against him would be suspended during his time in office due to the legal immunity granted to French presidents.
The two-round elections will begin on April 23rd, with the final knockout round held on May 7th.
Fillon was chosen as the presidential candidate for the LR party in a primary contest last November when he was immediately tipped by opinion polls as having a commanding lead in voting intentions. Since the fake jobs scandal was first revealed by weekly investigative and satirical journal Le Canard Enchaîné in late January, his popularity has tumbled, with pollsters placing him behind the far-right candidate Marine Le Pen and maverick centrist Emmanuel Macron.
In a television interview following the revelations, Fillon said he would step down as candidate if ever he was placed under investigation, but last month he withdrew the pledge, denouncing a political plot against him.
Fillon served as prime minister from 2007-2012 under the presidency of Nicolas Sarkozy. The two men became leading and bitter rivals in last year's primary contest, and in a speech last August in his political fiefdom of Sablé-sur-Sarthe in north-west France, Fillon launched a thinly-veiled attack on Sarkozy over the numerous corruption cases in which Sarkozy was, and remains, implicated in. "To have a high opinion of politics signifies that those who seek the confidence of the French people must be worthy," he said Fillon. "Those who don't respect the laws of the [French] republic should not be able to present themselves before the electorate. It serves no purpose to talk of authority when one is not oneself irreproachable. Who could imagine General de Gaulle placed under investigation?"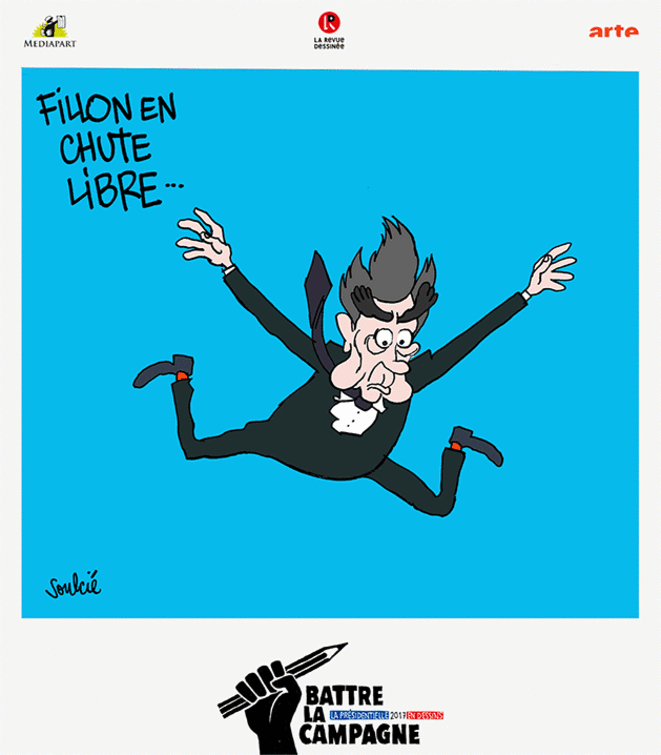 This cartoon by the 'Battre la Compagne' team of cartoonists covering the presidential elections in a collaborative project with Mediapart, shows François Fillon free-falling from the sky with a judge close behind: "Rest assured," says the magistrate, "we've got hold of you!" © Thibault Soulcié/Battre la campagne
The move to place him under investigation had been widely predicted, but has happened sooner than expected. Fillon and his lawyers left the magistrates' office shortly after 10 a.m. on Tuesday, after which he made public, via the website of French daily Le Figaro, a statement he gave to the investigation. "The legal code offered me the choice of answering your questions, of remaining silent or to make a statement," he wrote. "It is the timetable of this legal procedure, right at the heart of the presidential campaign, which imposes upon me the choice of [making] this statement."
In his statement, Fillon reiterated that his wife carried out the work as parliamentary assistant that she was paid for, and also said she fulfilled her work duties at the Revue des Deux Mondes.
After Fillon rescinded his pledge to step down as candidate if he was placed under investigation, a number of his campaign staff deserted him, and there were public calls from leading members of his LR party for him to be replaced. But in a remarkable turnaround, Fillon drew tens of thousands of grass roots supporters to a public rally of support he staged in central Paris on March 6th, after which he refused to abandon the presidential race, leaving the party leadership with no choice but to confirm and support his candidacy.
But his campaign, which centres on an austerity manifesto aimed at slashing public spending, with the promise to shed 500,000 jobs from the public sector and the abolition of the 35-hour working week, remains severely damaged after, as demonstrated by media reports and in opinion polls, he has become perceived by many as a hypocritical and self-serving figure. Further still, Fillon, who, unabashed, has promised if elected to introduce "a code of good conduct" among members of his government, has since Sunday been hit by yet more revelations of questionable financial dealings.
According to French daily Le Parisien, his daughter Marie, who he employed between 2005 and 2006 as an assistant when he was a senator, has told police investigators that she repaid her father more than two-thirds of her total remunerations. Questioned on February 9th, Marie Fillon reportedly produced bank statements to show that, between October 2005 and December 2006, when she received a total of 46,000 euros, she sent 33,000 euros via bank transfers onto the joint account of her parents.
Marie Fillon was 23-years-old and close to the end of her law studies to become a lawyer when she was hired by François Fillon as a parliamentary assistant. She reportedly told investigators that the payments made to her parents' account, which were staggered and varied in amounts, was to pay back money they had provided for her marriage on August 26th 2006, which was celebrated at the Fillon family's manor home in Solesmes, north –west France. "She didn't see why her father should offer her [funds for] her marriage, when he hadn't done so for her brothers," her lawyer, Kiril Bougartchev, told Le Parisien. "This refund which she herself had wanted to make is both a proof of independence and equality between the children."
Bougartchev added that François Fillon had provided the investigation with bills he had paid for the marriage totalling 44,000 euros, while his daughter has handed to detectives her diary of the period she was employed as an assistant along with miscellaneous notes and a badge of access to the senate library. She has claimed that the research she carried out for her father, which included issues of copyright on the internet and educational matters, was used by him in a political essay he published in 2006, entitled La France peut supporter la vérité ("France can handle the truth").
Marie's brother Charles Fillon succeeded her as parliamentary assistant to their father in January 2007, when he was hired for a monthly gross salary of 4,846 euros. According to Le Parisien, he also sent money by bank transfer onto his parents' account and, questioned by police on the same day as his sister but in a separate interrogation room, said the sums amounted to about just less than a third of his net salary. "François Fillon paid his son part of his rent and pocket money," François Fillon's lawyer, Antonin Lévy, told the paper. "As of the moment he was earning his keep it was normal that he refunded him." Contacted by Mediapart, Levy refused to add any further comment about what he said were banal and private matters.
Meanwhile, French weekly newspaper Le JDD, reported on Sunday that François Fillon has, beginning in 2012, received gifts of luxury clothing worth a total of 48,500 euros from an unnamed benefactor, including items worth more than 10,000 euros last month alone. These allegedly included tailor-made suits, blazers, trousers and cashmere pullovers from the high-end Parisian clothing store Arnys. Alerted to the report by two socialist MPs, the official heading the French parliament's committee of deontology, Ferdinand Mélin-Soucramanien, announced he was investigating the matter. "I have learnt through the pressthat François Fillon allegedly received more than 13,000 euros in gifts of clothing from an unidentified benefactor in February," Mélin-Soucramanien told the AFP press agency. "That raises questions and I have reacted," he said. "The question raised is the following: were these gifts offered uniquely at a private level, in which case it is outside of my authority, or were they linked to the [parliamentary] mandate?"
Penelope Fillon's first employment as her husband's parliamentary assistant began in 1998, when he was then an MP for a constituency in the Sarthe département (county) in north-west France, his political fiefdom. When Fillon entered government in 2002, as labour and social affairs minister, he was required to step down as MP, handing over representation of the constituency to his designated deputy, Marc Joulaud, for whom Penelope Fillon continued to work as assistant.
According to Le Canard Enchaîné, one of Marc Joulaud's assistants was a technical advisor on the payroll of the labour and social affairs ministry, which was then headed by Fillon. In 2007, after Nicolas Sarkozy's presidential election victory in May, François Fillon was appointed as prime minister, and Penelope Fillon's contract as parliamentary assistant came to an end. She resumed the role in July 2012, for a period of six months.
In May 2007, Penelope Fillon, a mother of five who is a municipal counsellor in the village of Solesmes, in the Sarthe département, gave an interview to The Sunday Telegraph in which she commented that she had then recently begun an Open University degree course in English literature. "I realised that my children have only known me as just a mother but I did a French degree, I qualified as a lawyer and I thought 'Look here, I'm not that stupid'," she told the paper. "This will get me working and thinking again."
In October 2016, Penelope Fillon attended a meeting in the town of Dijon, south-east France, in support of her husband's bid for the Républicains party nomination as presidential candidate. She gave an interview to the local newspaper Le Bien Public in which she said: "Until now, I never involved myself in my husband's political life."
-------------------------
The French version of this report can be found here.
English version by Graham Tearse