A few days after the first round of the presidential election on April 10th, Mediapart spoke to voters, many of them supporters of the radical left Jean-Luc Mélenchon, who were ready to spoil their ballot paper or abstain entirely in the second round. As uncertainty continues over the outcome of the election, an uncertainty that lingers after the lacklustre debate on Wednesday night between the candidates Emmanuel Macron and his far-right rival Marine Le Pen, the question of whom left-wing voters from the first round will vote for – if anyone - in this Sunday's second round remains a crucial one.
However, while some on the Left may abstain, others have changed their approach since 2017. Five years ago, when Macron and Le Pen first squared off against each other in the decisive second round, these left-leaning voters abstained, and have no regrets. But this time they are voting for Macron. Indeed, some are even saying this loud and clear in a bid to convince others to do the same. Their comments below naturally reflect fears that the far-right might come to power and make clear the anger that still exists towards the current occupant of the Élysée; but, equally, their words also highlight some of the deep divisions in society which will remain just as wide after this weekend's crucial vote.
Civil servant Sarah* will vote for Macron 'without hesitation'
"In the second round in 2017 I left the ballot paper blank for the first time in my life. That was clearly a turning point in my voting practices. I realised that I could simply decline to choose when what was on offer didn't suit me. I should point out that, given my age, I didn't vote in 2002 [editor's note, when Marine Le Pen's father Jean-Marie Le Pen faced conservative Jacques Chirac in the second round] and that having grown up in the Val-de-Marne [editor's note, a département or county just south-east of Paris] the Left was often in the second round [editor's note, of Parliamentary or local elections]. Between the two rounds in 2017 everyone discussed the issue with everyone else and I even argued with my mother. But I was sure of my decision and I haven't regretted it. Since then, in local elections I have abstained several times when the second round was just between right-wing candidates.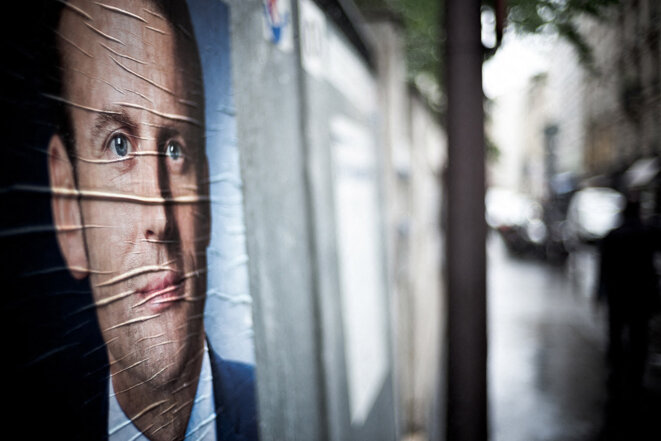 An Emmanuel Macron Election poster in Paris, 2017. © Photo Arthur Nicholas Orchard / Hans Lucas via AFP
"In 2022 I'm going to choose the Macron ballot paper without any hesitation at all, for this practice of abstaining has kind of liberated me. I put fewer daft things on the ballot paper. In the first round this year I voted Mélenchon having spent five years complaining about [his party] La France Insoumise's strategic line, simply because it was the leading force on the Left. The choice in the second round is just as pragmatic, because the opinion polls don't show a great gap between Macron and Le Pen, and I want to make sure she doesn't make it.
"The political and media mood is also different. Today there are in effect three blocs, one around Macron, a left-wing bloc and a far-right bloc. It's possible in the Parliamentary elections [in June], for [Le Pen's party] Rassemblement National, [defeated far-right candidate Éric] Zemmour's Reconquête! and the right-wing Les Républicains to take power through an alliance. That scares me. But nothing's changed in my reaction to Macron. He's been president five years, I know how much I'm opposed to his manifesto and how much he drives me mad.
"I also want there to be as big a gap as possible between the two so that the message gets across, including to my political side, about how Rassemblement National is a specific case. Even if, paradoxically, I'm very happy with Mélenchon's position [editor's note, he has urged supporters not to vote for Le Pen but has not asked them to vote for Macron] as in 2017. I'm going to vote for Macron without even thinking about it, but it's very easy for me to understand why someone couldn't."


Mélanie, a journalist, will vote in the second round for the first time since 2002
A former activist in the Ligue Communiste Révolutionnaire (LCR), "completely on the far-left" and involved in the voluntary sector, Mélanie took part in the demonstrations against the far-right that were held in Paris on Sunday April 17th. Her banner, which sums up her stance, read: "To do list: April 24th, beat Le Pen; May 1st in the streets; Parliamentary elections, beat Macron."
"In June 2002 I took a Chirac ballot paper and wrote on it "neither fascist nor crook, you don't forget the sound and the smell" [editor's note, the two candidates were President Jack Chirac and far-right leader Jean-Marie Le Pen], in other words a spoilt ballot, aimed at those who study such things or historians. In 2017 I already knew who Macron was, his pedigree, and I really didn't want to vote for him. Even so, all that Sunday [voting day] I felt bad. I'm married to a man from Senegal – he's now got French nationality – and our children are mixed race. I felt a bit anxious but the voting intentions at the time allowed me to cast a blank vote. The day after the election there was a demonstration against the new president in Paris and I went to it. But I'd put my back out and it was impossible to turn my head to the left, that made an impression on me!
"This year the question doesn't really arise. I'm so worried. Even if the polls say the gap is not getting any closer, I'm not reassured. I even have a friend, with whom I do voluntary work with migrants, who has told me that she doesn't want a Macron victory against Le Pen. My vote won't be a blank cheque and I obviously know that Emmanuel Macron is going to completely ignore us."


Guillaume Floris, a librarian and member of the FSU trade union, cannot accept the thought of an Hungarian or Brazilian-style outcome
Five years ago there was no question that this activist for Jean-Luc Mélenchon's La France Insoumise party would vote for Macron. Guillaume Floris has played an active part in two of Mélenchon's presidential campaigns, campaigning in both Montreuil, in the eastern Paris suburbs, and Poitiers in western central France.
"In 2017 I genuinely thought that there was absolutely no risk of Marine Le Pen winning and so there was no question of me lending any support to the liberal and ultra-authoritarian policies of Emmanuel Macron, whom we'd known as the economy minister at the time of the employment law passed under [President] François Hollande.
"Over the past five years I've told myself I'll do the same again. But the last few weeks have made me change my mind. There's the polls of course but it's also what I feel around me. I've taken part in many 'yellow vest' [editor's note, the name given to protestors who staged demonstrations in 2018 and 2019 over the cost of living] demonstrations in recent years and in this network people have shifted towards a visceral anti-Macron vote. In terms of trade unionists it's the same thing, the 'milder' economic policy of the previous presidency [editor's note, under President Hollande] came and slapped us right in the face under this presidency. And he is announcing yet more terrible employment measures for the five years to come.
"In these two areas I hear two things: some people who accept that they will go and vote for one against the other, or silence, which is sometimes eloquent. I ask those who are hesitating to look at what's happening in Hungary and Brazil, the unleashing of social and racist violence. This year Viktor Orbán [editor's note, the Hungarian prime minister] won for the third time after crushing all the opposition. In his first two terms he made them yield like never before, he succeeded in dominating the media and the justice system. We can't take that risk.
"There's no disagreement between my position and that of La France Insoumise, for whom I'm an activist. The introduction to the advice to militants is very clear on this issue, there are no worse evils than the far-right. But in this decision not to give an instruction on who to vote for there's also a keenness to make it clear that for some people it's a terrible, violent thing to have to vote for Macron; for those who have lost an eye [editor's note, during protests], for parents of children who were made to go on their knees, hands on their head, at Mantes-la-Jolie [editor's note, this incident in a town west of Parishappened during school student protests in 2018].


For nurse Yasmina Kettal 'the risk is far greater because society is on its knees'
This resident of Saint-Denis, in the northern suburbs of Paris, who is a member of the collective group InterUrgences and very committed politically, was Mediapart's president for a day on January 31st 2021. Yasmina Kettal also took part in the demonstration that tried to approach Emmanuel Macron during one of his rare campaign trips, at Saint-Denis on April 21st 2022, in a bid to get him to hear their criticism of his social policies.
"I've changed my mind in relation to 2017 out of fear, there's no other word for it. Because of Marine Le Pen's score in the first round but also because more and more people, exhausted by the past five years under the government of Emmanuel Macron, will not go and vote. I absolutely understand this refusal to go and stand in her way: it's like in the hospital, we constantly get a hard time yet it's still down to us to hold the fort when things go wrong! But I live in the Paris suburbs, I'm an Arab, and for me and those close to me the danger from Marine Le Pen is a lot greater. If I have to get my hands dirty, I don't care. Yes, Macron has said and done authoritarian, dangerous and Islamophobic things, but he hasn't come from a Nazi party, which has an openly xenophobic manifesto, and who is a terrible threat for those of us who are dual nationals. With Marine Le Pen anything could happen.
"The risk is also far greater because society is on its knees! In reality what worries me is not the millions of people who voted for her, but that I'm not really sure we can stand firm. Because those on the Left who resist are exhausted and also because the masses are no longer able to resist.
"I see that in activist circles this question is causing some debate: I've concluded from this that we don't have the same lives or the same fears. Where I live we perhaps have less expectation that politicians will change our lives. We're way beyond bitterness, it's almost just about survival.
"So to hear talk about the Parliamentary elections, about being prime minister [editor's note, Jean-Luc Mélenchon has said he wants to be prime minister if the Left performs strongly in the Parliamentary elections in June] when we're all scared to death, I don't get it, even if I don't grasp all of the political strategies. Let's focus on this Sunday. I find that out of place and, to put it politely, it's puzzled me. I do agree that instructions to vote are sometimes counterproductive, but if they'd already at least spoken out about a Marine Le Pen victory as a potential and worrying risk then that would have reassured me.
"I went through the first Covid outbreak in Seine-Saint-Denis [editor's note, a deprived county or département north of central Paris] in one of the hospitals most affected by the virus, I am repulsed by Macron because of what he made us go through, but really, we don't have a choice."


Omar Slaouti, an opposition councillor at Argenteuil, north-west of Paris, does not want to move from 'a kind of state racism to a racist state'
In 2017 Omar Slaouti explained to Mediapart the reason for his abstention then, which was to "break the vicious circle between fascism and neo-liberalism". Five years later, the co-author of the book 'Racismes de France' has joined up with other activists from 'On s'enmêle', an initiative in working class districts which called on people to vote for Mélenchon in the first round and now Macron in the second.
"A certain number of us think that there's a difference in nature between Macron and Marine Le Pen. One has significantly helped the process of fascistisation through institutional measures such as the law on separatism, the other is ready to enshrine racial and religious discrimination in stone in the Constitution. In essence we'd go from a kind of state racism to a racist state.
"This way of looking at it has been well understood in working class neighbourhoods where a vote for Mélenchon in the first round was already a vote for reason and protection. This reflected support for the sharing of wealth, and a society that is more aware of environmental issues, but also and - sometimes especially - it was a decision to bring a halt to discriminatory comments and laws.
"And for the second round there's absolutely no reason why this way of looking at it should disappear. If you want to summarise it a little glibly, the blank vote seems a difficult option to non-Whites because it's our skins that are are currently at stake. Though we may be completely French as second or third generation [immigrants], we still have family who have residency permits for ten years and who could lose everything, to say nothing of illegal immigrants and migrants. Also, bear in mind we had a plan to strip nationality under a socialist president [editor's note, President Hollande eventually dropped plans to remove French citizenship from dual nationals convicted of a terrorist offence] - what would happen under Le Pen?
"Unlike in 2017 the institutional crisis is such that those who govern us have lost all credibility, the abstention rate is often huge and so the most obscure things can emerge. It's much more serious than five years ago, and that's also because the construction of an 'enemy within' under Macron has left its mark.
"If you count all the candidates in the contest, in the first round the far-right achieved an enormous vote. There's real support. The only trickle down effect [editor's note, a reference to the economic theory of the trickle down effect] we've seen in this presidency is that of discrimination and racism. It's worked so well that Le Pen and [defeated first round far-right polemicist Éric] Zemmour have reaped the benefits.
"There are different logics which enter the stakes in this second round, and they're not in competition. For example, if you speak about Mélenchon's tactics, they are responding to the need not to hurt or break the environment of unity that he has set up around him. From where we're sat we have greater freedom of action, and we can speak more bluntly.
"What's certain is that everything will go faster and harder if Le Pen makes it. It's this acceleration of history that makes us say, with a great deal of difficulty, that one should vote for Macron. It's not a vote of support but one based on reason, and it enables us to make ourselves heard. We can have a 'third round' in the streets [editor's note, in other words with demonstrations], and beyond that produce a enduring and strong left-wing bloc at the Parliamentary elections."
-----------------------------------------------------------------------------
The original French version of this article can be found here.
English version by Michael Streeter