Secret commissions and overpriced contracts
To better understand why the French industrial partners wanted to remove the clauses, it is necessary to focus on the activities of Sushen Gupta, the commercial agent for Dassault and Thales. Gupta, who has US nationality, comes from an Indian family whose members have worked as intermediaries in the aeronautic and defence markets over three generations. Sushen and his brother were taught the business by their father, Dev Gupta, who is now retired.
The family' consultancy firm, Indian Avitronics, works with a number of major aviation industry corporations, including several French groups. One of the latter is aircraft equipment manufacturer Safran, which notably makes the engines for the Rafale jets (see document below). Between 1997 and 2003, Safran paid 1.2 million euros into a Swiss-registered company belonging to the Gupta brothers. Contacted by Mediapart, Safran declined to comment on the subject.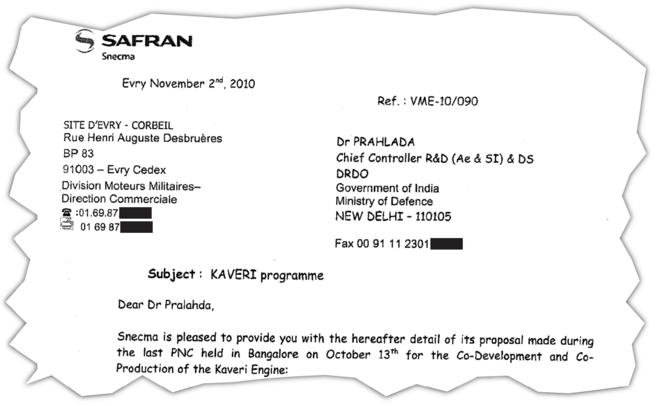 Above: an extract of a document from the archives of middleman Sushen Gupta concerns consultancy work he was engaged in in 2010 for Safran's military engine branch concerning a joint project with India for equipping Kaveri fighter aircraft. © Document Mediapart
Sushen Gupta is known for his network of political and military contacts. In 2007, he boasted to a major Western aeronautics corporation that "contacts at all levels have been developed and maintained" with the Indian government. In the charges levelled against him, The Enforcement Directorate noted that he "had prior information about the future requirements of Indian Air Force, which is something not available in public domain".
Dassault and Thales paid highly for Gupta's know-how. They hired him at the beginning of the 2000s, at the very moment when India announced it was looking to buy 126 fighter jets. According to evidence from the ED's casefile, the two French firms paid him several million euros over the 15 years leading up to the signature of the contract.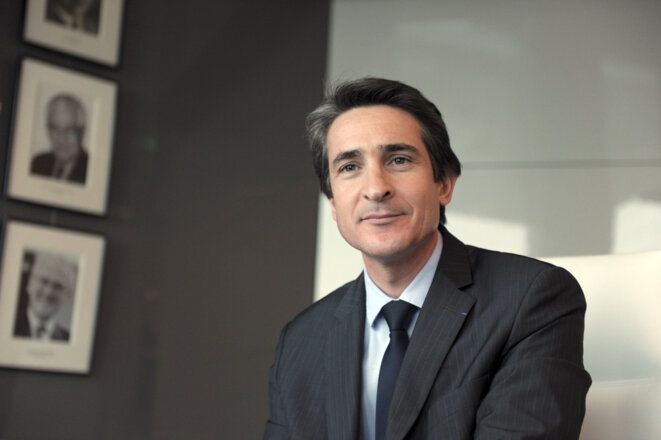 Patrice Caine, who since 2014 is chairman and CEO of French defence electronics corporation Thales. © Thales
The problem is that the money was not paid into the Indian-registered consultancy firm of the Guptas, but was instead transferred, in the form of secret commissions, some of which have questionable justifications, into offshore companies.
According to the Enforcement Directorate's charge sheet, Thales ordered from the Gupta brothers "reports for various subjects" and the remuneration was paid into a shell company, with no offices or staff, registered in Dubai, which was managed by the lawyer for the Gupta family. According to an accounts spreadsheet belonging to Sushen Gupta, which only covers the years 2004 to 2008, Thales paid 2.4 million euros via this financial route. Contacted by Mediapart, Thales declined to comment.
To receive payment from Dassault, Sushen Gupta used the same system he employed in the "Choppergate" scandal for which he now faces prosecution, involving an IT services company called IDS, where a member of his family worked. IDS obtained apparently inflated contract payments from Dassault, and in return would discreetly pay the middleman.
In a statement given to an Indian investigator, a member of the IDS management explained that it was an individual called "Pierre" at Dassault who instructed him to pay commissions into a fronting company registered in Mauritius Island called Interstellar. A Dassault company document (see below) shows that the French company placed 2 million euros-worth of orders with IDS in 2004, and planned to place 4.6 million more. Between 2002 and 2005, IDS transferred 900,000 euros to Interstellar.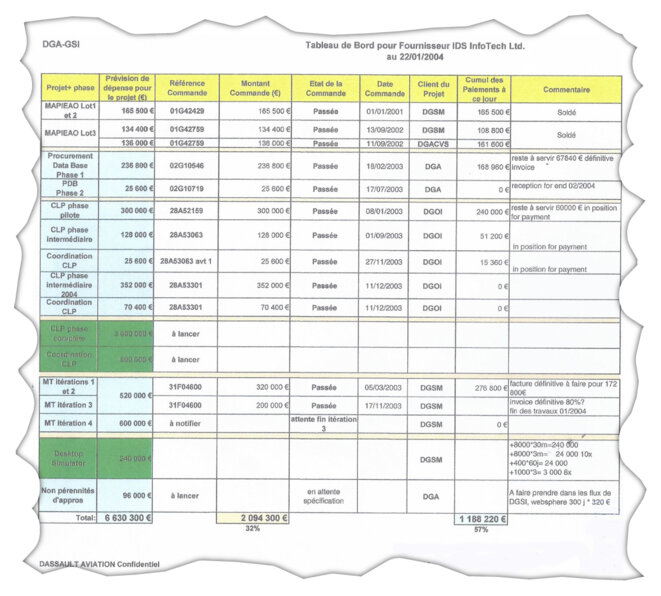 An extract from an internal company document from Dassault Aviation detailing the orders and payments to Indian IT services company IDS. © Document Mediapart
The financial scheme was subsequently changed. An IDS manager told the investigators that from 2004, Dassault placed orders for computer services with a Singapore-based company called Interdev, which was presented as a "System integrator for Dassault in Asia". In reality, it was a shell company with no real activity, administered by a straw man for the Guptas who is currently on the run in South Africa.
Interdev paid IDS for IT services and transferred commission payments to Interstellar in Mauritius, under cover of sub-contracting work of a questionable nature. In the document reproduced immediately below, it is indicated that "Dassault has granted Interdev the right to sub-contract part of the agreement to Interstellar", which is described as being "specialized in software […] and other IT services". But in fact, the Mauritius-registered company was an empty shell, and is now wound down.
© Document Mediapart
According to an accounts spreadsheet belonging to Sushen Gupta, an entity called simply "D", which is a code he regularly used to designate Dassault, paid 14.6 million euros to Interdev in Singapore over the period 2004-2013. Interdev transferred just 2.6 million euros to the Indian IT services company IDS, while 11.9 million euros was transferred to Interstellar in Mauritius (see the document below).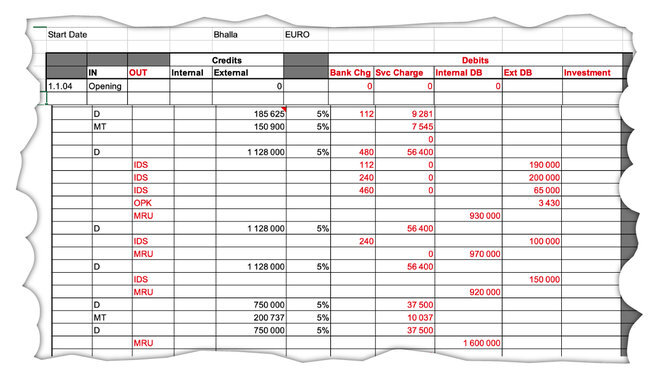 An accounts spreadsheet belonging to middleman Sushen Gupta detailing the financial movements of the Singapore-based company Interdev. "IDS" is an Indian IT services company, while "MRU" refers to the offshore company Interstellar, registered in Mauritius. © Mediapart document
Questioned by Mediapart, Dassault declined to comment. Neither Sushen Gupta nor IDS responded to Mediapart's attempts to contact them.
Even with the information from the spreadsheets, it is very difficult to ascertain where the millions of euros paid out by Dassault and Thales finally ended up, given the multiple offshore shell companies involved, registered in opaque tax havens like Switzerland, Liechtenstein and the United Arab Emirates.
Several million euros went into financing the Gupta's comfortable lifestyle (including the purchase of two Porsche cars totalling 310,000 dollars and a marriage celebration costing 150,000 dollars paid in cash), along with investments, notably in the hotel business and property.
But there are also numerous payments to individuals, who are often designated on documents by their initials, and sometimes by codes, such as "A34". The Enforcement Directorate investigators found trace of large cash withdrawals. One employee of Indian Avitronics, the Gupta family's aeronautics consultancy firm, gave a statement to investigators in which he said that Sushen Gupta had given him cash with instructions to give it to certain individuals whose names, he said, he "did not remember".
The Enforcement Directorate, in its written complaint detailing charges and evidence, suspects that part of the money was also used for "bribing officials in India" in the context of, "Various defence deals". A confidential note found in the computer archives of the intermediary suggests that the Rafale deal may have been one of them.
"People sitting in office asking for money"
It was on January 31st 2012 when Dassault won the tender issued by India for the supply of 126 fighter jets. But that was just the beginning of a process of negotiations necessary before the signing of a contract. In March that year, the Indian defence ministry launched an internal investigation into the results of the tender after a member of the Indian parliament claimed that the Rafale was more expensive than the Typhoon fighter jet proposed by Eurofighter.
A key point in the negotiations concerns the requirement made by India that Dassault would place half of the total value of the contract into Indian firms, such as buying from them aircraft components, in what is known as an "offset" agreement.
Under the initial contract, the state-owned aerospace and defence corporation Hindustan Aeronautics Limited (HAL) was to assemble, in India 108 of the 126 Rafale jets. Dassault chose as its principal partner in the private sector Reliance Industries Ltd (RIL), a group owned by billionaire Mukesh Ambani, even though it had no experience of aeronautic manufacturing. In February 2012, Dassault and RIL signed an agreement to create a joint-venture company in India that would provide Dassault with components.
Sushen Gupta was involved in the process of selecting Indian industrial partners. On April 13th 2012, his Singapore shell company, Interdev, drew up three contracts for consultancy services for Dassault, for a total of 4 million euros. The work involved providing research reports on the defence market in India and identifying potential industrial partners (see document below).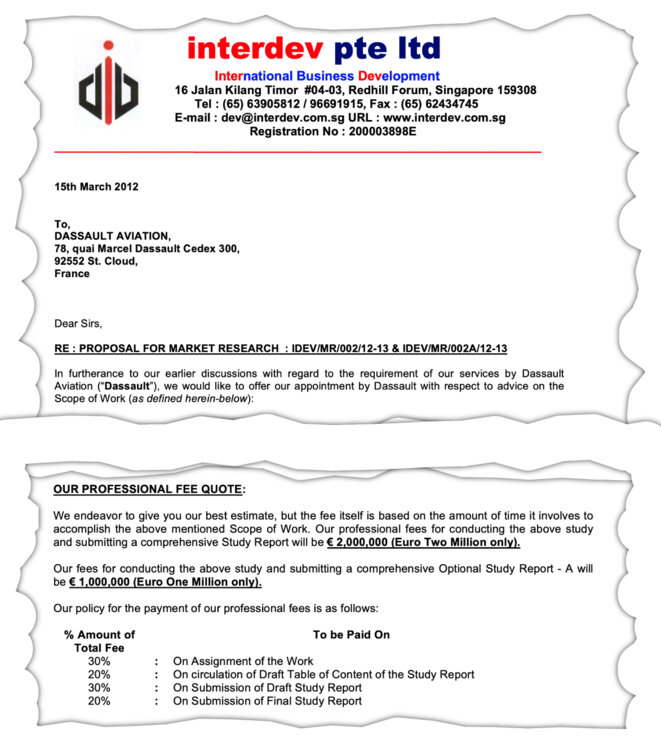 © Document Mediapart
It is unclear whether the contracts were signed. According to a Gupta accounts spreadsheet, "D" made a payment of 500,000 dollars to Interdev five days later. But Sushen Gupta wanted more.
In his digital archives, there is a Word document containing what to all appearances was a message prepared for Dassault, written in the form of a bullet-points note. The document was modified for the last time on September 7th 2012 at 7.22am, and contained, on top of the message, an electronic ticket in the name of Sushen Gupta for a flight from Paris to New Delhi, which took off the same day at 10pm (see below).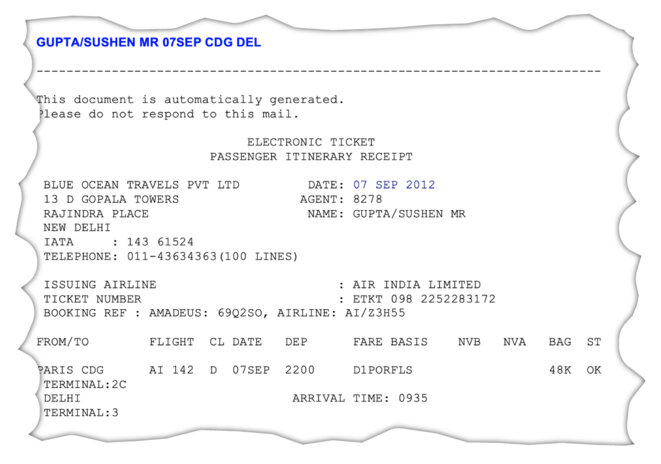 Above: the electronic ticket for a Paris-New Delhi flight in the name of Sushen Gupta discovered in the same computer file of notes apparently prepared for presentation to Dassault. © Document Mediapart
The contents of the documents suggest that Gupta had a meeting with Dassault Aviation, headquartered close to Paris, on September 7th 2012. In his notes, Gupta angrily wrote: "For the first time I am asking myself, why am I doing this? […] What is our fault? […] I have done what you wanted. We have come from India for some answers."
The note might appear to suggest that money had been distributed by the Gupta's to Indian officials and that Dassault had not compensated the payments: "The risk is taken," he wrote, "you have an agent we have paid, now make sure it is legal clean and defendable we are not avoidable and must anticipate the worst. […] No money no decisions. So far you are happy because I have spent money? Now you are upset because you have to pay? […] Now is not the time to fight. You should not have started, now finish."