While the circumstances of the apparently involuntary fortnight-long stay of Lebanese Prime Minister Saad Hariri in Saudi Arabia in November remain unclear, what is certain is that he and his family's business dealings are under the scrutiny of the Saudi regime, which last month launched a spectacular" anti-corruption" crackdown led by the son of King Salman bin Abdulaziz, Crown Prince Mohammed bin Salman.
Immediately after arriving in the Saudi capital Riyadh early last month, Hariri announced his surprise resignation as prime minister of Lebanon, citing fears he was the target of an assassination plot and denouncing, in uncharacteristic language, Iran's role in causing unrest in the Middle East, sending shockwaves throughout the region which threatened to plunge Beirut into renewed political chaos.
To all appearances, and notably in the view of Lebanese President Michel Aoun, Hariri had been forced by the Saudi regime into making the dramatic announcement, and was kept in Ryadh against his will. On his return to Lebanon via France on November 22nd, after intense diplomatic moves by Paris, Hariri withdrew his resignation, ending almost three weeks of crisis. But what exactly lay behind Hariri's dash to Saudi Arabia and his resignation and outburst against Iran, seemingly imposed upon him despite his denials, remains the subject of speculation.
Beginning when Hariri arrived in Riyadh last month, 32-year-old Saudi Crown Prince Mohammed bin Salman has led a purge of high-placed figures of the former ruling regime in what many analysts regard as the final stage of his bid to gain absolute control of the country, where the Hariri family-run construction firm Saudi Oger has played a leading role over many years in building projects and various other business interests.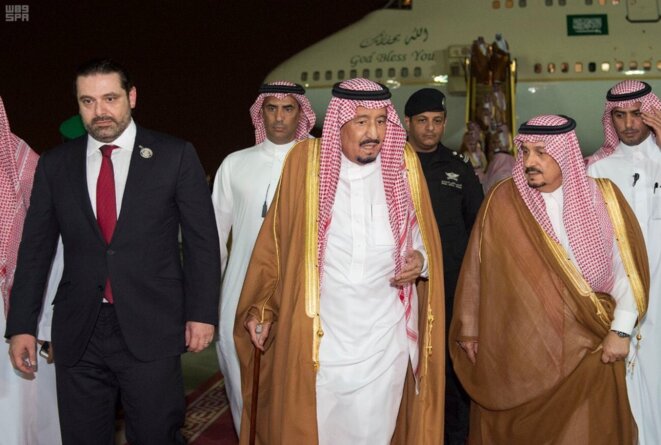 Saad Hariri (left) with Saudi King Salman bin Abdulaziz, March 29th 2017. © Saudi Press Agency
The arrests of former ministers, members of the royal family and businessmen accused of financial corruption, notably under the 2005-2015 reign of King Salman's predecessor, Abdullah bin Abdulaziz Al Saud, has been followed by the freezing of assets which some reports estimate could total 800 billion dollars.
Saad Hariri, 47, who was born in Ryadh and who has has joint Lebanese, Saudi and French nationality, first served as Lebanese prime minister from 2009 to 2011, and began his current second term as prime minister in December 2016. His father Rafik Hariri, who was also twice prime minister of Lebanon, from 1992 to 1998 and again from 2000 to 2004, built up a vast business empire in Saudi Arabia in a rags-to-riches career which began when he left Lebanon for the Saudi kingdom in the 1960s. His entrepreneurial success led to the creation in 1978 of Saudi Oger, essentially a construction firm but with a number of offshoots, including a telecommunications branch, all entirely owned by the Hariri family.
Saad Hariri worked in the family business in Saudi Arabia before taking up an active political role in Lebanon after his father Rafik was killed in a suicide bomb attack in Beirut in February 2005.
It was from about 2013 that Riyadh-based Saudi Oger began running into financial difficulties. From 2015, over two years, 56,000 employees of 40 different nationalities were dumped by the struggling group, abandoned and unpaid, until the business was finally wound down on July 31st this year.
Previously, Saudi Oger was involved in some of the most prestigious construction projects in the Saudi kingdom, the most recent being the completion, in 2011, of the campus of the Princess Noura Bint Abdulrahman University in Riyadh in a contract valued at more than 3 billion euros. But following the death of Saudi King Abdullah bin Abdulaziz Al Saud, and the arrival on the throne of Salman bin Abdulaziz Al Saud, the sometimes excessive payments the firm received from the Saudi administration dried up.
It was just as the purge presented as an anti-corruption drive was launched last month by Crown Prince Mohammed bin Salman that Saad Hariri flew into Saudi Arabia, late on Friday November 3rd. The following day the arrests of more than 200 people, notably 11 of the country's princes, including former ministers and senior public officials and businessmen were announced. That same day, November 4th, Hariri, a Sunni Muslim, made his shock televised address from Riyadh announcing his resignation as head of Lebanon's government of national union, which includes members of the Shiite militia and political group Hezbollah, saying that he feared an assassination attempt, and launched into a scathing attack on Iran and its ally Hezbollah for sowing strife in the Middle East.
Over the following two weeks Hariri remained shut away in Riyadh in what Lebanese President Michel Aoun called "obscure circumstances". Aoun suggested Hariri was being held against his will by the Saudis, saying he was subject to a "degree of restriction of his freedom [...] his residence and the contacts he might have had, even with members of his family". Hariri was eventually able to leave Saudi Arabia for France overnight on November 17th, after intense diplomatic activity by Paris, returning to Lebanon five days later when he reversed his decision to resign.
While it was widely speculated that Hariri's resignation and mysterious stay in Riyadh was part of Saudi manoeuvring against its arch rival Iran, in the background lies a more personal financial dispute between Hariri and the Saudi monarchy that centres on Saudi Oger's debts, estimated at between 3-4 billion dollars, including about 600 million dollars in unpaid wages to staff. "The Saudi government must settle its arrears, once it will have done so we will pay the salaries," Hariri said earlier this month in an interview with French weekly Paris-Match.
It remains unclear why the Saudi monarchy has blocked the payments claimed by Hariri, who was questioned by the Saudi National Anti-Corruption Commission as a Saudi citizen and not in his capacity as Lebanese prime minister. Responsibility for bankruptcy is considered to be a crime in Saudi Arabia, and one which carries a potential prison term.
Among former Saudi Oger employees who are owed wages are 240 French nationals, who found themselves blocked in Saudi Arabia in 2015 and 2016, unable to leave the country because of the debts they had incurred after the firm crashed. They were finally allowed to return to France after diplomatic negotiations between Paris and Riyadh. Some of them had been recruited by Oger International, a French-based arm of Saudi Oger, and brought a collective case before a French industrial tribunal seeking the payment of an estimated 15 million euros in unpaid salaries. Meanwhile, it was revealed in September that about 700 former Lebanese employees of Hariri's firm were still blocked in Saudi Arabia, also unable to leave because of their debts.
Earlier this month the Swiss authorities announced the Saudi authorities had passed on to them bank details collected as part of the anti-corruption purge. A number of Swiss banks are readying themselves for a Saudi request for the freezing of the accounts of those implicated in the anti-corruption crackdown, notably after Crown Prince Salman bin Abdulaziz announced his intention of recovering a claimed hundreds of billions of dollars in assets that were transferred outside the country. It is speculated that both Hariri and his former rival, the Saudi Binladen Group, may be threatened by such a move unless a deal is reached with the Saudi ruler. In June this year, one month before Saudi Oger was officially wound down, Saad Hariri's brother Ayman Hariri, who headed the Saudi operations of the firm, sold all of his 42.24% stake in the Hariri family's bank, BankMed, for a total of 535.2 million dollars.
Saad Hariri with French President Emmanuel Macron at the Elysée Palace, November 18th 2017. © Reuters
Saad Hariri's arrival in France on November 18th followed intense diplomacy by Paris, beginning with a visit to Riyadh on November 9th by French President Emmanuel Macron when he met with Crown Prince Mohammed bin Salman. In his interview with Paris-Match earlier this month, Hariri said that "one day" Macron's "historic role" would be made known. Hariri was also able to count on the active behind-the-scenes support of key figures from the entourage of former French president Jacques Chirac, who has long had close relations with the Hariri family. These include Bernard Émié, a senior diplomatic advisor to Chirac when he was president and subsequently France's ambassador to Lebanon, who Macron appointed in June as head of the French external intelligence agency, the DGSE, and Maurice Gourdault-Montagne, another senior diplomatic advisor to Chirac during his second term in office between 2002 and 2007 who in July was made secretary general of the French foreign affairs ministry. Both men are well known to Hariri and one of his key business associates in France, French lawyer Basile Yared.