French magistrates probing evidence of the subornation of a key witness in a judicial investigation into the suspected Libyan funding of Nicolas Sarkozy's 2007 presidential election campaign have, in their summary report in the case, have described a criminal project "aimed at influencing the statements of a witness and to mislead, even to publicly discredit, the examining magistrates in charge of a case of particular sensitivity, in which a former French president is notably placed under investigation".
As the witness tampering case unfolds, Mediapart has obtained access to legal documents detailing the conclusions so far of the magistrates leading it and the evidence they have collected of the alleged plot to help discredit the case against Sarkozy over the Libyan financing.
The witness in question is Ziad Takkiedine, a French-Lebanese business intermediary who has repeatedly given sworn statements and media interviews over several years detailing how Sarkozy's successful 2007 presidential bid was in part illegally funded by the regime of late Libyan dictator Muammar Gaddafi, and his own role in transporting the funds.
But in November last year, in an interview published in French weekly Paris Match, and in a short video broadcast by news channel BFMTV, Takieddine retracted his accusations against Sarkozy, who he said "did not have Libyan financing". Immediately after, Sarkozy posted a message on Facebook declaring that "The truth has at last come out".
But the mounting evidence that Takieddine's public U-turn last autumn in favour of Sarkozy was a put-up job staged by allies of the former French president led to the opening of a judicial probe into suspected witness subornation. In January, Takieddine, during questioning by French magistrates, retracted his retraction, and once again maintained that Sarkozy's 2007 campaign had been funded by Tripoli.
Michèle Marchand and (clockwise from left) Hervé Gattegno, Ziad Takieddine, Nicolas Sarkozy and Thierry Herzog. © Photo Illustration Simon Toupet /Mediapart avec AFP
The case they referred to is the ongoing and now eight-year-old judicial investigation into the suspected illegal funding of Nicolas Sarkozy's 2007 presidential election campaign by the Gaddafi regime, and for which Sarkozy, 66, has been placed under investigation for "corruption", "criminal conspiracy", "illicit financing of an electoral campaign", and for "receiving" the proceeds of the misappropriation of public funds. Three of his former ministers, Claude Guéant, Éric Woerth and Brice Hortefeux, all longstanding allies of the former president, have similarly been placed under investigation.
Nicolas Sarkozy and the three former ministers all firmly deny any wrongdoing.
Ziad Takieddine is also placed under investigation in the probe, while also being a key witness against Sarkozy. He had acted as a behind-the-scenes intermediary and envoy for Sarkozy and his close political team in their dealings with the Libyan regime, and has recounted how he personally transported suitcases of cash from Tripoli to Paris.
Takieddine, 71, fled France for his native Lebanon last year after his conviction by a Paris court for his role in a separate illegal political funding scam in the 1990s, involving sums secretly siphoned off from French weapons sales to Saudi Arabia and Pakistan, and which were destined to finance Sarkozy's political mentor, the former French prime minister Édouard Balladur. For that, Takieddine was handed a five-year jail sentence in June 2020.
Over several years, and subsequent to Mediapart's revelations of the funds set aside by Tripoli, Takieddine had recurrently accused Sarkozy and his entourage of receiving the Libyan cash, which he detailed in statements to the judicial investigation.
But after his interview with Paris Match published last autumn, when he suddenly retracted all his previous accounts and insisted that Sarkozy had not been financed by Libya, the former president and his entourage apparently believed the case against them was significantly weakened.
In a separate document in their case file, dated June 7th this year, the magistrates in charge of the probe into the circumstances of Takieddine's retraction wrote that it had emerged from their investigations "that the organisation of the October 2020 interview [editor's note, when the interview with Paris Match was conducted] was the fruit of a fraudulent arrangement beforehand between different individuals working to this objective. This interview had been organised and prepared in advance in the framework of an arrangement between different protagonists with the promise of a remuneration for Mr. Takieddine".
"Indeed, the investigations of phone calls show much contact established between Mr. Gattegno [Hervé Gattegno, editorial director of Paris Match] and Mrs Marchand during the course of autumn 2020, and the latter admits having effectively brought the affair to Paris Match," added the magistrates. Their investigations, largely carried out in the field by the French police anti-corruption branch, the OCLCIFF, has already established that tens of thousands of euros were sent to Takieddine's network of contacts in Lebanon at the time of his surprising retraction. The investigation has found evidence that remunerations totalling millions of euros were also proposed.
The magistrates noted that statements given by some of those placed under investigation last month show "the existence of this fraudulent project in connection with Mr. Sarkozy and Mr Herzog [Thierry Herzog, lawyer for, and friend of, Sarkozy's] and with the aim of bolstering an element of proof for defence".
Mediapart has obtained new evidence, from further documents and witness accounts, that demonstrate how the operation surrounding Takieddine's retraction, led by Michèle Marchand and a man called Noël Dubus, had the goal of supporting Sarkozy's defence strategy over the years since the Libyan funding probe was launched. This might be bluntly summed up as presenting Ziad Takieddine as having lied about the funds, that Mediapart forged documents it has published, and that the investigating magistrates have been manipulating.
The "fabrication" of an "element of evidence"

The judicial investigation into the circumstances behind Takieddine's public retraction of his accusations against Sarkozy is now focussed on a second episode in the case. This was a series of statements given by Takieddine in a legal document drawn up after the publication in November 2020 of his interview with Paris Match.
In the document, which took the form of a list of Takieddine's answers to questions, and made out in the presence of a solicitor on December 12th, Takieddine notably claimed that French judge Serge Tournaire, who was until 2019 in charge of investigating the Libyan funding case, had offered him a deal – that if he accused Sarkozy of receiving the Libyan cash, in exchange the magistrate would arrange the return of ownership to Takieddine of some of his property assets that had been frozen by legal order. The contents of the statements and the visit to the solicitor's office were the subject of a long report in Paris Match published on December 23rd 2020 and entitled 'Exlcusive: Takieddine accuses his judges'.
Tournaire firmly dismissed the claims, underlining that on each occasion Takieddine was brought before him, it was in the presence of his lawyers, fellow magistrates and a clerk of the court.
The separate investigation by judges Lemonnier and Nathan into the suspected witness tampering concludes that the statements Takieddine gave were prompted by the fact that the interview with Paris Match was not taken up as evidence by the magistrates in charge of Libyan funding probe. While the publication of Takieddine's interview was widely relayed by the media, it had no judicial consequence. However, his statements before the solicitor in Lebanon were contained in a legal document – a sommation interpellative, or 'interpellatory summons', in French legal jargon – that was subsequently transmitted to the judicial authorities.
In their case report dated June 7th, judges Lemonnier and Nathan noted that the follow-up to the interview published in Paris Match "showed that this interview, having been insufficient in the eyes of those behind it, a document entitled sommation interpellative was established, drawn up and signed before a solicitor, and addressed to the judicial authorities in order to be included in the [Libyan funding] investigation file".
"These elements," the judges added, "thus attest to the particular gravity of the offence which should be regarded as a collection of manoeuvres using media with a 'wide public' audience […] The fabrication of this widely circulated element of evidence and then its transmission to the national prosecutor [of the financial crime branch of the public prosecution services] was aimed at misleading the judicial authorities tasked with giving their appreciation of the charges weighing upon Mr Sarkozy regarding his placement under investigation."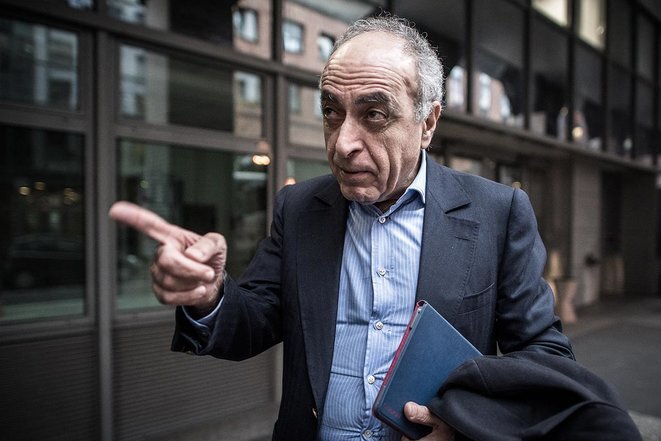 Accusing: Ziad Takieddine, seen here arriving in November 2016 for questioning at the headquarters of France's anti-corruption police services, OCLCIFF, in the Paris suburb of Nanterre. © Photo Philippe Lopez / AFP
Furthermore, it appears that several of those now placed under investigation in the witness tampering case were in possession of versions of the sommation interpellative statement before it had even been submitted to Takieddine. Details of the statement were found in Michèle Marchand's mobile phone records, dating from November 16th. Questioned by police on the subject in June, she replied, "I don't have a true explanation". The document in question on her smartphone was sent to her by an intermediary acting between her and Noël Dubus, the man who organised the operation involving Takieddine, both in France and Lebanon.
Dubus, who is reputedly close to certain police circles and who has a criminal record of fraud, said under questioning last month that the questions contained in the sommation interpellative, to which Takieddine was to give his replies, had been the subject of modifications after Marchand had submitted them to third parties. The investigation is seeking to establish whether one of these was Thierry Herzog, Sarkozy's lawyer and longstanding friend.
Despite repeated requests by Mediapart, Nicolas Sarkozy has declined to offer any comment on the case, and has made no statement in public. Thierry Herzog did not respond to questions repeatedly submitted to him by Mediapart.
The judges are also seeking to establish whether Dubus had personally met with Sarkozy on several occasions between the publication of Takieddine's interview in Paris Match and the presentation of his statements given in the sommation interpellative.
The investigation has discovered photos of what appear to be dedications handwritten by Sarkozy on copies of his latest book, Le temps des tempêtes, addressed to Dubus and others. They have been handed to expert graphologists to determine if they were indeed written by the former president. They appear to have been written on December 17th, five days after the sommation interpellative was signed by Takieddine. In the dedication to Dubus, the message reads, "Thank you for everything. Your friend." In another dedication addressed to the mother of Lisa H. (last name withheld), a person who worked as an assistant for Dubus and who was also last month placed under investigation in the case, the message said she "can be proud of her daughter".
When questioned by investigators about the dedications, Michèle Marchand said in her statement that she was "incapable of replying", but added that she was certain they had nothing to do with Takieddine's retraction.
II. A follow-up operation already underway
The attempts to help Sarkozy in the Libyan funding case did not stop at Takieddine's staged retraction in Paris Match and the sommation interpellative document. Michèle Marchand and Noël Dubus had worked hard on a plan to have a mysterious Libyan official discredit a document published by Mediapart in April 2012.
This was a letter, dated December 10th 2006, sent by Moussa Koussa, then head of Libya's foreign intelligence agency, to Bashir Saleh, Gaddafi's chief of staff and president of the Libyan African Portfolio (LAP), one of the main investment arms of the Tripoli regime. The letter detailed that the regime had agreed to "support the electoral campaign" of Nicolas Sarkozy for the 2007 presidential elections, and up to a sum of "fifty million euros".
The document, which Sarkozy accused Mediapart of forging, was recognised as genuine after expert analysis ordered by a judge.
Sarkozy lodged a complaint against Mediapart for "forgery and use of forgery", and lost his case in a total of three court rulings, including by France's highest appeal court, the Cour de cassation, which all found in Mediapart's favour.
The project worked on by Marchand and Dubus was to use the latter's contacts in Lebanon, who would be paid for their services, to free Hannibal Gaddafi – Muammar Gaddafi's fifth son – who was imprisoned in the country. The plan was that in exchange, a Libyan official would then testify that the document published by Mediapart in 2012 was a fake.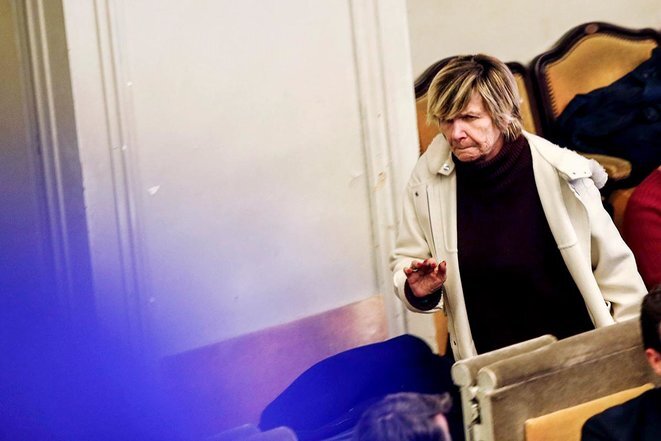 Michèle Marchand, seen here at a meeting in March 2020 in support of Rachida Dati, conservative candidate campaigning to become mayor of Paris, who was joined on stage by Nicolas Sarkozy, under whose presidency Dati served as justice minister. © Photo Sébastien Calvet / Mediapart
The project threatens to become particularly problematic for Sarkozy since the current investigation into the witness tampering has established, according to the case files, that "a message from Michèle Marchand to Noël Dubus revealed that Nicolas Sarkozy was informed of these approaches and that he was becoming impatient".
The message in question was sent by Marchand on May 17th this year, using the WhatsApp messaging service, in which the former French president was identified as "Z", a reference to the nickname of "Zébulon" used by Dubus to designate Sarkozy. Michèle Marchand, in the hashed style of a phone text message, wrote: "He has, the Z, for the first time, been hardly amiable…making me understand that it won't work…that they won't pay the Ks… and that it's too long now…I saw him 30 minutes. Annoyed! You know what I mean!!!"
The reference to the "Ks" could possibly refer to the Gaddafi family, whose name is spelt in French as "Kadhafi".
The investigators tapped Marchand's phone, and in the transcript of one call she made to her friend Marc-Olivier Fogiel, director of news channel BFMTV, she announced that she was about to pull off a major coup for Sarkozy. "It's 12 times concrete," she told Fogiel. Under police questioning last month, she said that her mission was "to kill Mediapart".
Also questioned last month, Dubus told investigators that Marchand had proposed the idea that Sarkozy's lawyer Thierry Herzog should be associated with the operation.
In the transcript of another tapped conversation with a friend, Marchand is recorded as telling him: "I see Nicolas a lot, for things that he needs." She added: "I tell him, 'Nicolas, me, I really need to work'. He tells me, 'As soon as things pick up again, I'll get you to do corporate [PR work] for the Accor group'." The latter is the giant French hotel and resort chain, on whose board of directors sits Sarkozy.
Sarkozy was last autumn a member of the supervisory board of the Lagardère media group, owner of Paris Match, and has recently joined its board of directors.
In Marchand's statements to police last month, she said she had simply been carrying out her work as an "investigative journalist", and that her actions in favour of Sarkozy had nothing to do with the Libyan funding case but, rather, was aimed at improving relations between him and current French president Emmanuel Macron.
III. Michèle Marchand and Paris Match: dangerous liaisons

Marchand, publicly discreet but wielding influence and power behind the scenes, has been kept in preventive detention in the prison of Fresnes, close to Paris, since June 18th for breaching her bail conditions set earlier last month. After she was placed under investigation on June 5th, she was ordered not to have further contact with those also placed under investigation and several other individuals.
The latter included photographer Sébastien Valiela, who had also travelled to Lebanon to meet Takieddine, when he made the short video broadcast on BFMTV in which the Lebanese intermediary, facing camera, repeats his retraction of the accusations he previously made against Sarkozy.
Marchand called Valiela on June 8th. She spoke of how she had met Dubus, the payment by Paris Match for the Takieddine story, and also talked about the sommation interpellative document, about which she declared: "We have nothing to do with all that, neither near or far."
For the investigators, that conversation was an attempt "to define the contents of the statements that Sébastien Valiela would be brought to make" in the future.
Brought before the magistrates on June 18th, Marchand was presented with a transcription of the call. "I really am an idiot," she declared, while insisting that in speaking with Valiela she had "not wanted to dictate his answers but to place back in his memory the way that things had happened". She also added further detail about the role of Paris Match in the staging of Takieddine's retraction in November 2020.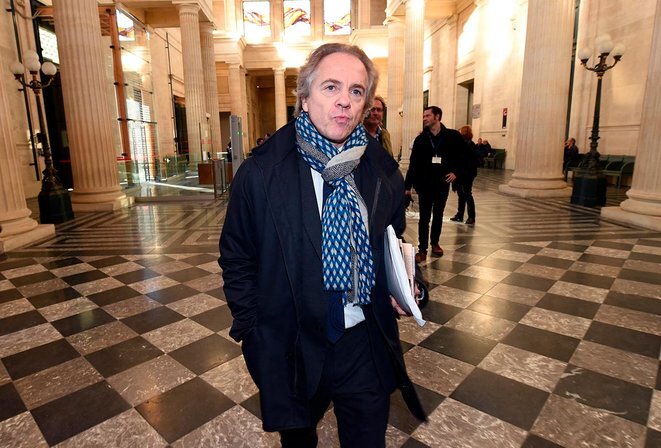 Hervé Gattegno, seen here at the lawcourts in Bordeaux, south-west France, on November 3rd 2015. © Photo Mehdi Fedouach / AFP
Marchand said her own presence in Lebanon for the interview with Takieddine was the result of a "request" by Paris Match editorial director Hervé Gattegno. "When it was decided to leave for Lebanon, it was thought that Mr. Takieddine would say what he had engaged himself to say, but Hervé Gattegno asked me to go there with the others to keep things in check," she said.
"I suppose that Hervé Gattegno kept Nicolas Sarkozy aware of the report in which I participated when it was close to coming out," her statement read. Marchand added that "Gattegno is the director of the publication, and the publication is made under his control, like all the articles, notably political".
During separate questioning in early June, when she had first been taken into custody and after which she was placed under investigation, Marchand had said that she had travelled to Lebanon to "personally ensure for myself what Takieddine had to say, as regards that what he had talked about by phone. My credibility as a journalist was at stake". She added: "On the other hand, Gattegno told me: 'If it doesn't work out, I won't even pay your expenses'."
Also questioned in custody in early June, Lisa H., assistant to Noël Dubus, said that during the interview, Takieddine's account was often confusing, and that Dubus and Marchand had to prompt him: "During this interview, Ziad was full of incoherencies and contradicted himself," Lisa H. said in her statement. "Each time he lost his path, Noël and Mimi tried to put him back on track."
Marchand, meanwhile, has claimed she kept a back-seat role during the interview.
Paris Match has never referred in public to the role played in the operation by Dubus and Marchand. In their summary notes, the investigating magistrates note that the question is raised as to whether the weekly was "either accommodating or either complicit" in the arrangement for Takieddine's public retraction.
The investigators found a mobile phone text message, dated from March this year, sent by François de Labarre, the Paris Match journalist who wrote up the interview with Takieddine published last November. De Labarre was replying to his editorial director Hervé Gattegno about a report that same month by French news agency AFP revealing that Takieddine, when questioned by French magistrates in Beirut in January, said he in fact could "not confirm" that Sarkozy did not receive funding from the Gaddafi regime. In his reply to Gattegno, De Labarre wrote: "Yes, no news from anyone. So much the better but… there's a smell of witness subornation."
In a right of reply addressed to Mediapart and published on June 26th, in response to Mediapart's mention of the text message in a report last month, Paris Match said that the tone of the message was in reality "ironical".
In June 2020, five months before the interview published in Paris Match, Gattegno had himself interviewed Takieddine, this time for the Journal du Dimanche (JDD), another weekly he edits, and which is also in the media stable owned by the Lagardère group. Referring to this, Michèle Marchand said: "Hervé Gattegno told me that he had already had an interview with Takieddine by video call, organised by an intermediary, in offices on the [central Paris square] place Vendôme and that, despite all his efforts, Takieddine hadn't said to him what it was planned he would say to him." The interview was finally published in a short, bottom-of-page article in the JDD, and introduced as Takieddine's "disjointed little secrets".
Mediapart contacted Hervé Gattegno to ask what were the "efforts", as described by Marchand, that he had made, and what had been "planned" for Takieddine to say. He declined to answer, dismissing what he called "stupid" questions.
That interview in June 2020 was organised by Noël Dubus, and was carried out at the offices of Anne Testuz, head of PR firm Anne Testuz Communication. It was that same month when Takieddine was given a five-year prison sentence for his part in an illegal political funding scam in the 1990s, involving kickbacks from French weapons sales to Saudi Arabia and Pakistan, and when an arrest warrant was issued against him. Takieddine had initially been due to appear in person for the interview by Gattegno, but having gone to ground it was done by video call.
Meanwhile, the name of Anne Testuz appears alongside a long list of others close to Noël Dubus who had sent a total of several tens of thousands of euros to Lebanon using Western Union money orders limited to 1,000 euros per transfer. "Very sincerely, all this business doesn't concern me," she told Mediapart, adding that the funds sent to Lebanon were for a "releasing of funds" for lawyers acting for Hannibal Gaddafi.
-------------------------
If you have information of public interest you would like to pass on to Mediapart for investigation you can contact us at this email address: enquete@mediapart.fr. If you wish to send us documents for our scrutiny via our highly secure platform please go to https://www.frenchleaks.fr/ which is presented in both English and French.
-------------------------
The original French version of this report can be found here.
English version by Graham Tearse
Si vous avez des informations à nous communiquer, vous pouvez nous contacter à l'adresse enquete@mediapart.fr. Si vous souhaitez adresser des documents en passant par une plateforme hautement sécurisée, vous pouvez vous connecter au site frenchleaks.fr.