A Paris court on Monday sentenced six men, including a former minister and a senior executive of luxury goods group LVMH, to prison sentences of between three and five years for their part in a secret political funding scam 25 years ago and which cost the French state 160 million euros.
The ruling confirmed that the money, which was siphoned off from French weapons sales to Saudi Arabia and Pakistan, was destined to finance the 1995 presidential election campaign of then prime minister Édouard Balladur, who stood – and finally lost – against conservative rival Jacques Chirac.
A complex system of kickbacks was put in place by which sales of two French frigates (and other naval supplies) to Saudi Arabia, and three submarines to Pakistan, by French state-owned military shipbuilder Direction des constructions navales (DCN), now renamed Naval Group, included commissions for intermediaries imposed on the deals by Balladur's team. The middlemen were to funnel cash from their takings back into the coffers of Balladur's campaign.
Balladur, now aged 91, and his then defence minister François Léotard, 78, face a separate trial over the scam later this year before a special French court – the Cour de justice de la République – which is reserved for cases of alleged wrongdoing by members of government during their term in office.
Nicolas Sarkozy, France's former president, at the time served as budget minister under Balladur, his political mentor, and as campaign spokesman during Balladur's bid for the presidency, and the six sentenced on Monday include several close to both men. Nicolas Bazire, who was Balladur's campaign director, and chief of staff between 1993-1995, and who is currently managing director of the Groupe Arnault, owner of luxury goods group LVMH, was handed a five-year prison sentence, two of them suspended. Bazire, 62, a close associate of billionaire Bernard Arnault, and who is also a board member of several large French corporations, has been close to Sarkozy since the early 1990s and was best man at the latter's marriage to Carla Bruni in 2008.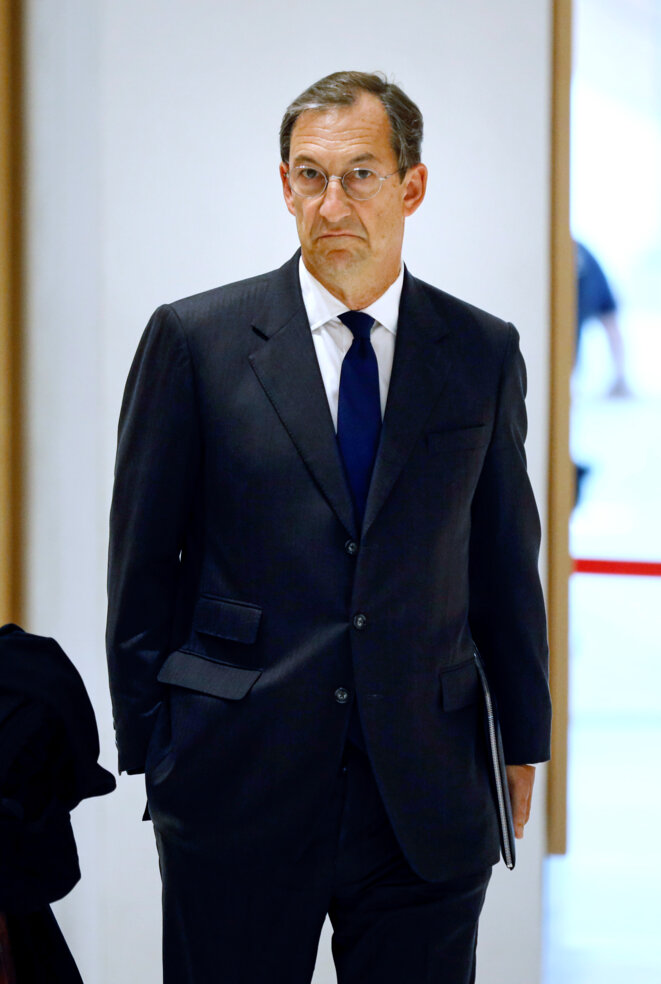 Nicolas Bazire at the Paris law courts on June 15th 2020. © Thomas COEX / AFP
Renaud Donnedieu de Vabres, 66, a former culture minister and junior minister for European affairs, who at the time of the scam served as an advisor to Léotard, was also handed a five-year prison sentence, two of them suspended.
Thierry Gaubert, 69, an advisor at the time to then budget minister Nicolas Sarkozy, with whom he has close relations going back several decades, was handed four years in prison, two of them suspended.
Dominique Castellan, 82, who headed the international branch of shipbuilder DCN, was given three years in jail, with one of them suspended.
The two others sentenced on Monday were Paris-based French-Lebanese businessman Ziad Takieddine,70, and fellow Lebanese arms broker Abdul-Rahman Al-Assir, 69, the intermediaries in the weapons deals, who were not in court to hear the ruling. They were each handed five years in jail, none supended, and a warrant for their arrests was issued immediately.
Presiding judge Christine Mée said Basire, Donnedieu de Vabres, Guibert and Castellan had contributed to the scam "in full knowledge of the facts" and had allowed the intermediaries, Takieddine and Al-Assir, to "receive very large commissions without economic justification" and to the detriment of the state.
After the verdicts were pronounced, Bazire, Renaud Donnedieu de Vabres and Gaubert, wearing cloth masks due to the Covid-19 virus epidemic and accompanied by their respective lawyers, cut through a crowd of waiting journalists without saying a word.
The trial of the six was the financial chapter of what has become known as the Karachi Affair, so-called because of the killing in the Pakistani port city of Karachi of 14 people, including 11 French engineers from the DCN, on May 8th 2002. The engineers, who died when a car bomb exploded close to their minibus, were working on the building of the Agosta-class submarines sold in one of the deals from which the kickbacks came.
A second, ongoing judicial investigation in France is looking into suspicions that the bombing was a revenge attack for unpaid secret commissions promised to individuals in Pakistan. It is speculated that these were among all the commissions that Jacques Chirac, after his election as president in 1995, ordered to be blocked so as to starve his conservative rival Balladur of any further secret funding.
The illegal political funding at the heart of the trial that ended this week in Paris emerged from the investigations into the Karachi bombing, which were prompted by the campaigning of the families of the murdered DCN engineers, who set in train the judicial events after they filed a formal complaint. But their campaign was initially an arduous process, stalled by the justice system and which met with obstacles like evidence hidden behind documents classified as secret.
The lawyer for the families, Olivier Morice, told the reporters gathered at the law court on Monday that he felt "very great satisfaction" at the verdicts. He underlined that when the families first filed their complaint, chief public prosecutor Jean-Claude Marin had claimed that it was not receivable because of the statute of limitations. "It was said that this affair was an illusion," he said. "The French people were made fun of. It is truly an affair of state. These are serious convictions of ministerial advisors. What we're waiting for now is that Messrs Balladur and Léotard appear before the Cour de justice [de la République]."
The verdicts announced on Monday noted that, "the involvement of the network of intermediaries could only have been concretised with the agreement of the Ministry of Defence and Mr Donnedieu de Vabres," who had "maintained very close links" with Takieddine and as such "allowed the payment of commissions".
"It is established that Mr Donnedieu de Vabres received funds from Mr Takieddine", said the presiding judge, who said these were a return gift from Takieddine for having been chosen to take part in the operation. Donnedieu de Vabres was found guilty of complicity in misuse of company assets and of receiving stolen assets.
As for Bazire, Judge Mée said "the involvement of the Takieddine network could only prosper with the support of Mr Nicolas Bazire" – who during the trial had claimed he could not remember the presence of Takieddine at what were identified as crucial meetings for the illegal funding. As director of Balladur's 1995 election campaign, Bazire, said the judge, was "necessarily kept informed of the situation of the accounts of the candidate's campaign and the arrival of massive funds, what's more in cash".