The American National Security Agency has been engaged in widespread economic and industrial espionage against France through eavesdropping and spying on economy ministers, senior civil servants and a range of French businesses, Mediapart can reveal. Five secret reports of eavesdropped telephone conversations obtained by WikiLeaks, who are working in cooperation with Mediapart and Libération, show that the conversations of two formers ministers of the economy in the French government, François Baroin and Pierre Moscovici were listened to by American spies in 2012.
A senior figure in the French treasury also had his phone calls listened to, as did a socialist Parliamentarian. Another report obtained by WikiLeaks also makes clear that all the available resources of the American secret services have been used to spy on any negotiations relating to "impending French contract proposals or feasibility studies" for exports. The sectors targeted range from information technology and telecommunication to power generation, oil and gas, transport infrastructure, environmental technologies, biotechnology and healthcare. This means that a wide range of large French companies are potential or actual targets of Washington, which effectively uses its huge espionage capability in the service of private American interests.

© DR
The economic arm of NSA's spying is less publicised and discussed than its diplomatic and military espionage, but it is arguably the most important work it does. It is this snooping on foreign businesses that justifies the vast resources put at the NSA's disposal. Since Mediapart's revelations last week on American snooping on France, including on the last three French presidents, a number of French officials have spoken off the record. They have told Mediapart that while they may not be surprised by the diplomatic spying, they are worried about the scale of US economic intelligence gathering and its impact on the ability of French companies to win contracts abroad.
"The whole world spies," one intelligence specialist told Mediapart. "But there is a real difference between the United States and others: the NSA has crazy resources and objectives. Its dream is to spy on the whole world, all the time. In addition to terrorism we have to make do with [spying on] diplomats from some countries and some manufacturers." Meanwhile a senior official at the French economy ministry told Mediapart: "These revelations are destabilising for the functioning of the state. What are we going to do from now on? This can have consequences, there will be no more internal debates in the [government] administration."
Indeed, the new documents obtained by WikiLeaks show the scale of the phenomenon. In 2002 the NSA sent a "Top Secret"note to Washington that was also addressed to the secret services of its most trusted allies, Australia, Canada, Great Britain and New Zealand – together they are known as the "Five Eyes" - to set out the areas of interest it had regarding the French economy (see document below). It is a very long list, ranging from "Economic Relations with the United States", "French Business Practices" and "Budgetary Constraints/Contributions to NATO" to "Relations with International Financial Institutions" and "Questionable Trade Activities".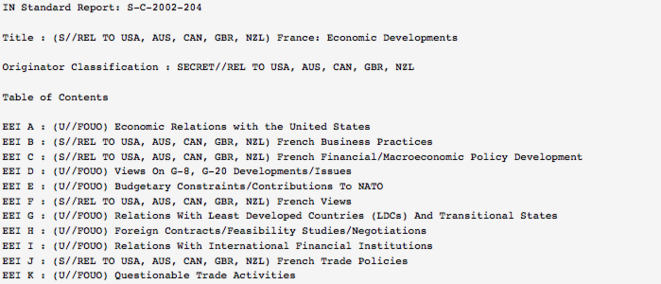 © Wikileaks
The American intelligence services detail under each section the type of information they need. Section H, for example, deals with "Foreign Contracts/Feasibility Studies/Negotiations". Here NSA wants allies to: "Report impending French contract proposals or feasibility studies and negotiations for international sales of investments in major projects or systems of significant interest to the foreign host country or $200 million or more in sales and/or services, including financing information of projects of high interest..." It then proceeds to spell out the sectors that the US is particularly interested in (see document below).
In fact, contracts for 200 million dollars in export sales are not that major on a world scale. So in other words the NSA has been seeking to keep track of almost all the international economic activities and, crucially, the product development carried out by major French groups. The aim has been to gain access to all the intelligence, information and future technologies where French companies are sometimes ahead of rivals.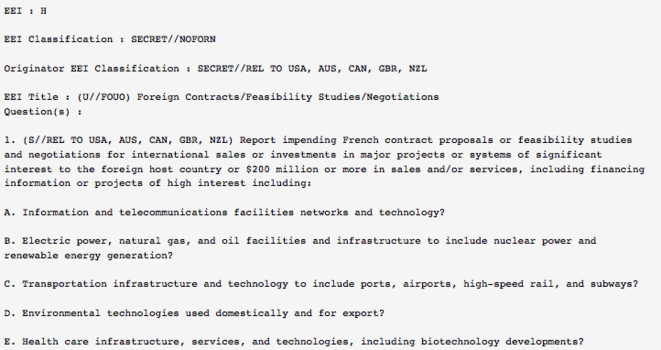 © Wikileaks