A court in Lisbon this month has ruled that Rui Pinto, the 31-year-old Portuguese whistleblower behind Football Leaks, the largest ever exposé of documents and correspondence detailing widespread criminal behaviour in the world of professional football, ranging from fraud and tax evasion to match-fixing and political corruption, is to stand trial on 90 charges relating to his alleged hacking activities.
The charges include attempted extortion, sabotage of computing systems and a slew of hacking offences including illegal access to data and violation of the privacy of correspondence.

Pinto appeared calm as he arrived at the Lisbon court on the afternoon of January 17th in handcuffs and surrounded by seven armed guards. He faces a maximum total of 25 years in jail if found guilty of the charges announced. No date was announced for his trial, but the justice authorities are legally bound to hold it before the end of September this year.
He has been held in preventive detention in Portugal since his extradition last March from Hungary, where he had set up home. The Portuguese public prosecution services, in a 195-page legal document dated September 19th, had demanded that he face trial for a total of 147 alleged offences. However, Judge Claudia Pina, while largely supporting the prosecutors' case against Pinto, reduced the final number of charges to 90, throwing out the 57 other alleged offences for which no individual or entity had filed a complaint.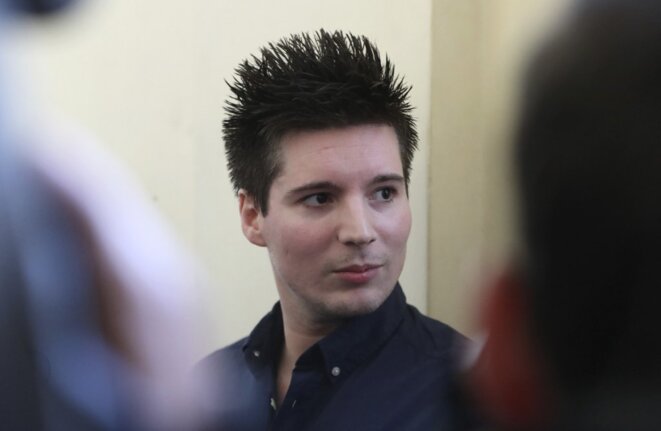 Football Leaks whistleblower Rui Pinto, seen here attending a court hearing in Budapest on March 5th 2019 over Portugal's demand for his extradition from Hungary. © AFP
After the hearing, Pinto was placed back in detention while awaiting trial.
The treatment of the whistleblower contrasts with that of José Oliveira e Costa, the founder of the collapsed Portuguese bank Banco Português de Negócios, who was found guilty in 2017 of tax fraud, embezzlement and forgery, and whose 14-year prison sentence for the vast scam was reduced to house arrest and the wearing of an electronic tag.
In her announcement to the court, Judge Pina also declared that Pinto "can never be considered to be a whistleblower" because his alleged acts were "illicit", adding that under Portuguese and European law there is no protection for "external" whistleblowers suspected of hacking data. Only employees who expose, from the inside, information of public interest concerning their employers can lay claim legal protection.
By that decision, the Portuguese justice authorities have given no consideration to the public interest of the Football Leaks revelations of a vast series of scandals in professional football. These involve its highest governing bodies, notably FIFA and UEFA, as well as agents, clubs and players, and notably resulted in tax fraud prosecutions, including the conviction of Christian Ronaldo who in January 2019 was handed a suspended jail sentence and a fine of nearly 19 million euros.
Pinto set up the Football Leaks digital platform in 2015, and provided files of more than 70 million documents, including internal reports and emails, to German weekly Der Spiegel, which the news magazine shared with Mediapart and its other partners in the journalistic network European Investigative Collaborations (EIC). The leaked documents, which amount to 3.4 teraoctets of data, have been analysed by the EIC member media who carried out further investigations. These have resulted in a total of more than 1,000 reports (see more, with further links to articles, here and here) revealing detailed evidence of the secret scams.
Judge Pina also apparently failed to take into account that the principal plaintiffs in the case against Pinto, who include a legal firm, football club Sporting CP (better known as Sporting Lisbon) and the Portuguese football federation, were widely implicated in wrongdoing by the Football Leaks revelations. Another is London-based sports investment fund Doyen Sports – whose practices have been exposed in several reports by Mediapart and the EIC – which claims that Pinto attempted to extort 1 million euros from it before he withdrew the demand.
Since his extradition last March, Pinto has denounced his arrest as an attempt by the Portuguese public prosecution services to protect "those who practice corruption and tax evasion". He said that information he submitted to the prosecutors, prior to his arrest, of corrupt practices within professional football in Portugal, a powerful sector with significant political importance, was ignored.
"The world of football is untouchable," he told the EIC in an interview in December. Meanwhile, no legal proceedings have been launched in Portugal into evidence provided by Football Leaks of corrupt practices in the country's football business.
"No-one can doubt that the Portuguese authorities are more zealous in criminalising Pinto than the criminal networks revealed by Football Leaks," said Pinto's Paris-based lawyer William Bourdon in an interview with French daily Le Monde following Pinto's appearance in court on January 17th. "The asymmetry is total," he added.
Following his submission of Pinto's case to the United Nations' special rapporteur for the Promotion and Protection of the Right to Freedom of Opinion and Expression, David Kaye, Bourdon said he planned to file a complaint this week before the European Commission. "Pinto's trial will be a major trial, with high-profile witnesses who will permit the demonstration that he is an exceptional whistleblower," said Bourdon.
Bourdon has previously confirmed that Pinto, until his arrest in Hungary in January 2019 on an international warrant issued by the Portuguese authorities, was involved in "active cooperation" with the French prosecution services' financial crime branch, the PNF, which is investigating cases of money laundering and tax evasion revealed by the Football Leaks disclosures.
He handed the PNF 12 million data files, prompting the French prosecutors to launch proceedings, via the European Union's judicial cooperation agency Eurojust, for joint investigations of the files by nine countries. Pinto had also agreed to help Swiss prosecution services with their probe into suspected corruption and influence peddling which also followed the Football Leaks reports.
The PNF was finally able to obtain all the contents of the Football Leaks files shortly before Pinto was extradited from Hungary last year. That represents a total of around 10 teraoctets (To) of data – while the EIC accessed only 3.45 teraoctets. However, the hard disks are encrypted, and while he has made clear he is willing to cooperate with official investigations that might arise from the files, Pinto is currently withholding the pass keys to the data, citing the legal risks he faces in Portugal.
-------------------------
The French version of this report can be found here.
English version by Graham Tearse