The scope of the judicial investigation into claims that Ziad Takieddine, a key witness over allegations that Libya helped fund Nicolas Sarkozy's 2007 presidential campaign, was induced to retract his evidence has been widened. Up to now the case has turned on suspicions of "witness tampering" and "criminal conspiracy" in relation to Takieddine, whom investigating judges suspect was bought off and encouraged to change his story in November 2020 by people close to the former French president.
New information now means the affair could potentially become an international scandal.
Mediapart can reveal that on September 14th this year France's financial crimes prosecution unit, the Parquet National Financier (PNF), broadened the scope of the investigation to include two major new alleged offences: the active and passive corruption of judicial officials in a foreign state.
According to new information recently discovered by investigators, several people already under suspicion in the Takieddine witness tampering part of the case are suspected of having taken part in an extraordinary plan to pay judges in Lebanon to free one of the late Libyan dictator Muammar Gaddafi's sons from prison there.
The idea was that a grateful Hannibal Gaddafi would then declare Nicolas Sarkozy's innocence in the Libyan funding case.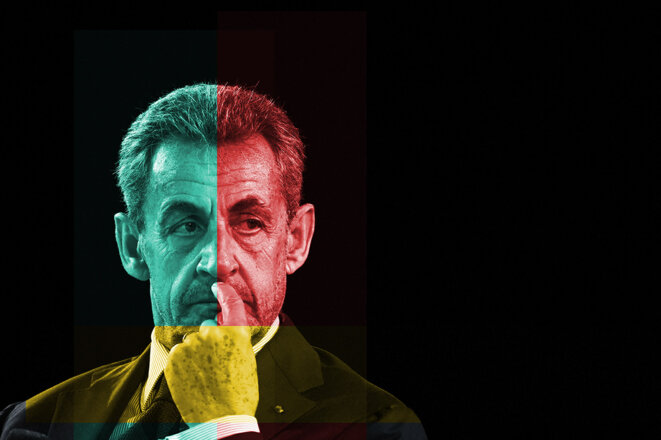 Nicolas Sarkozy during the 76th congress of the Association Nationale Française des Experts-comptables accountancy association at Bordeaux, October 8th 2021. © Photo Philippe Lopez / AFP
Messages from businesswoman Michèle 'Mimi' Marchand, boss, of the paparazzi agency Bestimage, who has been placed under investigation for "witness tampering" and "criminal conspiracy" in the Takieddine aspect of the case, and who is close to both the Sarkozys and the Macrons, also seem to indicate that Nicolas Sarkozy was informed of the plan to free Hannibal Gaddafi.
On top of this new development there has also been considerable progress over one of the most crucial aspects of this case: how the different stages of the operation to obtain Ziad Takieddine's retraction were funded.
Mediapart charts the latest progress in this explosive investigation.
I. Freeing one of Gaddafi's son to help Sarkozy: the inside track on Operation Hannibal
It all began with the discovery of a series of confidential messages between two men: Noël Dubus, one of the alleged architects of the Takieddine operation, and someone called Ali S., whom Dubus claims is a general in Lebanese intelligence and the son of a prominent member of the Shiite political party and militant group Hezbollah.
Already implicated in Ziad Takieddine's retraction of evidence, Ali S. was later used for an even more perilous second operation, which once again sought to undermine the claims against Nicolas Sarkozy in the Libyan funding affair.
At the end of 2020 Noël Dubus came up with the idea of freeing Hannibal Gaddafi, one of Muammar Gaddafi's sons, who is currently in detention in Lebanon. The French intermediary, who was in touch with the Gaddafi family in Egypt and Tunisia, was expecting that in exchange Hannibal Gaddafi would declare that a document revealed by Mediapart in 2011 – which showed that Libya promised to fund Sarkozy's campaign - was a forgery. This is despite the fact that the French courts have definitively ruled otherwise.
All that remained to be done was to get Hannibal Gaddafi freed to trigger the process. Text messages between them show that Noël Dubus and Ali S. made arrangements to pay Lebanese judges. "In around May 2021, Noël Dubus, with whom I worked on the 'Hannibal Gaddafi' Libyan case, needed 100,000 euros to pay some judges in Lebanon," public relations professional Anne Testuz, who was a close associate of Dubus, told detectives, before correcting herself and speaking instead of lawyers' fees.
When contacted, middleman Noël Dubus's lawyer did not respond to Mediapart's requests for comment. Dubus has himself told detectives that the money was intended to pay for Hannibal Gaddafi's legal defence.
On December 30th 2020 Ali S. explained to Noël Dubus that "today I met the judge to pay my respects. He questioned me about our Libyan friend who's in prison". Noël Dubus replied: "First of all I must see him in prison." He added: "It will be easier afterwards because the [Gaddafi] family will trust me." Ali S. asked him to come to Lebanon, and Noël Dubus made two trips, the first from January 27th to February 3rd 2021, and the second from the 7th to the 10th of February.
During these trips middleman Noël Dubus reported on some of his meetings to Hamadi M., who is described as the director of protocol at the Libyan Embassy in Paris. It was he who put the middleman in contact with the Gaddafi family, a former assistant of Dubus told detectives.
Back in November 2020 Dubus had already sent the embassy official a copy of the Libyan document published by Mediapart in 2011, before keeping him informed of the Takieddine operation that was detailed in Paris Match weekly magazine in November and December 2020.
In his exchange of texts with Noël Dubus, Hamadi M. speaks of a "client" linked to a "correspondent" in Tunis, who is "eagerly" awaiting developments in the Hannibal case. Clearly wary, he sometimes casts doubt on the middleman's ability to achieve his goal, and reminds him that he was putting his own "credibility" on the line. "You know it's very sensitive," he warned Dubus on January 26th.
In a bid to provide more detail of his plans, on February 22nd Noël Dubus sent the embassy official a document entitled 'Hannibal Case', which had been drawn up "after discussions with the people concerned".
In particular this plan involved paying "350,000 euros + 250,000 euros for the judge" when he "confirms Hannibal's release on bail". On top of this, and within 48 hours of Hannibal's liberation, there would be "500,000 euros for a senior figure in the Supreme Court" as well as "80,000 euros" in order to "close" another case involving Hannibal Gaddafi, said Noël Dubus. He explained that he was waiting for the "agreement" of a member of the Gaddafi family.
On February 28th 2021 Ali S. told Noël Dubus that he "had met the attorney-general" in Lebanon who had "asked me what was happening with you concerning the work". On March 11th Ali S. contacted the French middleman again. "Good evening Mr Noël could you give me the final decision concerning Mr Hany?", he wrote, referring to Hannibal Gaddafi. Dubus immediately replied: "We're going to get him out thanks to you." To which Ali S. responded: "I hope everything goes well." But he said that he was "annoyed with the head of the Conseil Supérieur de la Magistrature [editor's note, the judicial body designed to guarantee the independence of the judiciary]".
The plan was delayed, principally because of the "rotation of the judges", Ali S. warned on March 30th 2021. But by that date Noël Dubus and his Lebanese helper had hatched another plot: to get Ziad Takieddine imprisoned in Lebanon. It seems relations with the key witness had cooled. After the operation with Paris Match at the end of 2020, during which Takieddine retracted his crucial evidence against Nicolas Sarkozy, he had been promised millions of euros that had never materialized.
"Ziad will be behind bars this week," Ali S. explained to Noël Dubus on March 30th. Two days later the Lebanese official gave a more detailed timetable: "Monday [April 5th] is a bank holiday [editor's note, for Easter], he'll go to the police, and Tuesday he'll be in prison." At 2.56pm on April 6th Ali S. confirmed: "Ziad is behind bars. Congratulations dear sir." Within a minute Noël Dubus replied: "Bravo!!!" Ziad Takieddine was indeed imprisoned at this time, for legal reasons that still remain unknown.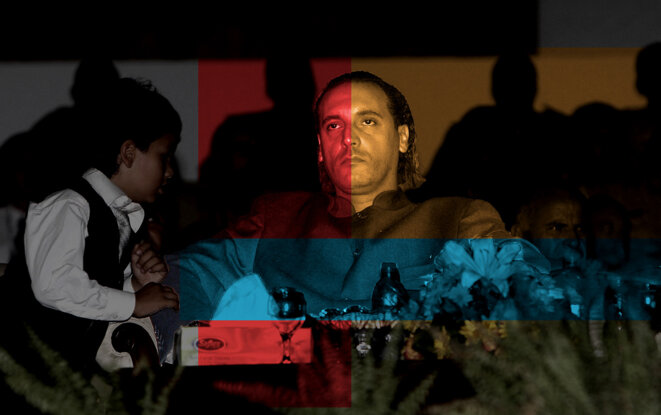 Hannibal Gaddafi at a parade marking the 40th anniversary of his father's regime, Tripoli, September 2nd 2009. © Photo Mahmud Turkia / AFP
With that case finished, Alis S. came back to the issue of Gaddafi's son. "Tomorrow I'll meet the attorney-general … Is there any news on the Hannibal case?" he asked. "The family is OK," replied Noël Dubus.
But on April 19th Ali S. flagged a problem. "We must work as soon as possible on the Hannibal case before changes to the new judicial system. That could happen soon," he warned. Two days earlier, in fact, and following another affair involving the manipulation of the Lebanese judiciary, the country's caretaker justice minister Marie-Claude Najm had attacked what she called the "judicial powers....incapable of fighting against corruption".
"Next week you can sort the second judge. And afterwards prepare the hearing for Hannibal's release," promised Noël Dubus, even though he had encountered a few problems in raising the funds in France.
On May 15th Noël Dubus got back to Ali S. and said: "We can give more to the judge. For example, 60 in the coming days + 20 when we're in Lebanon + 60 the day before his release."
Meanwhile, according to information gathered by detectives, Mimi Marchand was closely monitoring developments in the Hannibal Gaddafi case from her offices at Bestimage. On May 18th, when Noël Dubus wrote to her that he had seen Hannibal and that he was "returning tomorrow" Mini Marchand replied: "What??? Already? … I thought you were seeing him twice." Noël Dubus responded: "No, I told you the 18th and the 27th." To which the paparazzi boss replied: "Right..."
On May 27th, when Noël Dubus was again in Beirut, Mimi Marchand expressed her doubts about the operation, and also effectively implicated Nicolas Sarkozy in this aspect of the saga. "For the first time Z [editor's note, for 'Zébulon', the name they gave Sarkozy] was not the friendliest, telling me that it won't work … that they won't pay the Gs [editor's note, the Gaddafis] and that it's taking too long there… I saw him for 30 minutes. Irritated! You understand what I mean!!!" she wrote. "He's wrong," responded Noël Dubus. "Yes I know, but I don't have any arguments," added Mimi Marchand.
When questioned about the content of this particularly embarrassing message, Mimi Marchand told the investigating judges that she had "completely lied" to Noël Dubus. "I was in the process of testing him out and I could see that he was a crook," she said. The significance of Noël Dubus's visits to Hannibal Gaddafi has not yet been established by the investigation, nor have the actions taken by Ali S with the Lebanese judicial department to obtain a visiting order. These form a crucial part of the judges' investigations.
The Bestimage boss continued to communicate with Dubus, however. On June 1st, when he was accompanying an official Libyan delegation to Paris, she asked him: "Are you with them, or is it [Hamadi M.]?", referring to the director of protocol at the Libyan Embassy in Paris, whom she thus seemed to know. Noël Dubus explained that he was also there himself. "Make sure you're in a photo!!!" replied Mimi Marchand. "For Z!" she added, referring to Nicolas Sarkozy.
When asked by detectives to comment on these messages, Mimi Marchand explained that she was simply "entering into" Dubus's "game". She added: "I was delving as deep as possible into his lies."
II. Takieddine and Hannibal: the puzzle over the funding starts to take shape
Money lies at the he heart of everything in this affair. Without it there would have been no Operation Takieddine, and no Operation Hannibal Gaddafi. For several months detectives from France's anti-corruption squad OCLCIFF, directed by the investigating judges Vincent Lemonier and Dominique Blanc, have been trying to piece together the financial puzzle that enabled all the various steps taken by Noël Dubus and Mimi Marchand to help Nicolas Sarkozy in the Libyan affair to be paid for.
As the suspicions of the investigators have accumulated, so this puzzle has started to take shape. It consists of numerous, scattered and sometimes complex elements: suitcases of cash, Western Union transfers, fake invoices and shell companies.
The investigators suspect that Noël Dubus and Mimi Marchand were deeply involved in the plans to fund the operations to support Nicolas Sarkozy's defence, by both undermining the Libyan case and accusing the French justice system of having manipulated it. Neither Mimi Marchand nor Noël Dubus has yet made any comment to Mediapart about this aspect of the case.
To carry out this plan a number of different channels were set up.
First of all, from the autumn of 2020 several people in Noël Dubus's entourage started to transfer Western Union authorisations to Lebanon on behalf of Takieddine and people working to defend his interests.
According to a report by detectives, the money involved, which was sent by six different people up to April 2021, came to more than 50,000 euros. The money was used to fund a lawyer for Takieddine in Lebanon and, to a limited extent, Takieddine himself. But investigators suspect that the money was there principally to keep Takieddine patient; he had been promised much larger sums – running into millions – before the surprise retraction of his evidence against former president Nicolas Sarkozy.
Aside from this initial source of financing, one man seems to have played a key role in the financial setup of the operation managed by Noël Dubus. This is publicist Arnaud de la Villesbrunne, a former boss of the communications agency Publicis, who had worked for Nicolas Sarkozy's presidential campaign in 2012.
Arnaud de la Villesbrunne, who is under formal investigation in the case, is suspected of having allowed his company A&Co to act as a façade for all of Dubus's actions in the Lebanon linked to Takieddine's retraction and the attempt to get Hannibal Gaddafi released. Villesbrunne benefits from the presumption of innocence; his lawyer did not respond to requests from Mediapart for comment in relation to this article.
Numerous text message exchanges between Dubus and Villesbrunne, which have been intercepted by detectives, now show that the two men established a system of "bogus" invoices, to use the judges' term. These attempts to find an accounting reason to justify payments for Dubus's Lebanese activities on Sarkozy's behalf particularly involved Mimi Marchand's agency.
The attempts sometimes led to moments of comedy. At the end of 2020, Dubus and Villesbrunne were debating over the heading for the invoices that they were going to send to Mimi Marchand, and the two men initially came up with a (non-existent) service for the Festival du Film Fantastique at Avoriaz in the French Alps. But they then realised that this film festival no longer existed, so they changed the heading to the science fiction and horror film festival the Festival International du Film Fantastique at Gérardmer in the east of France. This was still not right. After a message from Mimi Marchand the invoice was changed once more and this time referred to services rendered in relation to the 2024 Paris Olympic Games.
The different stages in Takieddine's retraction were monitored in text messages, minute by minute. On November 11th 2020, just before the publication of the retraction story by Paris Match, who with BFM-TV orchestrated the media coverage of Takieddine's change of evidence in the Sarkozy-Gaddafi affair as soon as it appeared, Villesbrunne crowed in a message to Dubus: "Well anyway, you wanted it to be a bombshell! It worked. Bravo again." And referring to Nicolas Sarkozy, who had been placed under investigation a month earlier for "criminal conspiracy" in the Libyan affair, he added: "And I think it's really going to help him. If you also manage to handle other elements … he will be clear of the affair for good."
The judges today know what the "other elements" mentioned in that message were. The first concerns a written retraction by Ziad Takieddine, in order to confirm the content of his interview with Paris Match legally with a public notary in Beirut. The second was the attempt to get Hannibal Gaddafi released through the corruption of judges in Lebanon, so that the son of the former Libyan dictator could declare that Mediapart's information concerning the Sarkozy-Gaddafi affair was false.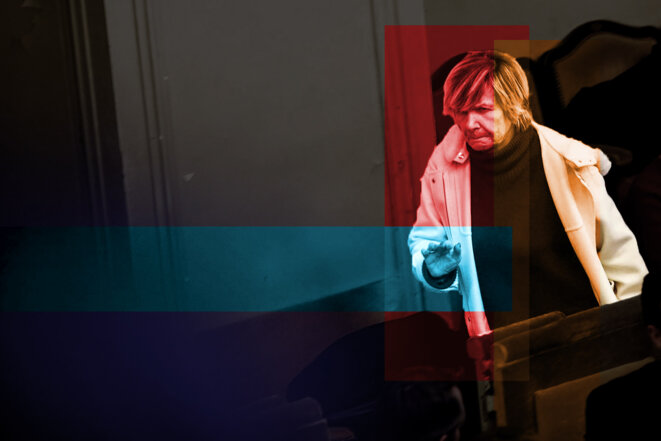 Michèle 'Mimi' Marchand behind the scenes of a political rally held by Paris mayoral candidate Rachida Dati with Nicolas Sarkozy in Paris, © Photo Sébastien Calvet / Mediapart
In relation to the money used to secure Takieddine's written admissions, investigators came across a number of elements which have now led them to question the role of an influential entrepreneur in the digital world, David Layani.
This entrepreneur, who moves both in Nicolas Sarkozy's circle and that of Emmanuel Macron, is suspected of having paid 72,000 euros to Mimi Marchand's agency for a service which was never provided. His defence says this was initially because of the Covid pandemic and then because of Mimi Marchand's imprisonment. The problem for his defence is that, according to the investigation, more than half of this money was later used to pay for some of Noël Dubus's activities on behalf of Nicolas Sarkozy.
When questioned in custody David Layani, who is under investigation for "witness tampering" and "criminal conspiracy", denied any wrongdoing in the affair. However, the judges and detectives are focussing on the chronology of events in the case. And they believe David Layani's involvement could be linked to the financing of Takieddine's written admissions.
Under questioning, David Layani acknowledged that he had met Mimi Marchand and Noël Dubus at his home during 2020; though there seems to have been a debate about the exact date of this encounter. One thing is clear, however: Layani's company Onepoint signed a contract with Mimi Marchand on December 4th 2020; and then sent 72,000 euros to her company Bestimage on the 8th; and the next day Dubus set off for Lebanon ready to oversee Takieddine's written admissions.
The operation seems to have caused tensions between Mimi Marchand and Noël Dubus, with the former putting pressure on the latter to make sure the mission succeeded. On top of witness statements suggesting this, at least two messages attest to it.
The first was sent by Noël Dubus to someone called Thomas Nlend (who is also under investigation), an associate of David Layani. "Tell David that he reassures Inès [editor's note, this name is pronounced like 'NS' and is code for Nicolas Sarkozy] and that Mimi is leaving us alone and has stopped giving us grief," Dubus wrote.
The second message was sent two days later on December 10th by Mimi Marchand herself. At the time she no longer seemed to believe the mission would succeed, and her text message also shows that Nicolas Sarkozy, whom she refers to as "Zébulon", was following the operation closely. "I can hardly explain that to Zébulon," she wrote. She then added: "I'm sending the money back to David tomorrow morning." She thus seemed herself to be linking the money sent by David Layani to the financing of Takieddine's written admissions. This impression is reinforced by the fact that in other documents Dubus and Villesbrunne link the same sum of 72,000 euros to "Zébulon".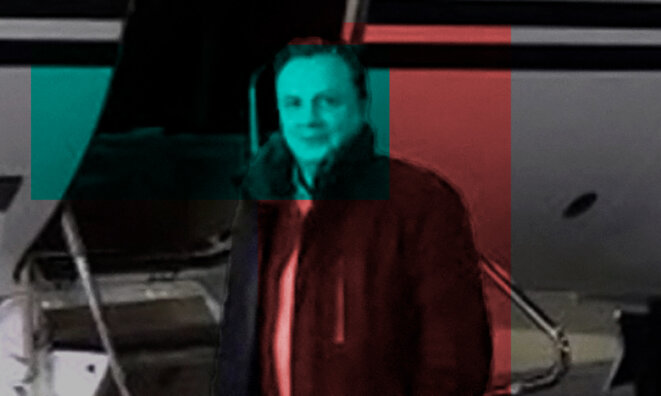 Noël Dubus. © Photo DR
In the end, Mimi Marchand did not send any money back to David Layani. According to the judicial investigation there was a simple explanation for this. This was that the operation in Lebanon was a total success: Ziad Takieddine did sign his written admissions in front of a public notary, confirming the (false) retraction he had made the previous month to the media. This again made a splash in Paris Match, with a piece written in December 2020 by its now former editor Hervé Gattegno under the headline: "Exclusive: Takieddine accuses his judges."

A report from the Agence France-Presse (AFP) news agency about Takieddine's written retraction, which picked up Paris Match's "scoop", was emailed by Mimi Marchand to Nicolas Sarkozy's wife Carla Bruni-Sarkozy on December 24th with two accompanying words: "Merry Christmas..."
Questioned by the investigating judge who placed him under formal investigation in the affair, David Layani denied any wrongful actions, stating that in the end he had the "feeling of having been a bit out of my depth and a little overwhelmed by an affair - and some people for that matter - that seemed quite fascinating..." His lawyer Mathias Chichportich said that "Mr Layani never met Mr Dubus with Madame Marchand before the signing of the contract." The lawyer added: "As for the conversations between the participants in this affair and their declarations, they do not involve my client, they are not followed by any conversation with him and led to no act on his part."
The final source of suspected financing identified by the judges relates to the money that was supposed to be used to secure the release of Hannibal Gaddafi from prison. According to the investigation, it was another figure in the case, who has also been placed under investigation, who played a major role in this. He is Pierre Reynaud, a businessman who is fond of proclaiming his closeness to Nicolas Sarkozy and his friendship with the middleman Alexandre Djouhri, one of the key figures in the Libyan funding affair.
Already under investigation for having raised 320,000 euros from one of his tax haven companies on behalf of Dubus and Villesbrunne, Pierre Reynaud is also suspected of having sent 100,000 euros in cash in May 2021 to Noël Dubus. This was via the public relations woman Anne Testuz, who is close to the Gaddafi clan.
Testuz, who was questioned in custody, has herself acknowledged that she personally sent some money – 15,000 euros – to Lebanon in connection with Hannibal Gaddafi. This money was later "reimbursed" by Mimi Marchand's company via another false invoice, according to the investigators. Anne Testuz did not respond to Mediapart's request for comment.
As for the 100,000 euros from Pierre Reynaud which was sent on May 20th 2021 – bundled in wads of 5,000 and 10,000 euros – this cash was immediately sent on to Dubus in Chanel bags. The notes were then reportedly sent to Germany to be given to the brother of Ali S., the Lebanese official in charge of paying the judges in Beirut. Pierre Reynaud's lawyer Maurice Lantourne said his client was just an intermediary in the handing over of cash. Reynaud was remanded in custody in La Santé prison in Paris on October 14th for alleged extortion over claims relating to pressure put on Anne Testuz to repay the money.
According to a phone conversation eavesdropped by detectives, at the end of May 2021 a clearly impatient Mimi Marchand had called her friend Marc-Olivier Fogiel, the director of BTM-TV news channel, to tell him that she was about to obtain incontrovertible evidence of Sarkozy's innocence in the Libyan affair.
But nothing was to emerge. At the beginning of June Mimi Marchand, Noël Dubus, Arnaud de la Villesbrunne and Pierre Reynaud were all arrested in connection with the case, an affair the investigating judges described as being of "major gravity".
In a summary of the investigation dated September 29th 2021, the investigating judges said the case concerned claims of a criminal enterprise that was "aimed at influencing the statements of a witness and to mislead, even to publicly discredit, the examining magistrates in charge of a case of particular sensitivity, in which Mr Sarkozy is suspected in particular of having received funds from the Libyan regime".
In the end, something that was supposed to save Nicolas Sarkozy has instead turned into a legal fiasco.
-------------------------
If you have information of public interest you would like to pass on to Mediapart for investigation you can contact us at this email address: enquete@mediapart.fr. If you wish to send us documents for our scrutiny via our highly secure platform please go to https://www.frenchleaks.fr/ which is presented in both English and French.
-------------------------
The original French version of this report can be found here.
English version by Michael Streeter
Si vous avez des informations à nous communiquer, vous pouvez nous contacter à l'adresse enquete@mediapart.fr. Si vous souhaitez adresser des documents en passant par une plateforme hautement sécurisée, vous pouvez vous connecter au site frenchleaks.fr.