When she entered the police station in Paris's 16th arrondissement just before 4pm on August 2nd this year, public relations executive Anne Testuz was getting ready to make a statement about events that were to propel the Sarkozy-Takieddine affair into a realm worthy of a Martin Scorsese crime movie
Her deposition of a "preliminary report of an offence" was duly taken down by a police constable. She began: "In around May 2021 Noël Dubus, with whom I worked on the 'Hannibal Gaddafi' Libyan case, needed 100,000 euros to pay judges in Lebanon and asked Pierre Reynaud to lend him this money. Pierre Reynaud agreed, but demanded a guarantor. I agreed to be the guarantor for this transaction."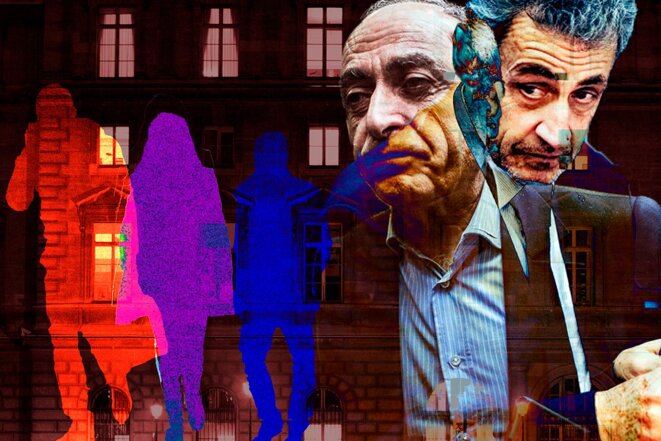 Top right Nicolas Sarkozy; centre-right Ziad Takieddine. © Photo illustration Sébastien Calvet / Mediapart
The names that she refers to - Noël Dubus and Pierre Reynaud – are two men who have been placed under investigation by examining magistrates for "witness tampering" and "criminal conspiracy". Along with others, including the businesswoman and paparazzi boss Michèle 'Mimi' Marchand, who is close to both the Sarkozys and the Macrons, they are suspected of having negotiated the (false) retraction in Lebanon in November 2020 by Ziad Takieddine. Takieddine is a key witness in the investigation into claims that the Libyan regime helped fund Nicolas Sarkozy's 2007 election campaign.
The "Hannibal Gaddafi case" mentioned by Anne Testuz refers to an extraordinary plan to get one of the late dictator Muammar Gaddafi's sons freed from his current detention in Lebanon. The aim was that in return he would agree to clear Nicolas Sarkozy's name in the Libyan funding affair.
Several telephone conversations intercepted by detectives also show that Michèle Marchand, who runs the Bestimage photo agency, herself backed this plan, which has now led to this section of the judicial investigation being broadened. In mid-September France's financial crimes prosecution unit, the Parquet National Financier (PNF), widened the scope of the probe to include suspicions of the "corruption of judicial officials in a foreign state", as Mediapart recently reported.
The complaint made by Anne Testuz, who did not respond to Mediapart's request for comment, seems to have been taken very seriously. The case was immediately handed to detectives from the anti-fraud unit the Office Central de Répression de la Grande Délinquance Financière (OCRGDF) who, as is their custom, gave the case a codename. The name they chose was 'Carthage'.
As a result, on August 6th 2021 Anne Testuz was interviewed by detectives from the unit, during which she recounted what had happened subsequently. She said that the 100,000 euros requested by Noël Dubus for the 'Hannibal Gaddafi case' and lent by Pierre Reynaud – who was already suspected of having used offshore companies to part finance the operation behind Takieddine's retraction – was brought to her in cash by a man called 'Karim' on or around May 20th 2021. The public relations woman took photos of the notes then put them in Chanel bags and they were immediately collected by her associate Dubus. Karim gave Testuz and Dubus – the latter has a history of fraud convictions – several days to reimburse the amount.
However, Noël Dubus, Pierre Reynaud and Michèle Marchand, plus Arnaud de la Villesbrunne, a former service provider for Sarkozy's 2012 presidential campaign, were all arrested by detectives at the beginning of June. They were then placed under investigation by investigating judges for their alleged involvement in arranging Ziad Takieddine's false retraction. This made it difficult to repay the 100,000 euros relating to the Hannibal Gaddafi case.
According to Anne Testuz's statement, a new deadline for repaying the loan was given but the money still did not materialise. The pressure grew. On July 30th 2012, as she returned home, the public relations woman discovered Karim waiting for her on the stairs to her flat. "Then suddenly a woman who must have been on my doorstep rushed up and hit me," Anne Testuz told detectives.
Anne Testuz went on: "She called me a 'whore' and treated me like a thief." She said the woman searched her flat, then her handbag, and took her passport. "She wanted to stop me from going away while I hadn't paid it back," she said. "Karim himself remained very calm while she was yelling and insulting me," said Anne Testuz, who described how he quietly stood by as events unfolded. It was almost as if he and his 'colleague' had pre-arranged roles.
"Karim told me that today I got a slap from a woman because he didn't want it to be him doing it, and that if I didn't want to find myself in a car boot, the money had to be paid back," she told detectives.
The PR woman later took a photo of her swollen face which she provided to the detectives.
Two days later, on August 1st, it was the turn of Noël Dubus – who, with Michèle Marchand, was the linchpin of the operation behind Takieddine's retraction and who ran the 'Hannibal Gaddafi plan' – to get a visit from Karim and his 'colleague'. This was at the home of Dubus's parents north of Paris where he sometimes stayed. Dubus later told detectives that the pressure reached such a point that he picked up an "alarm weapon" - a replica Beretta handgun – to intimidate the visitors who were on the other side of the entrance gate. "He [editor's note, Karim] said that he was going to rape my mother in front of me," Dubus said in a statement. Dubus's lawyer did not respond to requests for a comment.
His father, who was also questioned, confirmed that a confrontation took place. "It was a disaster. The pair were very aggressive and said to Noël that if he had to come out, that he'd have the revolver stuffed down him and that they'd have his hide."
In early August prosecutors opened a criminal investigation over "extortion of monies", "criminal conspiracy", "demands with menaces" and "money launching" which was handed to an investigating judge.
Detectives had meanwhile showed Anne Testuz photos of some potential suspects and she immediately picked out 'Karim'. His full name is Karim Medani and he has convictions for drug trafficking, aggravated assault, forgery and use of false instruments, theft, receipt of stolen goods and possession of a firearm.
After he was arrested and taken into custody Karim Medani accepted that, acting on behalf of Pierre Reynaud, he had put "pressure" on Anne Testuz and Noël Dubus over debts that were owed, but he categorically denied having threatened or assaulted anyone. The owner of several restaurants, Karim Medani was blunt about his dealings with Pierre Reynaud, whom he has known for a long time. "He uses me to collect his money and I do it in the hope of being in on deals with him," he told detectives.
The detectives were taken aback as Medani acknowledged that he had been at the home of Dubus's parents, had indeed promised that he would put his "shooter up his arse", and that he had taken Anne Testuz's passport. "I don't think it was normal behaviour to take her passport but nor did I find it normal that she dared to tell me that she was going on holiday while she owed money to Pierre," he told the detectives, before being remanded in custody. Like anyone who is placed under investigation, he benefits from a presumption of innocence.
"My client is, alas, a collateral victim in this case which goes way beyond him – he is unaware of all the potential negotiations that have or might have taken place," Karim Medani's lawyer Julie Giry told Mediapart. "The fact is that a sum of money was borrowed and that today my client is in prison because the borrowers came up with the idea of filing a complaint to avoid having to reimburse the sum lent..."
When detectives searched the home of Medani's 'colleague' – she is in fact his partner Lina B. - police officers found 95,000 euros in cash in her flat, as well as a Rolex watch valued at 43,000 euros; sums that have no connection with the 100,000 euros owed. When confronted with the photo of Anne Testuz's swollen face, Lina B. told detectives: "That's a fake, she must have hit herself or used make-up."
Detectives also searched the home of businessman Pierre Reynaud, a property developer, who is fond of proclaiming his friendship with the middleman Alexandre Djouhri, one of the key figures in the Libyan funding affair. When detectives arrived to carry out the search they found the businessman lives in a mansion with 600 m2 of living space, a swimming pool, sauna and garden, in the 16th arrondissement or district of Paris, and which is valued at around 9 million euros. There were also lots of designer watches and cars on display.
But Pierre Reynaud does not just have a sizeable property holding; he also has eleven convictions between 1992 and 2006, for fraud, transporting drugs, forgery and use of false instruments, influence peddling, money laundering and tax fraud among other offences.
In a safe in Pierre Reynaud's office detectives found Anne Testuz's passport as well as other documents belonging to her. Questioned in custody, the businessman insisted that the money at the heart of his new legal entanglement was not his but belonged to Karim Medani - something the latter denies.
When confronted with the content of potentially incriminating telephone taps Pierre Reynaud accepted that he was "hot blooded" because of his southern France origins – he comes from Nice – and that sometimes "my comments run away with me".
The detectives asked him: "Do you know that, in law, a verbal threat to physically harm a third party constitutes a criminal offence?"
Pierre Reynaud replied: "I wasn't aware of that, I didn't know, I thought that only carrying out the act was punishable in law."
Both the prosecution and the investigating judges, Vincent Lemonier and Dominique Blanc, requested that Pierre Reynaud be remanded in custody for having breached his bail conditions in the Takieddine affair; he had been forbidden from having any form of contact with Noël Dubus. However, a judge whose role it is to decide on custodial issues, Charles Prats, ruled that he should be released.
However, he was not free for long. Two weeks later, on October 14th 2021, after a referral by the PNF, the Court of Appeal in Paris granted the prosecution unit's request to remand Pierre Reynaud in custody. The reasons cited were to prevent pressure being put on witnesses or victims and their families, to prevent conversations with other suspects, and to put an end to the original offence or to prevent it happening again.

In its ruling the Court of Appeal highlighted several elements, in particular telephone conversations on August 26th and 27th in which Pierre Reynaud explained to those close to him his dispute with Noël Dubus in these terms: "I had to threaten him … If he doesn't pay me back I can tell you he'll end up in a tinned can." He said he would also not hesitate to set fire to the family home. "I'll burn his father and his mother in the mansion … and all that with him inside."
When approached, Pierre Reynaud's lawyer Maurice Lantourne told Mediapart that his client had simply been the middleman for a loan. "Ms Testuz borrowed 100,000 euros from Mr Medani, who was recommended by Pierre Reynaud," he explained. "Pierre Reynaud did not lend this money. At no time in borrowing the money did Ms Testuz mention an operation involving Hannibal Gaddafi. She talked about owing commissions in Saudi Arabia. It was a loan. They talk of extortion but it's about the reimbursement of an agreed loan."
According to several sources in Noël Dubus's entourage, the 100,000 euros was sent to a representative in Lebanon in order to "facilitate" the release of Hannibal Gaddafi, which in the end never occurred. The late Libyan dictator's son is still in detention in Beirut.
-------------------------
If you have information of public interest you would like to pass on to Mediapart for investigation you can contact us at this email address: enquete@mediapart.fr. If you wish to send us documents for our scrutiny via our highly secure platform please go to https://www.frenchleaks.fr/ which is presented in both English and French.
-------------------------
The original French version of this article can be found here.
English version by Michael Streeter
Si vous avez des informations à nous communiquer, vous pouvez nous contacter à l'adresse enquete@mediapart.fr. Si vous souhaitez adresser des documents en passant par une plateforme hautement sécurisée, vous pouvez vous connecter au site frenchleaks.fr.