Just days after the prosecution authorities in Madrid launched proceedings against football star Cristiano Ronaldo for alleged tax fraud, Mediapart and the journalistic consortium European Investigative Collaborations (EIC) publish new documents which appear to undermine his defence. Contrary to what he claims, the Real Madrid star has indeed used several different tax structures, including a foundation in Panama whose existence Mediapart and the EIC can reveal. If so, the Portuguese international would appear not to have told the truth to the Spanish tax authorities on this issue.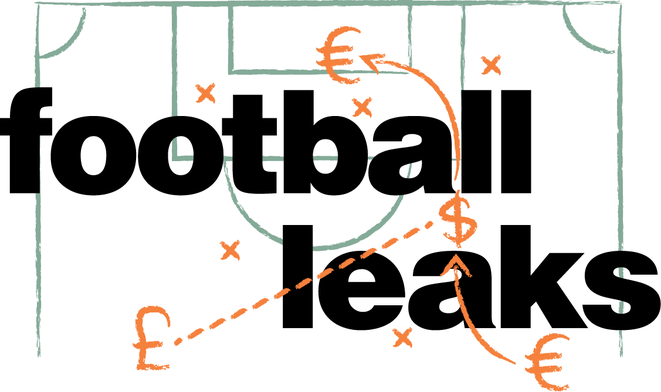 Recently the Portuguese newspaper
A Bola
said that the footballer, fed up with being depicted as a possible tax fraud, had decided to quit his club Real Madrid and Spain. However, it is not clear if this was simply an attempt to put pressure on the club to pay any fine that might be inflicted on the football star, a fine that would be a substantial one even for someone as wealthy as he is. According to the
accusations
, which are based on
revelations
from Mediapart and the EIC via Football Leaks, Ronaldo defrauded the Spanish tax authorities of some 14.7 million euros between 2011 and 2014 by stashing 150 million euros in sponsor income in a Swiss bank account via an offshore company called Tollin in the British Virgin Islands.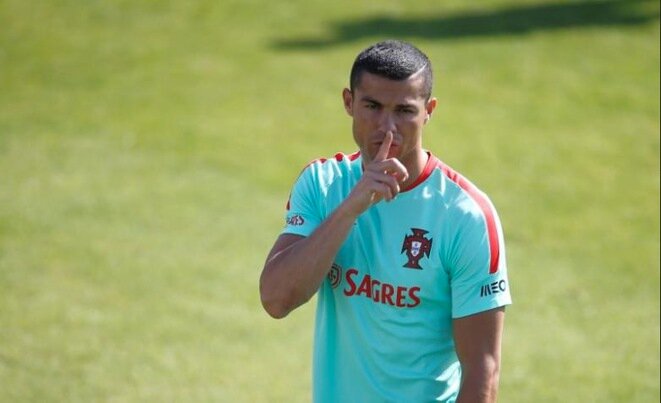 Real Madrid star Cristiano Ronaldo denies trying to evade taxes. © Reuters
Ronaldo strongly denies the claims. According to the company Gestifute, run by Ronaldo's agent and the man behind the tax arrangements Jorge Mendès, the footballer has not sought to evade taxes. In a statement released on June 13th, Gestifute said that the company Tollin had been "100 percent owned by Cristiano Ronaldo since its foundation in 2004", and that he had not subsequently altered the tax arrangements. The statement said there had been no issues with the British tax authorities before the player's move from Manchester United to Real Madrid in 2009. "When Cristiano Ronaldo signed for Real Madrid, he maintained the same structure he had in UK. No other structure was created at that moment," said the statement.
However, new documents from Football Leaks that have been obtained by German publication Der Spiegel appear to demolish this line of defence. Before using the Virgin Islands, Ronaldo was in fact stashing his money in a Swiss bank account, held by a foundation registered in Panama. He therefore did change his tax set-up in 2009 and, what is more, he appears to have done so with a backdated contract. If so, this would suggest that Ronaldo has lied to the Spanish tax authorities, something which could cause him big problems now that the prosecution authorities are involved. The punishment is much heavier where an intention to evade tax is established, and can include imprisonment.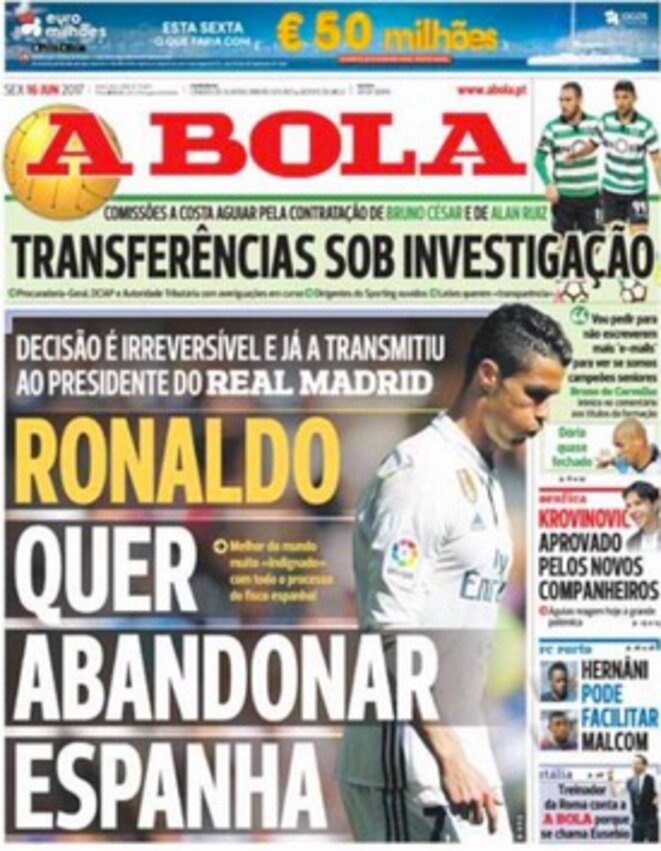 According to the daily A Bola, Ronaldo is so angry over the tax allegations that he is considering leaving Spain. © A Bola
Back in 2003 Ronaldo's mother set up a foundation called Brockton in Panama, before transferring it to her son in 2005. This foundation is a pure front whose purpose was to have a bank account in Switzerland, which was at the ABN bank in Geneva. Proof of the nature of this artificial arrangement was the fact that Ronaldo sold his image rights to Brockton for a symbolic one euro. There are also a number of frontmen associated with the foundation whose names have already cropped up in the Football Leaks stories, such as the player's tax lawyer Carlos Osorio, who is also a trusted confidant of Jorge Mendès.
In 2003 Ronaldo moved to Manchester United. A year later, in 2004, Brockton transferred the image rights to a shell company registered in the British Virgin islands, Tollin. This transfer concerned the player's rights for the whole world except for Great Britain.
At the same time Ronaldo set up a British company CR7 LLP to collect the earnings from his image rights in Britain. It could be that the existence of this company meant that the British tax authorities did not suspect that there was also an offshore company. According to this theory, it was not that the British tax authorities authorised Ronaldo's entire tax arrangements – as he and his team claim - but rather that they were unaware of their full extent.
Another problem for Ronaldo's defence is a contract that is in Mediapart's possession. Dated December 2008, it appears to show that the player had transferred all his global image rights to Tollin (without going via the Panama-based company Brockton) at this time. In other words, the transfer of rights was carried out well before Ronaldo's move from United to Real Madrid in the summer of 2009. The player says he simply used the same tax structure in Spain that he had previously used in Britain. His defence is thus this: if it was legal in one country, how could he have imagined it would not be legal in another?
But apart from the fact that the set-up was not in fact the same, there are also several documents that lead one to think the December 2008 contract was actually backdated. An email written by a Ronaldo advisor as late as June 2009 mentions the fact that the British image rights were at that time still held by the company CR7 LLP in Britain. And an earlier draft of the contract stated that a Swiss account which "existed in 2008" had to be included in the document.
These two pieces of information suggest that the contract was in reality signed in 2009 when Ronaldo moved to Real Madrid. If this is the case, the aim could have been to make the Spanish tax authorities think that Tollin was not specially created to avoid paying taxes in Spain, as the structure had existed months before the player moved to that country.
As to what became of the Panama-based company Brockton after 2008, this remain unclear. The commercial register in Panama shows that the company was dissolved in 2016, a few months after the Spanish tax authorities launched an investigation into Ronaldo's tax affairs. The prosecution authorities will doubtless seek information about that company when Ronald is questioned by a judge on July 31st.

The prosecution authorities are also making progress in other cases. On Tuesday June 20th a prosecutor in Madrid said the former Real Madrid boss and current Manchester United manager José Mourinho had committed two counts of tax fraud totalling 3.3 million euros, in 2011 and 2012 while based in Spain. Mourinho denies the claims, which follow earlier Football Leaks revelations.

The following day the Argentine player Angel Di Maria, accused by the Spanish authorities of a 1.3 million euro tax fraud, reached an agreement with tax officials to avoid a trial and possible imprisonment. The former Real Madrid player will pay the tax authorities 2 million euros - the amount owed plus a 700,000 euro fine. By pleading guilty the player is also subject to a jail term of 16 months but under Spanish law a first-time offender is not required to serve time in prison for a sentence below two years.
However, there is still an active investigation for alleged tax evasion into Di Maria in France, as there is against his compatriot and teammate at French Ligue 1 club Paris Saint-Germain Javier Pastore. A number of searches have been carried out by French investigators, including at the French club's headquarters. They deny wrongdoing.
The game's ruling body Fifa has also announced disciplinary proceedings against Italian club side Juventus over its transfer of French midfielder Paul Pogba to Manchester United in August 2016. Even though they are only planning a derisory 60,000 euro-fine at the end of it, as Mediapart has already reported. However, the prosecution authorities in England and Wales have not opened an investigation into Pogba's agent Mino Raiola, who received a colossal 49 million euro commission for this transfer, even though he appears to have been in breach of rules on conflicts of interest. He denies any wrongdoing.
-------------------------------------------------------------------------------
The French version of this story can be found here.
English version by Michael Streeter.
Si vous avez des informations à nous communiquer, vous pouvez nous contacter à l'adresse enquete@mediapart.fr. Si vous souhaitez adresser des documents en passant par une plateforme hautement sécurisée, vous pouvez vous connecter au site frenchleaks.fr.