The preliminary investigation into Luc Besson which was launched in May 2018 following an allegation of rape against the French film-maker has been dropped with no further action being taken, the Paris prosecution authorities said on Monday February 25th. "The numerous enquiries carried out by [detectives] in the context of these proceedings have not enabled all the constituent elements of the reported offence to be established," the authorities said in a statement.
However, the prosecution authorities told Mediapart that on Thursday February 21st they had started another preliminary investigation concerning the film producer having received, last week, a "report concerning acts of sexual assault". This report is now the object of "verifications in the context of an investigation handed to [detectives in Paris]," the authorities added.
This letter, whose existence Mediapart revealed on February 22nd, comes from an actress in the United States. The actress wrote to the state prosecutor in Paris on February 13th to report events that apparently go back to March 2002. She says that she had to "escape on [my] knees" after the film-maker had "jumped on me" during a work meeting. She had also told her story to Mediapart in July 2018 using the assumed name of 'Mona'.
Though she is not making a formal complaint – the alleged events took place too long ago – 'Mona' made clear in her letter that she wanted to give her account after she found out about the rape allegations made by Belgian-Dutch actress Sand Van Roy that led to the investigation into Luc Besson.
Since July 2018 nine women have, via Mediapart, accused the French director of inappropriate sexual behaviour (read here and here). Five of them have told their stories to the judicial authorities. While these nine women report acts of different seriousness, their accounts corroborate each other on several points. The majority describe what are, at the very least, inappropriate, similar and repeated behaviour by Luc Besson towards young women working or likely to work with him.
It was the allegation of rape against Sand Van Roy on May 18th 2018 that started the affair. The 31-year-old actress accused the 59-year-old film-maker of having raped hers several times. She described to detectives two years of being under what she has called a "hold", of fear, of clashes and sudden changes, leading to the night of the 17th to 18th of May, 2018, at Le Bristol Hotel in Paris (read her story here).
The day after this night in the Paris hotel the actress made a formal complaint of rape against the French director and producer. This was followed by a second complaint made on July 6th alleging other rapes. The actress was interviewed twice by detectives. Luc Besson was himself interviewed on October 2nd. The two were then questioned in each other's presence on December 11th.
During that night in May at the Bristol Hotel Sand Van Roy says she passed out twice, during and after sexual relations. Contrary to what many media outlets initially stated, she has never told the police that she was drugged (see Mediapart's article here). Toxicology reports apparently show no traces of drugs.
However, the actress told detectives that after sex she fell in the hotel room's bathroom having felt an impact "in the back"; she says she does not know what caused this impact.
When she went to the police station in Paris on May 18th several marks on her body – in particular a bruise to her left eye and three symmetric marks on her back - were noted immediately afterwards by the medical forensic unit at the Hôtel-Dieu hospital in Paris.
A series of photographs taken by Sand Van Roy and those close to her in the days following that night at the Bristol, and sent to the police on May 19th, also confirmed the presence of these marks.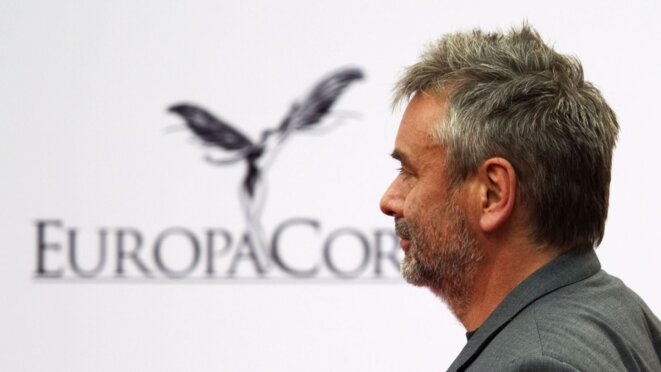 Investigation dropped: film-maker Luc Besson. © Reuters

Luc Besson denied that the complainant passed out several times that evening. He rejected all the accusations made by Sand Van Roy and explained that he had had a relationship with her for two years.

Speaking on RMC radio on May 20th following Van Roy's rape complaint, Besson's lawyer Thierry Marembert described the actress's "accusations" as "crazy" and said his client had "fallen off his chair when he learned about them". The director "categorically denies any inappropriate and reprehensible behaviour of any kind", said the lawyer.

Le Parquet a donc décidé de classer l'affaire.Le choix d'avoir recours à une enquête préliminaire a pour effet de porter atteinte aux droits de la plaignante,tenu dans l'ignorance des éléments recueillis et donc dans l'impossiblité de faire valoir observations et demandes #Besson

— Francis Szpiner (@fszpiner) 25 février 2019
Actress Sand Van Roy's lawyer Francis Szpiner took to Twitter to complain about the decision to have a preliminary investigation rather than a judge-led probe.
Elle ne peut demander des investigations et actes d'enquêtes,garanties auxquelles elle aurait droit dans le cadre d'une information judiciaire mené par un magistrat indépendant #Besson

— Francis Szpiner (@fszpiner) 25 février 2019
Actress Sand Van Roy's lawyer Francis Szpiner's wants an investigation led by an 'independent judge'.

On Monday February 25th Thierry Marembert said in a statement: "Mr Luc Besson has noted with satisfaction the decision of the Republic's prosecutor. This decision comes after a very full investigation … with which he has fully cooperated."
Meanwhile Sand Van Roy's new lawyer Francis Szpiner said on Twitter on Monday that "the prosecution cannot take the place of a judge in the assessment of the merit of the charges". He announced that they would be lodging a formal complaint as a civil party "in the coming days".
----------------------------------------------------------------------------------
The French version of this report can be found here.
English version by Michael Streeter