Neymar Junior has become the most expensive player in the history of football following his transfer to French club PSG from FC Barcelona in 2017, but exactly how expensive that move was has never been fully detailed. PSG bought the Brazilian on August 3rd 21017, in a transaction that saw the French club settle the huge sum of his buyout clause amounting to 222 million euros.
But PSG also had to pay each of his agents – his father Neymar Senior and Israeli agent Pini Zahavi – a commission sum of 10.7 million euros, and another 8.7 million euros to the club which trained him in his early years, bringing the total price of his transfer to a staggering 252 million euros.

Documents obtained by German news magazine Der Spiegel, gathered under the project Football Leaks, (see more on the source here) and analysed by Mediapart and its partners in the EIC, a consortium of European media, lift the lid on the background to the transfer, which included a tax-deducted salary, secret financing by Qatar, high pressure negotiating tactics and high drama with the Spanish football league. The Football Leaks documents notably reveal how, shortly before the deal was signed, Neymar's entourage misled FC Barcelona in an attempt to receive a bonus of 64 million euros, a move which came close to causing the collapse of the transfer.
Within PSG, the operation to bring Neymar to Paris was codenamed "Gold". It was driven by the ambitions and frustrations of the Emir of Qatar, owner of PSG and who disposes of seemingly unlimited funds. The target was a young and highly talented footballer with a penchant for partying and who is hardheaded in his business affairs, placing his confidence only in his close entourage.
Those who follow him everywhere include his father who is also his agent for business dealings, a close circle of friends, and even his own physiotherapist and sporting coach. The latter caused considerable concern for PSG, who suspected Neymar of employing several people in France without work permits.
Neither Neymar nor his father Neymar senior responded to our requests for an interview.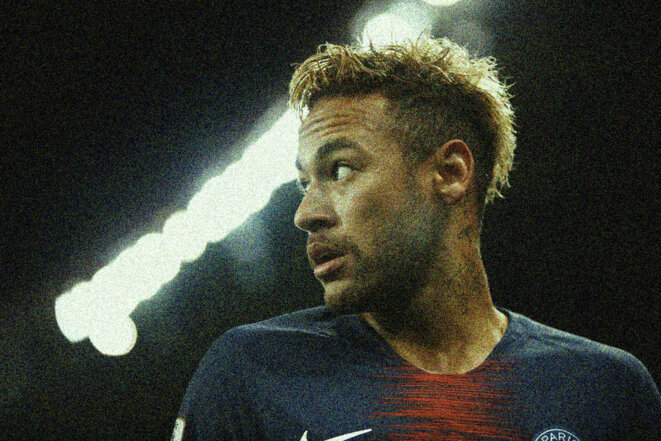 Neymar on the field for PSG at the club's Parc des Princes stadium on November 2nd. © Reuters
The
Football Leaks
documents also demonstrate how, contrary to the club's upbeat statements, Neymar represents a financial bottomless pit for PSG. During the negotiations, he gave no ground concerning his lucrative image rights. Over a period of five years, the 25-year-old will cost PSG a total of 528 million euros (more than three times the annual budget of PSG's traditional rival, l'Olympique de Marseille), and yet until now he has brought the Paris club little in revenue. While PSG had at first believed it could significantly increase payments from its sponsors Nike and Emirates, it was to be sharply disappointed. Mediapart reveals here the seven sequences of the most expensive transfer ever in the history of football.
A yearly 30 million euros free of tax and charges
Everything began with the humiliating defeat for PSG in its Champions League tie against Barcelona played at the Catalonian club's Nou Camp stadium on March 8th 2017. The round of 16 first leg had seen the Paris club win 4-0, but it was to leave the Nou Camp soundly beaten 6-1. The win for Barcelona included two goals scored by Neymar, who also obtained a penalty and whose last-minute pass into the penalty area produced the sixth and decisive goal which saw Barcelona through to the next stage of the competition. The result left the eliminated PSG a target of mockery in European football. "I am very sad […] this match is the proof that PSG still has a lot to learn," wrote a member of PSG's management in a personal email of "congratulations" to his counterpart at Barcelona.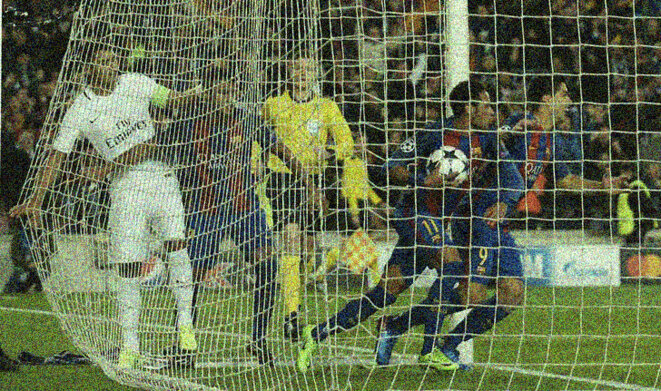 Neymar scores during the PSG debacle at Barcelona during a Champions League tie on March 8th 2017. © Reuters
The Emir of Qatar, meanwhile, was furious. Despite the 1.8 billion euros he had poured into PSG over the previous six years, the club had never succeeded in reaching further than the quarter finals of the Champions League. He wanted a superstar for the team, a player of world renown who could lead the club to victory and increase its revenues. Out of the top five players worldwide, only Neymar might be available during the transfer window of that summer 2017.
But Barcelona believed it had done everything to secure the player. In June 2016, Neymar prolonged his contract with the Catalan side for another five years, and the new contract included a bonus of 64.4 million euros, of which 43.7 million euros was payable one year later. On July 1st 2017, the Brazilian signed a new contract that was to keep him at the club until 2022. A buyout clause was included by which if another club was to try and lure him, it would need to pay up 222 million euros as part of a buyout clause. For Barcelona, that enormous sum appeared too prohibitive for any club to meet.
However, negotiations began on July 19th 2017, and they would only be finalised on August 1st, the eve of his transfer to Paris. He had secured a contract with a net salary – one that was free of social welfare contributions and income tax, all of which were paid for by PSG.
The Paris club at first proposed a salary of 25 million euros per year, but Neymar would succeed in obtaining 30 million euros per year, free, for him, of social charges and tax. That represented a gross annual salary, when including social charges and income tax, of 54.7 million euros – which was the cost for PSG. The sum was the equivalent of the yearly budgets of France's Ligue 1 clubs Toulouse or Montpellier.
On top of that was included collective bonuses for winning matches (which last year amounted to 300,000 euros). If ever PSG was to finish first in the Ligue 1 at the end of the season, and won the two cup finals in French football and also the Champions League, Neymar's net salary would rise to 30.8 million euros.
The deal saw his salary increase almost twofold on the yearly 16 million euros he had been earning at Barcelona, and was three times more than that of the second-highest paid footballer in France's Ligue 1, namely his PSG teammate Kylian Mbappé. In more simple terms, he was to earn at PSG 2.5 million euros per month – or 3,424 euros every hour of the year.
Like all players at PSG, Neymar has a fixed base salary which is topped up with bonuses. In his case, he earns a yearly 25.5 million euros and an "ethical bonus" of 4.5 million euros which depends on him meeting a number of conditions (without such a clause it would be impossible, under French law, to impose such conditions). These include "punctuality", demonstrating "exemplary behaviour on the field", and "politeness, kindness and availability towards supporters, which notably includes the duty to greet and thank supporters before and after each match".
More surprising is that Neymar asked for a clause in the list of conditions for meeting the payment of the "ethical bonus", which was "respect of tax regulations", be removed from his contract. But on that point PSG remained firm. Neymar and his father had previously been handed a 1.2 million-euro fine in Brazil for tax fraud, which involved tax evasion on payments connected to his transfer to Barcelona in 2013. Neither Neymar nor his father responded to questions about this, nor any other subject, which were submitted to them by the EIC.
A hard-dealing sandwich man
If PSG codenamed Neymar as "Gold", it was not just because of his on-field skills, but also his ability to attract brand sponsors. According to specialist evaluations, Neymar is the third most sponsored player in the world, behind Cristiano Ronaldo and Lionel Messi, with earnings from marketing (on top of his salary) estimated to be worth between 17 million euros and 30 million euros per year. Such contracts are firmly managed by his father, Neymar Senior, through his Brazilian company Neymar Sport Marketing.
Something of a sandwich man, Neymar has contracts with 30 different sponsors, ranging from sports apparel and accessories firm Nike to Beats headgear, and including energy drink brand Red Bull, Replay jeans, and Gillette razors. His contract with the Police glasses brand earns him a yearly 930,000 euros, according to documents obtained from Football Leaks. In 2015, a deal with snacks and crisps brand Sabritas brought him 869,000 euros for use of his image in Mexico alone.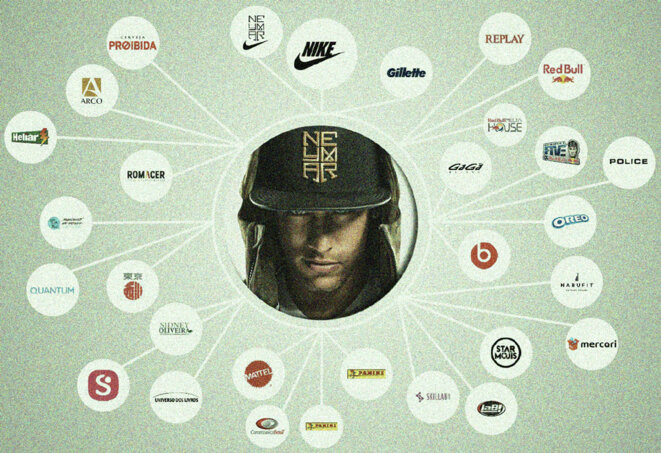 Above: the many brands that pay Neymar for use of his image. © EIC
The most extravagant deal is most certainly that with Japanese car manufacturer Toyota which, in 2014, paid Neymar 550,000 euros for a video advert broadcast only in Thailand. The advert involved four hours of recording in Barcelona, thus earning the player the equivalent of 138,000 euros per hour. Toyota also paid for the accommodation in a five-star Barcelona hotel for three Neymar Sport Marketing employees, and their flight travel to Spain from Sao Paulo in business class. Added to this, the Japanese firm also offered Neymar one of its "most top-of-the-range" cars for use in Barcelona, and one of its Hilux pickup trucks, delivered in Brazil.