There is a famous anecdote about boiling a frog. It states that if you plunge the frog straight into scalding water it will leap right out. But if you put the frog in cool water that is slowly heated the frog is numbed and ends up accepting the hot water even though it is a threat to its own life. This approach may be dubious scientifically, but the tale nonetheless provides a powerful lesson. Faced with corruption in France, we are all in the process of becoming frogs.
We could of course carry on pretending not to see it. We could behave as if nothing, or very little, was amiss. And behave as if it was all quite natural, that these "scandals" on the Right, Left and far-right are simply the inevitable convulsions of French public life, financial news stories that might or might not be spectacular, involving people who might or might not be well-known, who sometimes fall and who sometimes get back on their feet. We could tell ourselves that this whole circus is the common lot of any democracy, one that feeds media hysteria at regular intervals. We could also carry on poking fun at others, Italians, Greeks, the Spanish or Africans, to make us feel better about ourselves. We could.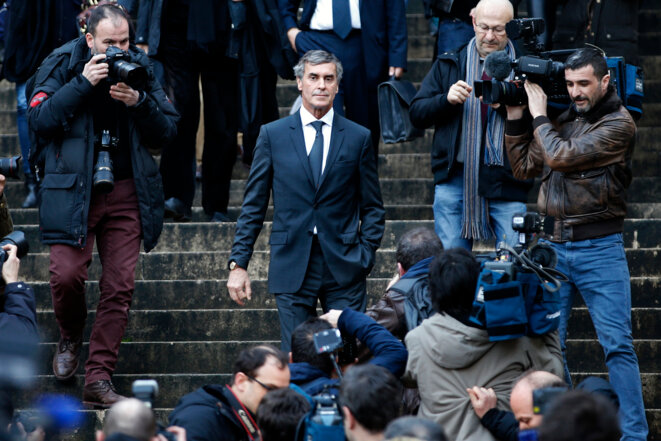 On trial: Jérôme Cahuzac, in February 2016, on the steps of the court in Paris; the hearing was postponed until September. © Reuters
Or, on the other hand, we could tell ourselves that the situation is serious. But genuinely so, as it is very serious. A coincidence of the judicial timetable that saw the opening of the trial of former budget minister Jérôme Cahuzac on
tax fraud charges
start on the same day that it was revealed prosecutors want Nicolas Sarkozy to
stand trial
for "illegal financing" of his 2012 presidential campaign, gives us an insight into this serious situation. A very small insight which, on its own, should worry us about the state of public ethics in France. Here on the one hand was a minister (from the Left) in charge of the fight against tax fraud who is a tax fraud – and perhaps also the
discreet financier
for a socialist fringe group – and on the other a former president of the Republic (from the Right) whose campaign spending for the 2012 election was more than double the legal limit of 22 million euros, an offence masked by false invoicing.
Of course if it was just that … but it does not stop there. One has to take stock of what we at Mediapart have been trying to document for nearly ten years now. Nicolas Sarkozy is himself also under formal investigation for "corruption" and "influence peddling" in another case, in which one finds a former head of state and his lawyer with their "secret" phones acting like the dealers in the US drama series 'The Wire' to plot against judges who had become just a little too nosy.
The former president's name is also cited in half a dozen other major cases: the Bernard Tapie scandal (which has led to the current head of the International Monetary Fund, Christine Lagarde, facing trial), the claims of Libyan funding of his 2007 campaign, alleged kickbacks involving Kazakhstan, the so-called Karachi affair involving arms deals, and alleged favouritism in the commissioning of polls at the Elysée. Now that he sees a chance of being president again in next year's election, Sarkozy uses the slightest judicial inconvenience to launch a Silvio Berlusconi-style attack against a politicised judiciary that apparently wants to bring him down. He has even dared to make a comparison with the old East German security service the Stasi.
It's easy to forget that the former president himself, trapped by his own verbal incontinence, vowed at a political meeting at Vélizay, near Paris, in October 2014 that he had returned to politics because of the legal affairs that surrounded him. "If they wanted me to rest quietly in a corner they shouldn't have done that!" he said, speaking of the investigations that involve him. Therefore it is not because he has returned to politics that the judicial system is attacking him, but it is because it was doing its normal job that, feeling hounded, Sarkozy came back. There's a subtle difference.
Over and above Sarkozy's personal case, more than 30 people close to him are currently under formal investigation – one step short of charges being brought – awaiting trial or have been convicted in cases brought by anti-corruption branches of the judiciary. There is something unprecedented in the almost industrial character of the Sarkozy system that historians will pick over at their leisure in years to come.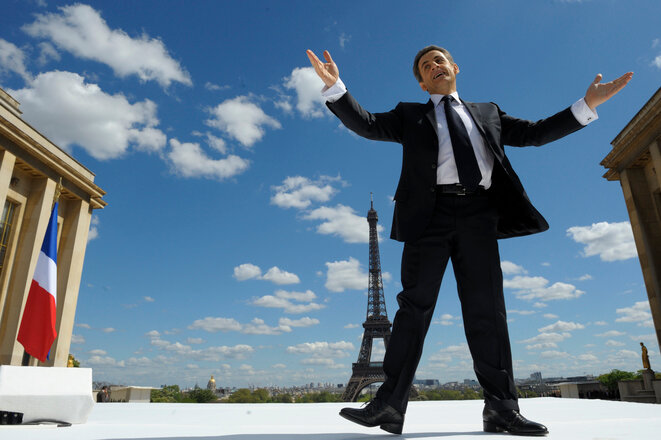 Feeling hounded: Nicolas Sarkozy at a politcal rally during his 2012 presidential campaign. © Reuters
Still on the Right one could also cite the case of
Patrick
and
Isabelle Balkany
, mayor and deputy mayor respectively of the wealthy suburb of Levallois-Perret on the outskirts of Paris, and who between them have been put under investigation in relation to a number of alleged financial offences. There is also the case of Serge Dassault, head of the eponymous defence and aviation group, and also owner of a media group that includes the right-wing
Le Figaro
. In a case that involves bank accounts hidden in tax havens and cash payments running to several tens of millions of euros, Dassault stuck two fingers up to the justice system by
declining to appear at his own trial
. He believed it was possible and he was proved right. And the 91-year-old was rewarded for his impudence when the court decided to
suspend proceedings
and ask for new investigations to be carried out. That was just a few days ago. Time is on his side. But what other alleged criminal has the right to such treatment?
The Left, which does not by its nature have a monopoly on public morals, has not been spared either. The Cahuzac affair has lastingly tarnished President François Hollande's five-year term. Other affairs, too, have weakened the "exemplary Republic" that the current head of state had said he would preside over. These include the cases involving former minister Kader Arif, that of the presidential advisor Faouzi Lamdaoui, the conflicts of interest of Aquilino Morelle and the "administrative phobia" of minister Thomas Thévenoud who was late with his tax declarations. To this one can add the Guérini affair, involving left-wing senator Jean-Noël Guérini, which according to a report by customs officials has a whiff of 'Mafia' about it, and that of the socialist MP Sylvie Andrieux from the Bouches-du-Rhône in southern France, convicted of embezzling public money.
In such a situation one would think that one party, which historically makes capital out of others' weaknesses, would be able to rub its hands in glee: the far-right Front National (FN). This, after all, is a demonstration of their long-standing claim that all the mainstream parties are "rotten" and that the main right-wing and left-wing parties have jointly failed the nation. Yet the FN and some of its representatives would do better to keep a low profile. Today they, too, are targeted by several very embarrassing financial cases. Naturally enough the party claims that the legal system is acting in a politically-motivated way. Claiming judicial plots is a classic ploy, a very convenient way of not having to respond publicly to the facts themselves.
Related articles
It really is a little discouraging. Ever since Cicero we have known that there will be the corrupt and corrupters. It is not about changing human nature but finding the right ecosystem (political, judicial, citizen, administrative) that allows us to prevent corruption to the best of our abilities and to punish it mercilessly when it is discovered. Instead, listening to certain French politicians one sometimes has the impression of jumping back several centuries intellectually and returning to 1639 when Gabriel Naudé, a theoretician on statecraft, stated in his work 'Considérations politiques sur les coups d'État' ('Political Reflections on Coups d'État') that: "He who doesn't know how to dissemble doesn't know how to rule". Or when Cardinal Mazarin, the 17th century advisor to the French monarchy, in his work 'Bréviaire des Politiciens' ('The Politicians' Breviary'), gave this advice to sovereigns: "1. Simulate. 2. Dissimulate."
However, a few enlightened minds – Immanuel Kant, Alexis de Tocqueville, Jeremy Bentham, Benjamin Constant, Hannah Arendt and so on – have given us the weapons to counter those who want obscurity for the citizens and, along the way, wealth for the rulers. Yet in this era such words of good sense can be seen as unacceptable appeals to the dictatorship of transparency.