Eva Joly is a high-profile anti-corruption activist and a former investigating magistrate specialized in financial crime. During her lengthy career in the French justice system, Joly, now 73, led several major and highly-complex investigations, notably the Elf sleaze case after which she returned to her native Norway to act as a government advisor on financial crime and corruption. She then later served as a special advisor to the Icelandic government in its investigations into the role of financial crime on the country's economic crisis.
In 2009, back in France, she became a Member of the European Parliament (MEP) for the French Green party EELV, and ran as its presidential election candidate in elections in 2012. Still an MEP, she became a Paris-based lawyer in 2015, and is currently a member of the campaign team of Socialist Party presidential candidate Benoît Hamon, who is supported by Joly's EELV party.
Éric de Montgolfier is a former public prosecutor who is also an advisor on judicial affairs in Hamon's campaign team. Now retired, Montgolfier, 70, became well known notably for his prosecutions of protagonists in a major football bribery and match fixing scandal and, more recently, the HSBC moneylaundering investigation and a corruption scam within the Nice judiciary which led to the conviction of a judge for passing confidential information to members of his Masonic lodge.
In this interview conducted in Mediapart's offices in Paris, Joly and Montgolfier are scathing of the culture of corruption amongst the political class in France – which Montgolfier calls "a republican monarchy" – within its institutions and even the wider public. They take a dim view also of what they describe as career-minded magistrates who refuse to ruffle the feathers of those in power, and call for much tougher sentences for white-collar crime.
Some, but not all, of the measures that they argue for here are contained in the socialist candidate's campaign manifesto.
-------------------------
MEDIAPART: The fight against corruption is very rarely a political programme. Why?
Eva Joly: There is still a lot of ambiguity surrounding transparency and the fact of having something to hide. The way of thinking of politicians is "if one begins digging, we'll find cases involving my old mates in the party, who are paid money from pharmaceutical firms on offshore accounts", things like that. There's an understanding, a neutralisation. I found this striking in the scandals surrounding [former French president] Nicolas Sarkozy, to see that [current French president] François Hollande never had a real go at him over those questions.
It's an "understanding", and that has nothing to do with what they call a "decent" electoral campaign. What is not decent is to receive funds from an old lady or to be unable to justify the origin of funds that allowed you to buy your first apartment in the town where you are its mayor, and to be elected French president in 2007 [a reference to Nicolas Sarkozy]. Over that there was a great silence.
I think this "understanding" goes back to the end of the [second world] war, to the agreements between the Gaullist and Communist parties on, for example, the management of water supply networks, something which for a long time funded political life, over decades.
MEDIAPART: It's a sort of balance of terror?
Éric de Montgolfier: Yes. It's a game we all know, "I've got a hold on you, you have a hold on me". We are in a situation where, when a candidate has problems with probity, problems with money, it's left alone. It's even more sacred than sex in our country. The other candidates are uncomfortable. That doesn't mean they're dishonest, what it means is that to talk about a problem that affects a very large section of the political class would amount to breaking a pact - I was going to say a pact that is almost mafia-like. We are at the heart of complacency in the political class, one doesn't talk about that because you never know what might happen in return. And it's a shame, because the justice system is not at the heart of the debate.
MEDIAPART: Yet we are all concerned by the issue. Behind corruption lie victims.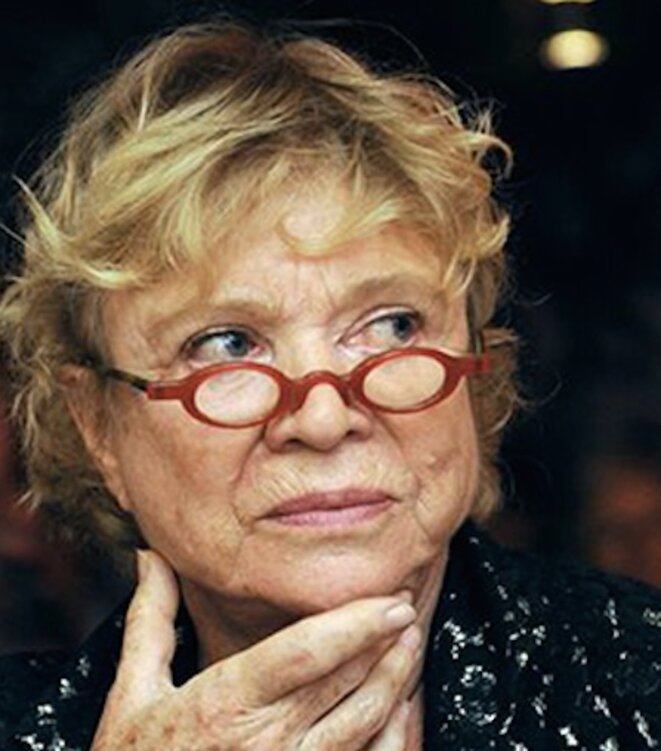 Eva Joly. © Reuters
E. J.: Yes, but the victim is abstract.
É. de M.: They are diffuse; they have difficulty in recognising themselves as a victim.
E. J.: Whereas in a murder, it is immediately apparent.
É. de M.: This phenomenon applies to the absurd notion of personal enrichment. You are told in all tranquillity that to steal from the community, that it's for [the benefit of] one's party, it is not corruption or misappropriation of public funds on the pretext that there was no personal enrichment. I regret that judges have accepted this notion, as can be found for example in the ruling by the Versailles appeals court over the sentencing of Alain Juppé.
Excuse me, but it seems to me that over 40 years I've convicted lots of people who took money from the pocket of a neighbour, and if they had said "it's not for me, it's for my grandmother" I'd have burst out laughing. Well, the nation doesn't laugh when it's told "it's not for me, it's for my party".