The bullet-shattered glass entrance of the Hyper Cacher store (left) and guns offered by the traffickers who armed Amedy Coulibaly.
In January 2015, a series of terrorist attacks in Paris left 17 people dead, including 11 at the offices of satirical magazine Charlie Hebdo, and four Jewish men in a kosher supermarket. The attack on the kosher store was carried out by Amedy Coulibaly in the name of the so-called Islamic State group. A number of weapons later found at the scene and at his home transited via an arms trafficking network in northern France which had been the object of several lengthy police surveillance operations. So why have magistrates in charge of investigating the itinerary of the arms still not questioned those involved in the surveillance? Karl Laske reports.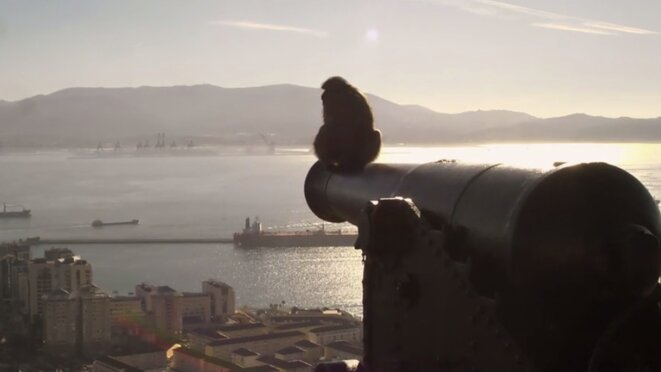 Monkey business: a scene from 'Territory'. © Eleanor Mortimer
Gibralter, the British-ruled territory on the southern tip of the Iberian peninsula, is home to a human population of about 30,000, but also several hundred Barbary macaques, the only wild monkeys to be found in Europe, who regularly descend from the wild reserve of the Rock to jump and scurry around the densely-populated town underneath. Humans and monkeys live a tense relationship, fought with peashooters and guile, for the monkeys are blissfully unbound by - and mocking of - human notions of territory, as illustrated in this award-winning short documentary, Territory, by Eleanor Mortimer.