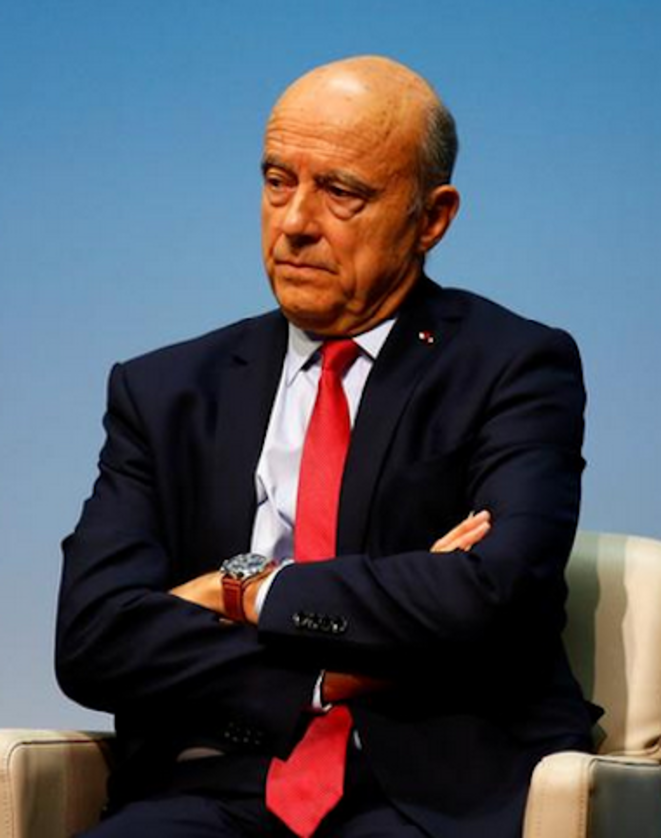 Alain Juppé. © Reuters
The appointment this week of former conservative prime minister Alain Juppé to France's highest constitutional authority, the Constitutional Council, has been met with surprise and controversy. The nomination of Juppé, who was convicted in 2004 over his role in a fraud scam at Paris City Hall, and who is the political mentor of French Prime Minister Édouard Philippe, is joined by that of a former minister of Philippe's government, and also of a conservative senator. As Mediapart political correspondent Ellen Salvi reports, the appointments to the Council, which is supposedly an independent body with ultimate power of decision over the validity of legislation but also that of elections, notably campaign funding, are likely to widen President Emmanuel Macron's political base, and call into question his vision of the institution.
Left to right: Alexandre Benalla, Iskander Makhmudov, and Farkhad Akhmedov. © DR
Emmanuel Macron's disgraced former personal security aide Alexandre Benalla, who also served as deputy to the president's inner cabinet chief, organised from the Élysée Palace a private deal to provide protection services to a Russian oligarch close to the Kremlin and who is suspected of ties to Russian organised crime. Benalla, who was initially dismissed from his post after assaulting people on the sidelines of a May Day march, last December also sold protection services to another Russian billionaire. The total of the two deals is worth 2.2 million euros, part of which was paid to Benalla in Morocco, Mediapart can reveal in this latest investigation into the growing scandal which, it is speculated, may be linked to the resignation announced this week of Macron's most senior advisor, Ismaël Emelien.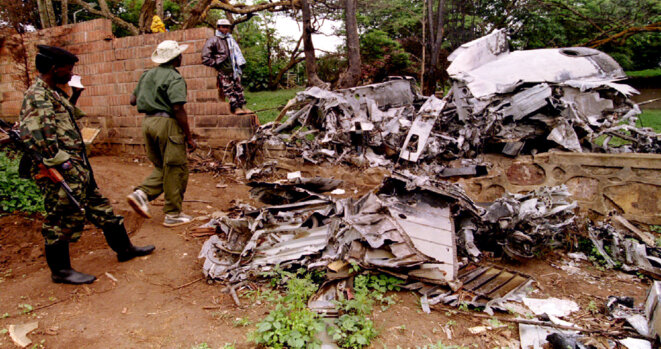 The wreckage of Rwandan president Juvénal Habyarimana's aicraft, shot down on April 6th 1994. © Reuters
In a joint investigation, Mediapart and Radio France have revealed the contents of previously unseen documents relating to aspects of the 1994 genocide in Rwanda, from the assassination of President Juvénal Habyarimana which sparked the massacres to illegal arms sales to the genocidal regime. The documents include a key report by France's overseas intelligence agency, the DGSE, on the genocide, which left close to one million people dead. Mediapart's Fabrice Arfi and Benoît Collombat of Radio France report.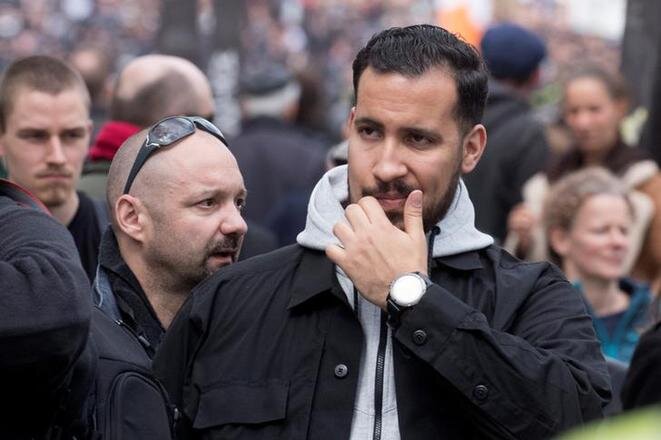 Alexandre Benalla and, just behind him, Vincent Crase in Paris on May 1st 2018 . © Reuters
France's national fraud prosecution unit has opened an investigation for "corruption" over a French firm's security contract signed with Russian oligarch Iskander Makhmudov, and negotiated by Alexandre Benalla while the latter was a security aide at the Élysée. Mediapart first revealed details of this contract, which involves a company run by Benalla's friend Vincent Crase, back in December. In a separate development the French prime minister's head of security has resigned after claims that her flat was used to host a bail-breaching meeting between Benalla and Crase that was secretly recorded in July 2018. She denies any wrong doing. Fabrice Arfi, Antton Rouget and Marine Turchi report.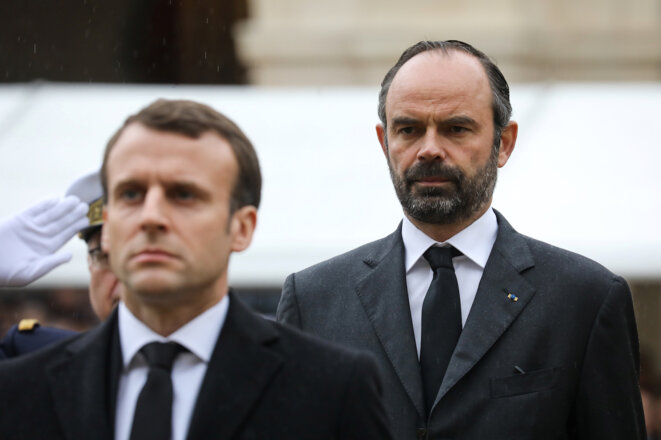 President Emmanuel Macron and prime minister Édouard Philippe in Paris in March 2018. © Reuters
It was an intervention from the office of France's prime minister Édouard Philippe which caused the opening of an investigation into the source of secret recordings involving a former presidential aide, Mediapart can reveal. This investigation then led to an attempt by prosecutors to search Mediapart's office – which Mediapart prevented, citing laws designed to protect its sources. The prosecution authorities, meanwhile, are remaining silent about the information they received which caused them to start the probe. Fabrice Arfi, Antton Rouget, Matthieu Suc and Marine Turchi report.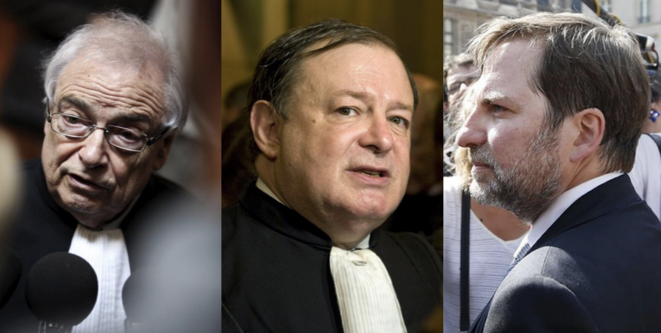 Lawyers who oppsoe the bill:left to right, Henri Leclerc, Jean-Pierre Mignard and Patrice Spinosi. © Reuters
Despite strong criticism, including from inside the ranks of the ruling La République en Marche party, the French government's so-called 'anti-rioters' bill was due to be voted through by members of the National Assembly on Tuesday February 5th. Mediapart spoke to a number of prominent lawyers who are well-known defenders of civil liberties, including a supporter of President Emmanuel Macron, who have expressed their concern about yet another piece of repressive law and order legislation. Ellen Salvi reports.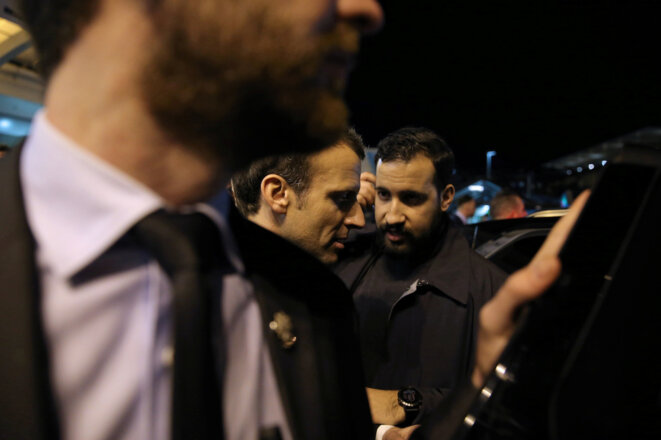 Emmanuel Macron and Alexandre Benalla. © Reuters
Mediapart refused a highly unusual attempt by prosecutors in Paris on Monday morning to search its editorial offices as part of an  investigation that notably cites a breach of the personal privacy of Alexandre Benalla, the disgraced controversial former security aide to President Emmanuel Macron. He was sacked and placed under formal investigation last summer after video footage emerged of him and ruling LREM party security manager Vincent Crase using violence on protestors during demonstrations in Paris on May 1st. The new prosecution services' probe follows Mediapart's revelations last week of extracts from a compromising conversation between Benalla and Crase, who met in violation of their conditional bail, which raise wider questions over Benalla's actions while employed by the presidency, and also his relationship with the president. Mediapart exercised its legal right to refuse the raid on the grounds of protecting the identity of its sources.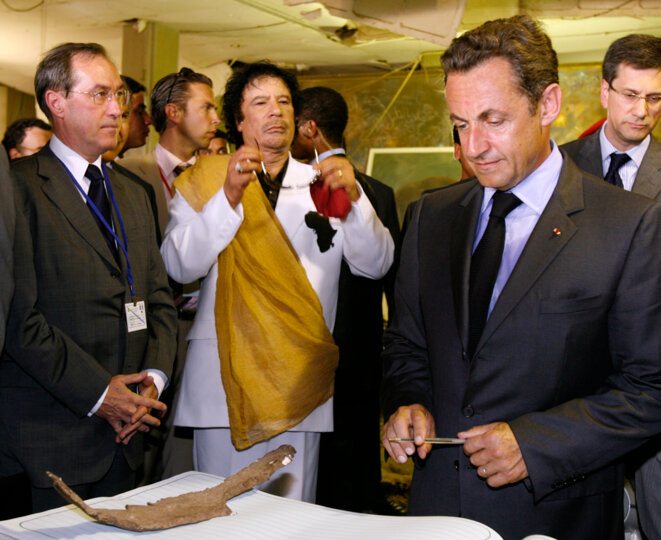 Left to right: the French president's chief aide Claude Guéant, Muammar Gaddafi and Nicolas Sarkozy inTripoli in 2007. © Reuters
France's highest appeal court, the Cour de Cassation, has rejected an appeal by former president Nicolas Sarkozy in a case against Mediapart relating to the authenticity of a key document showing he was promised Libyan funding for his 2007 election campaign. The judgement, published on Wednesday January 30th, means that the former president can no longer evade the election funding scandal revealed by this site, says Mediapart's publishing editor Edwy Plenel.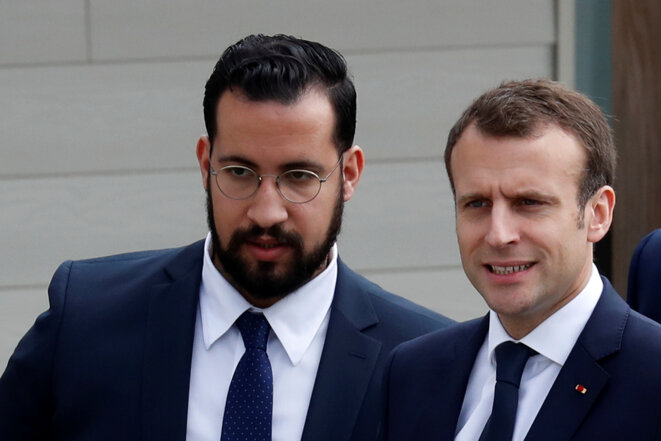 Alexandre Benalla and President Emmanuel Macron during a visit to Normandy April 12th 2018. © Reuters
An investigation by Mediapart sheds dramatic new light on the affair involving Alexandre Benalla, who was a security aide to President Emmanuel Macron until he was sacked when video footage emerged showing that he had used violence against protestors at a demonstration. In particular recordings of Benalla talking to the former head of security for the ruling LREM party, Vincent Crase, who also lost his job over the scandal, reveal details about a secret meeting that breached a judicial control order, about a security contract with a Russian oligarch close to Vladimir Putin, and Benalla's ongoing communications with President Macron. Fabrice Arfi, Antton Rouget and Marine Turchi report.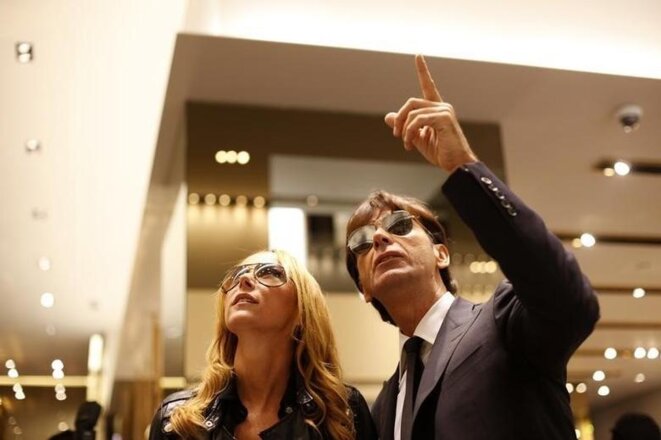 The former CEO of Gucci, Patrizio Di Marco, with his wife Frida Giannini. © Reuters
The leading French luxury goods company Kering, owned by the ultra wealthy Pinault family, saved 39 million euros in tax by paying the former boss of its subsidiary Gucci via a company in Panama, according to documents obtained by Mediapart and shared with the European Investigative Collaborations (EIC). The French company also lied about its tax avoidance schemes to two separate investigations carried out by the French Senate. Yann Philippin investigates.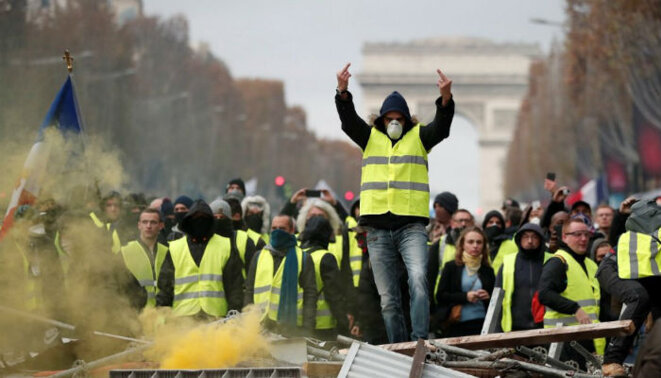 Yellow vest protestors on the Champs-Élysées avenue in Paris, November 2018. © Reuters
The two-month-long 'gilets jaunes', or 'yellow vest', movement in France, protesting the fall in living standards for low- and middle-income earners and against the powers of the country's social and political elite, continues largely unabated. It has attracted worldwide attention, and not least in the United States, where the Left sees it as an echo of the Occupy Wall Street movement, where also supporters of President Donald Trump have hi-jacked it as a new symbol of protest against the liberal establishment, and where the latter interpret it as a devil of populism. Mediapart's US correspondent Mathieu Magnaudeix reports from New York on the confused reactions across the Atlantic to the largely misunderstood revolt in France.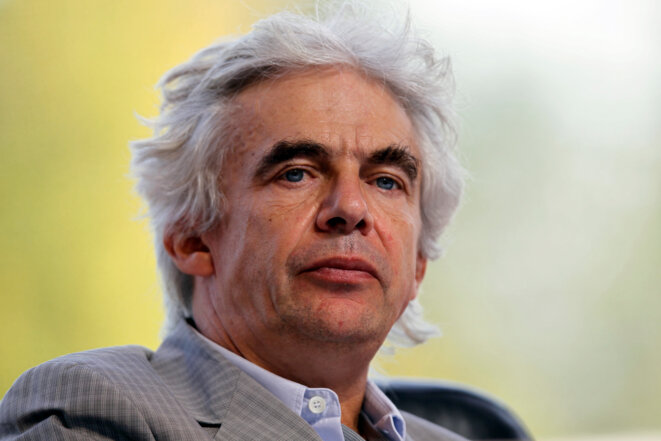 Paris-based lawyer William Bourdon. © Reuters
William Bourdon, the lawyer representing Rui Pinto, who was arrested last week in Hungary at the demand of the Portuguese authorities, has confirmed that his client is "John", the alias given to the key source behind the Football Leaks revelations that have rocked the world of professional football. The more than 70 million Football Leaks documents were the starting point for two series of investigations published by Mediapart and its partners in the European Investigative Collaborations (EIC) media consortium, and which have revealed widespread corruption and fraud in the shadows of the "beautiful game". In this in-depth interview with the EIC, Bourdon offers further detail about Pinto's actions, and dismisses his presentation by the Portuguese media "simply as a hacker, whereas he is a significant whistleblower".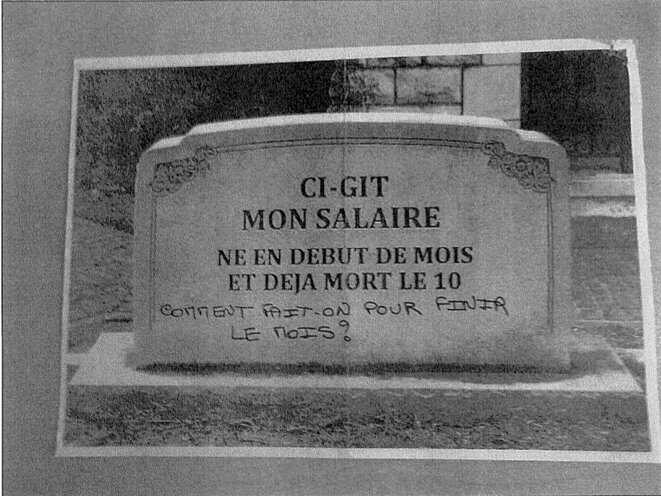 A photomontage sent to François Hollande: "Here lies my salary, born at the beginning of the month and already dead on the 10th." © DR
During his 2012-2017 term in office, France's socialist president François Hollande received a total of about one million letters and emails from members of the public, several thousands of which have been studied by political sciences lecturers Michel Offerlé and Julien Fretel. In this interview, Michel Offerlé explains that while the correspondence contained a large number of individual demands for help, complaints over financial difficulties and taxes, and insults about the head of state's disconnection with the people, they in part collectively represent the social group that has erupted into the 'yellow vest' protest movement over falling standards of living which is shaking the current presidency of Emmanuel Macron.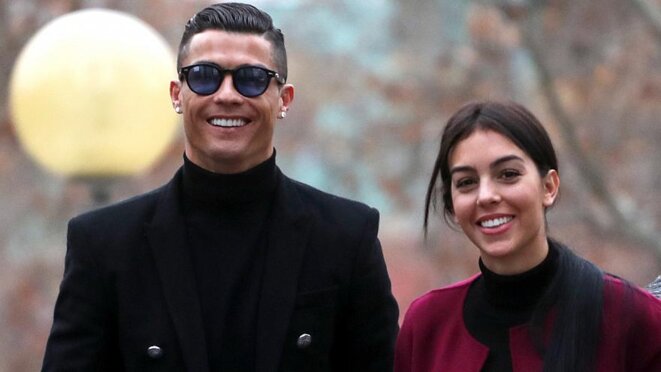 Cristiano Ronaldo arriving at court in Madrid, January22nd, with his fiancee Georgina Rodriguez. © Reuters
Portuguese football star Cristiano Ronaldo was on Tuesday ordered to pay an 18.8 million-euro fine by a Madrid court and was handed a 23-month suspended jail sentence after admitting tax fraud amounting to almost 15 million euros between 2011 and 2014. The case followed the Football Leaks revelations published in December 2016 by Mediapart and its partners in the European Investigative Collaborations (EIC) media consortium. But the former Real Madrid striker, whose wealth is estimated at more than 200 million euros, in fact escaped a far heavier sentence with the falsification of a document concerning his offshore payments on image rights, which Mediapart reveals here.