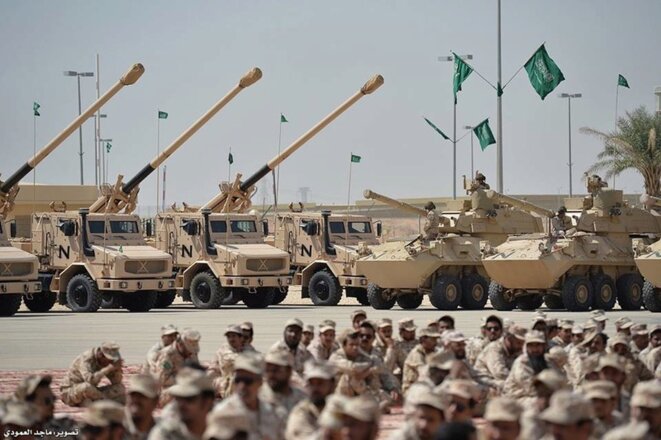 A Saudi army display of French-made CAESAR howitzers (left of picture), one of the most lethal artillery weapons in existence. © DR
An unprecedented leak of secret documents from France's military intelligence agency, the DRM, has revealed the massive use of French-made weapons, like those also of the US, the UK and Germany, in the ongoing civil war in Yemen. The contents of the leaked documents are detailed here in three exclusive reports published simultaneously by Mediapart and its partner Disclose, a newly founded independent, not-for-profit online magazine of investigative journalism, which reports how these weapons have been used against the civilian population in a war that has wreaked what the United Nations describe as "one of the worst humanitarian crises in the world".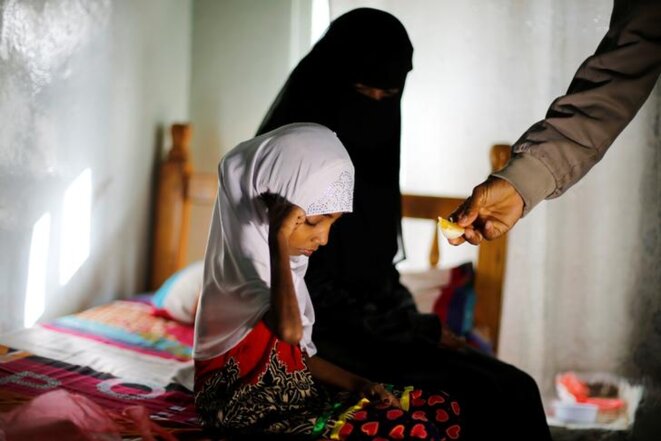 Relief organisations estimate that over the past four years around 85,000 Yemeni children have died from hunger or illness. © Reuters
Weapons sold by France to the Saudi-led coalition offensive against the Houthi rebellion in Yemen are being used to starve millions of the country's population, a strategy the United Nations has described as a method of warfare that "may constitute a war crime".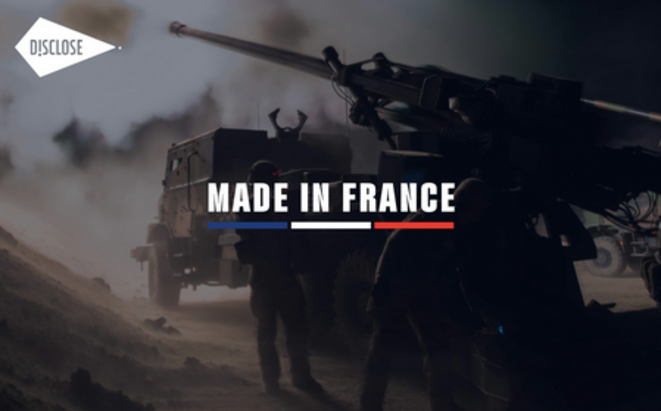 Amid the ongoing war in Yemen, France continued to supply weapons to, and also signed new contracts with, Saudi Arabia, all of it behind a veil of secrecy.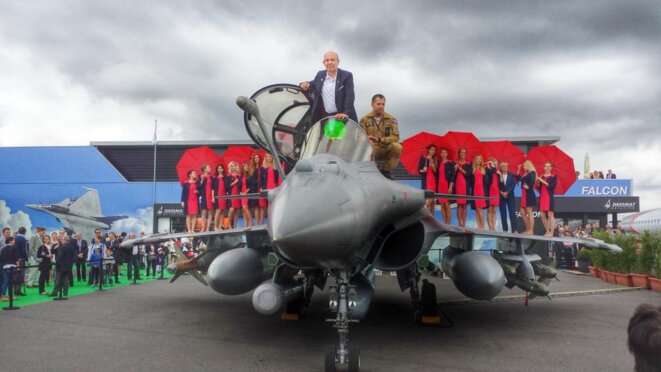 Éric Trappier, CEO of Dassault Aviation, standing on a Rafale jet fighter at the Le Bourget airshow near Paris in 2015. © Dassault
As India heads into tightly fought general elections on Thursday, outgoing Prime Minister Narendra Modi has become further engulfed in a suspected corruption scandal surrounding the sale by France to India of 36 Rafale fighter jets, built by French group Dassault Aviation, in a deal he signed in 2016. It emerged this weekend that, during negotiations over the contract, the French tax authorities extraordinarily wrote off a tax debt of more than 140 million euros owed by a French company belonging to Anil Ambani, an Indian businessman and friend of Modi's, whose company was made industrial partner in the deal in questionable circumstances. Meanwhile, anti-corruption NGO Sherpa has submitted further information to the French public prosecution services over numerous "irregularities" that implicate the different parties in the contract, worth 7.7 billion euros.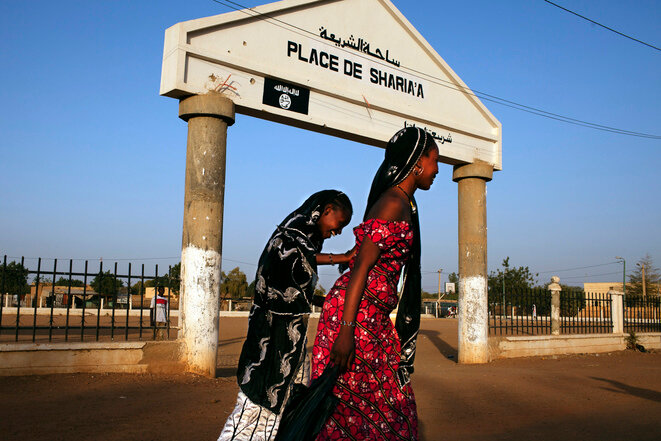 "Sharia Square"in Gao, seen here in February 2013, where the occupying jihadists in 2012 carried out amputations in public. © Reuters
Since France's military intervention in Mali in 2013 put an end to an offensive by Islamic extremists occupying the north of the country, and despite the subsequent UN peacekeeping mission to help stabilize the former French colony, it remains blighted by insecurity. Amid the continuing tensions, the government stands accused of a strategy of clemency towards senior jihadists who led a reign of terror during their occupation of the north. The vast majority of them have been allowed to escape justice, while the few who were placed in jail have been discretely freed, apparently in prisoner exchange deals. Rémi Carayol reports.
In an unusual alliance of the Left and Right, a vast majority of French opposition parliamentarians have this week launched a demand for a national referendum over the government's proposed privatisation of the Paris airports operator ADP. Such a move has never before been attempted, and must now be approved by the Constitutional Council. Martine Orange analyses the latest development in an increasingly strained relationship between parliament and the executive.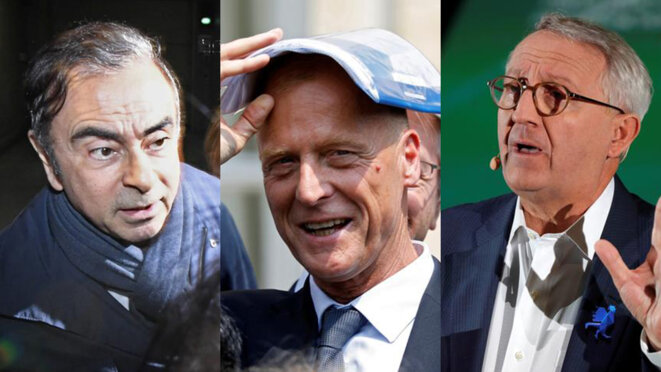 Left to right: Carlos Ghosn, formerly of Renault, Tom Enders who is leaving Airbus and Thierry Pilenko of TechnipFMC. © Reuters
Over the years there have been repeated scandals about the lavish top-up pensions awarded to the bosses of some of France's biggest firms, most recently involving Renault, Airbus and energy industry engineering firm TechnicFMC. Now, in a bid to end such controversies, the government's finance minister Bruno Le Maire is promising legislation to restrict the level of these lucrative perks. But as Mediapart's Martine Orange reports, the measure already looks as if it will be little more than window dressing.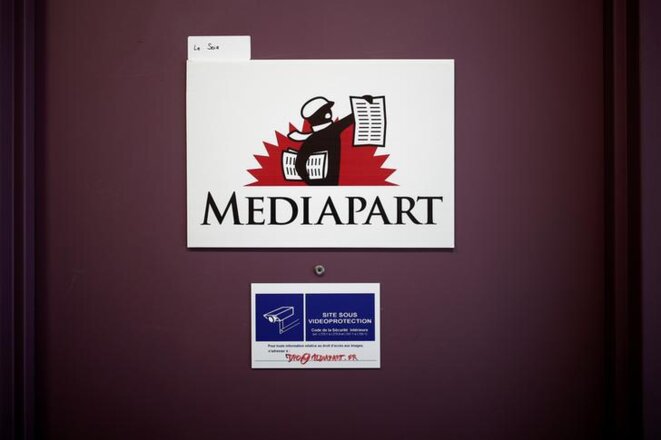 © Reuters
Mediapart is taking legal action against the French state for the attempt to search our offices over the so-called Benalla affair involving President Emmanuel Macron's former security aide Alexandre Benalla, writes Mediapart publishing editor Edwy Plenel. We are asking the courts to rule that by ordering this baseless, unfair and disproportionate action, the Paris prosecutor has made the French state liable for breaching the protection given to journalists to keep their sources secret, and for obstructing Mediapart's journalistic work.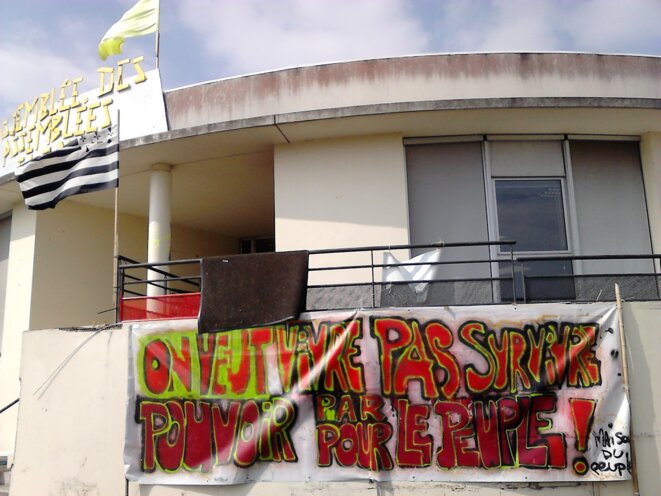 The outside of the community centre at Saint-Nazaire. © PYB
At the end of January 75 delegates from 'Yellow Vest' groups around France met at an 'assembly of assemblies' at Commercy in the north east of the country. From April 5th to 7th some 300 delegates will converge on a community centre in Saint-Nazaire in the west for a second such national assembly. The three-day gathering based on "exemplary fraternity" has required lots of last-minute local preparations and comes at what some describe as a key point in the protest movement's short life. Pierre-Yves Bulteau reports.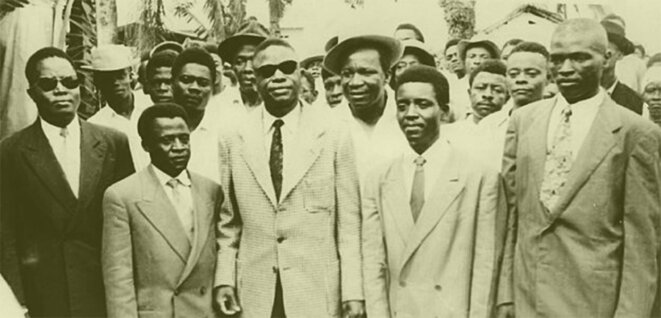 Ruben Um Nyobè, centre, in dark glasses. © DR
Ruben Um Nyobè is a symbolic figure in the story of anti-colonial resistance in Africa. A champion of independence in his native Cameroon, Nyobè was killed by the French army in 1958 after which France and its local allies sought to wipe him from the country's collective memory. In his latest album Cameroon musician Blick Bassy pays homage to Ruben Um Nyobè, his achievements and his personal struggle in an attempt to spark new interest in his life and writings. Fanny Pigeaud reports.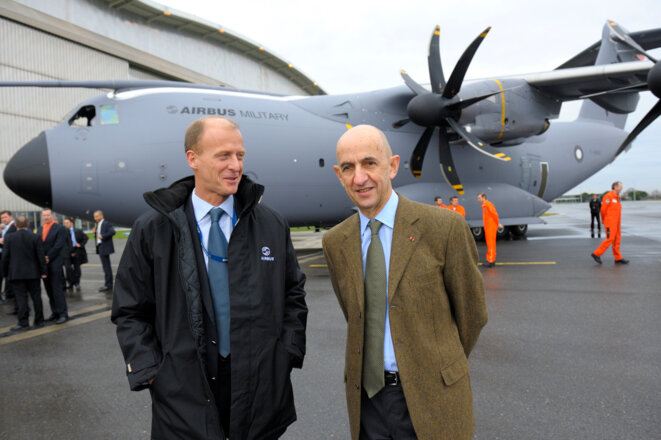 Thomas Enders, left, and Louis Gallois were joint CEOs of Airbus between 2005 and 2007. © Reuters
Secret documents obtained by Mediapart and German publication Der Spiegel show for the first time how Airbus gave direct orders to an intermediary to hand out 9.5 million euros in commissions to help clinch the sale of its aircraft in Egypt. This deal is now being examined by France's fraud prosecution unit and British fraud detectives who are carrying out a major investigation into alleged corruption by the giant European aircraft manufacturer. Yann Philippin and Virginie Le Borgne report.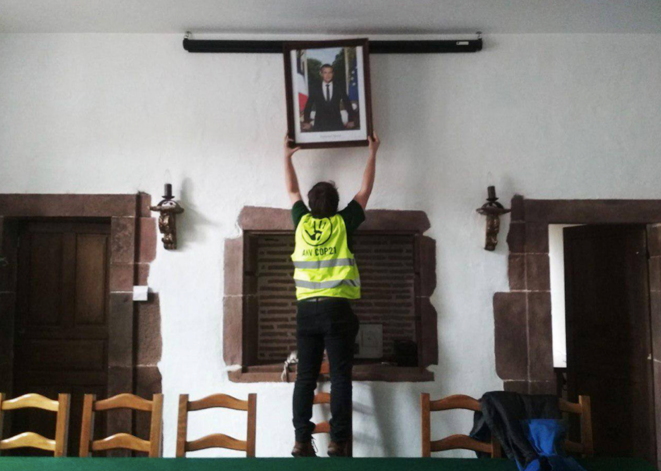 A protestor removes an official photo portrait of Presdent Emmanuel Macron. © ANV-COP21
Since February this year the climate change campaign group ANV-COP21 has organised a series of symbolical 'seizures' or removals of the official portraits of the French president which hang in mayors' offices and town halls in the country. Their aim is to highlight what they see as a lack of government action against climate change. However, the authorities have shown considerable zeal in tracking down and investigating those involved and around 20 activists will be appearing in court. Christophe Gueugneau reports.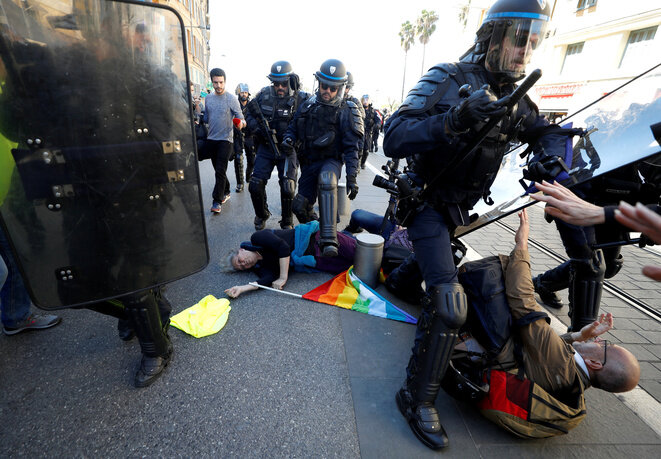 Scenes from immedately after Geneviève Legay fell to the ground after the police charge at the demonstration in Nice.
When 73-year-old activist Geneviève Legay was seriously injured during a 'yellow vest' protest in Nice in the south of France on Saturday March 23rd the incident  quickly dominated the headlines. The French president Emmanuel Macron became involved, insisting that the police officers present at the demonstration had not touched her, a claim initially backed by the local state prosecutor.Yet on the very day of that demonstration a police report, a copy of which has been seen by Mediapart, stated the opposite. Mediapart has also gathered other testimonies which bolster the idea that there has been an attempt to orchestrate a lie over the incident. The state prosecutor has conceded that a police officer did make contact with the protestor, causing her to fall. Pascale Pascariello reports.

A Mediapart investigation can reveal the extent to which the  publicly-owned French defence contractor Naval Group has been overseeing the renovation and modernisation of Saudi warships. This vital maintenance work has been taking place as the Saudi navy enforces a punishing blockade on Yemen as part of the ongoing conflict there. Meanwhile lawyers warn that any company that helps or supports the Arab coalition military effort in Yemen could potentially be seen as being complicit in possible war crimes. Eva Thiébaud and Thomas Clerget report.