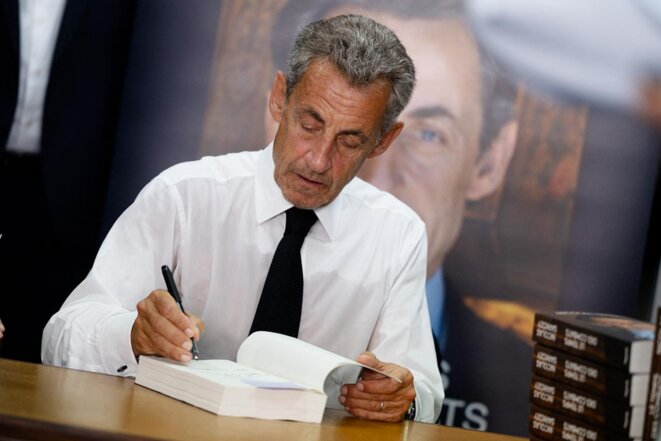 Nicolas Sarkozy signing copies of his latest books at La Baule on the west coast of France, August 22nd 2023. © Photo Estelle Ruiz / Hans Lucas via AFP
On June 13th and 14th former president Nicolas Sarkozy was questioned by judges as part of an ongoing investigation into the fake retraction by Ziad Takieddine, a key witness in a parallel probe into Libya's alleged funding of the ex-head of state's 2007 election campaign. Under questioning the former president acknowledged that a key figure in the fake retraction case, Noël Dubus, had visited him to receive signed copies of his book. In one copy of his book Nicolas Sarkozy wrote 'Thanks for everything'. Yet businesswoman and paparazzi agency boss Michèle Marchand, who has been placed under formal investigation in the case, had previously denied that this episode even took place. Fabrice Arfi, Karl Laske and Antton Rouget report.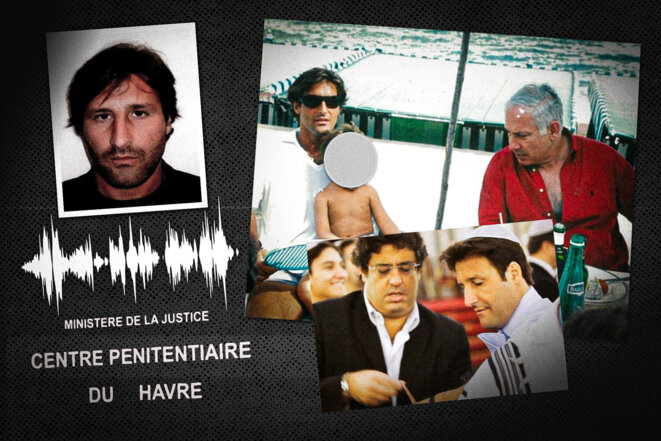 Arnaud Mimran with Benjamin Nétanyahou, top, and with Meyer Habib, below. © Montage Simon Toupet / Photos DR
All-expenses paid trips, luxury watches, oodles of cash and a million dollars: the so-called "crook of the century", French businessman Arnaud Mimran, has spoken at great length in a prison cell bugged by the judicial authorities about his friend 'Bibi' – the Israeli prime minister Benjamin Netanyahu. The convicted fraudster, who is also suspected of involvement in three murders – which he strongly denies - spoke, too, about his relations with French MP Meyer Habib. Fabrice Arfi reports.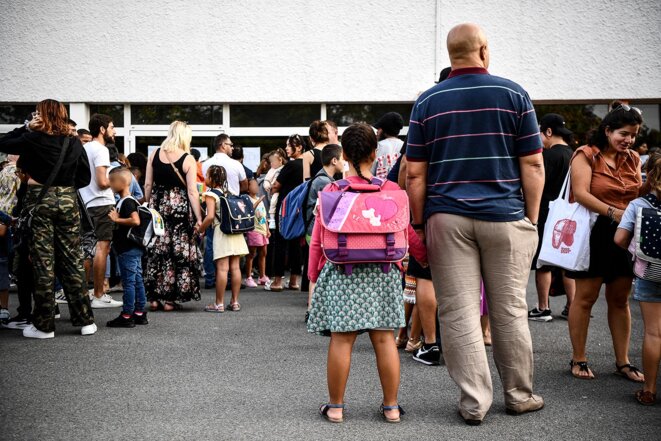 © Photo Christophe Archambault / AFP
A major controversy has erupted in France about the way an education authority responded to the parents of a 15-year-old boy who took his own life after being bullied. Officials claimed the pupil's parents had shown an "unacceptable" approach towards school staff and even threatened legal action for defamation. As Mediapart's Mathilde Goanec reports, this grim episode has raised questions over how the country's local education authorities deal with parental concerns over problems such as bullying. It also raises a wider issue about the role that parents are allowed to have in schools.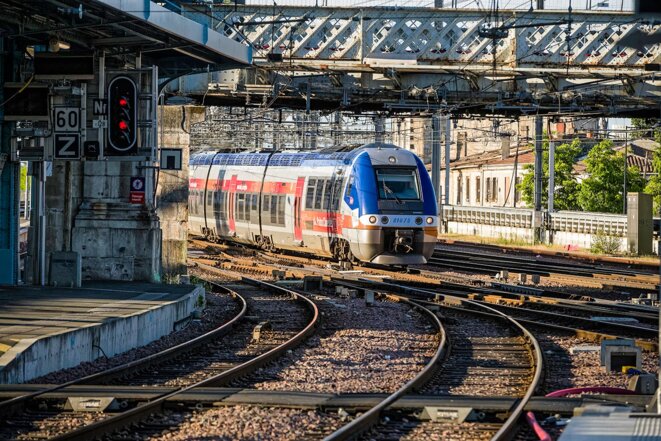 A regional express train entering Bordeaux Saint Jean station in 2017. © Photo Sébastien Ortola / REA
In an effort to curb carbon dioxide emissions, the French government recently backed the extension of regional express transport networks or RERs in the country's major conurbations. New rail and bus routes have already been created around the major south-western city of Bordeaux and they have attracted many new passengers. But as Manuel Magrez reports, some of the city's new transport routes are now so popular and overcrowded they will soon require even more resources.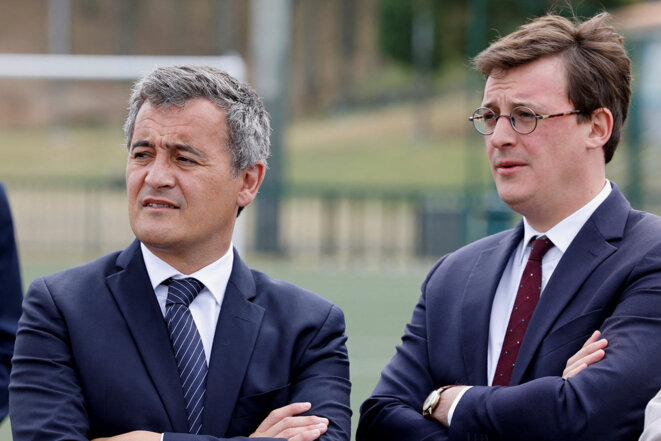 Hardline interior minister Gérald Darmanin (left) and Macron party MP Sacha Houlié. © Photo Ludovic Marin / AFP
President Emmanuel Macron and his government locked in difficult negotiations over draft legislation aimed at toughening up immigration and asylum laws. Originally due to be presented in the spring, it was withdrawn after the government, without an absolute majority in parliament, failed to gain necessary support from the conservative opposition. They are vehemently opposed to an article in the bill which would allow undocumented migrants working in sectors suffering labour shortages to gain full legal status. The issue has caused a deep split among members of Macron's centre-right party, some of who, led by MP Sacha Houlié, fear that hardline interior minister Gérald Darmanin, presenter of the bill, will bow to pressure from the conservatives to remove the regularisation measures. Mediapart's parliamentary correspondent Pauline Graulle reports.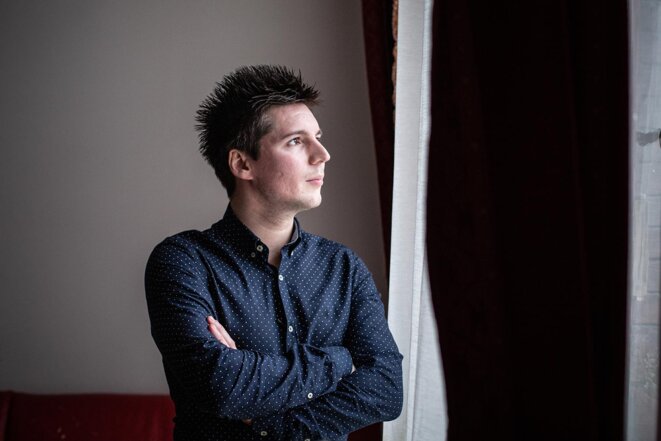 Rui Pinto pictured in 2019 at his apartment home in Budapest. © Maria Feck / LAIF / REA
Rui Pinto, the whistleblower behind the "Football Leaks" revelations of corruption and fraud within the business side of football, has been given a four-year suspended prison sentence by a court in Portugal after he was found guilty of computer hacking charges and attempted extortion. Despite a heavier sentence demanded by prosecutors, Pinto, 34, escaped returning to prison after the court in Lisbon recognised the "public interest" of the information he gained through the hacking, and took into account the regrets he expressed during the three-year trial. Yann Philippin reports.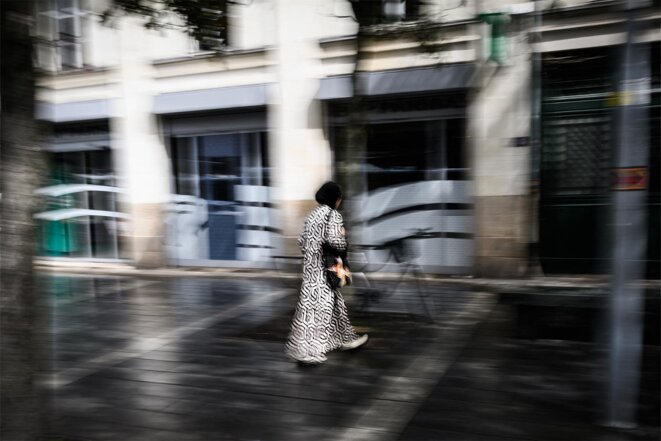 A woman wearing an abaya in a street in Nantes, north-west France. © Loïc Venance / AFP
France is withdrawing into itself, writes Mediapart's co-editor Carine Fouteau in this op-ed article. The latest manifestation of its post-colonial obsessions is the ban now introduced on the wearing at school of the abaya, a loose-fitting, full-length robe worn by some Muslim women. It translates into a generalised suspicion towards Muslims, more precisely female Muslims, but also into the defeat of France's principles of secularism and the right of pupils to control their own bodies.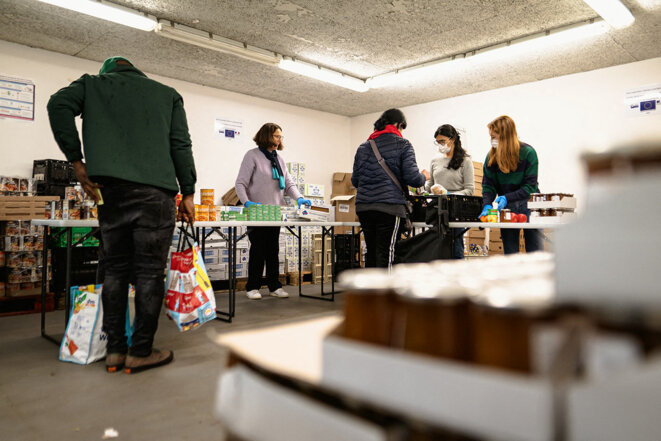 A food bank run by the Restos du cœur in Paris. © Photo Pauline Gauer / Abaca
The Restos du cœur is a French charitable association which runs a nationwide network of tens of thousands of volunteers managing food banks and mobile street kitchens. While official figures estimate that about eight million people in France are currently unable to ensure alone their basic food requirements, the association has now announced it may have to shut down for lack of sufficient funds in face of spiralling costs. The news caused shock in France where for decades it has been regarded as a perennial lifebuoy for the destitute, and has prompted a rush of highly publicised donations by government, corporations and the wealthy. Zeina Kovacs and Manuel Magrez report on the crisis facing the association, and those who appear to be feeding off it.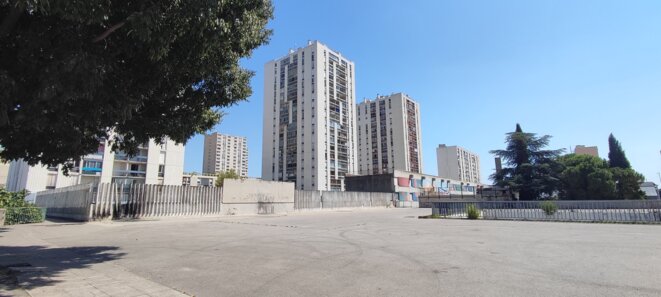 The high-rise housing blocks of Pissevin, on the outskirts of Nîmes. © Photo Prisca Borrel pour Mediapart
The fatal shooting of a ten-year-old boy last month in Pissevin, a run-down, high-rise quarter on the outskirts of Nîmes in southern France, made national headlines and prompted the sending of riot police to the neighbourhood to contain the spiralling violence of drug traffickers engaged in turf wars. Two days later, an 18-year-old man was shot dead, after which France's interior minister made a high-profile visit to the quarter, promising further reinforcements. But the sudden attention given to the dilapidated neighbourhood, built as a model public housing scheme in the early 1960s but where around 70% of the population now live below the poverty line, has done little to appease inhabitants, who complain of being abandoned for years in a crumbling environment. Prisca Borrel reports from Pissevin.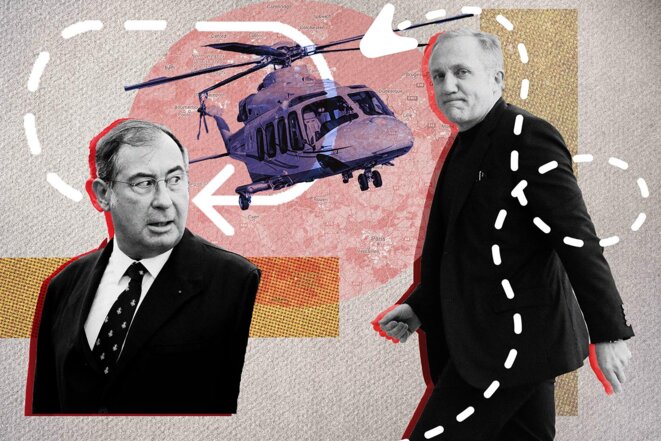 Martin Bouygues (left) and François-Henri Pinault. © Photo illustration Sébastien Calvet / Mediapart avec AFP
French billionaires François-Henri Pinault and Martin Bouygues share ownership of a high-end Agusta AW-139 helicopter, whose maker claims it "embodies the hallmarks of elegance, style and sophistication". Mediapart and data collection collective Mémoire vive have traced the businessmen's use of the aircraft over the past year, and found that many of its flights were for short hops to their different holiday homes, vineyards and to London. While Pinault's luxury goods group Kering and Bouygues' construction and telecoms group are keen to boast of reducing their carbon footprints, the total CO2 emissions of the 235 flights of their shared helicopter since September last year amount to 317 tonnes, which is equivalent to the average emissions of a person in France over a period of 32 years.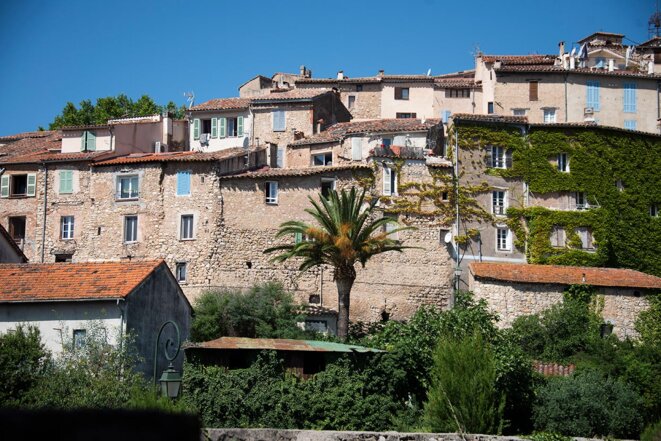 The village of Seillans, in south-east France, which has introduced a five-year freeze of building permits. © Photo Magali Cohen / Hans Lucas via AFP
A significant reduction in rainfall over recent years, and notably in 2022, has contributed to an alarming reduction in groundwater in regions across France, and in the south of the country in particular, where villages have had to rely on tanker trucks to provide supplies of drinking water. The situation has become so desperate in some southern areas that local authorities, to save the dwindling water reserves, have now introduced a freeze on planning permissions for new habitations, despite the demand for housing. Lucie Delaporte reports.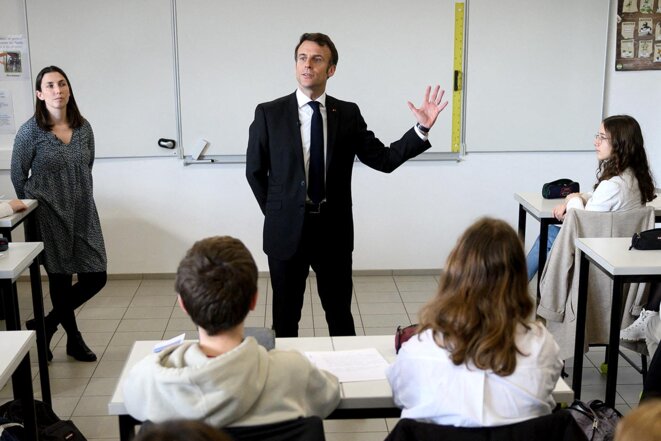 Emmanuel Macron photographed in the classroom of a middle school in Jarnac in south-west France, February 28th 2023. © Photo Jean-Michel Nossant / Pool / Abaca
In a lengthy interview to mark the end of the political summer pause, the French president placed particular emphasis on the role of education. He sees this as the route by which he will accomplish his plan to "re-civilise" a "section of young people" following the recent unrest in the country. And he made clear that he regards education as his "exclusive preserve", in which he will oversee and guide policy. However, as Mathilde Goanec argues in this op-ed article, the kind of policies that Emmanuel Macron wants to pursue are already outdated - and decidedly old school.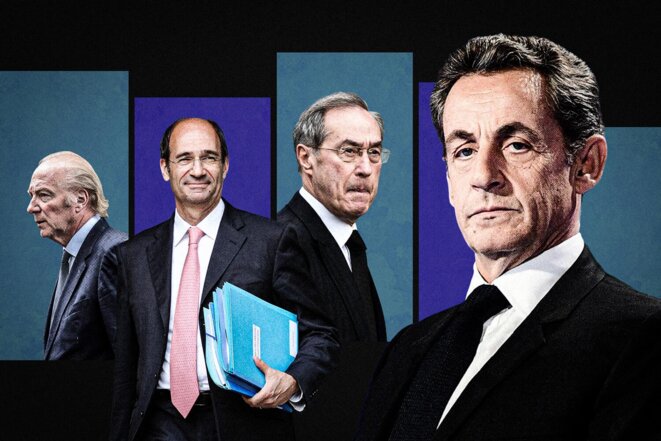 The three ministers, Brice Hortefeux, Éric Woerth, Claude Guéant, and former president Nicolas Sarkozy. © Illustration Simon Toupet / Mediapart avec AFP
After ten years of investigation, judges have decided that there is sufficient evidence to send former French president Nicolas Sarkozy to stand trial in the affair concerning the alleged illegal Libyan financing of his 2007 election campaign. The investigating judges are also sending three of the ex-president's ministers for trial in the same affair: Claude Guéant, Brice Hortefeux and Éric Woerth. As Fabrice Arfi and Karl Laske report, this is an unprecedented situation in French political and legal history.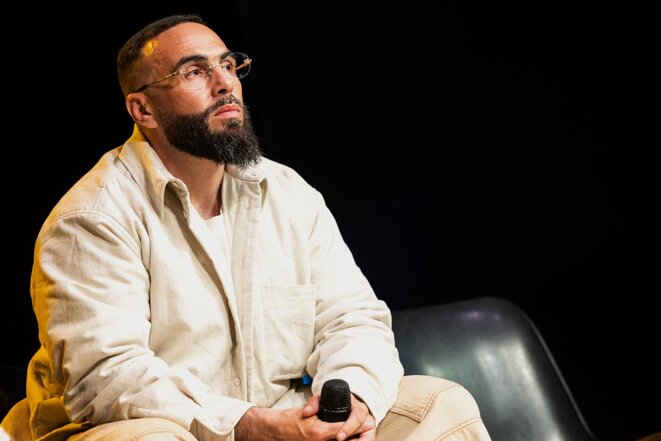 Médine during a televised event hosted by Mediapart called 'You won't get me', in Paris, May 10th 2023. © Photo Sébastien Calvet / Mediapart
The prominent French rapper Médine has been at the centre of a row after a Tweet aimed at essayist Rachel Khan – a Franco-Gambian woman whose Jewish maternal grandparents died in the Holocaust – was criticised as 'anti-Semitic'. The rapper himself has apologised and insisted he had not targeted Rachel Khan's Jewish heritage in any way. He also says that he accepts he has made errors in the past and that he fights "all forms of anti-Semitism". But the row has continued and invitations for Médine to address the summer conferences of both the radical left La France Insoumise and France's green party Europe Écologie-Les Verts have caused a rift on the Left. Some prominent politicians have said they will not attend the events because of the controversy. Mathieu Dejean reports.