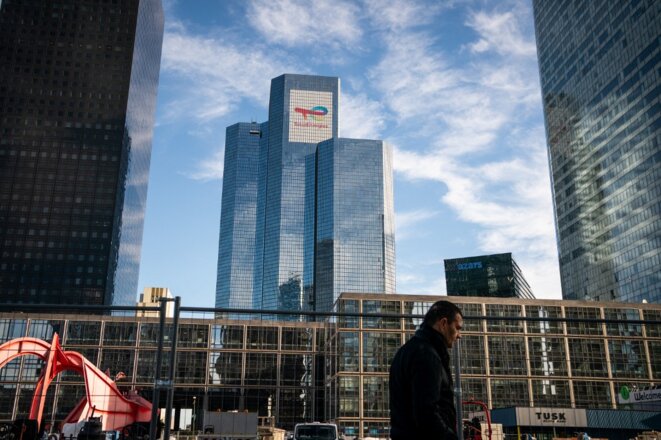 The worldwide headquarters of TotalEnergies at La Défence, close to Paris. © Photo Xose Bouzas / Hans Lucas / Hans Lucas via AFP
In what is the first legal move of its kind in France, oil and gas and giant TotalEnergies, the former Total, is the subject of an investigation by French public prosecutors which was opened after three NGOs filed a complaint accusing the group of "misleading commercial practices". The complaint centres on the multinational's claims over its credentials in policies for environmental protection and the limiting of global warming, including being a "major player" in energy transition, which the NGOs say amounts to deliberately deceptive "greenwashing". Mickaël Correia reports.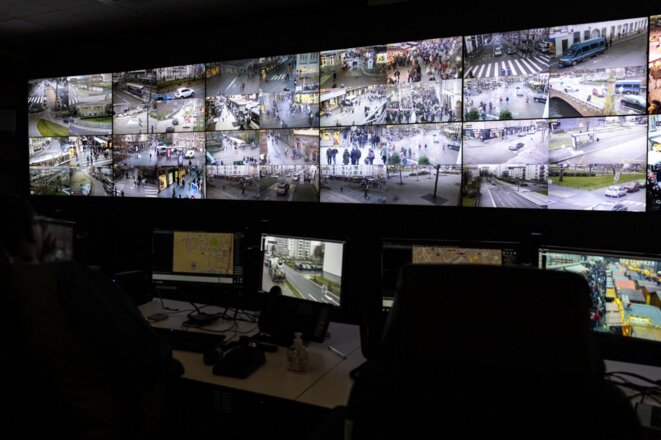 A video surveillance control room in Strasbourg, eastern France. © Abdesslam Mirdass / Hans Lucas / Hans Lucas via AFP
The French parliament is currently debating draft legislation on special measures the government is seeking to introduce for the Olympic and Paralympic Games to be held in France in 2024. While these contain relatively uncontroversial moves like the lifting of restrictions on Sunday shopping and tougher fines for trouble-makers at sporting events, they also include the "experimental" introduction of algorithmic video surveillance of the public, a technology that is strongly opposed by a number of rights groups and legal experts. Jérôme Hourdeaux reports.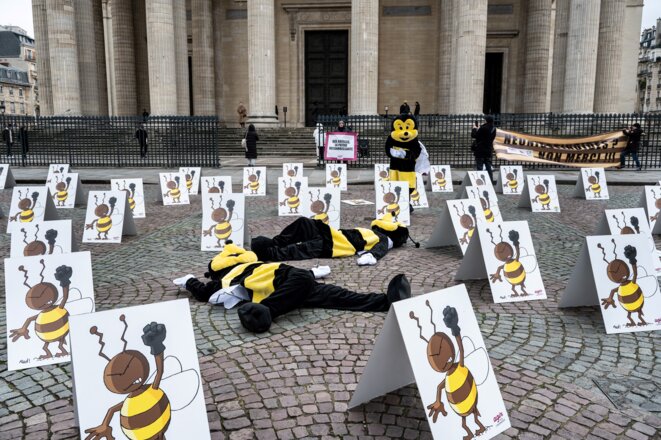 A demonstration in Paris against the use of neonicotinoids, January 20th 2023. © Photo Bertrand Guay / AFP
French agriculture minister Marc Fesneau has announced the end of a controversial exemption granted to sugar beet producers to use a family of insecticides dubbed "bee killers" and which were banned by the European Union in 2018. The move follows a ruling last week by the European Court of Justice, the EU's supreme court, which outlaws member states from any further use of a legal loophole which allowed for "emergency" dispensation from the ban on neonicotinoids, which scientific studies have linked to a collapse of colonies of honey bees and other pollinators, and also bird populations. Amélie Poinssot reports.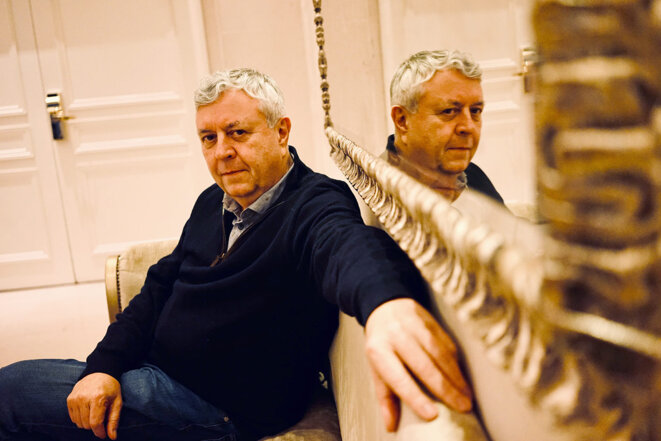 Belgian judge Michel Claise. © Photo Rachida El Azzouzi / Mediapart
Belgian judge Michel Claise is leading the investigation into the snowballing corruption scandal rocking the European Parliament in Brussels, and which has already led to the downfall and imprisonment of a now former vice president of the chamber. In this interview with Mediapart, the veteran investigating magistrate, specialised in financial crime, details the extent to which corruption and organised crime are out of control in Europe, and slams the lack of resources to fight it. "When you touch on dirty money, and when that involves the political world, people become transformed into wild animals," he says.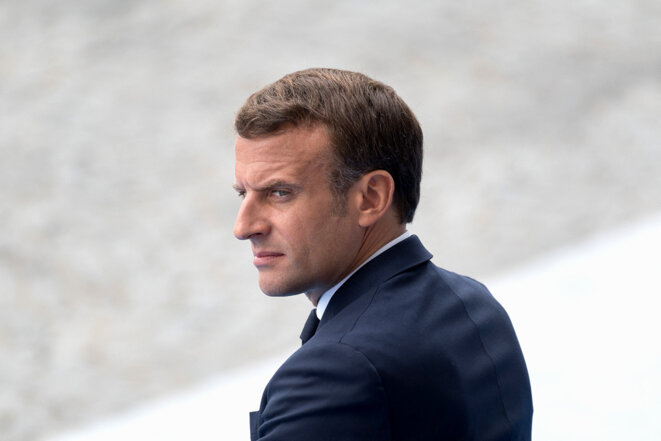 Emmanuel Macron, pictured at the Bastille Day parade in Paris on July 14th 2022. © Photo Jacques Witt / Pool / Abaca
Nationwide strike action and mass demonstrations were held in France on Thursday in opposition to Emmanuel Macron's reform of the French pensions system, which includes raising the age of retirement on full pension rights from 62 to 64. The government appears to hope that what its spokesman called the "weariness" of the population, amid galloping inflation and the hike in energy costs, will see the protests over its reform peter out. Ellen Salvi reports on how the president's strategy has led to a weakening of public debate and a disintegration of social democracy, and why a victory for his reform would threaten to set a time bomb ticking in the ballot box.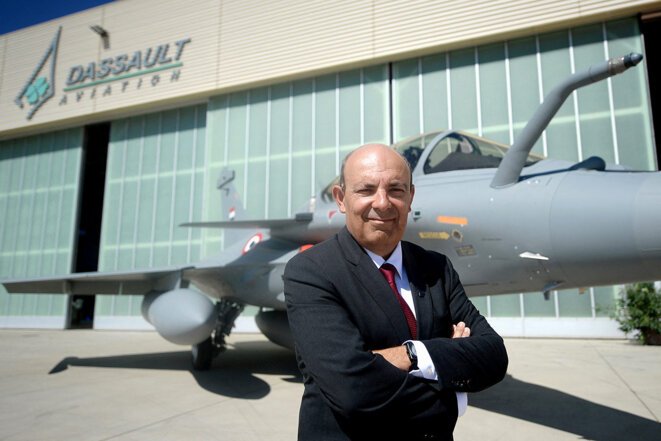 Chairman and chief executive officer of Dassault Aviation, Éric Tappier, in 2015. © Boris Horvat / AFP
France's anti-corruption watchdog wrote a damning report after a lengthy inspection of French defence and aviation company Dassault. The report from the Agence Française Anticorruption highlighted five breaches of the law and signs of possible corruption in the firm's dealings in India, where it sold 36 Rafale fighter jets for 7.8 billion euros. Yet as Yann Philippin reports, the agency did not propose any punishment and nor did it alert French prosecutors to its findings.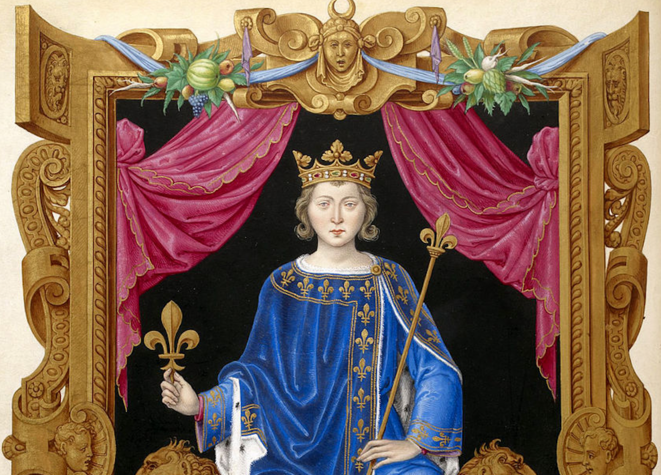 The originator of French national pride? Philip IV known as 'Philip the Fair', who ruled 1285-1314.
Historian Jacques Krynen argues that French national pride and the country's sense of "superiority" have been passed down the ages and through various types of government and regimes to the modern era. And the legal historian believes its origins are to be found at the end of the 13th and the start of the 14th centuries, when Philip IV – better known to history as 'Philip the Fair' – was king of France. Fabien Escalona reports.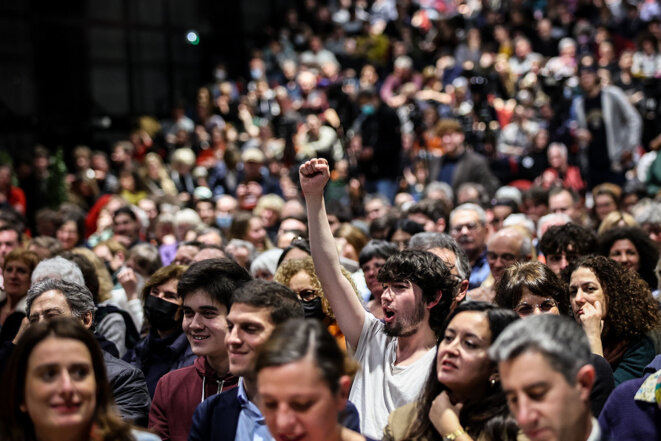 Meeting of various groups from the French Left against the pension reforms, at a gathering organised by independent media Reporterre and 'Fakir' in Paris, January 10th 2023. © Photo Sébastien Calvet / Mediapart
On January 10th, Prime Minister Élisabeth Borne formally unveiled President Emmanuel Macron's plans to reform the pension system, the key plank of which is to raise the legal age of retirement in France from 62 to 64 by 2030. Almost immediately trade unions announced a day of strikes and protest on January 19th. Meanwhile prominent figures on the French Left attended a political meeting arranged by independent media Reporterre and 'Fakir', to demonstrate their anger towards the reforms. As Mathieu Dejean reports, the need for unity was a theme of the evening, with calls for the Left to remain united against the proposals – and on other issues – heavily applauded by the audience.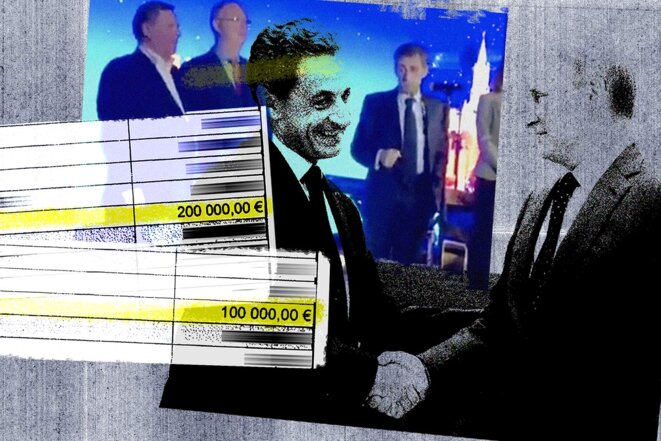 © Photo illustration Sébastien Calvet / Mediapart
Former French president Nicolas Sarkozy received 300,000 euros during a period in which he attended a 2018 gathering in Moscow that was organised by the Russian state's main sovereign wealth fund, and at which he praised his "friend" Vladimir Putin. The money was paid by a company which bears the same name as a subsidiary of that sovereign fund. Fabrice Arfi and Yann Philippin report.
A sign next to a banana plantation in the north of Martinique, January 21st 2020. © Photo : Benoit Durand / Hans Lucas / Hans Lucas via AFP
Earlier this month judges in Paris dismissed a legal case brought by residents from the French Caribbean islands of Martinique and Guadeloupe over the widespread use of the pesticide chlordecone which has polluted local ecosystems. The Green mayor of Pointe-à-Pitrre in Guadeloupe, Harry Durimel, who is also a lawyer acting for victims of the pesticide, has announced his intention to appeal. In an interview with Mediapart's Mickaël Correia, he talks about the harmful impact of the court ruling – including on how France's overseas citizens will now view the French state.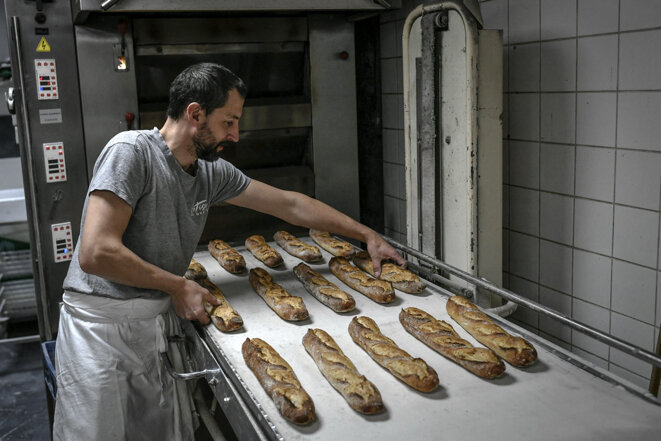 The organic bakery Racynes at Boulogne-Billancourt in the south-west suburbs of Paris, November 2022. © Photo Stéphane de Sakutin / AFP
Not long ago, artisan bakers were doing well in France's villages, towns and city centres as Covid restrictions encouraged people to shop local. But that has all now changed with the cost of living crisis, as the rising price of energy and raw ingredients has put their finances under pressure. And with households also feeling the pinch from the cost of living squeeze, France's bakers say they cannot keep on putting up prices indefinitely in order to make ends meet. Mathias Thépot reports.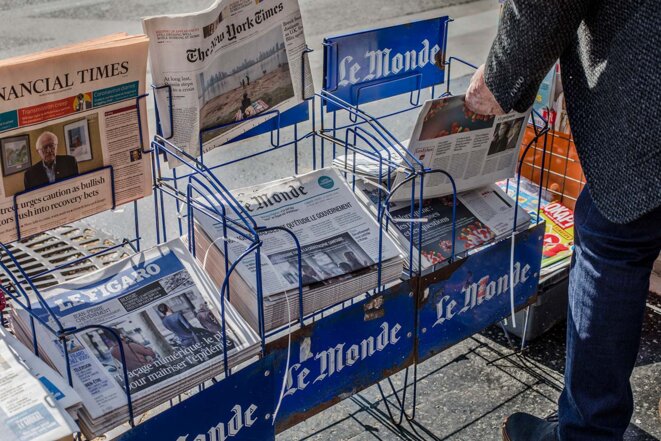 The average kiosk sales for national daily newspapers in France now barely exceed 150,000 copies a day. © Photo Marta Nascimento / REA
As a result of the digital revolution, print versions of France's national daily newspapers sell barely more than 150,000 copies a day at kiosks and other outlets. This contrasts with a figure of 1.3 million daily copies back in 1990. Yet the French state  always seems ready to come to the aid of the various billionaires who own France's national titles.  Just a few weeks ago  the government set aside 30 million euros in extra help for the printed press. It is an approach which is both unjust and incoherent, argues Mediapart co-founder Laurent Mauduit in this op-ed article.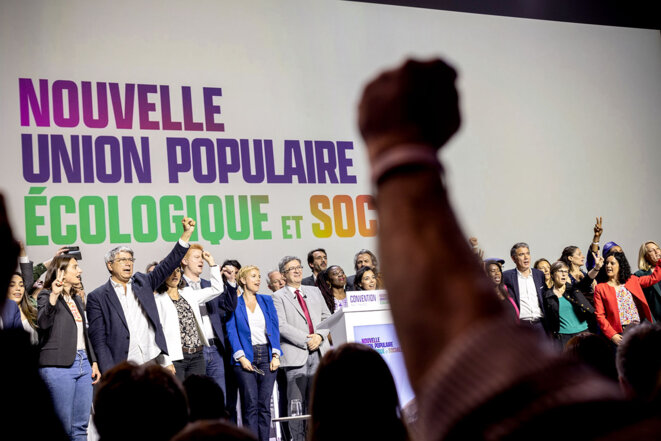 The NUPES convention held on May 7th 2022 at Aubervilliers north of Paris. © Photo Sébastien Calvet / Mediapart
Despite the creation of the NUPES leftwing alliance ahead of the legislative elections in 2022, the French Left is still mired in a crisis of faith.  Beset by fragmentation and having declined to form a new democratic structure, none of the political parties and movements that just eight months ago formed the Nouvelle Union Populaire Écologique et Sociale now seems willing to press ahead with a joint reconstruction of the Left. Yet such a move is essential, argues Mediapart's co-editorial director Stéphane Alliès in this op-ed article.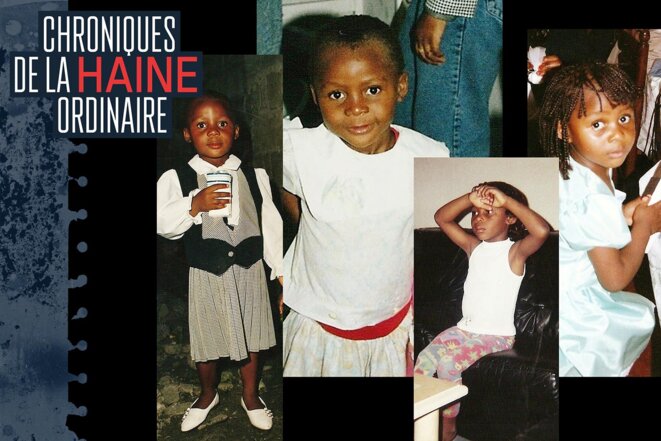 Molima as a child before changing her first name to Caroline. © Photo illustration Simon Toupet / Mediapart
Late in 2022 the far-right polemicist and former presidential candidate Éric Zemmour stood trial accused of verbal abuse of a racial nature. This followed a comment he made to television presenter Hapsatou Sy that African names such as hers were an "insult to France"; the verdict will be delivered in January. As part of a series about people who have suffered everyday hatred in France, Mediapart spoke to a young woman who came here from the Democratic Republic of Congo in 2002 as a child and who herself later chose to adopt a more "French-sounding" first name - in her case, Caroline. At the time, she says, the far-right were knocking on the doors of power, she wanted to become a French citizen and she felt her new name would help her 'blend in' with French society. Instead, says Caroline, she lost her way. Lou Syrah reports.